The following review of the 2023 Triumph Tiger 900 GT Low comes from Reg Kittrelle, founder and publisher of Thunder Press and Battle2win magazine and author of the Unrepentant Curmudgeon column at Rider's sibling publication, American Rider.
---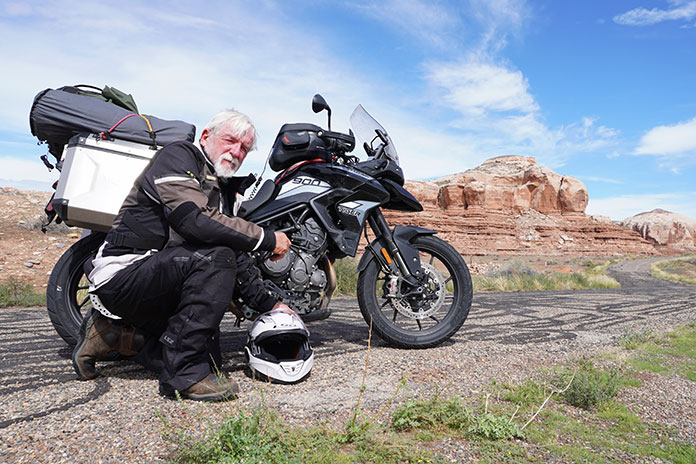 "She was tall, beautiful in her own way, and a little intimidating. I knew we'd do things I'd never done before."
Unrequited love? Nope, not this time. "She" was a new 2007 Ducati Multistrada 1100 S and one of Bologna's first entries into the growing adventure bike segment. I needed that Ducati.
BMW is credited with creating the adventure – or ADV – motorcycle with the introduction of the R 80 G/S in 1980. The bike's success pushed other OEMs into offering their versions. What appealed to me then – and continues to do so today – is the versatility of ADVs. Their motors are usually large, quick, and fast. Their long-travel suspensions nicely gobble up less-than-perfect pavement. They're entirely unafraid of dirt roads, yet they can deal competently with a track day. They are comfortable and can seemingly carry everything.
Read all of Rider's Adventure & Dual-Sport Motorcycle coverage here.
By my count, I've owned four ADVs, each with a distinct personality. That Multistrada? A pur sang sportbike in an ugly suit. Next was a Buell Ulysses, a fun, torquey brute. Then there was a KTM 990 SM-T, a headstrong beast that did not understand the concept of slow. My current – and favorite – is a 2012 Triumph Tiger 800 XC. Bought new in 2011, it's the motorcycle I've owned the longest. That's also the year the street-oriented Tiger 800 and off-road-ready Tiger 800 XC shared Rider's Motorcycle of the Year award.
History aside, what has brought me here is Rider's offer of a 2023 Triumph Tiger 900 GT Low for a cross-country trip I had planned. Gee, I probably had to think about that for all of 10 seconds.
Too Short for an ADV?
As much as I favor ADVs, they have one significant drawback for us shorter riders. By design, ADVs have tall seats due to their long-travel suspension and 19- or 21-inch front wheels. This presents a problem for me since I'm 5-foot-7 with a 30-inch inseam.
My 2012 Tiger had a 33-inch seat height, barely allowing me to put one toe on the ground. I needed a more confident feel than that, so I lowered it an inch in the rear via a "dog bone" link on the shock, and I lowered the front end by 1.5 inches by moving the fork tubes higher in the triple clamp. These changes allowed for the tips of both of my big toes to touch down. Additionally, I installed risers that moved the handlebar up and back to put me in a more upright, comfortable position.
Related: 2023 Triumph Tiger 1200 GT Pro | Road Test Review
The 2023 Tiger 900 GT Low
The "Low" version of the Tiger 900 GT puts both my feet flat on the ground. To achieve its lower seat height of 29.9 inches, suspension travel has been reduced 1.6 inches in front and 0.75 inches at the rear compared to the standard Tiger 900 GT, which has a seat height of 31.9 inches in its lowest position. Given that the GT Low is a street-oriented motorcycle, the reduction in travel and ground clearance has a negligible impact.
Additionally, the handlebar's rise and pullback place me where I want to be. Further contributing to the comfort quotient are heated grips and a nicely padded and supportive seat that remained comfortable even after long hours on the road. The Tiger Low fits me as if I were that mythical average rider around which motorcycle ergonomics are designed.
The Tiger was fitted with Triumph's accessory Expedition panniers: 37-liter top-loaders made from 1.5mm aluminum with polymer reinforcements. I particularly appreciated the six brackets on the lids that made it easy to strap on additional gear.
All of this means that the bike fits my simple definition of an ADV: a motorcycle that can comfortably take me to distant places carrying lots of stuff.
Related: 2022 Triumph Tiger Sport 660 | Video Review
A Loose Plan
I picked up the Tiger in Southern California, loaded my gear, then headed east. As I would be camping most nights, my cargo included a sleeping bag, a tent, and an air mattress. I usually like to cook my own meals, but on this trip, I opted for restaurants and just a small stove for making coffee.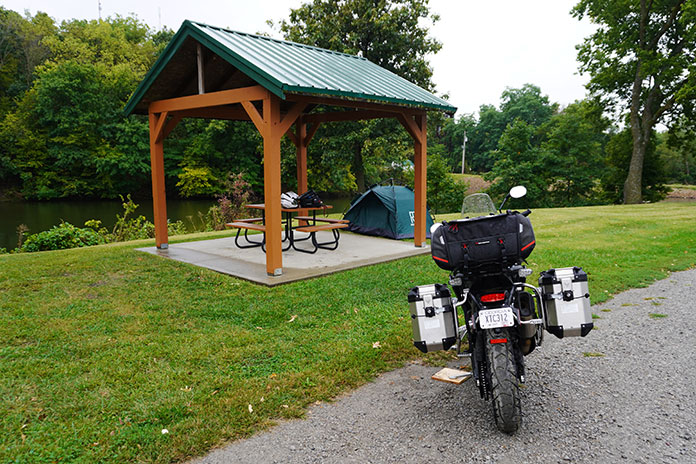 My trip followed a loose plan. There were people and things I wanted to see, but my route was more influenced by whim and weather than design.
With only 210 miles showing on the odo, I treated the first several hundred miles as a break-in ride. By the time I hit Las Vegas, the initial bit of engine roughness smoothed out, and I could begin to enjoy one of the sweetest motors found in a motorcycle frame.
From Vegas, I headed north to Interstate 70 in Utah, then east to Colorado. The interstate in Utah has an 80-mph speed limit, so 90-mph traffic flow is not unusual. At one point, I was passed by a semi-truck doing 90-plus. This velocity investigation on my part showed that the top speed on this '23 model was noticeably higher than my 2012 Tiger 800 XC while having the same claimed 94 hp, perhaps as a result of the 900 GT weighing 50 lb less and featuring a redesigned Triple.
Mid- to upper-range acceleration was excellent, but initial grunt – as from a stop – was less than I expected. Not slow, just slower. At any speed, the Tiger was perfectly stable, and the adjustable windscreen eliminated nearly all buffeting. An exception to this was in parts of Kansas where the crosswinds tried their damnedest to unseat me.
Continuing east, the Tiger ate up Kansas and Missouri on the way to the Mississippi River, where I turned north to Dubuque, Iowa. Just east of there, I met up with a group of friends in Galena, Illinois, one of my planned stops for a weekend.
Electronic Bits on the 2023 Tiger 900 GT Low
Monitoring almost every aspect of my trip was a 7-inch TFT display. Easy to read even in direct sunshine, the dash offers almost too many options and controls. After fiddling with various screens, I chose one that kept my speed and mpg numbers forefront.
I was particularly impressed with the fuel consumption. I consistently saw 54-55 mpg at steady interstate speeds, and mileage on backroads and around town was always above 40 mpg. With a 5.3-gallon tank, that translates to 285-290 miles of range on the freeway and 210-plus otherwise.
One feature I learned to love was the Tiger's ride modes, including Street, Off-Road, Rain, and Sport. I used Rain more than I wanted to but appreciated its softened throttle response on wet and icy roads, reducing possible tire slippage (cornering-optimized ABS and traction control also help). Sport worked the opposite, giving a noticeably sharper throttle response.
Ambushed by the Weather
Leaving Illinois, I drifted up to Wisconsin and then headed west through Minnesota, South Dakota, and Wyoming. The weather turned from sunny to cloudy and stormy, but between the rain drops, I was able to get in some great riding in South Dakota's Black Hills. The worst weather I hit was in Utah between Duchesne and Green River, where rain, hail, ice, and a bit of snow greeted me.
The hailstorm was the most vicious I've experienced, with the stones knocking my head around like a cueball. At nearly 10,000 feet elevation, the dash flashed red and displayed an ice alert. That had me questioning just what the hell I was doing! I slowed even slower than the slow I was going and finally made it to Green River only to find that a flash flood had inundated my campground. That night's motel was a very welcome sight, but to add insult to injury, the restaurant next door had beer but no tequila, my preferred post-ride medicine.
From Green River, the weather improved, and I rode in sunshine south to Quartzite, Arizona, then west to Orange County, California, to return the Triumph. This variety of weather put the Metzeler Tourance Next tires to the test, and I rode confidently on both wet and dry roads. While I did minimal off-pavement riding on this trip, my experience shows they do a decent job on dirt and gravel surfaces.
By the trip's end, I'd spent 23 days visiting 14 states and logged about 5,500 miles in a full menu of weather, including a couple of flash floods and those ferocious Kansas winds. Temperatures ranged from 31 degrees in Minnesota to a nasty stretch of 106 degrees in Kansas, with altitudes up to 11,312 feet over Colorado's Monarch Pass.
It's the Little Things
Not everything about the 2023 Triumph Tiger 900 GT Low was to my liking. The TFT dash screen is a marvel of electronics, but it's about 2 inches too low, requiring you to look down farther than you should, and the tankbag I used obscured part of the screen. Also, the ignition switch is buried in a hole atop the triple clamp, making it difficult to access with heavy gloves and especially inconvenient with a loaded tankbag.
Triumph persists in fitting DIN-style power outlets. Not many commonly used devices, such as a GPS, heated gear, or phones, come with a DIN plug. One of these outlets is located beneath the dash screen and on the left side just below the saddle. There's a USB outlet under the seat, but that's hardly handy.
Tail of the Tape
It's no surprise that this newest Tiger 900 is more than a worthy successor to my 2012 model. The changes have been evolutionary, taking the best of the original and honing it to a world-class level. It is narrower, lighter, and more capable and has a host of features unavailable on my bike. The highest compliment I can pay the 2023 Triumph 900 GT Low is that it would be more than welcome to again take my old self to distant places carrying lots of stuff.
See all of Rider's Triumph coverage here.
2023 Triumph Tiger 900 GT Low Specs
Base Price: $14,700
Price as Tested: $16,365 (Expedition panniers w/ mounts)
Website: TriumphMotorcycles.com
Warranty: 2 yrs., unltd. miles
Engine Type: Liquid-cooled, transverse in-line Triple, DOHC w/ 4 valves per cyl.
Displacement: 888cc
Bore x Stroke: 78.0 x 61.9mm
Horsepower: 94 hp @ 8,750 rpm (factory claim)
Torque: 64 lb-ft @ 7,250 rpm (factory claim)
Transmission: 6-speed, hydraulically actuated slip/assist wet clutch
Final Drive: Chain
Wheelbase: 60.8 in.
Rake/Trail: 24.1 degrees/5.1 in. (Low version)
Seat Height: 29.9/30.7 in. (Low version)
Dry Weight: 425 lb
Fuel Capacity: 5.3 gal.
Fuel Consumption: 46.4 mpg
Estimated Range: 246 miles
---
Octogenarian (he loves that word) Reg Kittrelle got a late start on his riding career but has managed to stay up on two wheels for the past 57 years. He was the founder and publisher of Thunder Press and Battle2win magazine, and he writes the Unrepentant Curmudgeon column at American Rider.
---