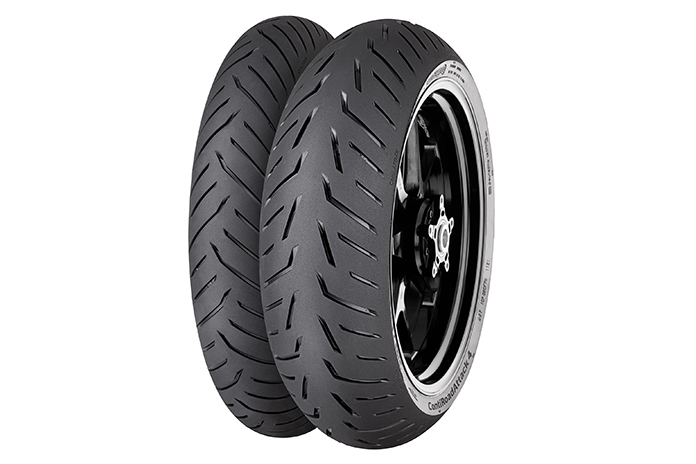 The Continental RoadAttack series are sport-touring tires that strike a balance between performance and longevity. They're ideal for sport-tourers, standards, street-biased adventure bikes, and moderately powered sportbikes.
See all of Rider's tire reviews here
The Evolution of Continental RoadAttack Tires
With each generation from Continental, the carcass, compound, profile, and tread design have evolved. When the first RoadAttack debuted in 2005, it introduced Continental's ZeroDegree belt, a continuous steel wire that runs radially around the tire carcass in the same direction as travel, which enhances stability.
In 2010, the RoadAttack 2 introduced TractionSkin, Continental's proprietary "pre-scrubbed" tread surface that doesn't require slippery mold-release agents and all but eliminates a break-in period for the tires. The RoadAttack 2 also featured MultiGrip, whereby a single compound is heat-cured in a progressive fashion to provide better wear in the center of the tire and more flex and better grip on the shoulders. MultiGrip provides a smooth transition between zones rather than the abrupt transition that can occur with multi-compound tires.
In 2013, the RoadAttack 2 Evo featured RainGrip, a high-silica compound designed to deliver optimal performance in wet conditions. Four years later, the new RoadAttack 3 came with EasyHandling, a specialized alignment between the contours of the front and rear tires said to result in neutral handling behavior, especially in hairpins and during slow cornering.
All these technologies go into the new RoadAttack 4, with the addition of Continental's latest trick: GripLimitFeedback. The unique combination of the tire's carcass construction and tread compound provides improved feedback to the rider when the tire approaches its traction limit.
The RoadAttack 4 features a new compound and an updated tread pattern that, according to Continental, boosts wet weather performance, offers faster warm-up times in cold and wet conditions, and provides dry grip on par with many sport tires.
A new silica-rich compound improves wet grip without sacrificing mileage, a new blend of resins makes the tire more sticky even when cold, and the entire rubber stew has been optimized for use with modern ABS and traction control systems. Continental describes the RoadAttack 4 as a "hyper-touring" tire intended for today's 150-plus hp sport-tourers, adventure tourers, and sportbikes.
Where the Rubber Met the Road
To test some of those claims, Continental invited us to the BMW Performance Center in Greer, South Carolina, which is across the street from the factory where all BMW X-Series SUVs are built. The Performance Center offers automotive and motorcycle training, and the grounds include a closed-course circuit, a large skidpad, and various off-road obstacles and trails.
A wide range of BMW motorcycles were fitted with RoadAttack 4 tires. I saddled up on an F 900 R, which has an 853cc parallel-Twin that, based on our last test in 2020, makes 88 hp and 58 lb-ft of torque at the rear wheel.
Related: 2020 BMW F 900 R and F 900 XR | Road Test Review
BMW's instructors started us off with some basic exercises, such as a slow ride using just the clutch to control speed, as well as fast and slow cone weaves. We moved on to swerving and braking exercises at speed, and I quickly gained an appreciation for the RoadAttack 4s' grip and handling.
When we were instructed to accelerate from a dead stop to 30 mph, pass between two cones, and then close the throttle and apply maximum braking, the F 900 R came to a quick halt. When our target speed was increased to 50 mph, I neglected to stand on the rear pedal when I grabbed a handful of front brake lever. The F 900 R has ABS, but I was in Dynamic mode, which reduces intervention at the front wheel. The front tire provided reassuring grip as the back wheel raised up into a graceful, unintentional stoppie, the likes of which I'll probably never replicate.
In the afternoon, we embarked on a spirited ride on cold, damp backroads, and we ended the day with a game of cat and mouse on the track, where we pushed the tires to their limits. Regardless of conditions, the RoadAttack 4s warmed up fast, provided confident handling on a variety of road surfaces, and clung tenaciously to the tarmac.
On Day 2, I selected an R 1250 RT for a longer test ride on some of the most serpentine roads in the southern Appalachians. At 615 lb, the RT outweighs the F 900 R by 144 lb, and its larger engine makes an additional 37 hp. The performance of the RoadAttack 4s was even more impressive on a larger bike that placed greater demands on the tires. We didn't get a chance to test the RoadAttack 4s on wet roads, so we'll order a set soon and report back.
Continental RoadAttack 4 tires are available in a variety of sizes, with 17-inch and 19-inch fronts, 17-inch rears, and a GT version for heavyweight bikes.