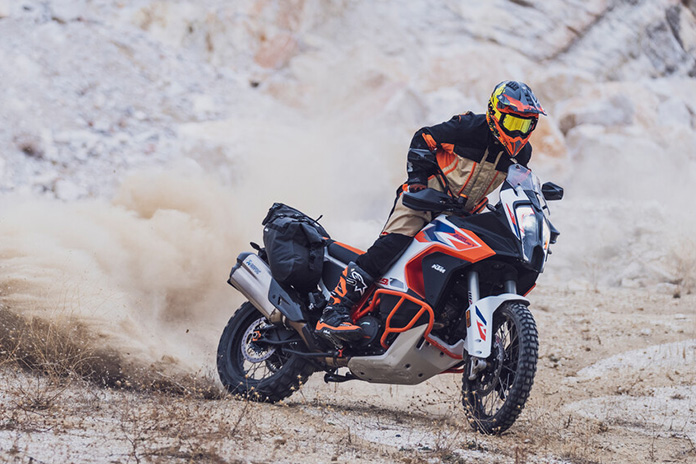 KTM has announced the release of the updated KTM 1290 Super Adventure R, which the company says is oriented for "hardcore offroad adventurers who want and need premium kit to level any landscape or terrain."
The 2023 KTM 1290 Super Adventure R is still powered by the 1,301cc LC8 V-Twin making a claimed 160 hp and approximately 102 lb-ft of torque and mated to a 6-speed Pankl transmission, a PASC slip/assist clutch, and optional Quickshifter+.
"You can't ride a big ADV like it's a dual-sport," our reviewer wrote of the 2022 model. "But with a little restraint and sound judgment, the 1290 Super Adventure R can take you to places well off the beaten path."
Related: 2022 KTM 1290 Super Adventure R | Review
The KTM 1290 Super Adventure R is designed for the rigors of multiple surfaces thanks to the Bosch 6D IMU that informs much of the bike's behavior through Motorcycle Traction Control, Motorcycle Stability Control, various ride modes (Sport, Street, Rain, Off-road, and optional Rally), ABS, and more.
When we put the 2022 KTM 1290 Super Adventure R on Jett Tuning's dyno, the bike produced 126 hp at 9,100 rpm and 88 lb-ft of torque at 8,000 rpm at the rear wheel in Sport mode. In Off-road mode, it made 81 hp at 6,600 rpm and 62 lb-ft of torque at 6,900 rpm.
The KTM 1290 Super Adventure R features WP XPLOR fully adjustable suspension, with a 48mm split- cartridge fork, a Progressive Damping System rear shock, and 8.7 inches of travel at both ends.
KTM says the suspension funnels the maximum level of feedback through the Alpina aluminum spoked wheels, with an improved sealing system appropriate for tubeless tires. The 2023 KTM 1290 Super Adventure R is shod with Bridgestone AX41s.
Related: 2023 KTM 890 Adventure R | First Look Review
For 2023, KTM has boosted the navigation potential of the KTM 1290 Super Adventure R. Enhanced Turn-by-Turn+ guidance and the ability to set waypoints and diversions are now all possible through the handlebar switch dial and through the 7-inch TFT. There is no need to prop the bike and fish around for the phone that engages the KTMConnect app; everything – including phone call answering and logging top ten "favorites" – can all be done with a push of a finger.
The KTM PowerParts collection includes additional gear and protection for the 2023 KTM 1290 Super Adventure R, such as 11 different seats, luggage, crash bars, or more aesthetic touches.
The 2023 KTM 1290 Super Adventure R comes in a new sporting white color and graphic scheme starting at $20,299.
For more information, visit the KTM website.