Reinventing an icon is never easy, and the Sportster is about as iconic as a motorcycle can get. Introduced in 1957, the Sportster is old enough to qualify for Medicare, and it's the longest-running model family in the 119-year history of Harley-Davidson.
When the Motor Company introduced the Sportster S for 2021, its name was the only thing it had in common with previous Sportsters. Its model designation was RH instead of XL. It was liquid-cooled instead of air-cooled. And it was lighter, more powerful, and more modern than the Forty-Eight, the only 1,200cc Evo-powered XL still in Harley's lineup. With its upswept pipes, mash-up of colors and finishes, and Fat Bob-inspired headlight and chunky tires, the Sportster S was intended to be a radical departure from the past.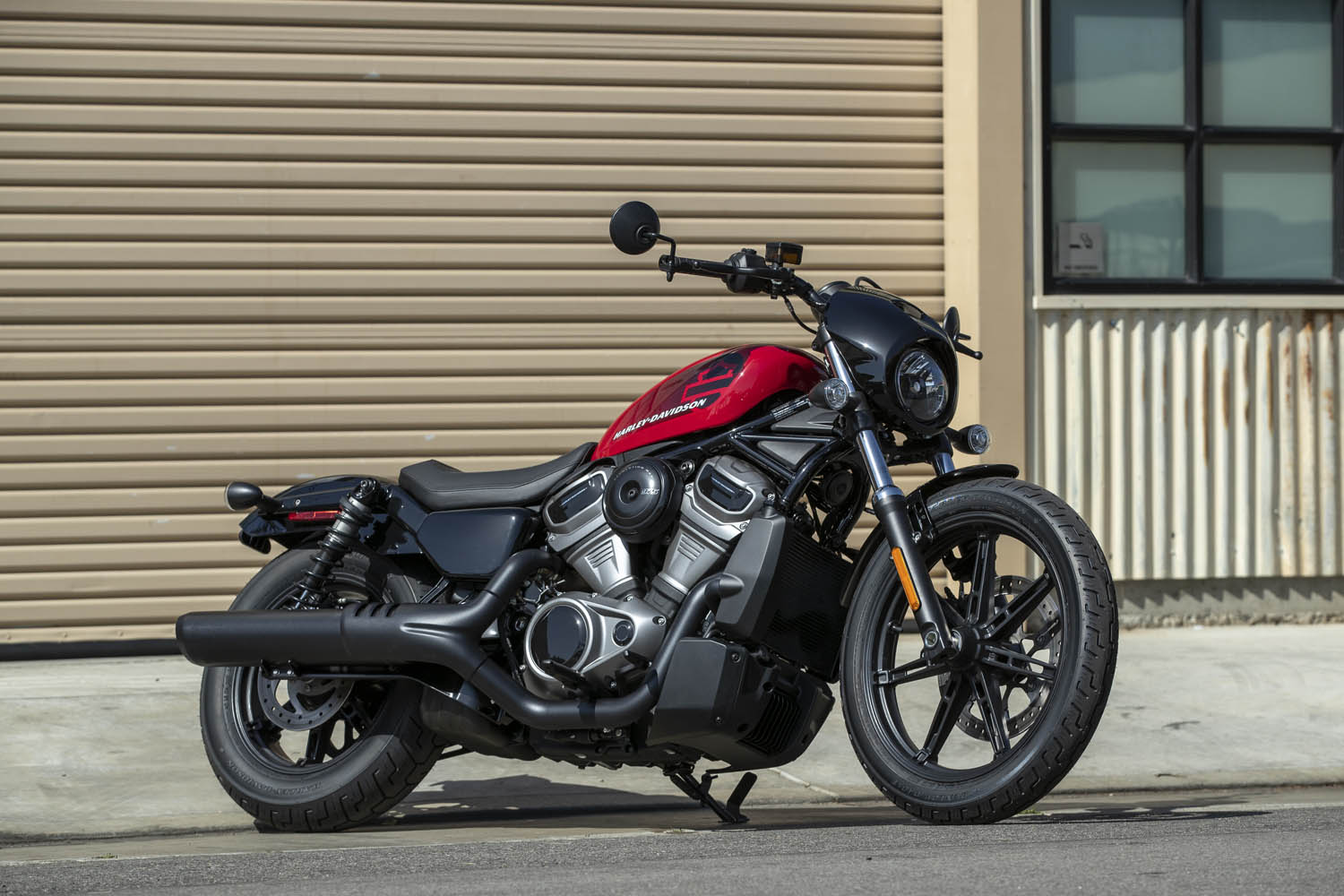 The new Nightster, on the other hand, has classic Sportster styling elements. It has an airbox cover that's shaped like a peanut tank, a round air cleaner cover on the right side of the engine, and dual exposed rear shocks. It has a solo seat and chopped fenders like the Iron 883, a small speed screen like the Iron 1200, and a side cover over the underseat fuel tank that's reminiscent of a Sportster oil tank. It also takes its name from the Nightster XL1200N, a blacked-out, Evo-powered Sportster built from 2007 to 2012 that was part of Harley's Dark Custom lineup.
Check out Rider's 2022 Motorcycle Buyers Guide
Rev to the Max
The Nightster's name and styling serve as a bridge to the past. But like the Sportster S and Pan America adventure bike, it's built on the modular Revolution Max platform that represents Harley-Davidson's future. Its liquid-cooled, 60-degree RevMax V-Twin has DOHC with four valves per cylinder, variable valve timing, and forged aluminum pistons with machined crowns to deliver a 12:1 compression ratio. The RevMax serves as a central, structural element of the chassis, with the trellis front frame, mid frame, and tailsection bolted directly to the engine.
GEAR UP
Helmet: Fly Racing Sentinel
Jacket: Fly Racing Coolpro
Gloves: Fly Racing Brawler
Pants: Fly Racing Resistance Jeans
Boots: Fly Racing Tradesman
Harley-Davidson has long had 1,200cc and 883cc versions of XL Sportsters in its lineup. Likewise, there are two versions of the RH Sportsters, with the Sportster S displacing 1,252cc (105 x 72mm) and the Nightster displacing 975cc (97 x 66mm). Compared to the Sportster S, the Nightster's RevMax not only has a smaller bore and a shorter stroke, it uses a single spark plug per cylinder rather than two, and variable valve timing is used only on the intake cam rather than on both the intake and exhaust cams. Claimed output on the Nightster is 90 hp at 7,500 rpm and 70 lb-ft of torque at 5,000 rpm, whereas the Sportster S makes 121 hp and 94 lb-ft.
Although the Nightster has a 60-degree vee angle between its cylinders, its two crankshaft connecting rod journals are offset by 30 degrees. This gives the RevMax a firing order and pulse feel like a 90-degree V-Twin. The engine has roller-finger valve actuation, which reduces valve noise, and hydraulic lash adjusters, which eliminate the need for valve adjustments. The variable valve timing advances or retards intake camshaft timing over 40 degrees of crankshaft rotation, which broadens the powerband, improves combustion efficiency, and reduces emissions compared to fixed cam timing.
Located between the cylinders are a pair of 50mm down-draft throttle bodies, and fuel delivery is optimized for each cylinder. Above the engine is a 6.5-liter airbox with tuned velocity stacks that pack air into the combustion chambers for more power, and the airbox has internal ribs that eliminate unwanted resonance and intake noise. The RevMax's dual counterbalancers reduce primary and secondary vibration as well as rocking couple, but they are tuned to allow enough vibration to deliver a visceral riding experience.
The Nightster is equipped with Harley-Davidson's Rider Safety Enhancements electronics suite, which includes ABS, traction control, and drag-torque slip control. There is no IMU or lean-angle sensors, so ABS and TC are not lean-angle-adaptive. There are three ride modes (Road, Sport, and Rain) that adjust throttle response, engine braking, ABS, and TC settings.
Take a Seat
"Form follows function, but both report to emotion," a saying attributable to Willie G. Davidson, was repeated by Harley-Davidson's VP of Design, Brad Richards, at the Nightster's press launch. Motorcycles are intended to be ridden, and their design should serve that purpose. But we all know that compromises are made in the name of style. And when it comes to cruisers, many buyers are more concerned with how they look than how they go.
The Nightster, however, balances the scales between curb appeal and riding appeal. The design team went to great lengths to give it a classic Sportster profile, with a 19-inch front wheel paired with a 16-incher out back. Even though it is built on a different platform, the Nightster's rider triangle is similar to that of other Sportsters, with a low 27.8-inch seat, midmount controls, and a low-rise handlebar. (For those who prefer forward controls, they are available as a $599.95 accessory.) A nice bonus is that both hand levers are adjustable for reach.
With 3 inches of travel for the emulsion-technology shocks and 4.5 inches of travel for the 41mm Showa dual-bending-valve fork, the Nightster's well-damped suspension provides a comfortable, responsive ride. The only adjustability is rear preload, and a spanner is included under the seat. And with 32 degrees of cornering clearance on either side, a fair amount of lean is possible before chamfering one's boot soles. Single-disc brakes front and rear with Brembo calipers and steel-braided lines provide plenty of stopping power.
The RevMax is a rev-happy engine – redline is 9,500 rpm – and the 975cc version in the Nightster feels lively and engaging. Giving it the whip through a fast set of curves feels like the right thing to do. How else does one do justice to such a responsive engine and solid chassis? But the Nightster is still a cruiser, just as happy to chug down Main Street at a chill pace.
Details, Details
There's a good reason we love air-cooled engines. They are elemental, pure, and elegant in their simplicity. Cooling fins look cool, and the lack of a radiator and associated plumbing keeps the engine bay clean and tidy. The performance and emissions advantages of a liquid-cooled engine are undeniable, but let's face it, not many of them are pleasing to the eye.
The surfaces and finishes on the RevMax make it look muscular and solid, but also somewhat robotic. On the Nightster's pipe side, everything on the powertrain has its proper place, but the plastic shrouds covering the radiator and oil cooler look like an afterthought. On the kickstand side, there are unsightly wires and hoses between the engine and radiator that even the discontinued Street 750 managed to avoid. Harley-Davidson is known for its attention to detail, and on its Twin-Cooled Milwaukee-Eight it went to great pains to hide the evidence of liquid cooling. As good as the RevMax engine is, aesthetic appeal is its biggest challenge.
There's also unattractive exposed wiring around the handlebar, and the switchpods next to both grips are bulbous with cheap-looking buttons. Perhaps it is because Harley-Davidson has previously set such high benchmarks for fit and finish that these deviations stick out like sore thumbs.
Otherwise, the Nightster looks sharp. Like the original XL1200N Nightster, bright work is minimized, with the only chrome found on the fork stanchions. The seven-spoke wheels are finished in Satin Black, and the 2-in-1 exhaust is matte black. The black speed screen is both stylish and functional, and the single round instrument gauge is handsome and user-friendly. All the lighting is LED, and the rear turnsignals double as brake lights.
In its early days, the Sportster developed a reputation as a hot rod because it offered more horsepower and less weight than most of its competitors. Over the years, however, that reputation faded, and the Sportster came to be regarded as a venerable member of the old guard rather than the vanguard.
Thanks to the RevMax platform, the Sportster S and Nightster have reclaimed a reputation for performance. The Sportster S is more powerful, more radically styled, and has higher-spec components and electronics, while the Nightster is more familiar, more accessible, and has stronger links to the long history of Sportsters. Both are taking Harley-Davidson in a bold new direction.
2022 Harley-Davidson Nightster Specs
Base Price: $13,499 (Vivid Black)
Price as Tested: $13,899 (Redline Red)
Warranty: 2 yrs., unltd. miles
Website: Harley-Davidson.com
Engine Type: Liquid-cooled, transverse 60-degree V-Twin, DOHC w/ 4 valves per cyl.
Displacement: 975cc
Bore x Stroke: 97 x 66mm
Horsepower: 90 @ 7,500 rpm (claimed, at the crank)
Torque: 70 lb-ft @ 5,000 rpm (claimed, at the crank)
Transmission: 6-speed
Final Drive: Belt
Wheelbase: 61.3 in.
Rake/Trail: 30 degrees/5.4 in.
Seat Height: 27.8 in.
Wet Weight: 481 lb
Fuel Capacity: 3.1 gals.
---
Rider Motorcycle Buying Program. Get up front prices on local inventory. View Inventory