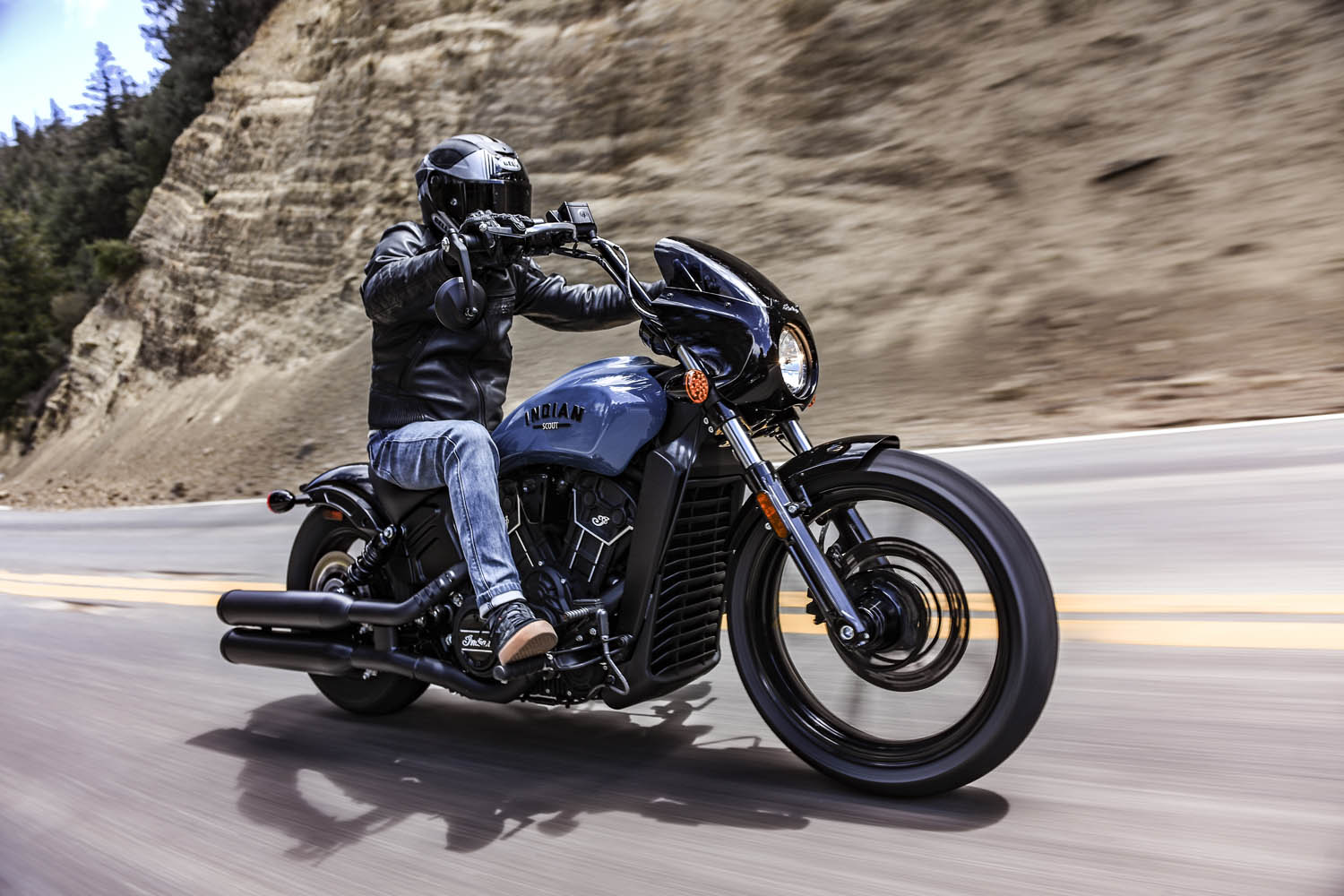 The Rogue is latest version of the Indian Scout platform, delivering a club-style bike to the cruiser party, and the most aggressive iteration of the Scout so far.
The Rogue brings the Scout into a more modern design aesthetic, with a quarter-fairing around the headlight its most obvious distinction from other Scouts. Another difference is a 19-inch cast-aluminum front wheel replacing the 16-inchers on other Scout models.
Harley-Davidson Sportster S vs. Indian FTR S vs. Indian Scout Bobber | Comparison Review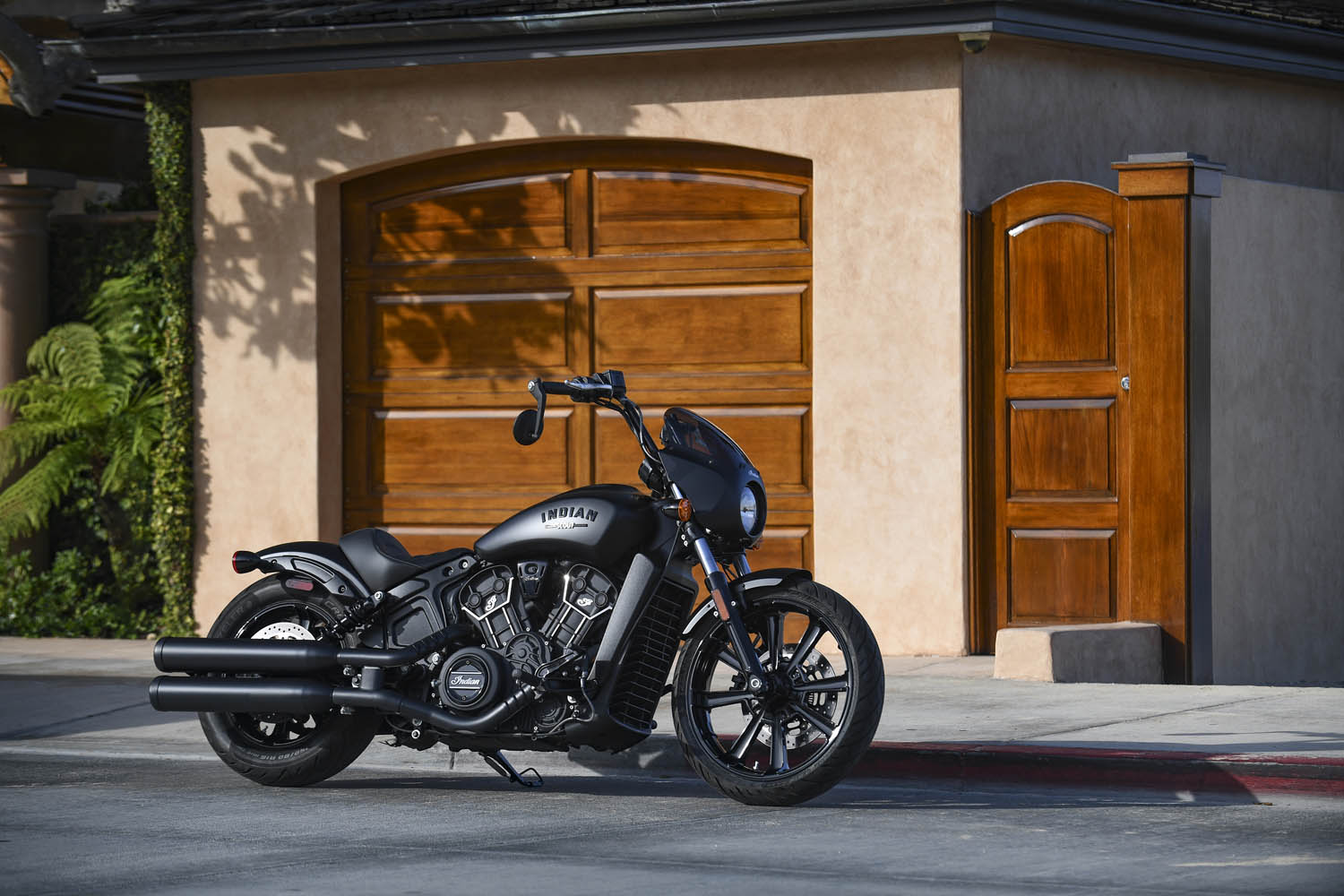 Its attractive design looks more hip and contemporary, creating a slinkier downward flow to the bike's profile. Most every component is murdered out in black, aside from a few flashes of brightwork on the engine. Chrome hand levers inside black perches are a mild styling faux pas. Drop-down mirrors from the Bobber lower the Rogue's profile, and chopped fenders lessen the bike's visual heft.
The Rogue (code name: Anarchy) continues with the same powertrain as previous Scouts. Its 1,133cc V-Twin rips out 100 ponies thanks to a double overhead-cam valvetrain with four valves per cylinder, and an aluminum frame helps the Rogue scale in at 545 lbs with its 3.3-gallon tank filled.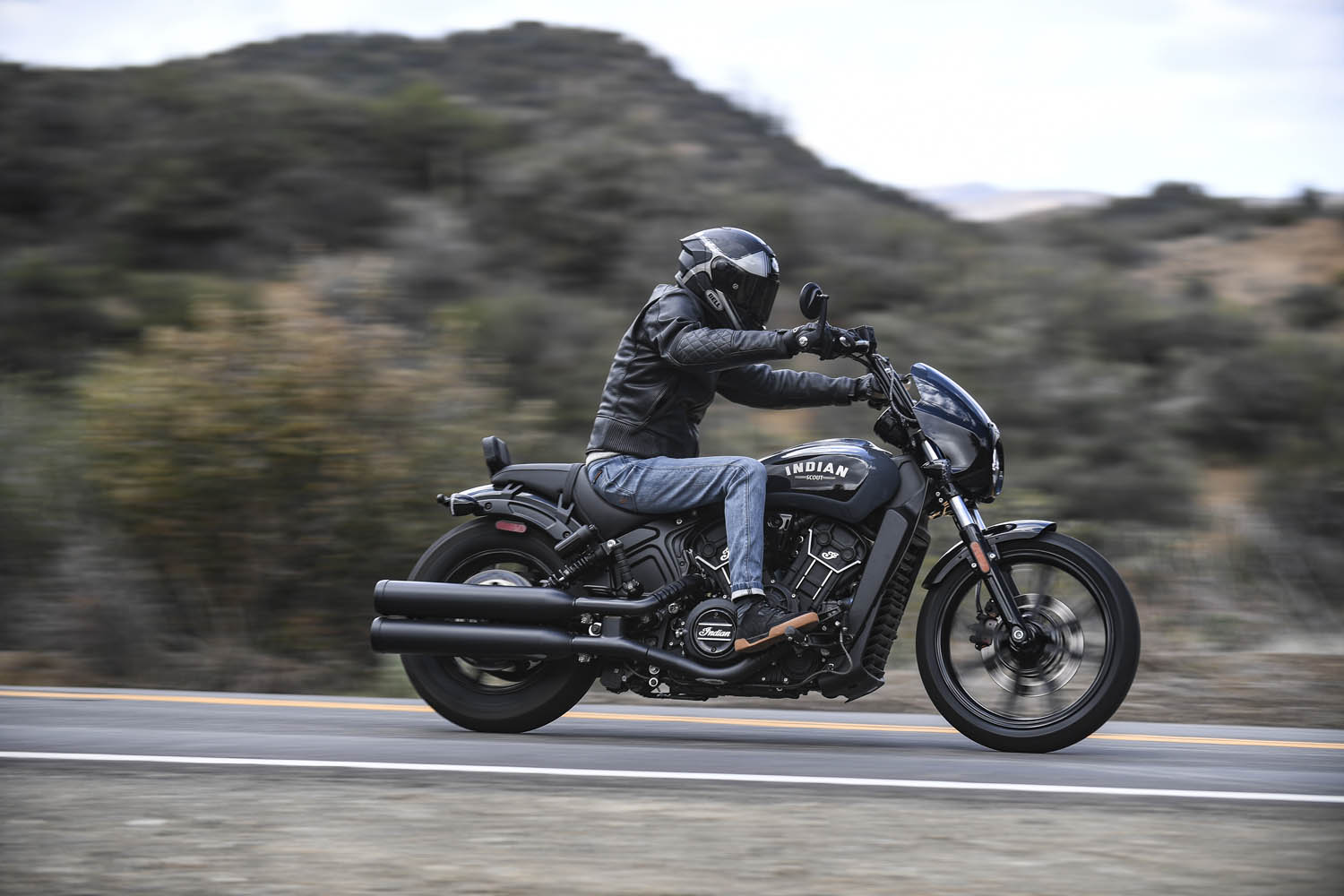 Gear Up
Helmet: Bell Star
Jacket: Alpinestars Hoxton V2
Gloves: Alpinestars Celer V2
Pants: Saint Unbreakable Jeans
Boots: Alpinestars Grange
"For so many motorcyclists, riding carries a rogue spirit – a bold statement of freedom and individuality that brings riders together – and Scout Rogue delivers that in spades," commented Aaron Jax, Indian Motorcycle Vice President, at the bike's press launch in Ventura, a coastal surf town in Southern California.
Saddle Up
The Rogue is familiar but distinct. A mini-ape handlebar from the Bobber Twenty places a rider's hands significantly higher than the Scout Bobber, ending up a few inches below shoulder height. Also noticeable is a new sport-style solo seat with an extended backrest portion, which feels comfier than the Bobber's and helps hold a rider in place when tapping into the 69ci V-Twin's 100 horses.
Spinning laps around Ventura's city streets proved the fitment of the taller 130/60-19 front tire has benefits beyond styling. Its wheel/tire combo is nearly 1.5 lbs lighter than the Bobber's, and its sharper profile endows the Rogue with newfound agility relative to the squatter 130/90-16 rubber on other Scouts. The bike feels lighter on its feet, both around town and on canyon roads.
The note from the flat-black exhaust is pleasing in its own way, thumping quicker and smoother than traditional narrow-angle V-Twins like Indian's Chief and any air-cooled Harley. Most everything but the design of the engine is old-school analog – there are no ride modes, traction control, or IMU, just an unfettered throttle that responds exactly as intended. The cable-actuated clutch requires a bit more effort to pull than a hydraulic unit, but it offers precise and predictable releases.
The last time we dyno tested the Scout's engine, it kicked out 85 hp to the rear wheel, arriving at 8,100 rpm, shortly before its rev limit. Torque peaked at 5,700 rpm with 64.5 lb-ft of twist. Those numbers translate into admirable speed potential when wringing its throttle, pulling willingly from lower revs, and surging to a strong run for the redline.
On the freeway, the Rogue's plusher seat and modicum of wind protection from the fairing treat a rider better than the Bobber. However, the scant 2 inches of rear suspension travel created a few jarring moments over harsh expansion joints. Otherwise, the Rogue rolls serenely down the highway, with vibes from its counterbalanced motor never becoming obtrusive. Instrumentation is basic. A round analog speedometer has an LCD inset panel that displays gear position, time, and tripmeters. Self-canceling turnsignals and a 12-volt charging port are unexpected conveniences on a such bare-knuckled bike.
Once out in the canyons, the Rogue's livelier steering is enhanced by the height of the mini-ape handlebars, which encourage aggressive countersteering to bend the bike into corners. As usual, the Scout's stout chassis resists flexing and feels totally planted up to (and occasionally exceeding) the 29-degree lean angle liberally enforced by dragging footpegs, and then the shotgun exhaust's lower muffler.
Still, there's much fun to be had cranking the Rogue over, and our cadre of journalists set a brisk pace on magnificent Highway 33 in the mountains inland from Ventura. Footpegs that scrape early are seldom a concern for many cruiser riders, but your mileage may vary. Brakes are a dull point, performing more than adequately but not quite as sharp as the latest braking hardware on the market. In terms of performance, the Rogue's most limiting factor is its modest amount of suspension travel.
Sure, low seat heights are nice, but we'd gladly trade a taller seat for another inch or two of wheel stroke and a few extra degrees of lean angle. I'd be tempted to fit a set of fully adjustable shocks with additional travel. Indian's accessory department sells a pair with 3 inches of travel for $829.99. And if you'd like to carry a passenger, Indian offers a pillion seat ($215) and footpegs ($199.99). The Rogue's fairing can be fitted to other Scouts, retailing for $350 for an unpainted unit or $530 when painted.
The accessory line also includes a multitude of seats, handlebars, luggage, exhaust systems, and a tachometer with a shift light. Perhaps the most intriguing accessory is the Pathfinder adaptive LED headlight, which replaces the Rogue's halogen lamp. The $530 headlight activates 15 individual beams inside the lamp's 5.75-inch housing based on the bike's lean angle, using patented technology claimed to project light farther and with an improved spread.
Takin' It Home
The Rogue's West Coast style adds an interesting and appealing option for those in the market for an American cruiser. If you're searching for a feet-forward middleweight cruiser and like the way the Rogue looks, it offers strong value.
The Black Metallic version retails for $11,499, the same price as the Bobber but $1,000 less than the standard Scout that includes passenger accommodations. ABS is a $900 upcharge unless ordering color options in matte Black Smoke, Sagebrush Smoke, or Storm Blue, each retailing for $12,899. The two-tone Stealth Gray version lists at $13,399.
Riders on a tighter budget can opt for the Sixty version of the Rogue, which retails for just $9,999 and is nearly identical to its bigger brother. Like Indian's previous Sixty versions of the Scout, it uses a smaller engine (61ci, 999cc), and its transmission lacks a cog compared to the regular Scouts, with its 5th gear ratio slotting in between the top two gears of the 6-speed Scouts.
Indian says the Sixty motor produces 78 hp and 65 lb-ft of torque at its crankshaft, which isn't as robust as the 1,133cc mill, but it certainly doesn't feel underpowered, especially since riding at full throttle is a rare occurrence. The Sixty is a viable option for riders unconcerned with blitzing stoplight grands prix or regularly "doing the ton" on an empty highway.
The base Black Metallic version costs $9,999 without antilock brakes, a $900 option. Titanium Smoke and Bronze Smoke colorways include ABS and retail for $11,399. Among American-made cruisers, the only cheaper one is the Scout Bobber Sixty, which retails for $9,499.
2022 Indian Scout Rogue Specs
Base Price: $11,499
Price as Tested: $12,899-$13,399 (colors w/ ABS)
Website: IndianMotorcycle.com
Engine Type: Liquid-cooled, transverse 60-degree V-Twin, DOHC w/ 4 valves per cyl.
Displacement: 1,133cc (69ci)
Bore x Stroke: 99.0 x 73.6mm
Horsepower: 100 hp @ 8,100 rpm (claimed)
Torque: 72 lb-ft @ 6,000 rpm (claimed)
Transmission: 6-speed, cable-actuated wet clutch
Final Drive: Belt
Wheelbase: 62 in.
Rake/Trail: 29 degrees/4.7 in.
Seat Height: 25.6 in.
Wet Weight: 545 lbs
Fuel Capacity: 3.3 gals.