There are motorcycles that make us better riders. Some strike such an ideal balance between fit, feel and poise that they become part of us. Riding them is easy and intuitive, as second nature as walking. Others possess a synergetic combination of engine and chassis characteristics that seem to give us superpowers. They trigger something deep within our limbic system that heightens awareness, perception and readiness.
And if we're lucky, a motorcycle does both.
Then the magic happens. Confidence rises. Senses sharpen. Fear, doubt and distractions fade away. Time loses meaning. Welcome to the flow state, being "in the zone."
Deep immersion in the riding experience — being out in the world, on a motorcycle, for the pure enjoyment of it — is what makes our shared pastime so addictive. It's why racers race and tourers tour and Iron Butt riders go the distance (and then keep going). It's why a Sunday morning ride is so restorative and members of our tribe joke that "you never see a motorcycle parked in front of a psychiatrist's office."
Which brings me to the KTM 890 Adventure R. Over the course of more than 1,400 miles, it taught this old dog some new tricks.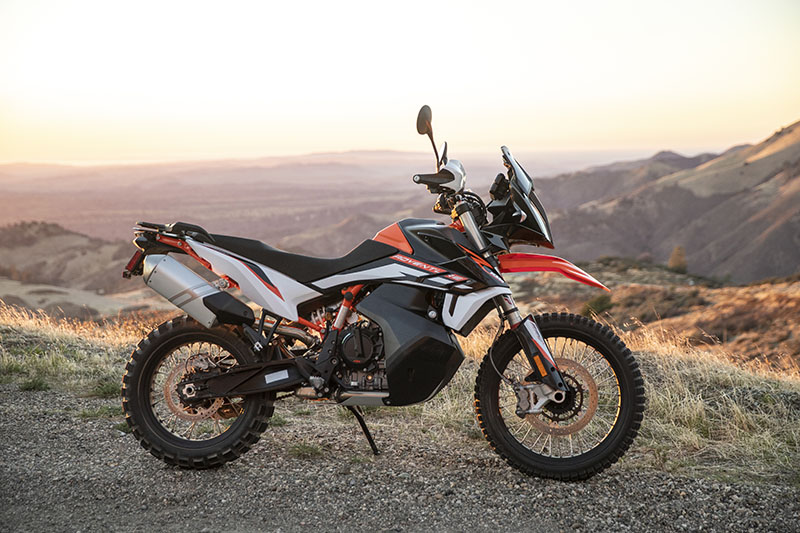 Rewind to March 2019: I'm in Morocco for the global launch of the 790 Adventure and 790 Adventure R. With a revised version of the 799cc LC8c parallel twin from the 790 Duke, a unique low-slung fuel tank design, a lowest-in-class wet weight and an impressive ensemble of engine, chassis and electronics, both bikes proved themselves remarkably capable on- and off-road. Further testing by the Rider staff on home soil garnered sufficient praise to earn the 790 Adventures our 2019 Motorcycle of the Year award.
Just two years later, KTM has updated the platform. Adapted from the 890 Duke R, the engine now has more displacement and a higher compression ratio. The intake and exhaust valves are larger, and a more aggressive camshaft profile has more lift. Lightened forged pistons and V-shaped connecting rods reduce reciprocating mass, while a 20% heavier crankshaft improves low-rpm throttle response and dual balancer shafts quell vibration. New horizontally split crankcases are made from a high-pressure aluminum cast, with weight-optimized wall thicknesses and fully integrated open-deck cylinders. And like the 890 Duke R, the Adventure R has better throttle-by-wire response, a beefed-up clutch and a shortened shift lever stroke and lighter shift-detent spring for faster shifting. Chassis updates include an aluminum head tube, a lighter swingarm, revised suspension settings and refinements to the braking system.
For years I'd read reviews about new-and-improved motorcycles and think to myself, "Why didn't they design it that way in the first place?" But it's not like manufacturers start out with a bag of tricks and dole out a few with each model update. Engineers are human; they're always learning. They gather testing data and feedback, and they use it to find new ways to make improvements, shave off weight and add features. Hominids have been tinkering with motorcycles for well over a century, and through an iterative process of trial and error, they've gotten really freaking good.
So it wasn't surprising when I pointed our 890 Adventure R test bike — with a mere 15 miles on its odometer — towards the nearest gnarly road and it displayed impressive performance right out of the gate. Sure, I've tested the full range of KTM's Adventure line — the 1190, 1090, 1290 and 790, in various R, S and T configurations — and I drew upon that experience and familiarity. And I've tested competitors from BMW, Honda, Triumph and Yamaha as well. While some readers feel we have a bias towards adventure bikes here at Rider, the truth is that their inherent versatility and well-rounded capability make them hard to resist. Different types of motorcycles are like different flavors of ice cream; none are better than others (OK, rum raisin is pretty terrible), they're just different.
On a single ride I breezed up the freeway; I attacked corner after corner on smoothly paved, wonderfully wandering back roads; and I played in the dirt, steering with the rear out of corners and jumping water bars with a big grin on my face. By pushing several buttons on the left switchgear, I altered the throttle response, traction control and ABS. Our test bike is equipped with the optional Tech Pack, which includes cruise control, Rally mode (aggressive throttle response and on-the-fly TC adjustments), Quickshifter+ (clutchless up/down shifting) and Motor Slip Regulation (reduces engine drag torque during aggressive downshifts or throttle chopping).
Thanks to the extra displacement, power and torque are up across the board. We put the 890 Adventure on Jett Tuning's dyno, and compared to the 790 Adventure, peak horsepower is up 1.2, to 89.7 at 8,200 rpm, and peak torque is up 2.7 lb-ft, to 62.1 lb-ft at 6,200 rpm. Gains up top may not sound impressive, but in the meat of the rev range from 3,000 to 6,000 rpm, the 890 makes as much a 7 more horsepower and 9 lb-ft of torque than the 790. Riding modes (Street, Rain, Offroad and Rally) alter engine output, throttle response and TC setting. Rally is particularly aggressive, which can be fun but deserves respect. Such mood-ring electronics have become nearly ubiquitous, even on cruisers, and they're highly evolved and easy to use. KTM's switchgear and menu system are particularly intuitive.
KTM bills the 890 Adventure R as "the most travel capable off-road bike," and while that may sound like a nice marketing slogan, it's also true. After our usual testing regimen, I strapped a bag to the rear luggage rack and set out for Phoenix to attend the Indian FTR launch, traveling 450 miles on an interminable series of freeways. Since the R is off-road-ready, it has a short windscreen, cleated platform footpegs, a one-piece rally-style seat and 21-/18-inch tubeless spoked wheels with Continental TKC80 knobbies that are rated 40% on-road/60% off-road. With the cruise control set at 75-80 mph, the 890-R hummed along, under-stressed and emitting negligible vibration. A little more wind protection would have been nice, but the airstream hit my helmet dead-on with no buffeting and the hand guards protected my mitts.
On my return trip, fascinated by Arizona's desert landscape and its saguaro cacti but bored to death by I-10, after crossing back into California I took winding roads up into the mountains of San Bernardino National Forest, over 8,443-foot Onyx Summit, around Big Bear Lake and above it all on Rim of the World Highway. Following the contours of the mountains, I went down and then back up and down again. (Check out my route on REVER.) When I finally got home, after 11 hours in the saddle with nothing more than gas-and-protein-bar stops, I had added an extra hundred meandering miles and several hours to my journey. Because I could. Because I wanted to experience one of my favorite routes on the KTM.
Although a 21-inch front wheel pays big dividends in the dirt, the large diameter can slow turn-in and side-to-side transitions on the street. The 890 partially compensates for the big wheel with its unique horseshoe-shaped tank that carries fuel in somewhat bulbous pods on either side of the engine. Moving weight down low helps the KTM feel nicely balanced, and the slender upper tank area allows for comfortable and unimpeded stand-up riding. While the 34.6-inch seat will be a deterrent for some, there's no easy way to have a fully capable off-road bike with a 21-inch front wheel, extra-long suspension and nearly 10 inches of ground clearance. (Harley-Davidson's optional Adaptive Ride Height system on the Pan America 1250 Special is an intriguing solution.) The seat is wide, flat and firm, and the seating position is upright yet relaxed with plenty of legroom and a comfortable reach to the wide handlebar.
Greg's Gear
Helmet: Arai XD4
Jacket: Klim Carlsbad
Gloves: Klim Dakar Pro
Pants: Klim Carlsbad
Boots: Alpinestars Corozal
TKC80s look aggressive and perform well off-road, but their big tread blocks feel planted on pavement and don't squirm much. Road noise at freeway speeds isn't bothersome either, at least not with earplugs. And the WP XPLOR suspension, with nearly 10 inches of fully adjustable travel front and rear, is a phenomenal setup, responsive on canyon roads yet plush enough to cushion a high-speed landing after launching off an hard-pack kicker. It's the feature that raises my game the most, that compensates for some of my inadequacies and gives me the confidence to push harder and. The brakes, on the other hand, while strong and responsive, could use a tad more initial bite and lever feel. And, though I may have accidentally bumped the lever with my boot once or twice, the transmission unexpectedly popped from first into neutral a few times, mostly off-road.
Other than the few niggles mentioned above, my complaints are few. I wish the fuel gauge showed the full range of capacity, not just the lowest half of the tank. And I wish the fuel range reading was even remotely helpful. After a fill-up it would read ">99 mi" or ">80 mi" or ">74 mi," depending on its mood, and when the fuel gauge finally dropped below halfway, it would count down from 74 miles even though, based on our empirical data, there was well over 100 miles of range. There's always room for improvement.
For my money — and I'm not just speaking metaphorically; I bought our 2017 KTM 690 Enduro R test bike, and I'm itching for an upgrade — the 890 Adventure R slots right into the middle of my adventure bike selection matrix. While the 890 doesn't have the hair-on-fire horsepower of the 1290 Super Adventure R, it also doesn't come with its higher weight or price. And while the 890 may not be as light and nimble as the 690 Enduro R, its also more comfortable and capable for long-haul travel. A couple buddies and I will be taking our 690s to Moab, Utah, in May to ride the White Rim Trail, and we plan to trailer our bikes. But if I owned the 890 Adventure R, I wouldn't hesitate to ride the 800 miles to get there. Hmmm….
2021 KTM 890 Adventure R Specs
Base Price: $14,199
Price as Tested: $14,749 (Tech Pack)
Warranty: 1 yr., 12,000 miles
Website: ktm.com
ENGINE
Type: Liquid-cooled, transverse parallel twin
Displacement: 889cc
Bore x Stroke: 90.7 x 68.8mm
Compression Ratio: 13.5:1
Valve Train: DOHC w/ 4 valves per cyl.
Valve Insp. Interval: 18,600 miles
Fuel Delivery: EFI w/ 46mm throttle bodies x 2
Lubrication System: Semi-dry sump, 3.0-qt. cap.
Transmission: 6-speed, cable-actuated PASC assist-and-slipper clutch
Final Drive: X-ring chain
CHASSIS
Frame: Tubular-steel w/ engine as stressed member, steel trellis subframe & cast aluminum swingarm
Wheelbase: 60.2 in.
Rake/Trail: 26.3 degrees/4.3 in.
Seat Height: 34.6 in.
Suspension, Front: 48mm USD fork, full adj. w/ 9.4 in. travel
Rear: Single shock w/ progressive damping, fully adj. w/ 9.4 in. travel
Brakes, Front: Dual 320mm discs w/ opposed 4-piston radial calipers & ABS
Rear: Single 260mm disc w/ floating 2-piston caliper & ABS
Wheels, Front: Spoked tubeless, 2.50 x 21 in.
Rear: Spoked tubeless, 4.50 x 18 in.
Tires, Front: 90/90-21
Rear: 150/70-18
Wet Weight: 466 lbs. (as tested)
Load Capacity: 526 lbs. (as tested)
GVWR: 992 lbs.
PERFORMANCE
Horsepower: 89.7 @ 8,200 rpm
Torque: 62.1 @ 6,900 rpm
Fuel Capacity: 5.3 gals.
Fuel Consumption: 45 mpg
Estimated Range: 237 miles
Indicated RPM at 60 MPH: 4,000
2021 KTM 890 Adventure R Photo Gallery: