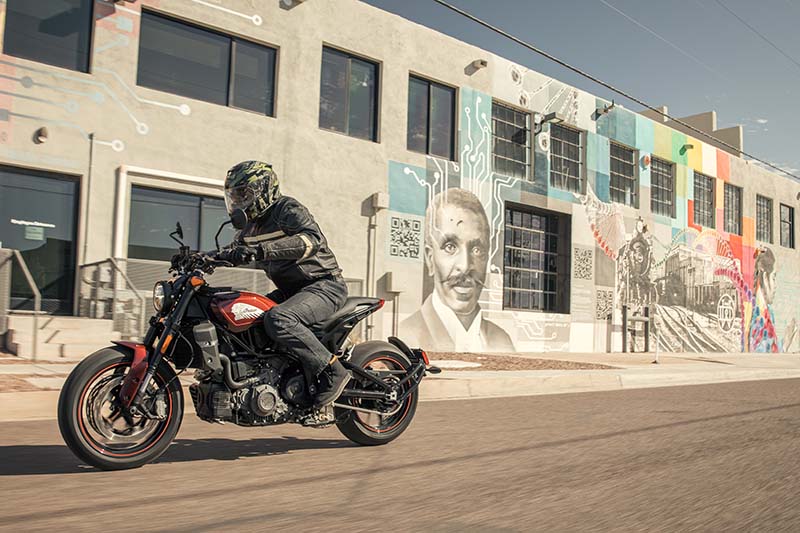 When Indian introduced the flat track-inspired FTR 1200 in 2019, it was like nothing else in the company's lineup, nor in Harley-Davidson's. Flat track racing is America's original extreme sport and has delivered slip-sliding, bar-banging, heart-pumping action for more than a century. When Indian returned to American Flat Track competition for the 2017 season after a decades-long absence, it did so with a purpose-built FTR750 that was no doubt inspired by Harley's legendary XR750, a motorcycle that has won more races than any in history.
The FTR750 made its AFT debut at the 2016 season finale, placing an impressive seventh at the Santa Rosa Mile with 2000 Grand National Champion Joe Kopp at the controls. Brad Baker won the race in decisive fashion on an XR750, notching the iconic machine's 502nd (and final) win on the national stage. From 2017 to 2020, Indian's FTR750 and its Wrecking Crew have been dominant, taking home four consecutive premier-class championships — two by Jared Mees and two by Briar Bauman. (For more about AFT, listen to our podcast interview with Michael Lock, CEO of AMA Pro Racing at ridermagazine.com/insider.)
Although the original FTR 1200 stuck close to its AFT roots, with a 19-inch front/18-inch rear wheel combo and Dunlop DT3-R flat track-style tires, it was still a street bike. Sure, we hooned around on a 40-mile sandy road in Baja, Mexico, at the 2019 press launch, but Indian reps told us unequivocally that it was not designed for off-road riding. Over the past two years, the FTR 1200 has been a driver of growth for Indian, attracting a whole new crop of customers who aren't interested in cruisers or baggers. So it decided to tweak the recipe to widen the FTR's appeal.
For 2022, the "1200" has been dropped from the name, and the lineup now includes four models: FTR, FTR Rally, FTR S and FTR R Carbon. Except for the Rally, which retains the 19-/18-inch wheels, the others roll on 17-inch wheels, greatly expanding the available tire options. And instead of quasi-knobby tires, they are shod with grippy Metzeler Sportec rubber. The non-Rally models also have fully adjustable suspension with less travel (4.7 inches, down from 5.9) and, crucially, a lower seat height (32.2 inches, down from 33.1).
In my review of the 2019 FTR 1200 S, I took umbrage with too much vibration in the grips and excessive engine heat. All in all, though an absolute hoot to ride, the FTR felt rough around the edges. Revisions to the platform include retuned engine calibration to improve cold start performance and throttle response, and indeed the FTR S I tested in and around Phoenix, Arizona, fired up quickly, settled into a nice loping idle and revved up with precise authority. On the road, throttle response was crisp and vibration wasn't an issue, though at high revs it felt more raw than most sport-oriented motorcycles I've ridden.
Even though it was early March, Phoenix was hot, damn hot, hitting the upper 80s midday. New radiator shrouds do a better job of channeling heat out and away from the rider, and at idle, rear cylinder deactivation kicks in, making the FTR feel like a thumper. Not once did I think about heat coming off the bike, a welcome relief.
As much as I appreciated the refinements in engine response and heat management, what has really transformed the FTR is the move to 17-inch wheels and tighter steering geometry, with less rake (25.3 degrees, down from 26.3) and trail (3.9 inches, down from 5.1). Turn-in is much lighter, transitions through corners are easier and, thanks in part to the 1.5-inch-narrower ProTaper handlebar, the FTR has newfound agility. Stickier tires and reduced gyroscopic effect from smaller wheels help the bike feel much more planted and nimble than before.
Except for some recalibration, the FTR's liquid-cooled 1,203cc 60-degree V-twin is unchanged. Claimed output is 120 horsepower at 7,750 rpm and 87 lb-ft of torque at 6,000 rpm. When we put a 2019 FTR 1200 S on Jett Tuning's dyno, it sent 115 horsepower at 8,300 rpm and 82 lb-ft of torque at 6,100 rpm to its chain-driven rear wheel. A generous helping of torque is available throughout the rev range, but the FTR is at its best in the midrange, launching out of corners with a deep bellow from the dual Akrapovic exhausts.
The FTR S ($14,999) I tested has fully adjustable Sachs suspension that's well suited for sport riding — firm and responsive without feeling stiff or harsh. Stepping up to the FTR R Carbon ($16,999) gets you primo Öhlins suspension, as well as other goodies like carbon fiber tank covers, headlight nacelle and front fender, a red frame, a silver subframe, black mufflers and a special seat cover. (Öhlins suspension is available as an accessory on FTR and FTR S models, though it will set you back $1,799.99 for the fork and $899.99 for the shock.) Brakes are the good stuff too: Brembo binders front and rear, with dual radial 4-piston calipers squeezing 320mm rotors up front and a single 2-piston caliper squeezing a 260mm rotor out back. Strong, precise, good lever feel — exactly what you want on a go-fast, lean-deep motorcycle.
While the $12,999 base-model FTR is equipped with ABS and cruise control, the S and R Carbon models add a 4.3-inch Ride Command touchscreen display with Bluetooth connectivity, a USB charge port and a full electronics package that includes throttle response modes (Sport, Standard and Rain), cornering ABS and traction control, wheelie control and rear-wheel lift mitigation. Traction control is switchable, but everything else remains on at all times to keep wheels from locking up or going airborne unexpectedly if you get ham-fisted with the controls. Riding is about finesse, people.
With the expansion and refinement of the FTR lineup, Indian has invested in a platform that has paid handsome dividends in its first two years. More street-focused, more accessible and more capable on your favorite curvy road. That's a winning formula.
Gear:
Helmet: Fly Racing Sentinel Ambush
Jacket: Highway 21 Motordrome
Pants: Highway 21 Blockhouse Jeans
Boots: Highway 21 Axle Shoes
2022 Indian FTR S Specs:
Base Price: $12,999 (FTR)
Price As Tested: $14,999 (FTR S)
Website: indianmotorcycle.com
Engine Type: Liquid-cooled, transverse 60-degree V-twin, DOHC, 4 valves per cyl.
Displacement: 1,203cc
Bore x Stroke: 102.0 x 73.6mm
Transmission: 6-speed, cable-actuated assist-and-slipper clutch
Final Drive: O-ring chain
Wheelbase: 60.0 in.
Rake/Trail: 25.3 degrees/3.9 in.
Seat Height: 32.2 in.
Dry Weight: 482 lbs. (claimed)
Fuel Capacity: 3.4 gals.
Fuel Consumption: NA
2022 Indian FTR S Photo Gallery: