They say that variety is the spice of life and when it comes to riding motorcycles, truer words have never been spoken. We'd all love to see our garages crammed full as a TV chef's spice racks, but that just isn't a reality for most riders — outfitting a garage gets a lot more spendy than buying spices. Thankfully, an affordably priced dual-sport like the 2021 Kawasaki KLX300 gets the seasoning right for those who'd like to sample a heaping helping of riding.
With an MSRP of $5,599 for the quintessential Kawi Lime Green trim and a couple-hundred smackers more for the Fragment Camo livery, the entry-level KLX300 — along with its KLX300SM supermoto (MSRP $5,999) that we also tested — fills a crucial part of Kawasaki's off-road lineup, providing a financially accessible entry point to the wide world of motorcycles. Street-legal and off-road-ready, dual-sport bikes are perfect for riders that want to get out and taste-test a little bit of everything. Plenty of newly minted motorcyclists have cut their teeth on lower-displacement dual-sport machines like the KLX300, finding the versatility quite appealing. Dart around suburbia, head to the trails and fill in the gaps with some economical local commuting. Not a bad deal, eh? Especially since building dirt-riding skills is the fast-track to improving street-riding expertise.
This year Kawasaki's KLX300 received a nice boost in power thanks to a larger, 292cc DOHC liquid-cooled four-valve engine. It's a motor with a happy-go-lucky personality you can't help but adore. Compared to the KLX250 that the KLX300 replaces, the new steed's fuel-injected single-cylinder powerplant is punched out 6mm, increasing the bore to 78mm while retaining its 61.2mm stroke. The 34mm throttle body carries over and the compression ratio picks up a skosh to 11.1:1. It also uses more aggressive cam profiles, making it livelier than its predecessor. All of that is paired to a 6-speed gearbox and 14/40 final drive. If all of those engine specs seem similar to the mill found in the green-sticker-legal KLX300R off-road bike, that's because it is — lock, stock and barrel.
We took to the sweeping streets of Folsom, California aboard the new KLX300 and bounced around plenty of fire roads before adventuring into the off-road wonderland of Prairie City SVRA where we could really check out its off-road chops. Hit the electric start and you're met with a quiet pitter-patter that will never upset the relationship with your neighbors. Thanks to EFI, you won't have to deal with the notoriously cold-blooded mannerisms of the pre-2014 carbureted KLX250.
No matter the setting, the KLX300 produces enough get-up-and-go to satisfy most riders, reaching speeds into the eighties without becoming a rattily mess. It churns out a healthy dose of bottom-end torque and good midrange power that's just as handy when zipping through city streets, as it is on the trail. If you wring its neck on freeway long hauls, you will feel some vibes come through, but power flattens out up top anyway. Combine all those traits with near-perfect fueling and you net power delivery that's fun, linear and extremely predicable.
Better yet, we're talking about accessible, real-world every-rider power here, folks. The KLX300 isn't a fire-breathing dual-sport from Europe that's little more than a high-strung MX machine with lights; this bike feels accommodating for new riders and engaging enough for salty veterans alike. As awesome as the Euro dual-sports may be, they're aimed at a more hardcore clientele and come at a much steeper price.
The 6-speed gearbox is spaced well for on- and off-road riding and coupled with the 14/40 final drive ratio, Kawasaki hit a sweet-spot for riders rolling on public roads to the trail. Initial gears are lower and great when exploring trails, while the upper range of the gearbox matches well with faster city streets or highway riding. The shift throw feels light, and while I'd like a little more positive engagement, that's a minor quibble. Add in an extremely light clutch pull and you have a friendly package.
The sturdy bones of the KLX250 date all the way back to 2006 and the KLX300 utilizes the same basic chassis. Despite their age, the steel perimeter frame and aluminum swingarm perform admirably, pairing well with the level of engine performance on tap.
The short 56.7-inch wheelbase imbues the KLX with a whippy personality, letting riders aim it in any direction without much effort. It's an uncomplicated affair when peeling into a paved canyon road or while tip-toeing through a rock garden. Give the footpegs some input and the KLX does exactly as it's told; it's that simple.
Equipped with off-road ready 21- and 18-inch wheels, as well as Dunlop D605 tires, you will have to respect their lean angle limits on the street (a truism for dual-sports overall), but there's plenty of grip. KLX tracks true and doesn't suffer from headshake or front-end nervousness at high speed, reinforcing its accommodating disposition.
Consider also the 43mm USD fork with adjustable compression damping and the fully adjustable gas-charged Uni-Trak shock — respectable amenities at this price point. With 10 inches of travel in the front and 9.1 inches in the rear, you have a solid package for soaking up bumps and thumps, regardless of the environment. On urban jaunts, the soft suspension setup gobbles up anything mean city streets can muster. Out on the trail, the suspension holds its own and that soft setup won't hamper your dirt riding ambitions — it's Cadillac cushy and offers loads of comfort, yet remains remarkably competent. If you get frisky and jump a little too high or rail some rough high-speed sections with too much zest, you may meet the bump-stops, but even in those situations, the KLX doesn't get out of shape. Plus, the 10.8 inches of ground clearance and an integrated bash guard are on hand, just in case.
The plushy ride pays off in light of the tall 35.2-inch seat height. A rider of my size will create a decent amount of sag, which allows my 32-inch inseam to reach the deck easily. Shorter riders may need to sidesaddle at stops or be on tiptoes, but the 302-pound wet weight makes riding or picking this bike up (hey, trail mishaps happen) unintimidating. The ergonomics work well for standing or sitting and the long bench saddle allows a lot of rider movement.
In the braking department, a 2-piston caliper and 250mm rotor up front work along with a 1-piston caliper and a 240mm rotor in back. Both deliver adequate stopping power on road and could benefit from more feel, but that's an expected tradeoff given its multipurpose DNA. Change scenery, and the soft initial bite and progressive brake action work well in low-grip situations often encountered in off-road use and feel at the lever is just right. It's all a compromise for sure; but it's a good, well-balanced compromise.
And so it is with this bike on the whole. Arguably, entry-level machines in the market carry the most difficult job. Building products to a price point while also making them accommodating to a wide variety of rider sizes and skill levels is no easy task. But Kawasaki seems to have cleared these hurdles with ease. Given its impressive performance creds, the 2021 Kawasaki KLX300 wears its entry-level title like a badge of honor: This is one affordable all-rounder that's also an eminently capable ride.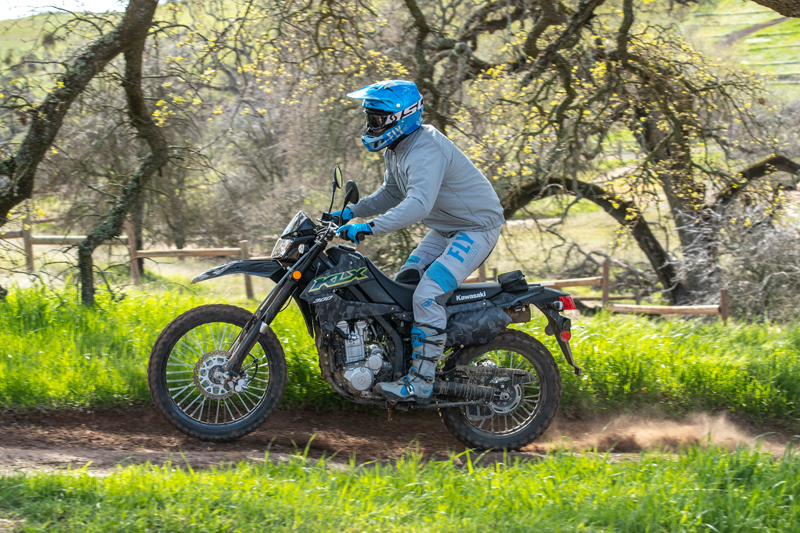 Nic's Gear:
Helmet: Fly Racing Formula CC
Jacket: Fly Racing Patrol
Jersey: Fly Racing Lite
Gloves: Fly Racing Lite
Pants: Fly Racing Lite
Boots: Fly Racing FR5
2021 Kawasaki KLX300 Specs:
Website: Kawasaki
Base Price: $5,599 ($5,799 for Fragment Camo)
Engine Type: Liquid-cooled single, DOHC w/ 4 valves
Displacement: 292cc
Bore x Stroke: 78.0 x 61.2mm
Transmission: 6-speed, cable-actuated wet clutch
Final Drive: O-ring chain
Wheelbase: 56.7 in.
Rake/Trail: 26.7 degrees/4.2 in.
Seat Height: 35.2 in.
Wet Weight: 302.1 lbs.
Fuel Capacity: 2.0 gals.
2021 Kawasaki KLX300 Photo Gallery: