To paraphrase Forrest Gump, adventure is as adventure does. It's not about what you ride, it's about getting out there, going places and experiencing the bounty of the world around us.
Right in our backyard is the Los Padres National Forest, nearly two million acres of public land filled with mountains, canyons, rivers and lakes, crisscrossed by some of the best paved and unpaved roads in Southern California. It's our go-to place for testing bikes, camping and escaping from the daily grind. Recently I spent a full winter day, from sunrise to well after sunset, plying back roads in the Los Padres on the new Benelli TRK502X, and I could not have been happier. We were both in our element.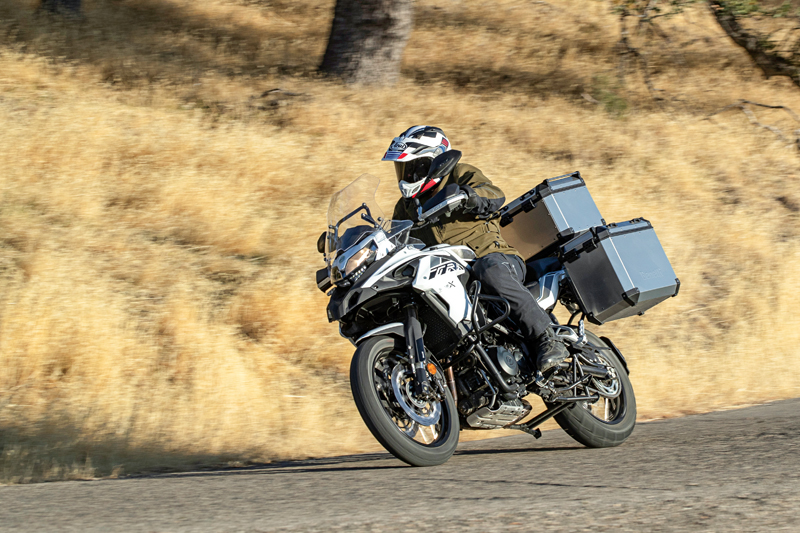 We took fast corners at speed and we dodged potholes in neglected pavement while going slow. We kicked up dust and we splashed through spring-fed creeks. We explored little-used and rutted dirt roads, scaring away deer munching on the few green leaves they could find at the end of a long dry season. What struck me most was how easygoing the Benelli is regardless of conditions. It steers obediently, responds predictably and stops authoritatively, though the right lever sometimes requires a firm pull. It's comfortable whether seated or standing, though the flared edges on the back of the tank pressed into my thighs when up on the pegs.
If you're looking for a solid, well-rounded motorcycle to explore blue highways and dirt byways, the Benelli TRK502X is worth a look. With a base price of $6,399, it's within reach of any budget.
When I think of Benelli, what comes to mind are exotic, expensive Italian motorcycles like the Tornado Tre, an inline-triple sportbike from the early 2000s. But Benelli has a much longer history. Established in 1911, it built its first engine in 1919 and its first motorcycle in 1921. Over the years Benelli built racebikes and two-strokes and four-strokes of various sizes. In the 1960s its motorcycles were sold in the U.S. at Montgomery Ward under the Riverside brand. In 2005, Benelli became part of the Qianjiang Group. Although still headquartered in Pesaro, Italy, where some models are designed, Benelli motorcycles are manufactured in Wenling, China. California-based SSR Motorsports has been the exclusive U.S. importer since 2015, and there are currently more than 300 dealers.
Benelli makes two versions of the TRK502. Listing for just $5,999, the street-biased base model has 17-inch cast wheels and a short underbelly exhaust. For $400 more, the TRK502X adds spoked wheels with a 19-inch front, Metzeler Tourance 90/10 adventure tires (with tubes) and a high-mount side exhaust. Both models are well-equipped in standard trim, with ABS, hand guards, engine guards, a 12V outlet, a centerstand and LED turn signals and running lights. Another $999 gets you a full set of aluminum luggage.
Design-wise, the TRK502 draws inspiration from stalwarts in the ADV class. It has a beak with nostrils similar to the Ducati Multistrada. It has a fantastic windscreen like the one on the BMW R 1250 GS. And it has styling touches that remind me of Triumph Tigers. Although full size in terms of dimensions and scale — with luggage, our test bike tipped the scales at 589 pounds with a full tank — the TRK502 is powered by a midsize 500cc parallel twin. It made 38 horsepower at 8,900 rpm and 29 lb-ft of torque at 4,500 rpm on Jett Tuning's dyno. That's not much power, but it's enough. The Benelli cruises along smoothly and happily at 80 mph, and its 6-speed transmission shifts with ease. At certain rpm I felt engine buzz through the grips and pegs, but it was never bothersome.
Although built to meet a price point, nothing about the Benelli looks or feels cheap. Fit and finish are spot-on, and the tubular-steel trellis frame, swingarm and subframe are robust. The beefy 50mm inverted fork offers no adjustability, but the rear shock is fully adjustable. Working the locks to remove the luggage gave me fits, but the locks and latches on the boxes themselves work great, and they hold a ridiculous amount of gear.
Chinese-made motorcycles have not yet broken into the mainstream on-road market in the U.S., but bang-for-the-buck bikes like the Benelli TRK502X will change that. Some of the most sophisticated precision-made products (like the iPhone in my pocket) are made in China, and even BMW sources some of its engines from there. Backed by a solid warranty and a large dealer network, the TRK502X is a bike I'd buy with confidence. The only thing missing is a destination.
Greg's Gear:
Helmet: Arai XD4
Gloves: Aerostich Elkskin Roper
Jacket & pants: Aether Divide
Boots: Alpinestars Corozal
2021 Benelli TRK502X Specs:
Base Price: $6,399
Price as Tested: $7,398 (luggage)
Warranty: 1 yr. or 12,000 miles
Website: Benelli Motorcycles USA
Engine Type: Liquid-cooled parallel twin, DOHC w/ 2 valves per cyl.
Bore x Stroke: 69 x 66.8mm
Displacement: 500cc
Transmission: 6-speed, cable-actuated wet clutch
Final Drive: Chain
Wheelbase: 60 in.
Rake/Trail: 26 degrees/4.7 in.
Seat Height: 33 in.
Wet Weight: 589 lbs. (as tested)
Fuel Capacity: 5.3 gals.
Fuel Consumption: 41.1 mpg
2021 Benelli TRK502X Photo Gallery: