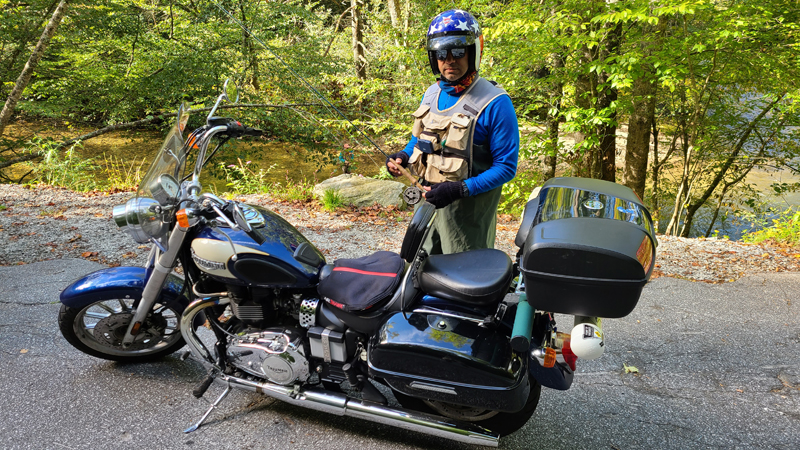 When the skies are clear, the temperatures are mild and the wisp of freedom is in the air, I am faced with a tormenting question: Should I ride, or should I fish?
My two life passions, colliding for my attention on one glorious day. Perhaps you have a similar Riding or ? Dilemma. Either decision is right, wrong and never fully satisfying. A classic Ginger or Marianne situation. For me, Ginger is the sexy, challenging mountain road. Marianne is the country comfort of a cool fishing hole. I am Gilligan. Due to my level of intelligence, it only took me 10 years to realize the answer to this tormenting choice is simply "Yes." Yes, I will ride to and along spectacular rivers. Yes, I will stop and fish. Then I will ride more. Then I will fish more. And so on. I will have it all, Ginger AND Marianne. Ten years…that's how smart I am.
Motorcycle fishing has taught me many lessons. I'd like to share a few. Perhaps you may find them helpful for your Riding and ? Adventure.
Boots: Surprisingly, boots are a major problem. You obviously need boots to ride, and to wade fish. Boots take up a lot of room. Modern waders have stocking feet and roll up to the size of a towel. Wading boots come in a variety of shapes. I found a clearance pair that offers protection and aren't too bulky. I use them for wading and riding. Valuable luggage space is saved since they're on my feet. Genius. I can wear them when I jump the shark and fish for one too.
Raingear: Speaking of double duty, fishing waders make great rain pants. You can ride from the Columbia River to the Gulf of Mexico in pouring rain, and your waders won't let in a drop. Since they rise up to your chest, any decent rain jacket will keep you dry and toasty. However, fishing waders are welded on the inside seam of both legs. Engine heat can compromise the seam. It's easy to identify when this occurs: When you get off your bike and enter the stream, refreshing water will fill each leg of your waders. This cold water will keep flowing until it reaches the level of the stream, hopefully below the waist area. Back on the bike, do not be alarmed by the trail of liquid behind you. By the time you reach your next fishing spot, your waders will be empty and the process will begin again.
To avoid this problem, simply ride Grape Ape style, with your knees spread far apart away from the engine heat. Beware — as you Grape Ape it from spot-to-spot wearing waders and a fishing vest, others may point at you and laugh. Stay strong.
Campsites: After a long day of fishing and riding, a good campsite is important. I recommend one with a coffee maker, six pillows and at least 40 channels.
Stay Legal: Like riding a motorcycle, you need a license to fish. Thankfully, they've never been easier to get. Just search online for the correct state and "fishing license," and you'll get the link. Take a minute to choose the correct type and dates of license. It will arrive via snail mail, but your printed confirmation will suffice until then. While you're at the keyboard, search "Fishing Report" for the area you're riding to. Could be helpful.
Rods: Motorcycle fishing is brutal on rods. Leave the good stuff at home. For spinning rods, I prefer the "medium light" Shakespeare Ugly Stik travel rod. It's $40, breaks down into four short pieces, and is fiberglass; much more durable than expensive graphite rods. Mine has been around the country. It's not sensitive and it's kinda whippy, but it has backbone when needed and can toss light lures pretty well. For fly-fishing, I use my old "Billy Baroo." Another four-piece travel rod, the tip snapped off about a hundred trout ago. The fish don't seem to mind. It's already broken, so no big loss if a motorcycle trip finishes her off. It will be a sad day though….
Tackle: Experienced anglers, just do your thing. For newbies, keep it simple. All of your tackle should fit into a fanny pack, which will keep you mobile. Eight-pound test line will cast far and be strong enough. A night crawler on the bottom has worked for a thousand years and isn't going to stop anytime soon. Use a No. 4 hook, add a couple split shot weights and toss into a deep, slow hole. Just get it on the bottom. If it rolls around a little down there, that's even better. For lures, try Mepps spinners and small Rapala minnows cast cross-stream in slower areas. As they sweep down current, work around boulders and current breaks. Retrieve just fast enough for them to spin or wiggle. Hold on tight, a smashing down-current strike is like a firecracker going off in your hand!
Rod Carrier: Fly rods come with their own cases; just strap it to the back or front of your bike. For spinning rods, make your own carrier. A proper length of 4-inch PVC piping and caps are all you need. Go to the PVC section at your local hardware store and figure it out. Attach with large hose clamps, and you're good to go. An hour and $20 should get it done.
This homemade rod carrier is also a great place to hang your travel stickers without permanently scarring your ride.
Safety: We all know the importance of safety on a bike. It's even more critical when combining adventures. While fishing, wade carefully, monitor changing water levels and watch for lightning, bees and bears. On a Riding and ? Adventure mistakes can be costly. For instance, let's say you park your bike on the roadside and look down to the stream, a 20-foot descent down a well-worn path. You know you should turn and face the bank, then slowly use every handhold, twig, root and rock to safely descend. But instead you choose the "It'll be fine" method, and simply take a large step down. You quickly arrive at the bottom, with your right (throttle) arm sticking straight up and back from a normal position. That explains the "pop" you felt about halfway down.
You lay half in the water, your broken rod next to you and a nauseous feeling in your gut, and discover that you can't lower your arm. Then it starts to rain. "Good thing I'm wearing my waterproof waders," you think. Over the next few minutes, as the rain increases, you discover the only way to lower your arm is to reverse the dislocation process. Simply rotate your arm counterclockwise and behind you. If you feel the painful "pop" again you did it correctly. Breathe past the pain. Then you will start thinking about your options. A passing helicopter to take you and your bike straight home? Unlikely. Calling for help from another angler? Embarrassing.
Eventually you walk a few feet downstream and see a much safer, gradual path. Taking it, you quickly get to your bike and discover that if you hold your wrist, shoulder and mouth at just the right angle, you can indeed pilot your bike. At least for the 15-minute ride back to your hotel. There ice, aspirin and brown elixir await. Alas, Ginger or Marianne does not. The next day you'll feel good enough for the 4-hour ride back home. Barely, if you don't steer too much. So be careful. Little mistakes can become big problems when you're chasing adventures.
Riders go for it. We just do. By thoughtfully combining our passions, we can redline our joy meter. Think about it, what's your Riding and ? Adventure? For me, it's climbing out of a stream with fresh memories of a couple beautiful trout, and seeing my trusty Triumph against a waterfall backdrop. That's my Ginger and Marianne. Nice job Little Buddy.