When the 2017 Kawasaki Z900 naked bike leaped onto the scene, it quickly garnered praise for its no-frills, bare-bones approach to sport riding. Hold the cost-increasing rider aids, please — I want a good chassis, punchy motor and all-day ergonomics, said utilitarian riders. Kawasaki delivered as ordered, affordably, too, making it one of the best values in the class. This year, the 2020 Kawasaki Z900 ABS is getting a tech update without breaking the bank.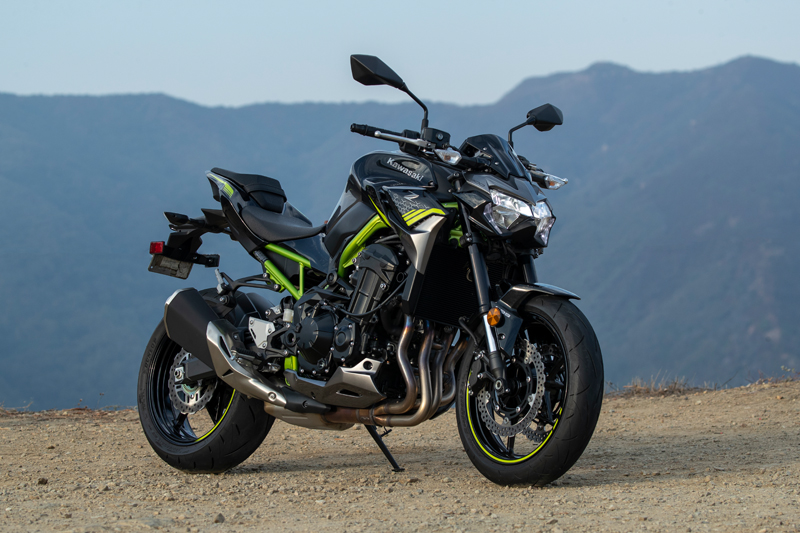 The pocket-protector-wearing bunch at Kawi waved their graphing calculators at the 2020 Kawasaki Z900 ABS and bestowed new technical amenities such as adjustable traction control, a full-color TFT display with Bluetooth connectivity and four selectable ride modes. Even the design department joined in, with a restyled LED headlight and indicators, shrouds and various covers that add up to just the right amount of Sugomi styling — all for a nominal $200 upcharge over the last ABS model. A non-ABS model is no longer offered stateside.
On the engine front, the 948cc powerplant returns with minor finagling to the airbox intake funnels and a new fuel map to meet Euro 5 standards. The good news is that it hasn't spoiled the party one bit, as the engine produced a healthy 113.3 horsepower at 9,800 rpm and 66 lb-ft of torque at 8,100 rpm on the Jett Tuning Dyno and power is delivered in an impressively linear fashion.
There is plenty of low-end brawn and heaping midrange power on tap, thanks in no small part to the low 1st – 5th gear ratios in the slick 6-speed gearbox; 6th is overdrive. From the moment you release the light assist-and-slip clutch, the 948cc engine spools up quickly and will pull as hard as you like in the canyons, or take on a friendly, urban-minded role when scooting around traffic. This isn't your stereotypical peaky inline-four engine and, in that sense, is far more versatile. The Z900's powerplant is also silky-smooth, with no bad vibrations, allowing the acoustically tuned intake howl and exhaust note to come to the top of the mix.
With a sporty, short throw at the shift lever, the Z900 is practically begging for a quickshifter. Of course, we know that would increase the MSRP, but the perky engine and peachy transmission are primed for one.
Freshly added is the 4.3-inch full-color TFT dash that is found on several Kawasaki models, paving the way for four selectable ride modes; Sport, Road, Rain and a customizable Rider mode. In Rider mode, owners can choose between Full or Low (55-percent max output) engine power, as well as the new 3-level traction control that can be disabled. ABS cannot be adjusted, per Euro 5 regulations.
I stuck with Sport predominantly since it has the least restriction and is, consequently, the most fun. A good whack of the throttle results in a cheeky front-end lift, while TC and ABS extend the leash for spirited riding without intervening aggressively. They'll step in when needed, as any well-designed system will do. This does lead me to one complaint about the new Sport and Road riding modes. The throttle response is abrupt during the initial on-off application, requiring the wrist-calibration of a world-class surgeon. You can get it right but sticks out in my mind because of how great the throttle is everywhere else.
Another bugbear is the unintuitive user interface on the Z's shiny new dash. I'll admit that diving into the menu's depths isn't something that owners regularly do; once you've found your settings, you'll generally keep them. Prod at the dash long enough and you'll figure it out, but I can't help feeling like one of the monkeys from "2001: A Space Odyssey," if only momentarily.
Speaking of new technology, the dash supports Bluetooth connectivity and the Kawasaki Rideology app, which has a host of features ranging from a riding log, text and call notification, to service information and more.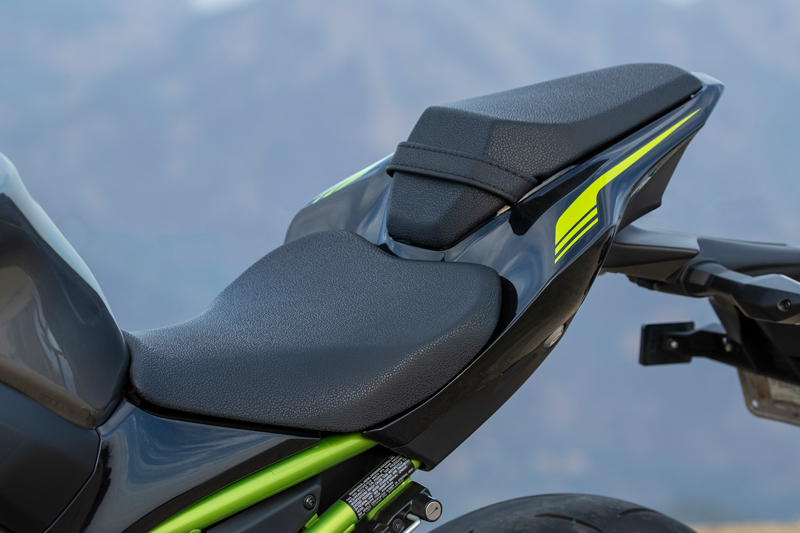 Overall, the cockpit and bike feel svelte; you're in command of the Z900 ABS and able to whip it around on a whim. At 31.3 inches, the Z900's seat height is the lowest in its class, and Kawasaki has also done a fine job of whittling down the 4.5-gallon fuel tank where it meets the thinly padded seat, giving the bike a less-bulky feel.
Those characteristics pay off for riders with shorter inseams, since many full-sized motorcycles sporting taller seat heights are less accommodating. At 5-foot, 10-inches tall, my 32-inch inseam does see some knee-bend, although I'm not uncomfortable and can confidently flatfoot at a stop. Taller or leggier riders may experience more knee bend, making the 1-inch higher ergo-fit seat a wise investment.
With a sporting 57.1-inch wheelbase and 24.5-degree rake, the Z900 is light and playful, ready to pounce at any corner, while its sturdy steel-trellis frame telegraphs information to the rider well. Kawasaki also says that the frame is beefed up around the swingarm area. It feels a sight nimbler than what the hefty 467-pound wet weight we measured would suggest — the bike could stand to hit the gym.
Whether you're peeling into a choice mountain sweeper or zipping through traffic, the Z900 is surefooted at both ends, helped along by sportier Dunlop D214 Sportmax rubber that features a more aggressive profile, livening up the Z's handling.
To complement the strengthened frame, Kawasaki tweaked the settings of the 41mm KYB fork, which features spring preload and rebound damping adjustment only. The horizontal back-link KYB shock now boasts a roughly 5-percent heavier spring rate, along with spring preload and rebound damping adjustment.
The initial setup isn't supersport stiff, nor is it pool-noodle soft. The confidence-inspiring chassis is aided by an athletic setup that helps the Z900 stay balanced, even when you start pushing it to a brisk pace. Firming up the suspension might appeal to those who only venture to mountain roads on Sunday, giving those riders an edge when riding quickly, but it would be detrimental in other environments.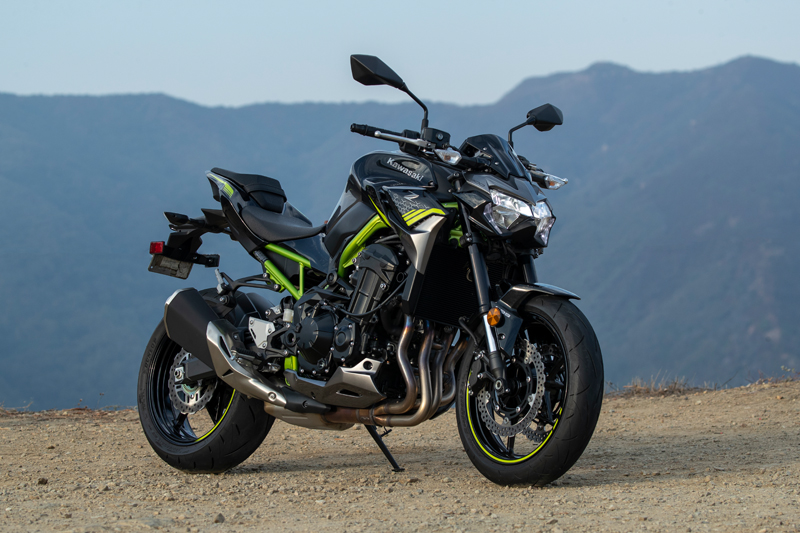 The MSRP-friendly suspension fares well in the city, although rough tarmac will expose a weakness in the shock's non-adjustable compression damping, especially if you're a heavier rider. That charge cannot be squarely leveled at the shock alone, as the thin seat padding is an accomplice in the crime of a harsh ride over bumpy tarmac.
Four-piston Nissin calipers that clamp onto 300mm petal discs handle braking duties, resulting in strong braking power and good feel at the adjustable lever. A single Nissin caliper works with a 250mm disc in the rear and is great for low-speed maneuvers or line correction. Together, the braking components do a fine job and remind us that spec-sheets don't always tell the whole story.
Kawasaki has upped their fit-and-finish game in recent years and even on the affordable Z900 ABS, that trend has continued. High quality paint on the fairings and frame make the entire bike pop, while graphic decals maintain the alluring price tag.
Undoubtedly, there will be those drawn to the 2020 Z900 ABS primarily due to its lovely MSRP. Smart consumers, indeed. Being budget-conscious used to mean you'd be making plenty of sacrifices in performance and features, and yes, its noticeably pricier competition will have a leg up in certain areas. Here, you're not giving up much of anything on the street. Telling someone, "You get what you pay for" is usually a warning, but in this case, it's just a good bike.
Nic's Gear:
Helmet: Scorpion EXO-R1
Jacket: Scorpion Optima
Pants: Scorpion Covert Ultra
Gloves: Racer Guide
Boots: TCX Rush 2 Air
2020 Kawasaki Z900 ABS Specs:
Base Price: $8,999
Warranty: 1 yr., unltd. miles
Website: Kawasaki.com
Engine
Type: Liquid-cooled, transverse inline-four
Displacement: 948cc
Bore x Stroke: 73.4 x 56.0 mm
Compression Ratio: 11.8:1
Valve Train: DOHC, 4 valves per cyl.
Valve Adj. Interval: 15,200 miles
Fuel Delivery: DFI with Mikuni 36mm throttle bodies x 4
Lubrication System: Wet sump, 4.2 qt. cap.
Transmission: 6-speed, wet assist-and-slipper clutch
Final Drive: O-ring chain
Electrical
Ignition: TCBI with Digital Advance
Charging Output: 329 Watts max
Battery: 12V 8AH
Chassis
Frame: Tubular steel trellis frame, w/ box section swingarm
Wheelbase: 57.1 in.
Rake/Trail: 24.5 degrees/4.1 in.
Seat Height: 31.3 in.
Suspension, Front: 41mm USD fork, adj. for spring preload & rebound damping w/ 4.7-in. travel
Rear: Horizontal back-link shock, adj. for preload & rebound damping w/ 5.5-in. travel
Brakes, Front: Dual 300mm semi-floating discs w/ opposed 4-piston calipers & ABS
Rear: Single 250mm disc w/ 1-piston pin-slide caliper & ABS
Wheels, Front: Cast, 3.5 x 17 in.
Rear: Cast, 5.5 x 17 in.
Tires, Front: 120/70-ZR17
Rear: 180/55-ZR17
Wet Weight: 466 lbs.
Load Capacity: 380 lbs.
GVWR: 846 lbs.
Performance
Horsepower: 113.3 Horsepower at 9,800 rpm
Torque: 66.0 lb-ft of torque at 8,100 rpm
Fuel Capacity: 4.5 gals.
MPG: 90 PON Min (low/avg/high) 36.2/42.2/39.2
Estimated Range: 190 miles
Indicated RPM at 60 MPH: 4,200
2020 Kawasaki Z900 ABS Photo Gallery: