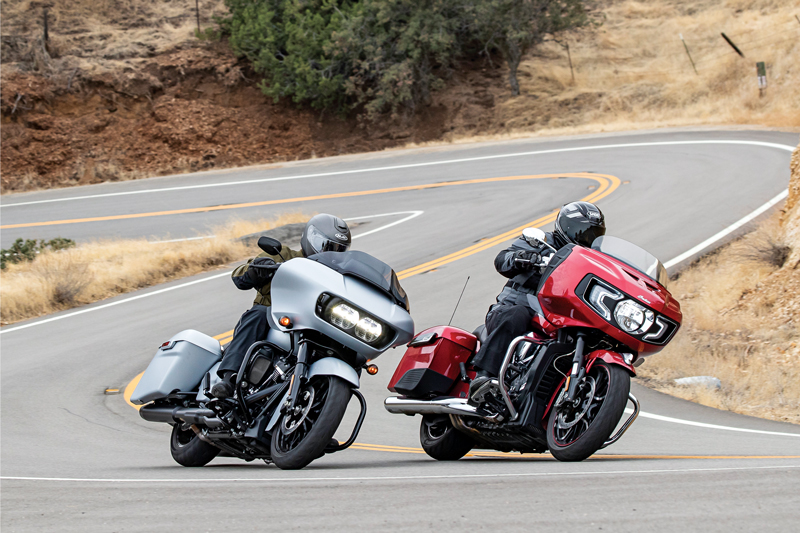 V-twin baggers are as American as baseball and apple pie. Big, stylish and built for our wide-open highways, they embody the self-expression and freedom that make motorcycles objects of obsession rather than just vehicles. America's two major bagger manufacturers — Harley-Davidson and Indian — are well-known brands from coast to coast, even among folks who've never ridden one, and their histories and rivalries stretch back more than a century. Being so steeped in tradition, Harley and Indian take great pains to satisfy their base, building motorcycles that conform to the expectations of loyal cruiser riders.
Read our First Look Review of the 2020 Harley-Davidson Softail Standard here.
Modern baggers must strike a delicate balance. On the outside they need to look a certain way — a big V-twin front and center, a long, low profile and muscular styling with bodywork covered in rich paint. But on the inside they need to meet increasingly stringent emissions, sound and safety standards, provide modern levels of comfort and reliability and deliver an engaging riding experience in terms of performance, technology and features.
These two 2020 baggers, Harley-Davidson's Road Glide Special and Indian's Challenger Limited, strike that balance remarkably well. Being the latest incarnation of a model family that's been in Harley's lineup for 40 years — starting with the 1980 FLT, then known as the Tour Glide — the Road Glide is the seasoned veteran in this comparison, and its signature feature is a frame-mounted sharknose fairing with dual headlights. Powering the Road Glide Special is the air-cooled, 114ci (1,868cc) version of Harley's Milwaukee-Eight 45-degree V-twin with pushrod-actuated overhead valves. The Challenger is Indian's newest model platform and the first to be powered by the PowerPlus 108 (1,768cc), a liquid-cooled, 60-degree V-twin with valves actuated by single overhead cams. Like the Road Glide, the Challenger has a frame-mounted fairing, a first for Indian.
Check out our 2020 Guide to New Street Motorcycles here.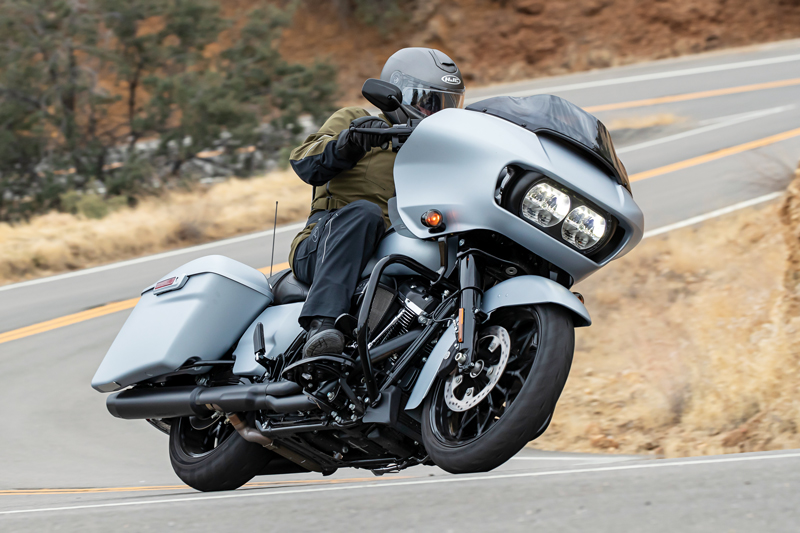 As head-to-head competitors, the Road Glide Special and Challenger Limited are similar in many ways. Their fixed fairings have bright LED headlights and large vents that bring fresh air into the cockpit, and both have long floorboards and protective highway bars. Their rumbling V-twins have hydraulic valve adjusters, throttle-by-wire and rear-cylinder deactivation, and both send power to their rear wheels through 6-speed transmissions with assist clutches and belt final drive. Both have cruise control, electronic rider aids (cornering ABS, cornering traction control and drag torque slip control — standard on the Indian, optional on the Harley), keyless ignition and touchscreen infotainment systems with audio, navigation, Bluetooth and USB ports. They have low seat heights, 6-gallon fuel tanks, cast wheels with tire pressure monitoring, top-loading lockable saddlebags and a pair of non-locking fairing pockets. Even their as-tested prices are separated by just $45 and their curb weights differ by a single pound—the Road Glide Special costs $28,794 and weighs 847 pounds; the Challenger Limited costs $28,749 and weighs 848 pounds.
Despite so many similarities, these bikes are anything but clones. Specs and features are one thing, style and personality are quite another. With nearly every component bathed in black, a tinted shorty windscreen, minimal badging and foregoing traditional metal flake and gloss in favor of matte Barracuda Silver Denim paint, the Road Glide Special is dark and brooding. (The FLTRXS is available in five other colors, all with gloss finishes.) The Challenger Limited, on the other hand, grabs your attention with Ruby Metallic paint, plenty of chrome and multiple Indian logos visible from every angle. (It's also available in two other gloss colors, while the Challenger Dark Horse comes in three matte colors.)
More differences between the Harley and Indian emerged after logging hundreds of miles in their saddles. Cruisers are tuned for low-end torque, helping heavy bikes — especially those loaded two-up with full saddlebags — pull away quickly from stops and make brisk passes. These baggers deliver ample torque, sending more than 100 lb-ft to the rear wheel, but they go about it in different ways. The Road Glide has great engine feel, with crisp throttle response, right-now thrust and a deeply satisfying V-twin pulse. The impressive refinement that went into the Milwaukee-Eight V-twin — more power and torque, less heat, less vibration at idle and smoother operation — is why we selected the entire M8-equipped Touring family as our 2017 Motorcycle of the Year. On Jett Tuning's dyno, the Harley generated smooth power curves with nary a dip or blip, torque rising to 104.5 lb-ft at 2,900 rpm and dropping off thereafter while horsepower increases linearly to 78.5 at 4,800 rpm. Due to its low rev ceiling (5,100 rpm) and narrow torque spread, short shifting the Harley helps it stay in its meaty midrange.
With its liquid cooling, oversquare bore/stroke and SOHC valve layout, Indian's PowerPlus generates more output with less displacement and revs higher than the M8. Starting at 2,400 rpm, the Indian's advantage over the Harley increases steadily, the gap widening to 28 lb-ft of torque and 27 horsepower by the time the Harley's rev limiter kicks in. The Indian keeps going, hitting a peak of 108 horsepower at 5,600 rpm before finally signing off at 6,300 rpm. With a broader spread of torque — more than 100 lb-ft are on tap from 2,400-5,600 rpm, reaching 113.3 lb-ft at 3,300 rpm — and much higher peak power than the Harley, the Indian likes to be revved. The Challenger has three ride modes that adjust throttle response, with Standard mode being fairly soft (Rain mode is even softer) and Sport mode delivering the goods immediately without abruptness.
These heavy machines can be a handful when pushing them around the garage or negotiating parking lots, but they feel well balanced and easy to maneuver at speed. With much of their weight carried low they roll in and out of curves gracefully, and their generous torque propels them out of corners with authority. About 31 degrees of cornering clearance on either side means they can be heeled way over before anything starts to scrape, especially with some extra preload dialed into the rear suspension. Despite having "race-spec" radial-mount Brembo calipers up front, the Indian's front brake lever feels vague and requires a firm pull to generate full stopping power. In contrast, the Harley's front brakes have the perfect amount of initial bite and better response at the lever.
If you're ready to lay down some serious miles, these baggers have nearly everything you need (except heated grips — a curious omission for premium models costing nearly $29,000). But they're not created equal when it comes to touring comfort. With a lower laden seat height (25.9 inches vs. 26.5 inches on the Indian), you sit deeper in the Harley's cockpit, with hips rolled back in the dished seat. Because the seat is U-shaped front to back and has a slick finish, it's difficult to sit farther back; hit one bump and you slide back down.
Greg's Gear
Helmet: HJC RPHA 90
Jacket: Aether Divide
Pants: Aether Divide
Boots: Sidi Gavia
And bumps can be a problem on the Harley. Most of the time the Road Glide Special provides a comfortable, compliant ride, but its rear shock, which is firmly damped and allows only 2.1 inches of travel, responds harshly to pavement ripples, cracks and seams. Big bumps and potholes send shock waves right up the spine and can bounce a rider out of the seat. Also, the Harley's fairing sits much farther forward (it's a long reach to the infotainment screen), its windscreen offers no adjustment and the two large vents flanking the headlights cannot be closed so a high volume of air always flows into the cockpit. This comparison took place in December, and testers always felt colder and more buffeted by the wind on the Harley than on the Indian.
The Challenger Limited provides a more comfortable and enjoyable riding experience. Its seat is flatter and has more grip and support, its long tank is narrower between the knees and its fairing provides more wind protection. The Indian's fairing is closer to the rider and its windscreen is electrically adjustable over a 3-inch range — raising the screen all the way up and closing the fairing vents creates a calm, quiet space for the rider. With 5.1 inches of suspension travel in the front and 4.5 inches in the rear — 0.5 inch and 2.4 inches more than the Harley, respectively — and more compliant damping, the Indian is much better at insulating the rider and passenger from rough roads. Even at a sporting pace with riders well over 200 pounds in the saddle, the Indian never bottomed out nor reacted harshly.
Ken's Gear
Helmet: Shoei RF-1200
Jacket: Tourmaster Transition
Pants: Aerostich Darien
Boots: TCX Evo
The Road Glide Special was clearly Indian's benchmark for the Challenger Limited. At the press launch last October, Indian provided a side-by-side comparison of their performance and features as well as a Road Glide Special for us to ride. With Indian's sales being about one-tenth of Harley's, one way to improve its market share is to offer more bang for the buck on competing models. Indian has done so in terms of performance with an all-new, liquid-cooled engine that makes more power and torque and offers the flexibility of throttle-response modes. It has done so in terms of convenience with a more modern and user-friendly infotainment system with higher audio output (100W vs. 50W on the Harley) as well as extra features like central saddlebag locks and a keyless locking fuel cap. And it has done so in terms of comfort with a more supportive seat, better wind protection and superior ride quality, all in a package that costs and weighs nearly the same.
Healthy competition is good for the industry and good for riders because it provides us with better motorcycles. Since the launch of Project Rushmore for 2014, Harley-Davidson has continuously raised the bar with improvements to its engines, chassis, comfort, convenience and other features. The 2014 model year also happens to be when Indian launched its all-new Thunder Stroke V-twin and Chief lineup, reigniting an old rivalry and spurring a feverish pace of innovation from both companies. The 2020 Road Glide Special is better than ever, but the Challenger Limited surpasses it.
Keep scrolling for more detailed photos after the spec charts….
2020 Harley-Davidson Road Glide Special Specs
Base Price: $27,299
Price as Tested: $28,794 (RDRS, color)
Warranty: 2 yrs., unltd. miles
Website: harley-davidson.com
Engine
Type: Air-cooled, transverse 45-degree V-twin
Displacement: 1,868cc (114ci)
Bore x Stroke: 102.0 x 114.0mm
Compression Ratio: 10.5:1
Valve Train: OHV, 4 valves per cyl.
Valve Insp. Interval: NA (self-adjusting)
Fuel Delivery: Electronic Sequential Port Fuel Injection
Lubrication System: Dry sump, 5.2-qt. cap.
Transmission: 6-speed, hydraulically actuated wet assist-and-slipper clutch
Final Drive: Belt
Electrical
Ignition: Electronic
Charging Output: 625 watts max.
Battery: 12V 28AH
Chassis
Frame: Tubular-steel double cradle w/ two-piece backbone & steel swingarm
Wheelbase: 64.0 in.
Rake/Trail: 26 degrees/6.8 in.
Seat Height: 25.9 in. (laden)
Suspension, Front: 49mm stanchions, no adj., 4.6-in. travel
Rear: Dual shocks, adj. preload w/ remote knob, 2.1-in. travel
Brakes, Front: Dual 300mm floating discs w/ opposed 4-piston calipers, fully linked & ABS
Rear: Single 300mm fixed disc w/ opposed 4-piston caliper, fully linked & ABS
Wheels, Front: Cast, 3.50 x 19 in.
Rear: Cast, 5.00 x 18 in.
Tires, Front: 130/60-B19
Rear: 180/55-B18
Wet Weight: 847 lbs. (as tested)
Load Capacity: 513 lbs. (as tested)
GVWR: 1,360 lbs.
Performance
Fuel Capacity: 6.0 gals., last 1.0 gal. warning light on
MPG: 91 AKI min. (low/avg/high) 39.3/40.4/42.3
Estimated Range: 242 miles
Indicated RPM at 60 MPH: 2,200
2020 Indian Challenger Limited Specs
Base Price: $27,999
Price as Tested: $28,749 (color)
Warranty: 2 yrs., unltd. miles
Website: indianmotorcycle.com
Engine
Type: Liquid-cooled, transverse 60-degree V-twin
Displacement: 1,768cc (108ci)
Bore x Stroke: 108.0 x 96.5mm
Compression Ratio: 11.0:1
Valve Train: SOHC, 4 valves per cyl.
Valve Insp. Interval: NA (self-adjusting)
Fuel Delivery: EFI, 52mm dual bore throttle body x 2
Lubrication System: Semi-wet sump, 5-qt. cap.
Transmission: 6-speed, cable-actuated wet assist clutch
Final Drive: Belt
Electrical
Ignition: Electronic
Charging Output: 803 watts max.
Battery: 12V 18AH
Chassis
Frame: Modular cast aluminum w/ engine as stressed member & cast aluminum swingarm
Wheelbase: 65.7 in.
Rake/Trail: 25 degrees/5.9 in.
Seat Height: 26.5 in. (laden)
Suspension, Front: 43mm USD fork, no adj., 5.1-in. travel
Rear: Single shock, remote adj. for spring preload, 4.5-in. travel
Brakes, Front: Dual 320mm floating discs w/ opposed 4-piston radial calipers & ABS
Rear: Single 298mm floating disc w/ 2-piston pin-slide caliper & ABS
Wheels, Front: Cast, 3.50 x 19 in.
Rear: Cast, 5.00 x 16 in.
Tires, Front: 130/60-B19
Rear: 180/60-R16
Wet Weight: 848 lbs.
Load Capacity: 537 lbs.
GVWR: 1,385 lbs.
Performance
Fuel Capacity: 6.0 gals., last 1.0 gal. warning light on
MPG: 91 AKI min. (low/avg/high) 37.7/38.1/38.6
Estimated Range: 228 miles
Indicated RPM at 60 MPH: 2,500