In addition to the new 390 Adventure, KTM revealed several new and updated machines at the EICMA show in Milan, Italy this week that should further its reputation as a performance-oriented brand. The 1290 Super Duke R returns to the lineup completely revamped, and a Rally version of the 790 Adventure R promises heaps of off-road ability — both are expected at dealers in February 2020. The cover was also lifted from the new KTM 890 Duke R, which will come to North America in the fall of 2020 as a 2021 model. Details on the latter bike weren't readily available.
2020 KTM 1290 Super Duke R
MSRP: $18,699 USD
Though the name hasn't changed, the 2020 1290 Super Duke R is so improved from its predecessor that it's essentially an all-new motorcycle. Coming in at a claimed 416.6 pounds dry, the bike is said to be lighter and more powerful and have better handling than its predecessor.
Engine
An updated more powerful 1,301c LC8 V-twin, with titanium inlet valves and resonator chambers on the cylinder heads, gets new top-feeder injectors and 56mm throttle bodies for improved air/fuel mixture at high rpms. A new ram air intake positioned in the new headlight mask also maximizes flow by forcing air into the combustion chambers. New thinner engine casings and revised water and oil cooler mounts have resulted in a 1.7-pound weight savings, and new exhaust headers optimize gas flow. An updated Pankl gearbox provides quicker shift times, shorter shift action and lighter lever modulation.
Read our KTM 1290 Super Duke GT Long-Term Review
Frame
A new ultra-lightweight chrome-molybdenum steel frame carries the engine as a stressed member. The combo is said to be 3 times stiffer and 4.4 pounds lighter than its predecessor. A new lighter composite subframe combines a number of functions to save weight and increase functionality, and a longer single-sided swingarm has been repositioned closer to the output sprocket for more control.
Suspension
An updated, lighter 48mm WP Apex USD fully adjustable split front fork has separate damping circuits. The newly developed WP Apex rear shock absorber features separate gas and oil reservoirs, making it lighter and more compact than its predecessor. A "no-tools-needed" manual preload dial eases rear shock set-up, and new linkage at the rear helps smooth out rough roads.
Wheels
New CAD designed wheels offer a lighter build while keeping strength, and new Bridgestone S22 tires were developed with a specific carcass in the rear for the KTM 1290 Super Duke R that provides a more stable ride in corners, improving grip and performance.
Electronics
Reworked and updated ride modes have been designed to be less intrusive in all modes, with smoother anti-wheelie functions. MSC (Motorcycle Stability Control) with Cornering ABS by Bosch includes Supermoto mode, Ride mode technology and multi-stage, lean angle sensitive Motorcycle Traction Control (MTC). The lean-angle sensitive MTC uses a 6-axis lean angle sensor and two different controllers to keep things in check. The wheel-slip controller regulates the amount of spin or break in traction at the rear wheel. A pitch angle controller identifies and regulates abrupt changes in front wheel lift.

Optional "Track mode" includes launch control, 9-level spin adjuster, a track ride mode and anti-wheelie off function. Optional "Performance mode" takes the basic concept of "Track mode" but adapts it for the street. An optional dealer-installed Performance Pack combines Motor Slip Regulation (MSR) and Quickshifter+, and cruise control adds long distance convenience. KTM's Race On keyless system means less hassle and increased security.
Details
KTM My Ride is standard on the 1290 Super Duke R and features a Bluetooth connection to the rider's smartphone to control audio playback and accept phone calls. A new LED headlight and LED daytime running lights improve visibility, and the new multifunctional TFT-dashboard with increased functionality displays information in a clear and bright display. Finally, new colorways and bodywork are aggressive and lean — every panel and plate has been calculated for optimum thickness and minimized wherever possible.
2020 KTM 790 Adventure R Rally
MSRP: $19,499
With only 500 units planned for production worldwide, the limited edition KTM 790 Adventure R Rally adds top-line suspension components from WP Pro to make it the most off-road-capable ADV bike in KTM's lineup. Based on the KTM 790 Adventure R, the Rally model has the same steel trellis chassis, compact LC8c parallel twin engine and the R's electronic rider aids. The major difference is the addition of the special WP Xplor Pro suspension, which was developed in the same department as WP's Factory Racing equipment for superior performance. It also adds 30 mm of suspension travel front and back and raises seat height to 35.8 in.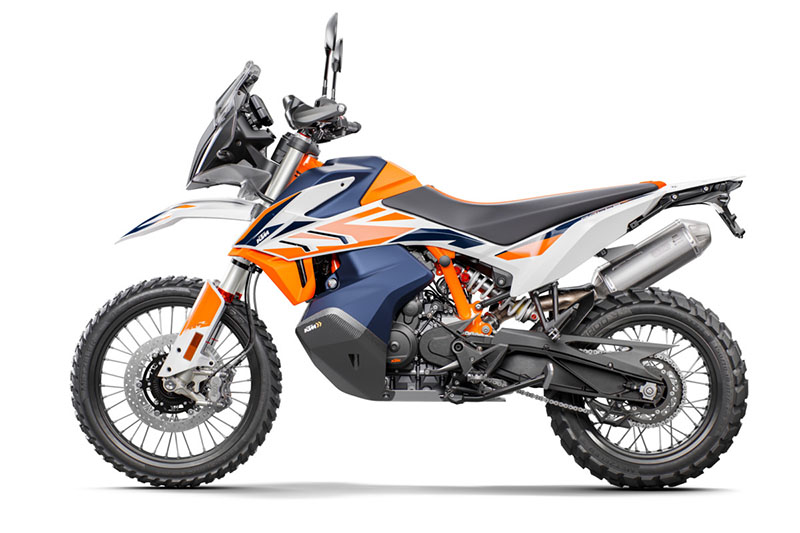 KTM says that the WP Xplor Pro 7548 fork uses cone valve technology that allows unlimited opening, so harshness of the suspension is reduced, while the closed cartridge construction ensures reduced friction, consistent performance over longer periods and improved responsiveness. The WP Xplor Pro 6746 shock absorber uses KTM's trademark progressive damping system (PDS), which allows progressive damping without using a linkage for reduced weight and maintenance.
Other upgrades to the 790 Adventure R Rally include a completely new and unique color scheme, Akrapovic titanium silencer and an off-road-specific air filter from the KTM PowerParts line. The bike also has special high-strength DID Dirt Star rims, a high, race-specific straight seat and Rally footpegs.
Read our First Ride Review of the 2019 KTM 790 Adventure/R
Rider's 2019 Motorcycles of the Year: KTM 790 Adventure
2021 890 Duke
Here are photos of the 2021 890 Duke. Besides the addition of a passenger seat cowl and bump stop and passenger footpeg delete in this European-version photo (and obvious color and graphic changes), we don't yet know what else has been changed besides displacement. KTM's "Scalpel" 790 Duke certainly didn't lack for power, so perhaps it was done for Euro 2020 reasons…we'll find out soon enough!
Read our 2019 KTM 790 Duke First Ride Review
Other street-legal KTM models returning for 2020 include:
RC 390
390 Duke
690 Enduro R
690 SMC R
790 Adventure
790 Adventure R
790 Duke
1290 Super Adventure R
1290 Super Adventure S
1290 Super Duke GT
Check out Rider's 2020 Guide to New Street Motorcycles