With just eight employees and three models, Honda began selling motorcycles in the U.S. 60 years ago, in September 1959. To celebrate the milestone, American Honda hosted an event in late September in conjunction with the American International Motorcycle Expo (AIMExpo) in Columbus, Ohio.
It began with a technical briefing and in-person look at the new CRF1100L Africa Twin and CRF1100L Africa Twin Adventure Sports ES, held at the AMA Motorcycle Hall of Fame Museum in Pickerington, Ohio. The next day, aboard a selection of 2019 models from its demo fleet, Honda's motorcycle press relations staff, select dealers and members of the press rode through the central Ohio countryside to Marysville, home of the Honda Heritage Center, which houses a museum highlighting the company's achievements in North America, as well as Honda of America Manufacturing, where the company began building motorcycles in 1979.
READ: 2020 Honda CRF1100L Africa Twin First Look Review
Humble Beginnings
Although many people associate Honda the company with Honda the man–Soichiro Honda, the former race-car driver, brilliant engineer and charismatic, outspoken leader of the company until his retirement in 1973–in fact Honda Motor Company, Ltd. had a co-founder. Takeo Fujisawa was in charge of sales, and his keen business acumen was the perfect complement to Mr. Honda's talent for engineering and design. Referring to his partnership with Mr. Fujisawa, Mr. Honda said, "Honda is like a motorcycle–without two wheels it fails to go."
The company that would ultimately become the largest engine manufacturer in the world got its start by creating low-cost motorized bicycles using small engines left over from World War II. Honda grafted 50cc two-stroke radio generator engines built by Tohatsu onto bicycles. Once its supply of 500 surplus engines ran out, Honda built its own 50cc two-stroke engine, the A-Type, which made 0.5 horsepower and was nicknamed Bata Bata for the sound it made. Honda Motor introduced its first originally designed and engineered product, the D-Type Dream motorcycle, in 1949.
When Honda was looking to expand outside of Japan, the logical next step was to enter other markets in Asia. But Mr. Fujisawa made a bold proposition. "On second thought, let's do America," he said. "After all, America is the stronghold of capitalism, and the center of the world's economy. To succeed in the U.S. is to succeed worldwide. To take up the challenge of the American market may be the most difficult thing to do, but it's a critical step in expanding the export of our products."
READ: 2019 Honda Super Cub C125 ABS First Ride Review
And rather than sell its products in the U.S. through trading companies, as many Japanese companies did at the time, Mr. Fujisawa decided to build Honda's own sales network by establishing a wholly owned distributorship. Mr. Fujisawa ordered Kihachiro Kawashima, a sales manager at Honda's headquarters in Japan, to move to the U.S. and build the new subsidiary.
On June 11, 1959, American Honda Motor Co., Inc. was established in Los Angeles, California. Due to limitations imposed by Japan's Ministry of Finance, the venture began with an investment of just $250,000, half in cash, half in products and parts. Mr. Kawashima spent most of the cash–$100,000–to buy a former photography studio to house its operations. "I felt that we had to put down roots and establish our own building," recalled Kawashima. "So I thought, 'Let's not rent for the time being. Why not just buy the building?' It might have seemed reckless, but I didn't feel that I was acting out of desperation. Actually, I was dreaming of a rosy future!"
From the small storefront on on West Pico Boulevard, Mr. Kawashima and seven other employees began selling motorcycles. American Honda offered three models: the Honda 50 (aka the Super Cub), the 125cc Benly and the Dream, in 250cc and 350cc sizes. Employees would load a couple of bikes into the back of a Chevrolet Apache pickup truck and drop them off at dealerships (see lead photo). When the bikes sold, they'd come back to collect payments and drop off new units.
American Honda was established with a goal of selling 1,000 motorcycles per month at a time when total annual sales in the U.S. was only 50,000 to 60,000 motorcycles. During its first four months–September through December 1959–American Honda sold only 170 motorcycles. But its "nifty, thrifty" Honda 50, which was more affordable (only about $250) and accessible than anything else you could buy, helped create a new market among young people and men and women who were not traditional motorcyclists. It was advertised in general-interest magazines such as "Life" and sold in sporting goods and outdoor/camping stores. In May 1961, American Honda finally surpassed its goal of selling 1,000 motorcycles per month. By December 1962, Honda was selling 40,000 motorcycles per year.
What really put Honda on the map was its "You Meet the Nicest People on a Honda" ad campaign, which was created by Grey Advertising. The ad depicted a mother and daughter, a father and son, a young man and his dog, polite ladies with parcels and even Santa Claus with a bag a presents, all riding bright red Honda 50s. Following the ad campaign's launch in 1963, Honda sold 90,000 of its 50cc runabouts. By 1970, with an expanded lineup that included the Mini Trail, CL77 Scrambler and the ground-breaking CB750, Honda had sold 500,000 motorcycles in the U.S.
READ: 2019 Honda Monkey First Ride Review
Building Hondas in America
Soon after launching Honda Motor Company, Ltd., Soichiro Honda shared his dream of becoming the world's leading manufacturer. Exporting motorcycles, automobiles, power equipment and other products had fueled Honda's growth, but to become a truly global company Mr. Honda advocated "building products in the market where they are sold."
Even though Soichiro Honda and co-founder Takeo Fujisawa retired at the same time, in October 1973, on the 25th anniversary of Honda Motor's establishment, Mr. Honda made sure his vision of manufacturing products in other countries became a reality. What began as a handshake agreement in 1977 between Mr. Honda and Governor James Rhodes of Ohio became Honda of America Manufacturing, Inc. (HAM) in February 1978.
Starting with 64 associates, including 11 engineers from Japan and 53 Americans who had never assembled a motorcycle before (most had never worked in a factory), the first motorcycle–a CR250R Elsinore dirt bike–rolled off the assembly line on September 10, 1979, at Honda's Marysville Motorcycle Plant. That night, HAM received a fax from Japan telling it to proceed with automobile production as soon as possible. The manufacturing facility in Marysville was expanded, and the first Honda automobile produced in America rolled off the line in 1982.
The Marysville Motorcycle Plant produced a total of 1,093,871 motorcycles and 1,240,544 ATVs during 31 years of operation, from 1979 to 2009. The last motorcycle to roll off the line was a 2009 Gold Wing GL1800. ATV production was moved to Honda of South Carolina Manufacturing and motorcycle production was moved to Honda's new plant in Kumamoto, Japan.
READ: Honda Gold Wing Milestone Models 1975-2015
READ: Honda Gold Wing Timeline 1972-2018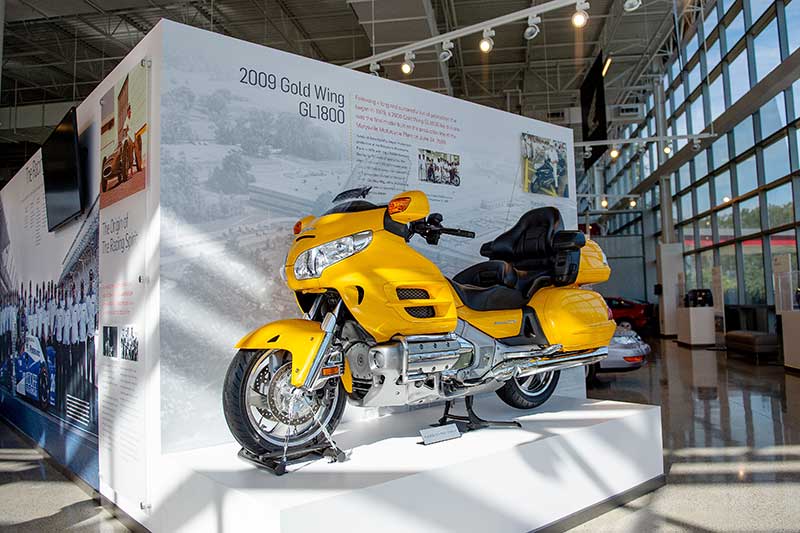 READ: 2018 Honda Gold Wing First Ride Review
Honda Heritage Center
Across the street from the Marysville Auto Plant is the Honda Heritage Center, a modern building that houses a free, self-guided museum that's open to the public. Visitors can also sign up for a free, guided tour of the Auto Plant. If you have the time, the Auto Plant tour is not to be missed. The complexity, coordination, sophistication and professionalism on display in a state-of-the-art automobile assembly plant, from the constant stream of parts being delivered from suppliers and engines being delivered from Honda's engine plant in Anna, Ohio, to the body panels being stamped out from raw sheet steel using a 4,800-metric-ton hydraulic press, the army of robotic welders and the hundreds of associates carefully installing components and testing finished products, is awe-inspiring.
For more information, visit hondaheritagecenter.com.
Honda in America Today
Although Honda no longer builds motorcycles in the U.S., Honda of America Manufacturing is still going strong. Since 1982 it has built 26.1 million cars and light trucks. The Marysville Auto Plant, part of which is on the former site of the motorcycle plant, produces most of the Honda Accords and CR-Vs and several Acura models sold in the U.S., and the Acura NSX sports car is hand-built next door at Honda's Performance Manufacturing Center. Throughout the U.S. Honda has 31,000 associates and 75 facilities, including 12 manufacturing plants, 14 R&D facilities, 12 parts centers, as well as American Honda's marketing, sales, service and financing operations.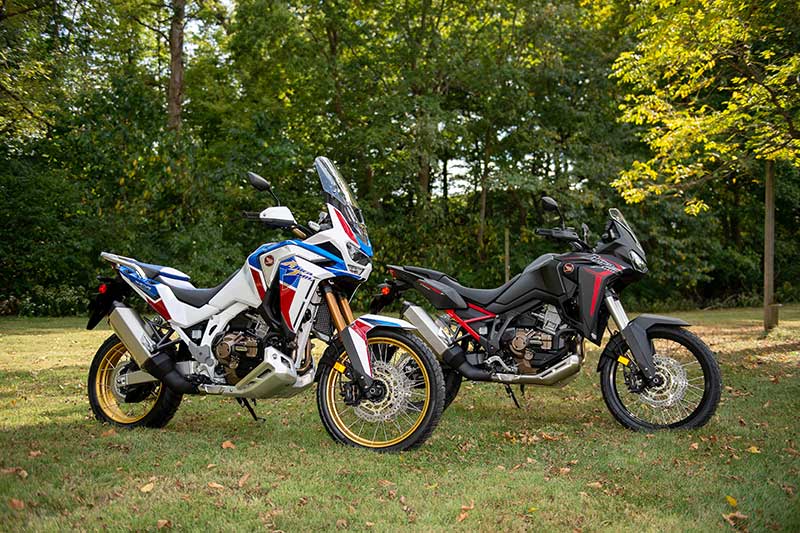 Honda has 12,400 automobile, powersports and power equipment dealers in the U.S. that employ 159,000 people, and just over 1,000 powersports dealers sell motorcycles, ATVs and side-by-sides. American Honda's motorcycle lineup includes a full line of on-road models, ranging from the 49cc, $2,749 Ruckus scooter to the 1,833cc, $31,800 Gold Wing Tour Airbag DCT, in almost every conceivable segment, as well as a full line of off-road models, from the CRF50F minibike to the CRF450R Works Edition competition machine. According to Honda's Summer 2018 Corporate Update, in 2017 it sold roughly 700,000 motorcycles, ATVs and side-by-sides in the U.S. and its market share was 21%. The United States remains an important market for Honda, but it comprised only about 4% of Honda's 17,661,000 global motorcycle unit sales in 2017.
SOURCES: honda.com, global.honda, hondainamerica.com