After announcing the limited-edition Triumph Rocket 3 TFC, which is built on an entirely new platform and is powered by a massive 2,458cc in-line triple, Triumph has announced the Rocket 3 R roadster and Rocket 3 GT touring cruiser for 2020.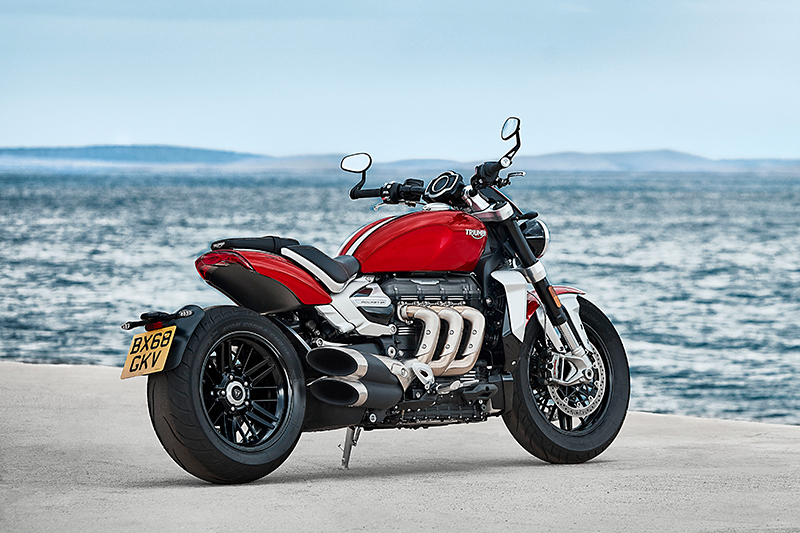 The previous Rocket III's triple was "only" 2,294cc in-line triple, yet its 4-inch cylinders were the same size as those in a Chevy 350ci V-8. The Rocket III's engine was – and continues to be – the largest engine of any mass-produced motorcycle, and when we strapped it to the dyno back in 2005, it spun the drum to the tune of 127 horsepower and 141 lb-ft of torque – an unheard-of amount of grunt that has only been beaten by a more recent version of the Rocket III. The 2010 Rocket III Roadster made more than 160 lb-ft of torque at the crank.
Related: 2014 Triumph Rocket III Touring Road Test Review
Of course, if you've been paying attention, then you know that Triumph recently unveiled the Rocket 3 TFC, a $29,000 limited-edition Triumph Factory Custom that was a major reboot for the Rocket 3 platform, and it's powered by an even bigger in-line triple displacing 2,458cc and making a claimed 168 horsepower and 163 lb-ft of torque. At nearly 2.5 liters, the new Rocket 3's engine is larger than that of many automobiles. The Rocket 3 TFC is also a much more modern platform than its predecessor (which is probably why the "III" was replaced by "3"), with updated styling, an aluminum frame, a single-sided swingarm, carbon fiber bodywork and a full suite of electronics.
Now Triumph has unveiled two production models, the Rocket 3 R and the Rocket 3 GT, the latter aimed at those who like to travel longer distances, with or without a passenger. Claimed engine output is 165 horsepower and 168 lb-ft of torque, in a package that weighs nearly 90 pounds less than the previous-generation Rocket III.
Mass-optimized performance enhancements to the liquid-cooled engine include a new crankcase assembly, a new lubrication system with a dry sump and integral oil tank and new balancer shafts, which makes the new, larger engine 40 pounds lighter than its predecessor. On the right side is one of the Rocket 3's most eye-catching styling elements – a trio of hydroformed exhaust headers leading to a pair of howitzer-sized mufflers, which Triumph says produce a "unique deep growling triple" soundtrack.
The engine is mated to a 6-speed transmission with a torque-assist clutch, and all that asphalt-buckling power reaches the rear wheel through a stout driveshaft. Throttle-by-wire and an IMU support a host of electronic features, including four riding modes, cornering optimized ABS and traction control, cruise control and hill hold control.
Related: Triumph Daytona Moto2 765 LE Sneak Peek
Slowing down the Rocket 3 are top-of-the-line Brembo Stylema monoblock front calipers, and its adjustable fork and rear shock are made by Showa. New lightweight cast aluminum wheels are shod with Avon Cobra Chrome tires, and the rear a full 240mm in width.
The Rocket 3 leads the way with a pair of round headlights that have been a signature styling feature of many Triumphs since the Speed Triple was introduced in the mid '90s. Lighting is fully LED with daytime running lights. Other standard features include a TFT display, a USB charging port and keyless ignition and steering lock.
Both Rocket 3 models feature sculpted rider and passenger saddles, and an accessory in-fill pad makes it easy to switch between two-up and solo seating configurations. Seat height for the rider is 30.4 inches on the Rocket 3 R. At 29.5 inches, it's even lower on the Rocket 3 GT, which comes standard with a brushed aluminum passenger backrest. As a roadster, the Rocket 3 R has midmount foot controls with two vertical position settings (0 inch / -0.59 inch). The touring-oriented Rocket 3 GT has feet-forward foot controls with three horizontal positions (-0.98 inch / 0 inch / +0.98 inch), and the passenger backrest is also height adjustable.
A wide range of accessories are available for both models, including heated grips (standard on the GT, optional on the R), a quickshifter, GoPro integration, turn-by-turn navigation via the My Triumph app, Bluetooth connectivity, tire-pressuring monitoring, luggage (soft saddlebags, tank bag and tail bag), a sport windscreen and various handlebar and seat accessories.
The 2020 Triumph Rocket 3 R will be available in Korosi Red (shown) or Phantom Black, and MSRP starts at $21,900.
Read our 2023 Triumph Rocket 3 R Road Test Review
The 2020 Triumph Rocket 3 GT will be available in Two-tone Silver Ice and Storm Grey with Korosi Red pinstripe decal (shown) or Phantom Black, and MSRP starts at $22,600. Both models will be in dealerships starting in December 2019.