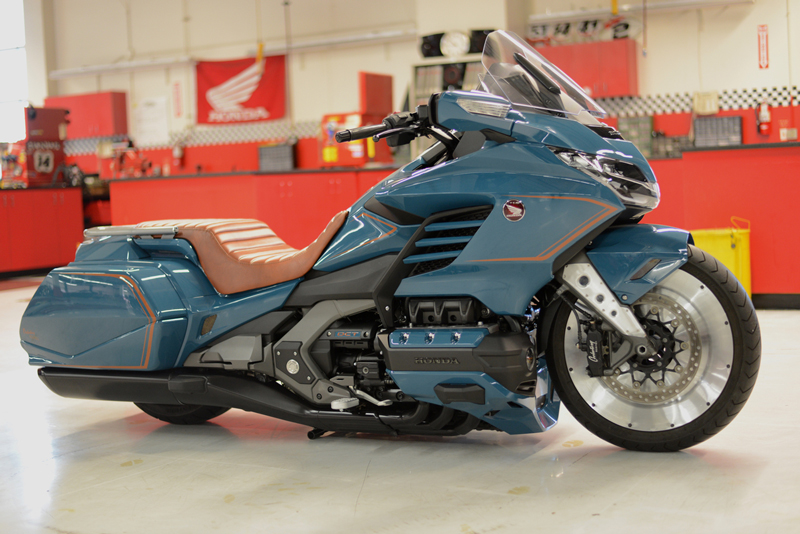 Perhaps to prove that the new Gold Wing isn't just for old guys anymore, Honda unveiled a custom Gold Wing at Daytona Bike Week, dubbed "Cool Wing" and built by Kevin Dunn, Duy Nguyen, Jimmy Chen and Ray Tong, of Southern California's Steady Garage.
The design challenge was to create something that was stylish but without straying too far from functionality. Following an extensive draft process, designer Francis Clemente came up with a design that could stimulate both customizers and purists. Air suspension and batique-style mufflers were examples of elements that were key to creating the build's silhouette, but a handcrafted leather saddle, bare metal details and scallops in the paint brought the Cool Wing to life.
Read our First U.S. Ride Review aboard the new Gold Wing here.
With one and a half months to bring the project from concept to reality, Steady Garage worked with partners to machine and fabricate special parts. Mooneyes built a mold specifically for the project in order to make the disc covers for the Gold Wing front rim, while Platinum Air Suspension provided air shocks to help achieve the slammed stance without sacrificing the ride height. The onboard air is stored on two Dirty Work stainless steel air tanks, with air supplied by a single Viair 380c air compressor. Maxima Imagen painted over 33 individual parts and Electrical Connection provided dress-up components. Cub Group supplied the industry's first motorcycle blind-spot monitoring system (BSM), and Rogelio's Auto Upholstery did a fantastic job with the seat.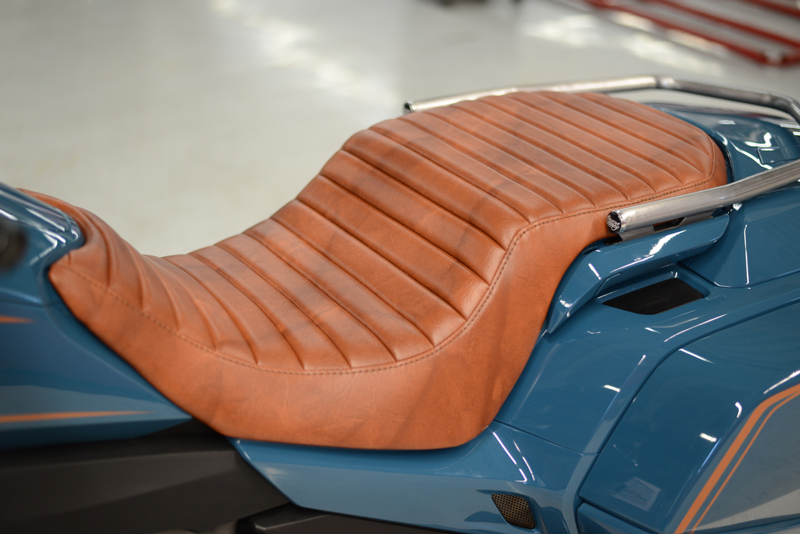 "Our team was ecstatic to be the chosen company to build a custom Gold Wing for Honda," said Steady Garage Co-founder Kevin Dunn. "The project was very challenging due to the Gold Wing's new design, as there was no guidance from any existing builds or projects that fit our style. Our hope was to build a custom Gold Wing that would be appreciated by riders of all ages, interests and backgrounds. We had to make it look cool without stepping away from functionality. The bike has a lot of attitude, mixed with retro salt flat-inspired discs, scallop graphics and a low seat, and in our opinion the custom colors make it look very cool!"
"The Gold Wing is one of our halo products," added Honda Motorcycle Shows and Public Relations Manager Chris Cox, "and we wanted to highlight the fact that while it's rightly known for its amazing touring capabilities, it's also a very high-performance machine that can be appreciated by a broad range of enthusiasts. Steady Garage embraced that theme for this project, and we're very pleased with the result. Cool Wing has a youthful, creative, exciting spirit, while still respecting the Gold Wing brand and what it stands for."
The Cool Wing will be on display at multiple events this year including the Grand Prix of the Americas in Austin, Texas, and the Americade Rally.