My, how the luxury touring landscape has changed.
Since our last comparison test of these two high-performance, 6-cylinder luxos in 2012 (the year the BMW was introduced and the Honda was mildly updated), the ranks of V-twin full dressers like Harley-Davidson Ultras and the Kawasaki Voyager have swelled to include the Indian Roadmaster and Yamaha Star Venture. At the rate they're selling, Americans clearly want traditional V-twin touring bikes. Is there still a place at the table for big six guns like the BMW K 1600 GTL and Honda Gold Wing?
Read our Luxury Touring Comparison Review:
Harley-Davidson Road Glide Ultra vs. Indian Roadmaster vs. Yamaha Star Venture TC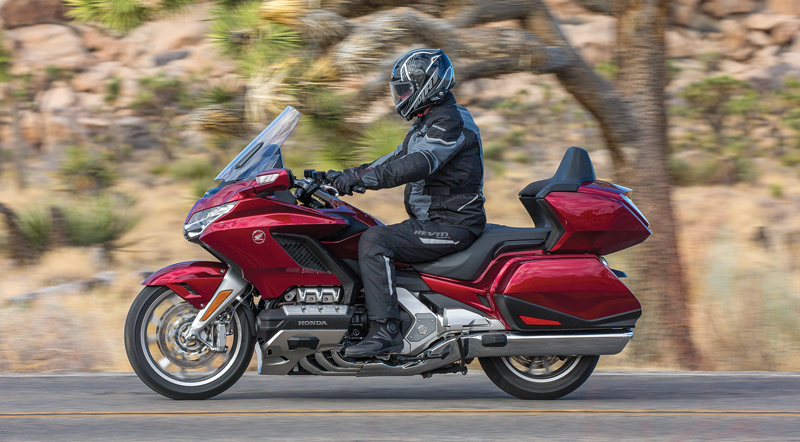 Mark's Gear
Helmet: Nolan N87
Jacket: Tourmaster Transition Series 5
Pants: Rev'It
Boots: TCX Airtech Evo Gore-Tex
Honda must certainly think so, otherwise it would not have so thoroughly revamped the Gold Wing for 2018, knocking off 85 pounds, broadening the bike's powerband and giving it a full suite of modern engine, suspension and chassis components like riding modes, an electric windscreen and a dual wishbone front end (Rider, January 2018 and here). BMW has kept the K 1600 GTL's momentum going as well, with upgrades to its top-line touring bike for 2017 that include Dynamic Electronic Suspension Adjustment (D-ESA), ABS Pro, Reverse Assist and optional Gear Shift Assist Pro for clutchless up- and downshifts. It also received numerous styling improvements like new mirrors, foot guards and redesigned lower storage compartments. With the new Gold Wing, Honda expects sales of its flagship motorcycle to climb back to 2006 levels. Could it be the harbinger of a renaissance for luxurious, fully dressed touring bikes that go vroom-vroom instead of potato-potato-potato?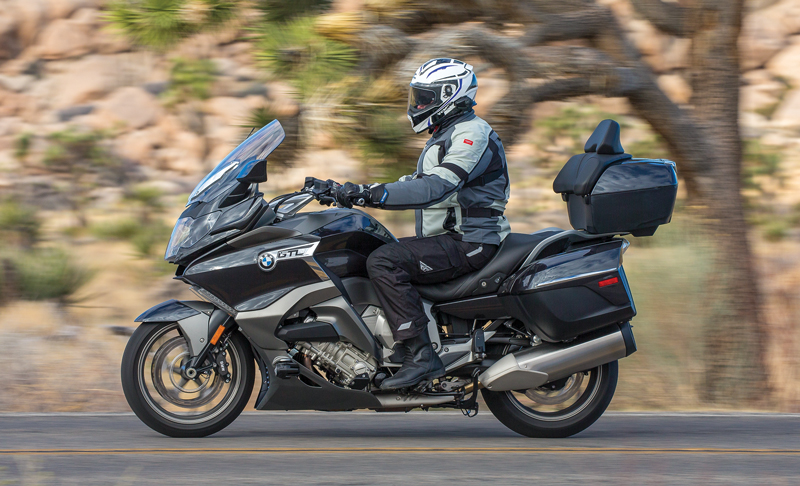 Greg's Gear
Helmet: Vemar Zephir
Jacket: Spidi Globe Tracker
Pants: Fly Racing Terra Trek
Boots: Sidi Gavia
Our Magic 8-Ball merely replied, "Ask again later," so we decided it was best to put these two high-powered butt massagers back-to-back and let you decide if they outshine the spud shooters. I can say that after 850 miles and two long days of flogging the shiny six-bangers in the mountains and deserts of Southern California, in temperatures ranging from 26 to 80 degrees and the dark of night to the high sun of midday, we are reminded just how good it can get in the saddle of a motorcycle.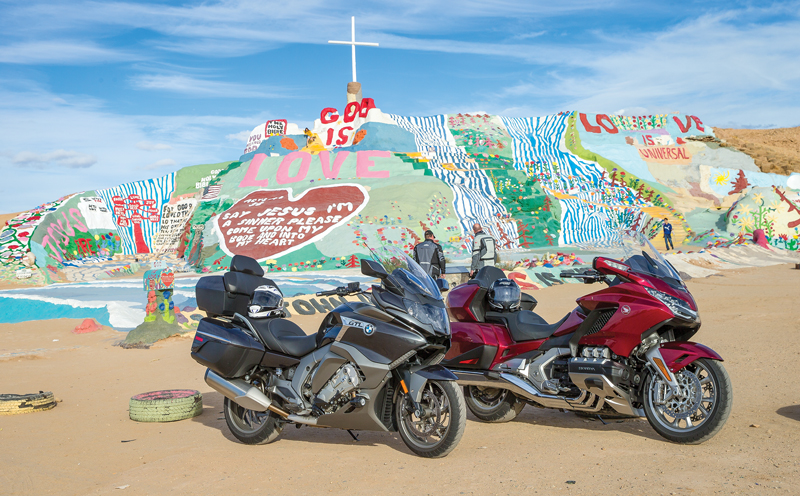 For this comparison we pitted a $26,700 Gold Wing Tour model with top trunk and manual 6-speed transmission (rather than Honda's 7-speed DCT automatic) against a BMW K 1600 GTL with the Premium package and optional Navigator GPS, which boosts its base price of $25,595 to $28,844. Equipped as such the bikes share numerous features like 6-cylinder engines in aluminum frames, single-sided swingarms with shaft final drive and individual interpretations of a Hossack-like dual-wishbone front end, which eliminates fork dive and bump steer, separates the steering from the suspension, reduces friction and allows better suspension and ABS tuning. The two bikes also have throttle-by-wire, riding modes, cruise control, hill start assist, reverse, electric windscreens, keyless ignition and central locking, Bluetooth-enabled audio systems, heated grips and seats, GPS navigation and centerstands. If that seems like a lot of similarities, well, it is. But they just make the differences between them really stand out.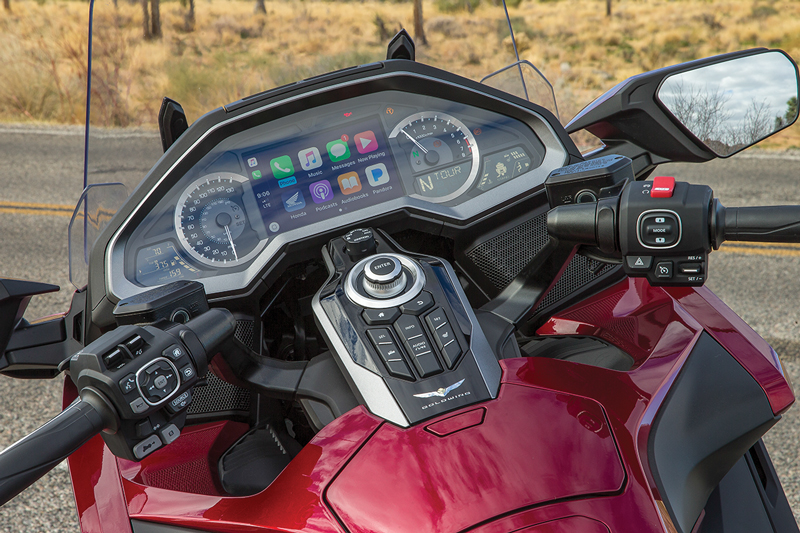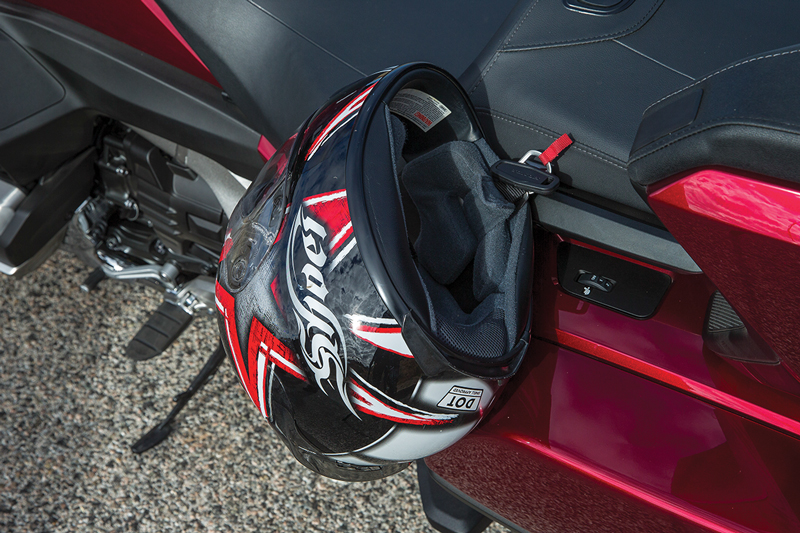 As the all-new machine, the Honda benefits from the latest technology and thoughtful integration. Up front there's a comprehensive infotainment system with a high-resolution 7-inch TFT display, built-in navigation and Apple CarPlay, so it automatically detects your iPhone and you can run Apple Music and Maps manually or with voice commands, make phone calls and send text messages using Siri and a Bluetooth helmet headset. Most of the buttons that cluttered up the previous model's fairing are gone, replaced with an intuitive menu system. Audio from multiple sources pumps through two speakers in front and two in back and/or wireless headsets. Luggage capacity is significantly down from the previous GL1800, though the top trunk will hold two smaller full-face helmets and the styling and integration of the trunk and saddlebags is beautiful and seamless.
The Honda's flat opposed 1,833cc 6-cylinder engine is all-new, lighter and more compact yet has an even broader powerband now, and still delivers smooth, stump-pulling torque from idle to a relatively low redline of 6,000 rpm with a much deeper voice than before. We've written about the available DCT automatic transmission in two previous reports—for this comparison we requested the new 6-speed manual transmission, which has been refined with a cam damper and assist-and-slipper functions that greatly quiet and smooth shifting. Engine rpm at 60 mph is reduced from 2,550 rpm to 2,000 for less noise as well, although the engine's louder exhaust note makes for a noisier experience overall. Peak output remains about the same—on the Jett Tuning dyno the Honda made 101.4 horsepower at 5,500 rpm and 106 lb-ft of torque at 4,500, but now the engine starts making more than 100 lb-ft about 800 rpm lower, at 2,300 rpm, and doesn't fall below 100 until 5,100 rpm as before. There's never a lack of grunt on tap, and even two-up the Gold Wing rarely requires a downshift to make a quick pass or zoom out of a corner.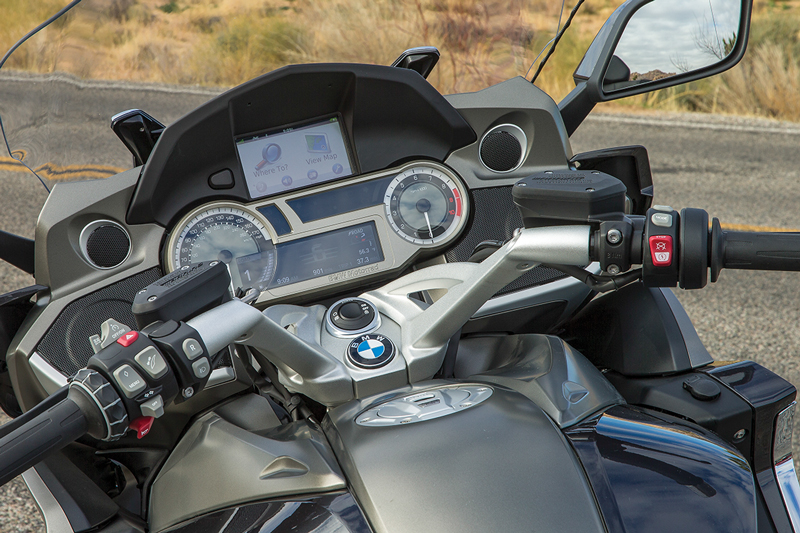 By adding D-ESA, ABS Pro and Reverse Assist to the K 1600 GTL and updating the bike's styling and wind protection for 2017, BMW has maintained the GTL's feature-for-feature competitiveness and the advantages of its more modular design. Up front there's a smallish TFT display with a comprehensive menu system for most of the bike's audio and riding functions, and it's accessed with a slick Multi-Controller wheel on the left bar. Unlike the Honda, a separate BMW Navigator GPS touchscreen unit that pops and locks into its own compartment above the instrument panel provides navigation; it can be partially controlled with the Multi wheel. Four speakers up front—two woofers and two tweeters—belt out the tunes from all of the same sources as the Honda, although there are no rear speakers or Apple CarPlay, and connecting an iPhone requires a special BMW USB cable. Bluetooth headsets are easily connected. Claimed luggage capacities are 110 and 115 liters for the Honda and BMW respectively, including their fairing pockets, but in reality the BMW holds about a third more than the Honda among its larger top trunk and saddlebags, all of which are easily removed. The saddlebags in particular are much larger than the Honda's—each will easily hold a full-face helmet and the trunk holds two.
The BMW's transverse in-line 1,649cc six is also silky smooth, and has a racier sound and feel that endeared us to it immediately. While it needs more throttle to ride away from a stop and doesn't pull quite as hard down low, as soon as the revs reach 4,500 rpm its horsepower advantage kicks in and it leaves the Wing behind and never looks back all the way to its higher 8,500 rpm redline. On the Jett Tuning dyno the BMW made 129.4 horsepower at 8,000 rpm and 106.1 lb-ft of torque at 5,200—the same peak torque as the Honda—but it doesn't crack the 100 lb-ft ceiling until 4,000 rpm and drops below it by 6,350.
When BMW introduced the K 1600 GTL, it boasted that it had built "a shark, not a whale," taking an indirect swipe at the then much-heavier Gold Wing. Although the lighter new Honda has dropped the weight disparity to just 44 pounds with both bikes fully fueled, the two machines handle even more differently than before. The Honda is a model of—dare I say it—automotive-like stability now, with an ultra-low center of gravity and rock-solid feel on the highway and back roads regardless of the surface conditions that is confidence inspiring and relaxing, especially two-up. As such it steers slowly, drags its footpegs early and requires more effort than before to hustle around corners, though it holds a line through them like it's on rails, even when it's bumpy. This handling character is probably perfect for the bike's intended riders, most of whom don't associate large touring bikes with sportbike-like handling and just want the motorcycle to deliver a safe, predictable experience regardless of where it's ridden.
If it's a big shark you want, though, the BMW remains quite predatory. Its handling is the complete opposite of the Honda's, with effortless, quick steering that helps the bike slice and dice corners like a big sportbike, and we never touched a footpeg to tarmac. Combined with its racy engine character and strong, immediate power output, a faster rider who also wants a lot of touring capability need look no further for a good time. The GTL's luggage can be easily removed, too, further lightening the load and wind resistance for even more fun in the canyons. The tradeoff is on the highway and Interstates, where the BMW twitches and bobs in a straight line like an anxious thoroughbred and requires your full attention at all times, especially on irregular pavement surfaces. When it's cold and dark and you've got many miles to go, this can get really annoying. Removing the luggage doesn't really help, though we have heard that swapping out the stock tires for better ones can calm it down somewhat.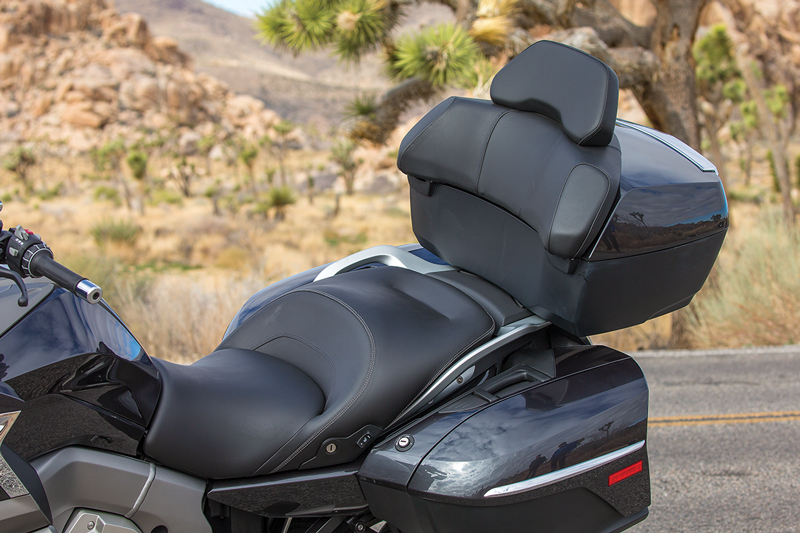 Both bikes offer different riding modes (Sport, Touring, Rain and Econ on the Honda; Dynamic, Road and Rain on the BMW) that alter throttle response, suspension damping, traction control and braking characteristics accordingly. On the BMW the two Dynamic and Road suspension settings can be adjusted independently of the engine riding mode, and the BMW's Dynamic ESA also constantly adjusts the suspension damping on the fly within the set mode. Suspension preload is set electronically to one of four positions by the rider at a stop. Throttle response on both bikes in any mode is nicely dialed-in, and as you might expect of such premium machines the suspension on both works brilliantly, providing a silky smooth or controlled sporty ride as needed and seamlessly soaking up the bumps without a hiccup. The Honda does a slightly better job of subtracting small bumps, seams and cracks on the highway from the riding experience, and the BMW's dynamic suspension response is better at softening sudden whacks.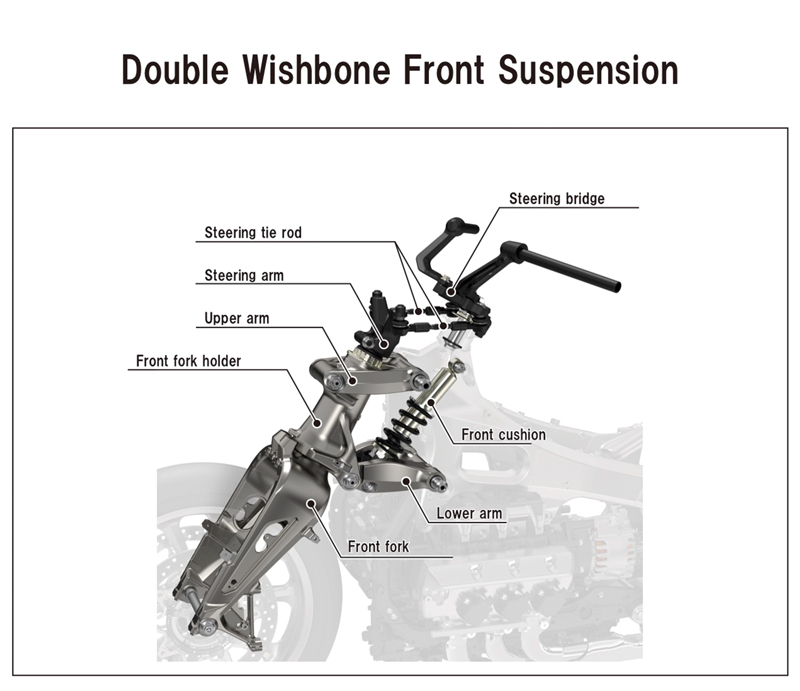 Since their dual-wishbone front ends prevent fork dive and both bikes have linked triple-disc brakes with ABS that works in corners, slowing and stopping them from any velocity really is a non-event. Both have great feel at the lever and pedal and enormous braking strength, and when you hammer both brakes the ABS prevents wheel locking smoothly and seamlessly. We didn't try braking hard enough in a turn to engage the cornering ABS on these big bikes…but do let us know how it turns out for you.
Our late winter ride took us from the California coast the long way out to Joshua Tree National Park and the Salton Sea and back, subjecting the bikes and our bodies to fierce crosswinds, cold temperatures and hours of Interstate droning in addition to plenty of twisting roads. Seated behind large fairings and electric windscreens on wide, thick heated seats and holding luxuriously warm heated grips, life on a motorcycle just doesn't get any better. Differences in comfort amount to nitpicking in fact, since the rider's seats are both comfortable and less than 30 inches high, and the heated grips and seats all excel. The BMW's seating position is slightly more aggressive, with your feet positioned underneath instead of in front of you; BMW also offers no-cost high and extra-high seat options for taller riders. We found that our feet stayed warmer on the BMW, and our upper bodies were better protected on the Honda, since the windshield can be raised all the way without any buffeting. Overall it really comes down to how you prefer to sit when you're riding, with feet below or out in front; either way you can easily stay in the saddle for a long time on either motorcycle.
Passengers also found both bikes supremely comfortable, though the rear-seat nod goes to the BMW for its superior wind protection with the windscreen raised, more comfortable seat and easy-to-reach grab rails. But its rider and passenger footpegs are close together, so passengers need to avoid toeing the rider in the calves, and while the Honda passenger feels more wind its low pillion is easier for passengers to mount and dismount.
With so many convenience, electronic and audio features in common, it's hard to pick one bike over the other when it gets down to which is easier to live with. Luggage capacity on the Honda will be an issue for some—even though it's easily solved with a trunk rack and waterproof duffel, that lump will detract from the beauty of the tailsection. A larger issue for this control freak is how the Honda locks out most of the navigation, phone and vehicle functions when you're underway unless you have an iPhone and can use Apple CarPlay (which does work very well). With the exception of changing the rear suspension preload, anything you can do at a stop on the BMW you can also do moving down the road, including navigation inputs, though the Navigator GPS screen is much smaller and the Honda' s overall feature integration is far superior. Honda's claim of better fuel economy also bore fruit on our ride, where it averaged 40.7 mpg from regular gas vs. the 34-36 typical of the previous GL1800, giving the new bike a range of about 224 miles from its 5.5-gallon tank. The BMW requires mid-grade dino juice but holds a full 7 gallons; at its average of 39.5 mpg it will go 277 miles before its tank fills with air.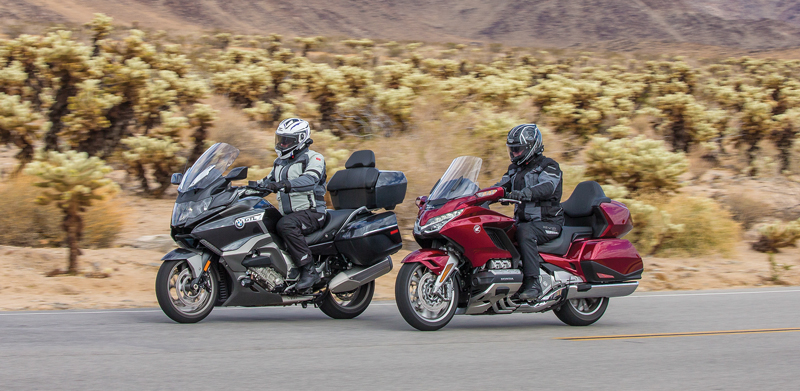 In the end it really comes down to your performance priorities. The BMW's combination of excellent comfort for two, exhilarating power and handling and greater removable luggage capacity—at the expense of some highway stability—could be just the ticket for an experienced solo rider or adventurous couple who live for speed and corners. The Honda, on the other hand, offers a more civil touring experience with great comfort, unflappable handling, supreme smoothness, locomotive-like power and refined, contemporary electronics. Whichever bike you choose, it's not going stay parked in the garage much.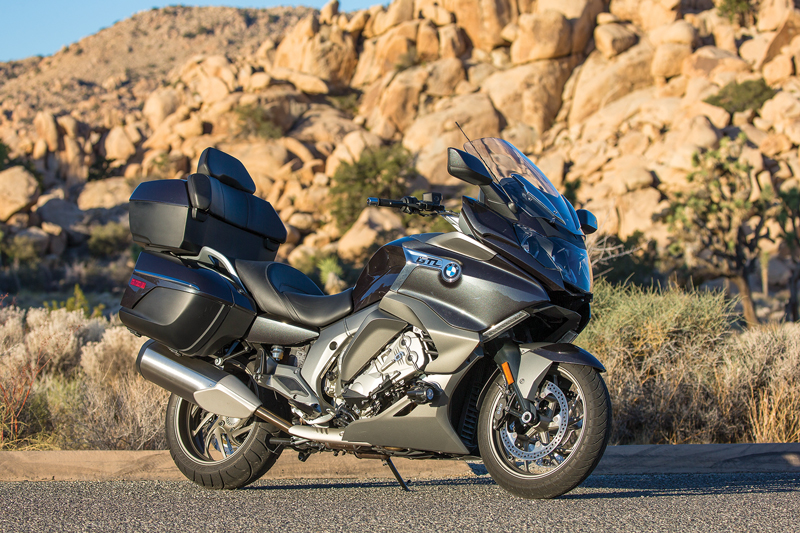 2018 BMW K 1600 GTL Specs
Base Price: $25,595
Price as Tested: $28,844 (Premium package, BMW Navigator GPS)
Warranty: 3 yrs., 36,000 miles
Website: bmwmotorcycles.com 
Engine
Type: Liquid-cooled, transverse, in-line six
Displacement: 1,649cc
Bore x Stroke: 72.0 x 67.5mm
Compression Ratio: 12.2:1
Valve Train: DOHC, 4 valves per cyl.
Valve Insp. Interval: 18,000 miles
Fuel Delivery: BMS-X EFI, 52mm throttle bodies
Lubrication System: Dry sump, 4.75-qt. cap.
Transmission: 6-speed, hydraulically actuated wet clutch
Final Drive: Shaft, 2.75:1
Electrical
Ignition: BMS-X Computer Controlled
Charging Output: 700 watts max.
Battery: 12V 19AH
Chassis
Frame: Cast aluminum-alloy twin-spar main frame w/ engine as stressed member & aluminum subframe; Paralever single-sided aluminum swingarm
Wheelbase: 63.7 in.
Rake/Trail: 27.8 degrees/4.2 in.
Seat Height: 29.6 in.; optional high seat: 30.7 in.
Suspension, Front: BMW Duolever w/ Dynamic Electronic Suspension Adjustment, 4.5-in. travel
Rear: Single shock w/ Dynamic ESA, 5.3-in. travel
Brakes, Front: Dual 320mm discs w/ radial opposed 4-piston calipers & partial integral ABS
Rear: Single 320mm disc w/ 2-piston caliper & ABS
Wheels, Front: Cast, 3.50 x 17 in.
Rear: Cast, 6.00 x 17 in.
Tires, Front: 120/70-ZR17
Rear: 190/55-ZR17
Wet Weight: 787 lbs. (as tested)
Load Capacity: 448 lbs. (as tested)
GVWR: 1,235 lbs.
Performance
Fuel Capacity: 7.0 gals., last 1.0 gal. warning light on
MPG: 89 PON min. (low/avg/high) 37.7/39.5/41.5
Estimated Range: 277 miles
Indicated RPM at 60 MPH: 2,750
2018 Honda Gold Wing Tour Specs
Base Price: $23,500
Price as Tested: $26,700 (Tour model)
Warranty: 3 yrs., unltd. miles, transferable
Website: powersports.honda.com
Engine
Type: Liquid-cooled, longitudinal, opposed flat six
Displacement: 1,833cc
Bore x Stroke: 73.0 x 73.0mm
Compression Ratio: 10.5:1
Valve Train: Unicam SOHC, 4 valves per cyl.
Valve Insp. Interval: 24,000 miles
Fuel Delivery: EFI w/ 50mm throttle body
Lubrication System: Wet sump, 3.9-qt. cap
Transmission: 6-speed, hydraulically actuated wet assist-and-slipper clutch
Final Drive: Shaft, 1.795:1
Electrical
Ignition: Fully transistorized
Charging Output: 1,560 watts @ 5,000 rpm
Battery: 12V 20AH
Chassis
Frame: Aluminum tubular & box-section double cradle w/ single-sided cast aluminum swingarm
Wheelbase: 66.7 in.
Rake/Trail: 30.5 degrees/4.3 in.
Seat Height: 29.3 in.
Suspension, Front: Double-wishbone w/ Showa shock, electronically adj. (as tested), 4.3-in. travel
Rear: Pro-Link w/ Showa shock, electronically adj. (as tested), 4.1-in. travel
Brakes, Front: Dual 320mm discs w/ 6-piston opposed Nissin calipers & C-ABS
Rear: Single 316mm disc w/ 3-piston floating caliper & C-ABS
Wheels, Front: Cast, 3.50 x 18 in.
Rear: Cast, 6.00 x 16 in.
Tires, Front: 130/70-R18
Rear: 200/55-R16
Wet Weight: 831 lbs. (as tested)
Load Capacity: 428 lbs. (as tested)
GVWR: 1,259 lbs.
Performance
Fuel Capacity: 5.5 gals., last 1.0 gal. warning light on
MPG: 86 PON min. (low/avg/high) 40.1/40.7/42.5
Estimated Range: 224 miles
Indicated RPM at 60 MPH: 2,000
SaveSave