You wouldn't be alone if you argued that BMW invented sport touring, but it's hard to deny Kawasaki brought it to the masses. In the 1980s factory sport-touring bikes were predominantly European, with most of those boasting the BMW roundel and ridden by well-heeled riders. Then, in 1986, Kawasaki dropped the ZG1000 Concours into the mix, making a sporty bike with a factory fairing and hard luggage affordable to all.
For the next 20 years the Connie remained largely unchanged, which is not a bad thing if you get the formula right the first time. The 997cc, liquid-cooled, four-cylinder engine was based on the Ninja 1000R's powerplant, and although it was toned down slightly with smaller carbs and less aggressive cams, it still packed a healthy top-end punch. Shaft drive was added to aid the bike's long-haul mission, along with a full fairing and standard removable hard luggage. An enormous 7.5-gallon gas tank sat in the usual position, and when full made the bike perilously top heavy. The bike itself was no lightweight, either, scaling in at around 670 pounds wet. A 31-inch seat height did little to help the rider fight the sheer mass of the bike if it wanted to take a nap.
The Concours was born in an era of ceaseless model changes that left some riders complaining that their just-bought bikes were old hat before the new wore off. In response Kawasaki pledged not to change the Concours for five years. Despite the promise, the second-year Concours got higher bars and a less turbulent windscreen—but no one complained. In 1994 a "major" redesign took place, including a wider front wheel, two-piston front brake calipers and floating rotors, a different seat and instrument cluster, a fork that used spring preload adjusters instead of air and bright chrome mufflers, updates that make the 1994-and-later models more desirable to some riders.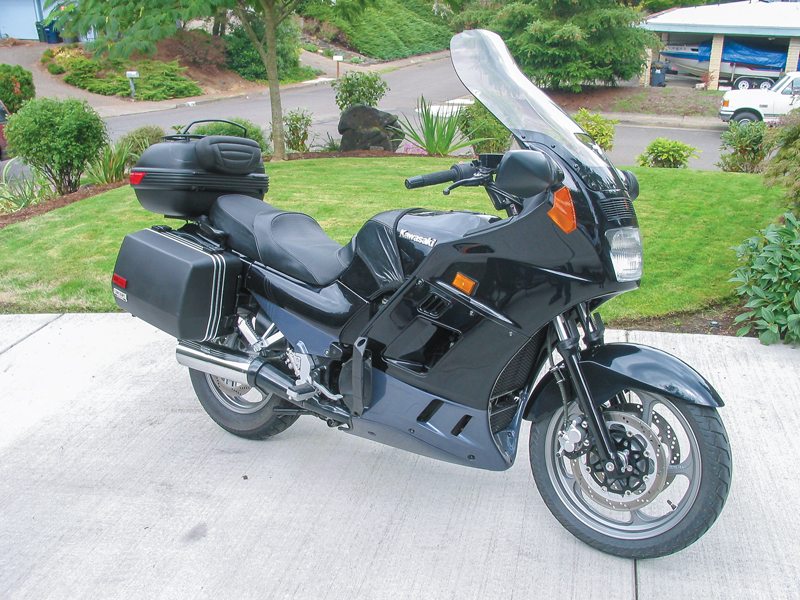 The Connie's engine is as bulletproof as Superman's chest, and used bikes with high miles are seldom a cause for concern. There are some weak spots, however, such as the J-box, the terminus of several vital electrical connections. If the J-box fails, the headlight or ignition can be affected. Rebuilt and upgraded units are offered, and recommended. Check the Uni-Trak rear suspension linkage for signs of wear or slop, which can cause weave at speed. The Connie's engine doesn't shed heat well, so make sure the coolant system is healthy, including fresh coolant and crack-free hoses, and look under the bike for signs of a weeping water pump.
Otherwise, inspect a used Concours as you would any other bike. Check the oil, tires and brake pads, and ask about the last tune-up; the Connie's engine uses screw-and-locknut valve adjustment, and how long the valves stay in spec has a lot to do with who adjusted them last time. Prices range by condition and location, but $2,500-$4,000 typically buys a pretty good example of one of the toughest and most versatile—even if not the most cutting-edge—sport-touring bikes ever made.
PROS:
Standard detachable hard cases, bulletproof engine, shaft drive, big fairing, room for a passenger. Gets you to the same place as the guy on the newer sport tourer, but for a fraction of the cost.
CONS:
Heavy, and top heavy with a full tank. Engine can be buzzy, and needs to be revved to get the most out of it. Dated handling dictates a more sedate pace than current competitors.
1986-2006 Kawasaki Concours ZG1000 Specs
Engine Type: Liquid-cooled, transverse in-line four, DOHC, 4 valves per cyl.
Displacement: 997cc
Final Drive: Shaft
Wet Weight: 670 lbs.
Fuel/Capacity: 87 PON/7.5 gals.
Seat Height: 31.0 in.