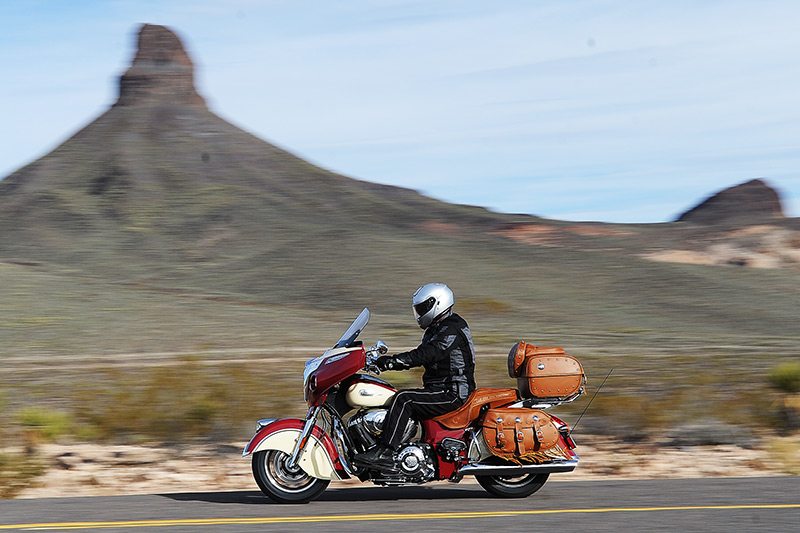 What every enthusiast thinks of today as the classic Indian motorcycle first appeared in 1940 as a radical design departure for the company's line of Chiefs, Scouts and Fours. Chief Engineer Briggs Weaver, who was also a talented stylist, gave the bikes deeply skirted, curvaceous fenders that whimsically enveloped half of the wheels, and graced the new bikes with long, streamlined fuel tanks. On the Chief and Scouts, the cylinder fins were also sharply sculpted to flow with their sweeping lines. When production resumed after World War II, the Chief was the only pre-war model that continued until the Springfield, Massachusetts, factory closed its doors in 1953, and for many of us it's the image of a fully dressed Chief that comes readily to mind when we think of Indian motorcycles.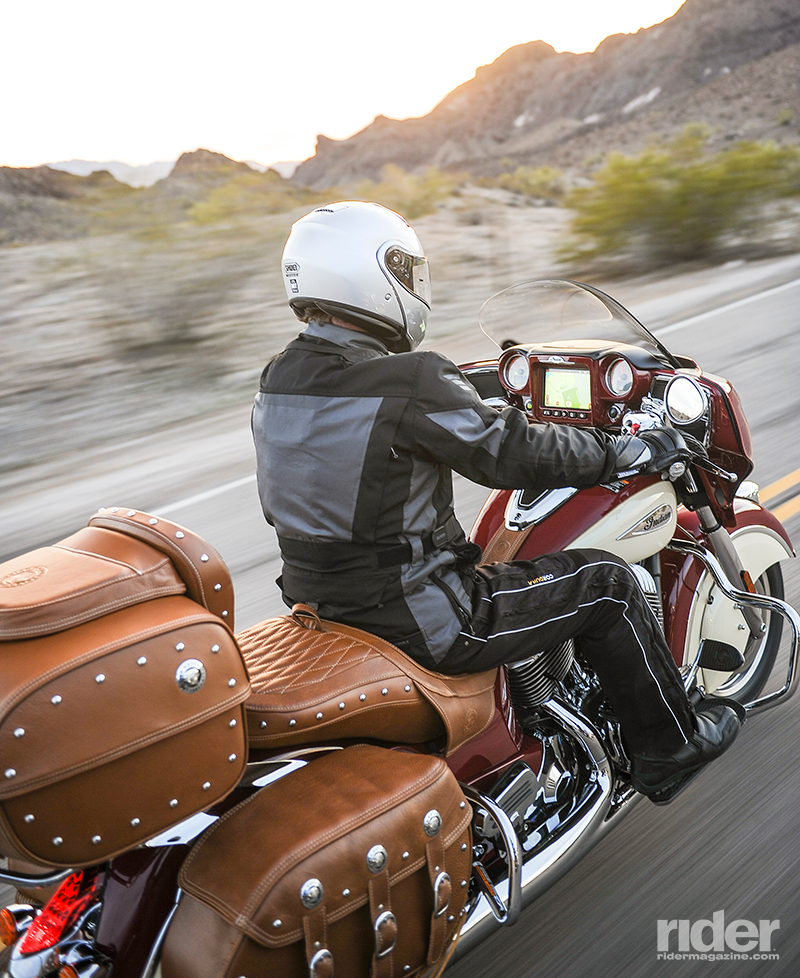 Besides the skirted fenders, central to that memory is an enormous leather solo saddle ringed with fringe and a chrome rail, and a pair of leather saddlebags adorned with straps, buckles, studs, conchos and even more fringe. Leather seats and bags were part of the Indian brand's resurrection, too, from the Gilroy and Kings Mountain bikes c. 1999-2010 to one of the very first to return in 2014 under the new Indian Motorcycle Company brand, the Chief Vintage. Though the bags require fiddling with half-a-dozen quick-release buckles and the natural cowhide needs far more care than hard bags, many enthusiasts insist that leather and fringe are a core part of Indian's heritage and have found novel ways to add it when it's not included from the factory.
That won't be necessary on the newest member of the Indian family, the Roadmaster Classic, since the big touring cruiser's seats, top trunk and saddlebags are already clad in several cows' worth of premium leather. There's so much of it that as I write this the warm smell of Desert Tan hide is wafting through our open shop door. This is the first Indian to come with a leather top trunk, which is lined with hard plastic to keep its shape and has a built-in passenger backrest and zippered utility pocket on top. Both the trunk and bags are easily removed, and the trunk reinstalls easily enough once you get the hang of it. Saddlebags are also plastic lined (except, oddly, for the outside panels) and traditionally styled with studs, conchos, fringe and the requisite trio of straps and chrome buckles that conceal plastic quick-release buckles underneath. The package looks terrific, and is even more attractive in person on all of the bike's color schemes: Thunder Black, Willow Green/Ivory Cream and Indian Motorcycle Red/Ivory Cream.
Although the top trunk easily holds two full-face helmets, none of the luggage locks, and total luggage capacity is down from 142 liters on the standard Roadmaster to 122 on the Classic. Its saddlebags are smaller, and it doesn't come with fairing lowers (available as accessories), which have storage pockets on the standard Roadmaster. Indian says that the Classic's leather is updated for 2017 and that it has solved the fading and discoloration issues some owners had with the leather on earlier bikes. The leather isn't waterproof, but all of the hide on the Classic is treated to be UV, wear and water resistant, and the seats are sealed under the leather so water won't soak through. Indian says that the look, feel and smell of the leather are important—it didn't want a fake vinyl appearance—so you do have to expect to take care of it. Our test bike even came with a jar of leather dressing and an admonishment to use it at least monthly.
After you see it, stroke its hide and settle into the Roadmaster Classic's plush, wide saddle, none of these limitations amount to much. As on the standard Roadmaster the rider's seat is dished and has ample lumbar support, and the Classic's passenger seat and backrest are so wide and comfy they rival the leather recliner in my living room, though the Classic lacks the passenger armrests (available as accessories) found on the standard Roadmaster. Both seats are heated, with high-off-low toggle switches under the left side. As we've indicated in several reviews, the Roadmaster is a supremely comfortable bike to ride long distances, and while the Classic sheds fairing lowers, accessory electrical outlets and rear audio speakers for its $2,000 lower MSRP, it's chassis and running gear are identical.
Read our Indian Roadmaster reviews and comparisons here
We've written reams about the Roadmaster platform in the past, and you can find in-depth reviews and comparison tests of the bike as well as a close look at its new Ride Command infotainment system on our website at ridermagazine.com. The Classic is powered by the air-cooled, 49-degree Thunder Stroke 111 V-twin also found in the Chief and Chieftain models, which cranked out 107.1 lb-ft of torque at 2,700 rpm and 76.4 horsepower at 4,500 rpm the last time we had one on the dyno (Rider, August 2015). The V-twin accelerates with gusto from just 1,500 rpm and offers plenty of power for passing and two-up riding up to redline at 5,500 rpm without any unpleasant vibration, just a satisfying bark from its big engine. Engine styling is inspired by the Powerplus V-twin from Indian's past, with a flathead look, lots of chrome, downward firing exhaust headers and a rich, pleasing sound. The engine does radiate a lot of heat, which can get trapped by the Roadmaster's lowers but is mostly blown away on the Classic as long as you're moving.
Although the Classic is still a long, heavy motorcycle, thanks to its lighter luggage and lack of lowers at 900 pounds wet it weighs 44 pounds less than the 2017 Roadmaster, which only enhances the bike's fluid handling, good cornering clearance and powerful triple-disc ABS brakes. Ride quality from the 46mm fork and air-adjustable single rear shock is impressive—the bike simply floats over bumps and potholes that seem like they would knock your teeth out—yet even at a brisk pace it never gets out of shape on winding roads. The cockpit ensconces the rider and passenger in comfort and convenience behind a handlebar-mounted fairing with an electrically adjustable windscreen that goes up high enough to silence the wind, heated grips and seats, cruise control, adjustable passenger floorboards, keyless ignition and a tire-pressure monitoring system. Indian doesn't use heel shifters, so the Classic's long rider floorboards allow you to stretch your legs or bring your feet back underneath you without interference.
Indian's Ride Command System (RCS) on the Roadmasters and Chieftain features a bright 7-inch touchscreen with pinch and swipe capability while wearing gloves as well as a customizable split-screen that provides turn-by-turn GPS directions, controls the 100-watt audio system with Bluetooth and USB connectivity and displays tons of vehicle and trip information. And like its siblings the Classic lights up the road ahead with bright LED head- and driving lights, not to mention that illuminated war bonnet on the front fender.
I put nearly 500 miles on the Roadmaster Classic in California and Arizona to reacquaint myself with this big platform we've come to admire for long rides, and to get a feel for its new leather luggage. For someone who can't imagine doing without hard-sided, waterproof locking luggage, the Roadmaster Classic may present too many tradeoffs, even at a $2,000 and 50-pound savings. For others the Classic's gorgeous leather luggage will be the ultimate expression of the Indian Roadmaster Americana experience.
2017 Indian Roadmaster Classic Specs
Base Price: $26,999
Price as Tested: $27,999 (two-tone paint)
Warranty: 2 yrs., unltd. miles
Website: indianmotorcycle.com
Engine
Type: Air-cooled, transverse 49-degree V-twin
Displacement: 1,811cc (111ci)
Bore x Stroke: 101.0 x 113.0mm
Compression Ratio: 9.5:1
Valve Train: OHV, 2 valves per cyl.
Valve Insp. Interval: NA (self-adjusting)
Fuel Delivery: Electronic fuel injection
Lubrication System: Semi-wet sump, 5.5-qt. cap.
Transmission: 6-speed, cable-actuated wet clutch
Final Drive: Belt
Electrical
Ignition: Electronic
Charging Output: 710 watts max.
Battery: 12V 18AH
Chassis
Frame: Modular, aluminum backbone w/ cast aluminum swingarm
Wheelbase: 65.7 in.
Rake/Trail: 25 degrees/5.9 in.
Seat Height:
Suspension, Front: 46mm stanchions, no adj., 4.7-in. travel
Rear: Single shock, air-adj. preload, 4.5-in. travel
Brakes, Front: Dual 300mm discs w/ 4-piston opposed calipers & ABS
Rear: Single 300mm disc w/ 2-piston pin-slide caliper & ABS
Wheels, Front: Cast, 3.50 x 16 in.
Rear: Cast, 5.00 x 16 in.
Tires, Front: 130/90-B16
Rear: 180/60-R16
Wet Weight: 900 lbs.
Load Capacity: 485 lbs.
GVWR: 1,385 lbs.
Performance
Fuel Capacity: 5.5 gals., last 1.0 gal. warning light on
MPG: 91 PON min. (avg) 34.1
Estimated Range: 188 miles
Indicated RPM at 60 MPH: 2,250