I just finished riding the Tail of the Dragon in Tennessee, officially known as U.S. Route 129, for the first time and I'm told that I missed some spectacular scenery. See, I was riding Yamaha's 2017 FZ-10, and given its propensity for speed, my eyes were focused on the road ahead the entire 11 miles and 318 turns. My own personal Tale of the Dragon was full of excitement, with many highs but very few lows.
Corporate marketing propaganda touts this latest FZ as a bike for Yamaha's sport customer; the R range covers supersport enthusiasts, and the more sedate FJ models are earmarked for sport touring. The cool news about the FZ-10, though, is it's based on the YZF-R1, Yamaha's supersport segment's flagship and without a doubt one of the top performing bikes on the market.
Indeed, one Yamaha spokesman described the 2017 FZ-10 as "the fiercest FZ in the line," which includes the remarkable FZ-07 and FZ-09. The bigger news: the FZ-10 shares an all-aluminum frame and crossplane 998cc engine with the R1. Well, not exactly the same as the R1's. The FZ frame includes a steel sub-frame to attach saddlebags, and Yamaha engineers gave the R1's mega-horsepower engine a complete makeover so that torque dominates the FZ's power in the low- and mid-range. In this case it churns out a maximum 81.9 lb-ft at 9,000 rpm, although you feel that stump-pulling performance begin to test the 190/55-ZR17 Bridgestone rear tire practically the moment you twist the throttle, and by 4,000 rpm you'll be pinned to the flat seat's small butt rest.
In a nutshell, the R1-cum-FZ engine relies on a larger airbox and new throttle bodies to promote more torque and accommodate cruise control. Moving downstream, new single injectors and EFI mapping contribute to the party, and cams with less overlap, coupled with smaller intake valves (31mm vs. 33mm) and lower compression (12.0:1 vs. 13.1:1) all add up to more torque, less horsepower. The titanium muffler has slightly narrower baffling to increase backpressure, again for more torque.
To harness that torque Yamaha gifted this FZ with three levels of traction control (or it can be turned off), and three drive-mode settings, all adjustable with the flick of their respective handlebar-mounted buttons while you're riding. And should your throttle hand need a rest after tackling a road like The Dragon, cruise control is a standard feature on this fiercest of FZs. For the record, I preferred the middle TC and drive-mode settings, and I'm guessing that FZ-10 customers will find their favorite settings all too soon. Fuel metering is crisp and smooth throughout, and if you feel like putting some air beneath the 120/70-ZR17 front tire, feel free to just twist the throttle quickly, especially in TC level 1, which is the aggressive setting. There's also an assist-and-slipper clutch for snappy downshifts like the MotoGP pros do. Shifting remains smooth and precise in all six gears.
Should you find yourself picking up too much speed–and eventually you will with this bike–not to worry because Yamaha gifted the FZ with some wonderful brakes that are responsive, not sensitive. I easily used two fingers to control the front brake lever during my sightseeing tour on The Dragon, and each time the dual front brakes (320mm rotors and four-piston calipers) responded without fanfare. I also had occasion to call on the standard ABS entering one turn (I think it was Turn 157, but I could be mistaken…) and the fact that I'm writing this now is proof that it works.
Equally up to task is the FZ-10's suspension that's fully adjustable at both ends. An inverted 43mm fork resides up front and it's matched to the rear's single shock, both working in harmony to steady the 463-pound bike (claimed wet weight with 4.5 gallons of fuel) through the turns. There's 4.7 inches of travel front and rear, and I'm guessing again that FZ-10 owners will easily dial in the suspension to match their respective riding styles and weights. My bike had its damping and spring preload at dealer-delivery settings, which is essentially a compromise to suit most average-size riders like me.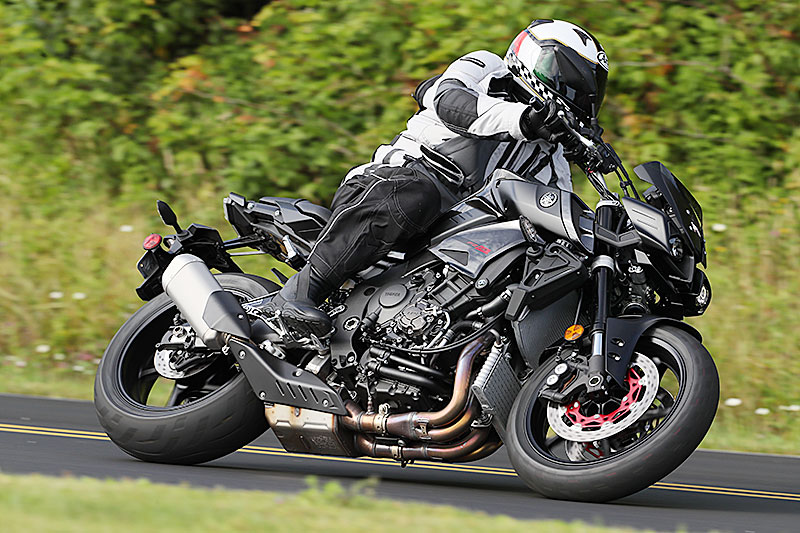 The FZ-10's rider triangle should suit most riders, too. The stretch to the riser-mounted handlebar is easily within reach of most people, and the (rather hard) flat seat places you in a relaxed standard riding position or lets you lean from side to side through the corners. Footpeg placement allows for a more relaxed ride, too, and the frame-mounted cowl (fairing, if you will) helps reduce windblast at speed.
My only real complaint about the FZ-10, other than the hard seat, is the mirror placement. If they're not precisely positioned relative to your riding position, you'll become well acquainted with your upper forearms and elbows, but not much else.
Bottom line is that you can expect a lot of bang for your 12,999 bucks. Two color options are available, and count on this–the FZ-10 comes with gobs of torque. Perhaps the marketing mantra should be "the torquey-est FZ in the line."
2017 Yamaha FZ-10 Specs
Base Price: $12,999
Website: yamahamotorsports.com
Engine Type: Liquid-cooled, transverse in-line four, DOHC w/ 4 valves per cyl.
Displacement: 998cc
Bore x Stroke: 79.0 x 50.9mm
Transmission: 6-speed, cable-actuated assist-and-slipper clutch
Final Drive: Chain
Wheelbase: 55.1 in.
Rake/Trail: 24 degrees/4.0 in.
Seat Height: 32.5 in.
Claimed Wet Weight: 463 lbs.
Fuel Capacity: 4.5 gals.
MPG: NA