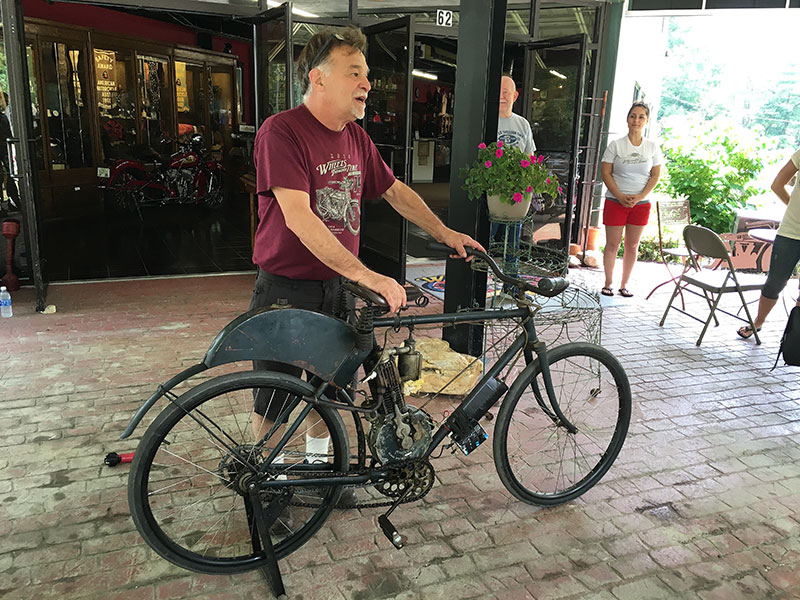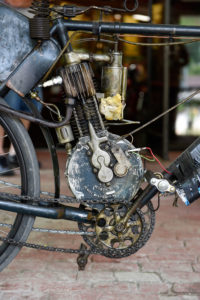 Dale Walksler is a force of nature. He bristles with energy and enthusiasm, and by his own account, listening to him talk is "like trying to sip from a firehose." A natural-born salesman—he used to own a successful Harley-Davidson dealership in Illinois, which subsidized his passion for collecting old bikes—Walksler draws you in quickly and holds you in rapt attention with stories about one-of-a-kind bikes, innovative engineers and larger-than-life racers that date back to the early part of the 20th century, a fertile age when motorcycling was in its infancy.
Walksler is the founder, owner, curator and restorer-in-chief of Wheels Through Time, a museum with more than 350 vintage, American-made motorcycles and several automobiles housed in a 40,000-square-foot facility in Maggie Valley, North Carolina, just a few miles downhill from the Blue Ridge Parkway.
On a recent press ride we stopped by Wheels Through Time for an all-too-brief private tour by Dale himself. The tour was a whirlwind experience, as if a videotape we were watching got stuck in the fast-forward position. Trying to take it all in, I failed to shoot many photos and taking notes was an exercise in futility.
Walksler has an encyclopedic knowledge about every motorcycle in his collection—its provenance, its significance, its unique features or design innovations, the major players involved in the company (more than two-dozen American manufacturers are represented in the museum, everything from Ace to Yale, with Excelsior, Harley-Davidson, Indian, Pierce, Thor, Traub and many more in between) and—most compelling of all—how it starts.
Wheels Through Time is called "The Museum That Runs" for good reason. Nearly every motorcycle and automobile in the building is in running condition, whether it has been restored to like-new condition or left in its original, time-worn state. Motorcycles that are more than a century old often require a complex process to start. Levers have to be pulled, carbs have to be tickled, peculiar sequences have to be followed, yet Walksler can jump on any motorcycle in the building and start it up without a pause in his stream-of-consciousness storytelling. Bang! Pow! And whatever he's astride begins chugging right along.
I did manage to record a few videos of Walksler firing up bikes. The first was a 1903 Indian, serial number 500, which Walksler believes is the oldest extant Indian "Motocycle." Although Indian began production in 1901—the brand claims to be America's first motorcycle company—apparently none of the 1901 or 1902 bikes have survived. (If you know of one, Dale Walksler would love to hear from you.)
The 1903 Indian is essentially a bicycle with an engine attached, a common transitional design in the early days. (The Hendee Manufacturing Company, founded in 1897 by George Hendee, built bicycles, some under the Indian name, and didn't begin making motorcycles until the 1900s.) It has a battery ignition, but the original battery cells did not survive so Walksler fashioned his own.
The next video shows Walksler starting a 1913 Thor SR1. According to the Illustrated Directory of Classic American Motorcycles by Tod Rafferty, "The Aurora Automatic Machinery Company entered the motorcycles game in 1902, as a supplier of engines to Indian. With the end of that contract in 1907, the Illinois firm brought to market its own machine under the Thor brand." Named after the Norse hammer-wielding god of storms, the Thor logo features a lightning bolt. The company ceased production in 1917.
And the last video shows Walksler starting the bike that was his first custom project, a Harley-Davidson trike that he built 46 years ago. Check out those sparks!
If you haven't visited Wheels Through Time, put it on your must-do list. It's a great adjunct to a ride along the beautiful, smoothly paved, elegantly curved Blue Ridge Parkway, a 469-mile magic carpet ride along the spine of the Appalachian Mountains. In 2016, the museum is open April 1 through November 28, Thursday through Monday, from 9 a.m. to 5 p.m. In addition to its seasonal schedule, the museum occasionally closes for private events and other functions, so call ahead to make sure it's open before you go. Admission is $15 for adults, $12 for seniors and $7 for kids, and yes, it has a great gift shop! For more information, visit wheelsthroughtime.com.
When we left Wheels Through Time, Walksler followed us out onto U.S. Route 19 on that 1903 Indian, pacing us at about 35 mph on a motorcycle that's 113 years old. Check out the look on Dale's face—he's having a ball!