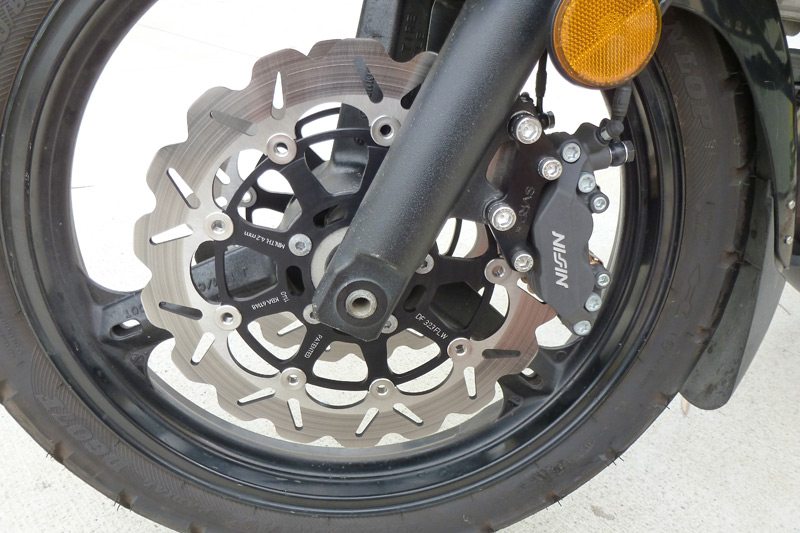 When Suzuki updated the V-Strom 1000 for 2014, many of its long-running limitations were addressed. It got a larger engine with more torque, a lighter, stronger frame, better ergonomics and wind protection, and much more. Major improvements were made to the front suspension and brakes, including a new, fully adjustable 43mm upside-down fork and radial-mount 4-piston opposed front calipers to replace the weak 2-piston pin-slide calipers. But the original 2002-2013 DL1000 remains an affordable, versatile, reliable adventure tourer with an extensive aftermarket. For our 2005 V-Strom 1000 project bike, which had been damaged in a crash, we had the bodywork repainted by Born Again Fairings, bolted on Touratech hand guards and installed Happy Trails panniers and top box (read our review here).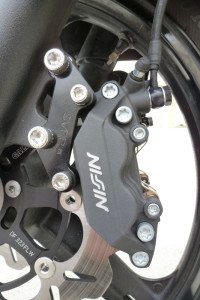 Unhappy with the Strom's woefully inadequate front brakes, we reached out to Blair Layton, owner of SV Racing Parts, which makes and sells aftermarket parts for Suzuki SV650, V-Strom 650 and V-Strom 1000 models. He sent us a set of DL1000 Caliper Adapter Brackets ($75), which are CNC machined from aircraft-grade aluminum and allow 4-piston Nissin or Tokico sportbike calipers to be mounted. We bought everything we needed for the brake upgrade from SV Racing Parts: Nissin calipers ($290 each), a Nissin Radial Master Cylinder ($215), Galfer HH sintered brake pads ($35 per caliper) and Galfer Wave Rotors ($295 each). The bike already had steel-braided brake lines, but SV Racing Parts sells those as well. Our local shop, Jett Tuning, did the installation, which required less than two hours of labor. The total cost of the upgrade was just over $1,500 plus labor, but experienced home mechanics who source parts from eBay can reduce those costs significantly.
After carefully bedding in the pads, we used the new brakes to full effect, and the increase in power and feel was dramatic. The OE brakes were mushy, wooden and required four fingers for hard stops. The new ones have good initial bite, provide ample feedback and require just two fingers at the lever.
Cranking up the stopping power puts additional stress on the fork tubes, so we also installed SV Racing Parts' StromBrace ($57.95), a fork brace that, like the Caliper Adapter Brackets, is CNC machined from 6061-T6 aluminum, black anodized and made in the USA. The StromBrace, which took only 15 minutes to install, gives the front end a more solid, stable feel.
The Caliper Adapter Brackets and StromBrace are also available for V-Strom 650 models, and SV Racing Parts also sells Foot Peg Lowering Kits, Mirror Mount Extension Kits and a wide range of functional and performance accessories.
FOR MORE INFORMATION:
Call SV Racing Parts at (360) 322-4826 or visit svracingparts.com