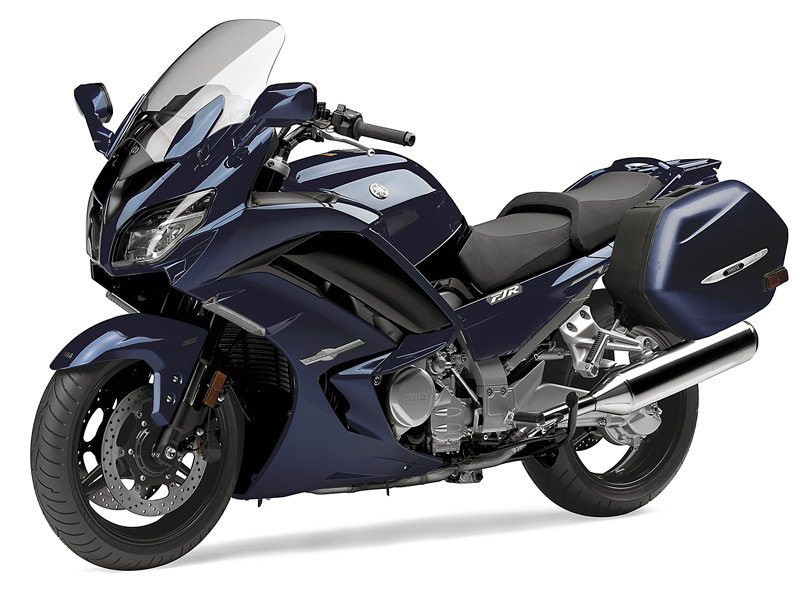 Yamaha's smooth, fast, comfortable FJR1300 open-class sport tourer enters its 14th model year in the U.S. and gets a minor update for 2016. Before getting into the details, let's take a brief look at the FJR's evolution.
Successor to the FJ1100 and FJ1200, which were in Yamaha's lineup from the mid '80s through the mid '90s, the FJR1300—the tuning-fork company's first all-new sport tourer in a decade—was introduced in Europe for 2001. U.S. buyers had to wait two years to get their hands on it, but it was worth the wait. The FJR1300 impressed us so much that we named it Rider's Motorcycle of the Year for 2003. Our praise was thus:
"The FJR's compact, liquid-cooled, fuel-injected, 1,298cc in-line four with 16 valves, five-speed transmission and shaft final drive were designed from the ground up for its mission, smoothly cranking out 125 horsepower at the rear wheel and handling like a big sportbike." Sport-touring amenities included "very usable detachable saddlebags, luggage rack, remote two-position rear spring preload adjuster, large 6.6-gallon fuel tank and available top trunk."
Yamaha began a steady program of improvements the very next year. For 2004, the FJR got a 4-inch taller electric windscreen, better front brakes, revised suspension settings and available ABS.
For 2006, Yamaha gave the FJR taller gearing for smoother highway running, improved its engine heat management, wind protection, ergonomics and handling, made ABS standard (and linked the brakes rear-to-front), freshened up the styling and instruments, and offered an electric shifting "AE" model that eliminated the clutch lever (although the system worked reasonably well, it was an $1,800 answer to a question few people asked; the AE model was dropped a few years later). Throttle response was improved for 2008.
The FJR got a major update for 2013, with more power, throttle-by-wire (aka Yamaha Chip Controlled Throttle, or YCC-T), two Drive modes (Sport and Touring), electronic cruise control, traction control, smoother shifting, all-new bodywork, a height-adjustable seat, upgraded suspension and tires, new instrumentation and switchgear, and a higher load capacity. In 2014, the FJR1300ES (Electronic Suspension) model joined the lineup, offering pushbutton adjustability for spring preload and damping.
Read our 2013 Yamaha FJR1300 review
Read our 2014 Yamaha FJR1300ES review
Both the FJR1300A and FJR1300ES return for 2016. Both models get a new transmission with six gears (the previous tranny was a 5-speed) and closer ratios thanks to slightly taller 1st and 2nd gears and slightly shorter 4th and 5th gears. Mated to the new gearbox is an assist-and-slipper clutch, which Yamaha says offers a lighter clutch pull and smoother downshifts than before.
Nighttime riding will be safer thanks to LED headlights and all-new, three-stage cornering lights, which are activated by a multi-axis Inertial Measurement Unit (IMU). As lean angle increases, a series of three LED lights on either side of the bike light up sequentially. LEDs are also used for the taillight and rear turn signals.
In the cockpit, the instrumentation has been updated with a new, sportier tachometer design, a redesigned center LCD panel and a new Gunmetal Gray trim color.
The 2016 Yamaha FJR1300A and FJR1300ES will be available in Cobalt Blue in March 2016. Pricing is TBD.