The first motorcycle to be badged as a BMW was the R32, a stylish black beauty with white pinstriping that produced all of 8.5 horsepower from its 494cc flat-opposed twin-cylinder engine. It was born in 1923, and the "boxer" twin has been around in one form or another ever since—more than 90 years. For much of that long history it was the only engine layout BMW offered. In the years since the mid 1990s, BMW has diversified with singles, parallel twins, in-line fours and even sixes to stay competitive, but out of a lineup of 20 bikes today there's still a boxer model in each of its Sport and Tour categories, and two in each of the Adventure and Roadster groups.
The boxer-engined GS adventure bikes and R 1200 RT touring machine may be BMW's best sellers, but the R 1200 R roadster and sport-touring R 1200 RS models have deeper roots. BMW has been a roadster or "standard" motorcycle producer since that very first R32, and the 1977 R100RS was the first mass-produced motorcycle to come with a full frame-mounted fairing developed in a wind tunnel. For 2015, the roadster tradition continues with a completely redesigned R 1200 R wrapped around the latest liquid-cooled, 1,170cc boxer engine from the GS and RT. Hot on its heels, the R 1200 RS is back as a 2016 model after a long hiatus with the same chassis and running gear as the new R.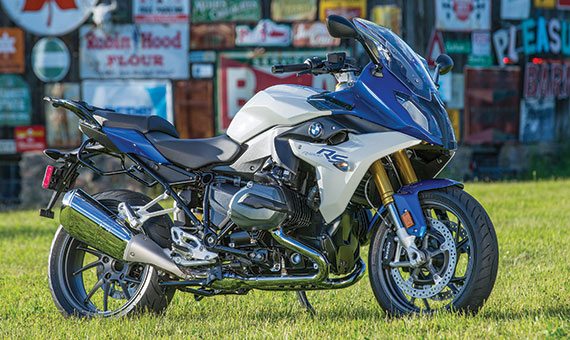 While the R is aimed at recreational riders and commuters who prefer a stripped-down bike with a relaxed seating position, the RS lures the sport-touring crowd with its lower handlebars and sport fairing. These two bikes are otherwise so similar that it makes sense to review them back-to-back here, following our individual reports from their overseas intros (see links below). Both have identical liquid-cooled, 1,170cc flat-opposed twins with DOHC and four valves per cylinder, which breathe in through the top and out through the bottom, and exhale through 2-into-1 exhaust systems with single upswept mufflers. On the Jett Tuning dyno, the R test bike made 106.7 horsepower at 7,800 rpm at the rear wheel, and 77.8 lb-ft of torque at 6,800. That jibes well with BMW's claim of 125 horsepower and 92 lb-ft at the crankshaft, though it's slightly less than our last GS and RT test bikes, probably due to different airbox and exhaust designs.
Power flows through a wet slipper clutch to the rear wheel via single-sided Paralever shaft drive, and the rider can choose from Road or Rain engine modes, the latter of which softens the power delivery for slippery conditions. There's no real abruptness in Road mode, however, and overall the engine is a model of civility and strength, with plenty of urge at lower engine speeds for normal riding solo or two-up and serious liter-class punch when the throttle is turned to the stop. Below 6,000 rpm where most business is done, the boxer stays smooth despite the snarl emanating from the exhaust; above that some vibes make their way into the grips, footpegs and seat until redline pulls the plug at 9,000 rpm. We rarely found ourselves in that territory, however, using the Gear Shift Assist Pro well before to knock the 6-speed transmission into a higher gear without using the clutch lever or rolling off the throttle. GSAP works well for upshifts into third gear and higher, and it downshifts smoothly and quickly into any gear as long as the throttle is closed.
Gear Shift Assist Pro is part of the factory optional $3,045 and $2,820 Premium Packages for the R and RS, which add a slew of other goodies like Keyless Ride, Heated Grips, Cruise Control, Dynamic Electronic Suspension Adjustment (D-ESA) and more. ABS and Automatic Stability Control (ASC, or traction control) that are switchable on the fly are part of the base package, and for $350 you can geek out with Ride Modes Pro, which adds Dynamic Traction Control (DTC) that works in corners, and Dynamic and customizable User riding modes. Our test bikes didn't have Ride Modes Pro, but presumably the Dynamic riding mode livens up the already peppy throttle response even further. User riding mode allows you to preset a custom engine-and-DTC combination, such as Dynamic engine mode with Rain (strongest) traction control instead of Dynamic (weakest). Normally setting the engine mode automatically sets the corresponding ASC or DTC mode.
In everyday riding we rarely fiddled with the engine modes, ABS or ASC, though we did find the two Road and Dynamic settings for the D-ESA quite useful. The semi-active suspension system requires the rider to set rear spring preload manually to Solo, Solo with Luggage or Two-Up, then you can select Road or Dynamic damping stopped or on the fly. A series of lean-angle and travel sensors and the ECU take over and instantly adjust the front and rear suspension damping in milliseconds to suit the conditions. The 45mm USD fork and single rear shock on the R and RS share the same spring rates, but the zero point for the damping on the RS seems to be set slightly stiffer to account for the bike's greater weight and sportier intended use. Nevertheless, we almost never felt the need to use the stiffer Dynamic setting on the R, as its Road position provided a firm, well-controlled ride in the canyons and on bumpy roads, with reasonable comfort on the highway and surface streets. On the other hand, the RS felt a bit mushy and vague when pushed in Road mode, particularly at higher speeds, but upping the damping to Dynamic quickly cured the problem. Grip and feel from the Metzeler Roadtec Z8 tires on the RS were decent, but we preferred the Michelin Pilot Road 4 tires on the R, which are stickier and more confidence inspiring.
The R and RS share the same tubular-steel bridge frame with the engine as a stressed member, have identical 10-spoke alloy wheels with cast-in, side facing valve stems and wear the same tailsection and pillion seat. Their comfortable rider's seats are interchangeable, though the R comes with a very low 31.1-inch-high pad and the RS seat is 32.3 inches. High and low seats are available at no additional cost, and a Sport seat can be had for the RS. We found the R most comfortable wearing the higher seat off the RS, as it provided more legroom underway, and we could still nearly flat-foot it at stops. The chief difference between the bikes is their handlebars, which comprise a clip-on-style casting with low grips on the RS for tucking in behind the fairing, and a taller, wider, tapered tubular bar on the R that is closer to the rider. The RS bar works fine in fast corners but lacks leverage in the tight stuff and quickly becomes tiresome at anything but warp speed on the highway, as it puts a lot of weight on your wrists. We much preferred the taller, closer bar on the R for most riding, as it allows a relaxed seated position and provides more leverage.
Although you lean slightly forward on the R, at very high speeds you still have to fight back against the wind a bit. Not so on the RS, since you're leaned well forward and the fairing and windscreen shield the rider's torso. The windscreen can be adjusted up or down about 3 inches by simply pulling on it, too. Overall the fairing is an effective foil against the wind and cold, and even provides a little more protection for your legs than the R. Engine heat was never an issue on either bike, though the catalytic converter can bake your right foot on long rides in warm weather.
BMW's Integral ABS is part of the R and RS braking packages, which include identical radial-mount opposed 4-piston calipers and dual discs up front and a single disc with a 2-piston caliper in back. Integral ABS adds a small amount of rear braking force when the front brake is applied, multiplying the effectiveness of these hell-for-strong brakes to some degree. My only complaint is the large amount of initial travel in the front brake lever, which both bikes shared. Both the brake and clutch levers are adjustable though, which helps a little.
The rider's electronic interface is a multifunctional instrument cluster with a high-contrast TFT display and analog tach alongside. Three selectable display styles range from comprehensive to simple, with a mind-boggling amount of trip and bike info available at the touch of a button from the On-Board Computer Pro option. The display was easiest to read on the R, as glare obscures it on the RS. More goodies in the Premium package include a tire pressure monitor, centerstand, GPS Preparation, saddlebag mounts and a luggage rack, which has large built-in passenger grabrails. Keyless Ride provides pushbutton starting and steering locking as well as a keyless gas cap—very convenient. There's also a 3-position adjustable footpeg setup among the accessories, which might be very nice on the R with that low stock seat.
If you've got your eye on the new R 1200 R, don't let the salesperson steer you toward the RS unless you really like its sportier seating position. The two bikes are basically identical except for the fairing and lower bars on the RS, and you can always add an aftermarket windscreen to the R for some wind protection. With its lighter weight, better handling and more comfortable ergonomics—not to mention lower cost—the R 1200 R is the better boxer brother.
2015 BMW R 1200 R /2016 BMW R 1200 RS
Base Price: $13,950 / $14,950
Price as Tested: $16,995 / $17,895
Warranty: 3 yrs., 36,000 miles
Website: bmwmotorcycles.com
Engine
Type: Liquid-cooled, longitudinal opposed flat twin
Displacement: 1,170cc
Bore x Stroke: 101.0 x 73.0mm
Compression Ratio: 12.5:1
Valve Train: DOHC, 4 valves per cyl.
Valve Insp. Interval: 6,000 miles
Fuel Delivery: BMS-X EFI
Lubrication System: Wet sump, 4.2-qt. cap.
Transmission: 6-speed, hydraulically actuated wet clutch
Final Drive: Shaft, 2.818:1
Electrical
Ignition: Digital electronic
Charging Output: 508 watts max.
Battery: 12V 12AH
Chassis
Frame: Tubular-steel bridge w/ engine as stressed member, cast-aluminum BMW EVO Paralever single-sided swingarm
Wheelbase: 59.7 / 60.2 in.
Rake/Trail: 27.7 degrees / 4.9 in. (RS 4.8 in.)
Seat Height: 31.1 / 32.3 in.
Suspension, Front: 45mm USD fork w/ Dynamic ESA & 5.5-in. travel (as tested)
Rear: Single shock w/ Dynamic ESA & 5.5-in. travel (as tested)
Brakes, Front: Dual 320mm floating discs w/ opposed 4-piston radial-mount calipers & Integral ABS
Rear: Single 276mm disc w/ 2-piston pin-slide caliper & ABS
Wheels, Front: Cast, 3.50 x 17 in.
Rear: Cast, 5.50 x 17 in.
Tires, Front: 120/70-ZR17
Rear: 180/55-ZR17
Wet Weight: 508 / 519 lbs. (as tested)
Load Capacity: 482 / 471 lbs. (as tested)
GVWR: 990 lbs.
Performance
Fuel Capacity: 4.7 gals, last 1.1 gal. warning light on
MPG: 91 PON min (low/avg/high) 36.6/38.4/40.1 (RS 42.9/44.1/45.4)
Estimated Range: 180/207 miles
Indicated RPM at 60 MPH: 3,300
| | |
| --- | --- |
| The Premium package includes GPS Prep; BMW's Navigator V is a $799 option. | Stock RS seat is 32.3 inches, R's is a low 31.1. Higher and lower seats are no-cost options. |
| The R and RS share liquid-cooled, 1,170cc boxer engines with the GS, GSA and RT models. | Integral ABS links the radial-mount Brembo calipers up front with the rear brake. |