Maybe it's a bit of literary stretch to claim that Jim Bronson was a famous motorcycle explorer. But after chucking a newspaper job, then duffeling his earthly possessions to his Sportster, Bronson's stoplight conversation with a traditionally suited motorist resonated with an entire late 1960s generation eager to hit the road:
Driver: "Taking a trip?"
Bronson: "What's that?"
Driver: "Taking a trip?"
Bronson: "Yeah."
Driver: "Where to?"
Bronson: "Oh, I don't know. Wherever I end up, I guess."
Driver: "Man, I wish I was you."
Bronson: "Really?"
Driver: "Yeah."
Bronson: "Well, hang in there."
Cycle Gear recognized that the iconic rolled duffel bag design still appeals to motorcyclists. Adding several creative touches in material and design, its Bilt Explorer Dry Bag targets dual-sport riders but is versatile enough for most motorcycles.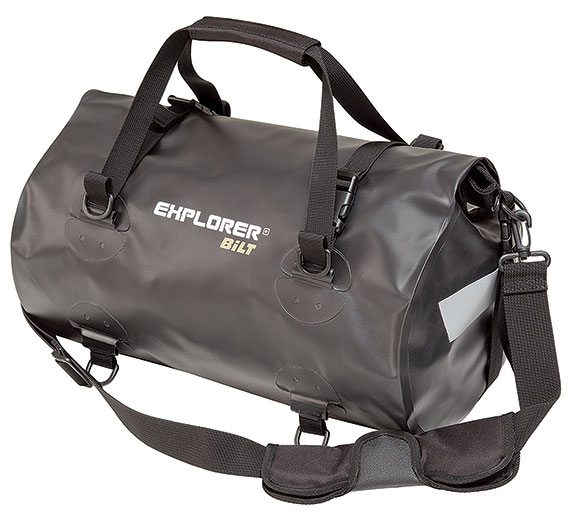 The Bilt Explorer uses 6mm, PVC-coated black tarpaulin instead of the canvas used in Bronson's time. It's also top opening—just dump everything inside and roll down three turns to squeeze out the air. Very compact when closed, it secures with quick-release buckles on each end and two on the sides. Carrying handles and a shoulder strap make for easy handling off-bike. Reflective strips on each end improve your visibility to others.
The Bilt Explorer Dry Bag is available in small, medium, and large sizes. The medium (20 x 10 x12 inches) easily held all the gear I needed for a week's trip, and its flat bottom fit the stock luggage rack of a Suzuki V-Strom without overhang. Two people, or those hauling camping gear, might want the large size.
Another feature I really like is the quick release attachment. No bungees or rope necessary, as four adjustable web straps loop and secure to points on your motorcycle. Each web strap ends in a plastic clip that is a bit of finger snapper but, when opened, latches into the four D-rings at each end of the Bilt Explorer. Cinched up, the Explorer rides rock solid on your machine. Once the secure straps are set to the appropriate length, subsequent mounting requires just a quick click.
Cycle Gear says the Bilt Explorer Dry Bag is 100-percent waterproof, owing to the material and sealed seams. Just don't immerse it. I never had a leak.
With the multiple securing features designed to protect the rider's possessions internally, and the sturdy quick-release mounting system that protects externally, the Bilt Explorer Dry Bag deserves consideration by motorcyclists who are out to travel.
The Bilt Explorer Dry Bag is available at Cycle Gear stores and online. MSRP for the medium is $119.95. At this writing Cycle Gear was offering 50-percent off. Quite a deal!
To find the Cycle Gear store nearest you visit cyclegear.com
(This Gearlab review was published in the June 2015 issue of Rider magazine.)