Most of the time, an awful lot of brainwork goes into researching the purchase of a new motorcycle. Facts, figures, statistics, capacity, performance, road manners and so much more all weigh in when answering that one key question: "What'll she do?"
However, pure function can sometimes take a back seat to preferred form when we choose a bike that, well, just looks right. Case in point: these two twin-cylinder scramblers, one from Triumph and one from Ducati.
Styled to tickle the heart, raise a grin and please the eye, both bikes reach back—make that way back—to an earlier day when scramblers filled the streets of America. Call it the nostalgia factor, a pretty face or whatever; good looks are the one key selling point for both. Moreover, with this pair, what you see is what you get. Not a lot of mystery to what makes these bikes tick. Just eyeball them, and it's pretty easy to figure out how they'll work.
The Triumph Scrambler is the well-established quantity here. Originally, the concept took root in International Six Days Trial enduro competition back in 1948. During this super-demanding multi-day off-road race, Triumph twins won three gold medals and the manufacturers team trophy. That huge success led to the marketing of factory-direct Scramblers from Triumph—quasi-dirt, supposedly dual-purpose bikes aimed squarely at the U.S. market, specifically Southern California and its desert racers. That following included Steve McQueen, who famously rode a Triumph tarted up to look like a German-Army-issue bike in the 1963 film The Great Escape.
The Meriden Triumph brand eventually fell on hard times, but like a phoenix rising from the ashes, the modern-era Hinckley Triumph revived the Scrambler name and image in 2006—hard to believe it's been almost 10 years now. Like the originals, this newest Scrambler features a parallel-twin engine sporting dual, upswept chrome pipes with slotted heat guards and crossover head pipes, a wide handlebar, spoked wheels, fork gaiters and more for a look that truly resonates with the original Triumph Scramblers. But surprise! Those old-school CV "carburetors" are actually shells camouflaging a modern electronic fuel injection system. Time after time, we watched passersby stroll past our Scrambler test bike only to stop and do a double take. Often the close scrutiny was mere appreciation, but sometimes the light bulb clicked on over their heads as realization hit—this was a bike of new manufacture, not a restored oldie.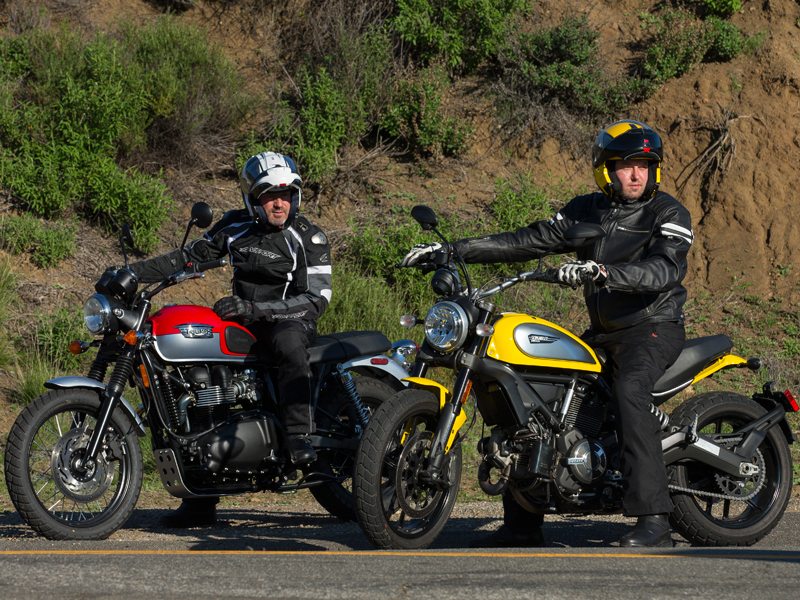 Ducati, in turn, likewise claims an historic tie-in to its new-generation scramblers, officially named Scrambler Ducati—a new brand offering four distinct models. In this initial configuration, it's known as the Icon. In the 1960s and 1970s, Ducati Scramblers were single-cylinder dual-purpose bikes; the Icon is emphatically no such thing. In mind-bending time-warp style, Ducati calls its new Scrambler a "post heritage" design—what its original Scramblers from the '60s and '70s might have become, had production continued unabated. Just a touch of Twilight Zone thinking here….
Read our 2015 Ducati Scrambler first ride review
Be that as it may, the teardrop tank, wide handlebar, sleek profile and lightweight appearance do indeed convey a scrambler or maybe flat-track heritage. Perhaps it's the '62 Yellow paint scheme on our sample that evokes memories of Yamaha's DT-1 family of dual-purpose bikes that were so widely popular in the 1960s and '70s. But the twin-spar steel trellis frame housing an air-cooled, SOHC, 2-valve-per-cylinder, 803cc 90-degree L-twin engine derived from the Monster 796 shouts loudly that this is indeed a modern-era Duc. And that's not a bad thing.
Spanning a short 56.9 inches between axles, its 69.8 horsepower and 411-pound curb weight make this a light, lively and sporty bike. Its low seat sits only 31.1 inches high, designed specifically to lure new riders and women into the Scrambler Ducati fold by offering a reassuring fit on showroom floors. A seat that's lower yet at a claimed 30.3 inches can be had as an accessory for customers extra shy on inseam. The standard seat is cut especially narrow up front for easy ground reach, but most riders with 30 inches or more of inseam will find the seat/peg interface uncomfortably cramped. Scooting rearward helps, but then the rider hits the step demarcating the passenger's portion of the saddle—an awkward fit. Given its intended audience of shorter and newbie riders, the Icon's ergonomics make sense; it's just not very workable for average-to-tall riders. The other three Scrambler Ducati variants to come—the Classic, Urban Enduro and Full Throttle—will offer significant changes in rider fit as well as styling, especially with the wealth of accessories that will fill out the brand. But it was an early, pre-production Icon that we had on hand, with no other accessories yet produced.
So looking beyond the bad fit, we put the Icon through its paces and found it to be a most entertaining ride. From the get-go the engine feels impressively muscular, much stronger than the Triumph's. Thanks to its light weight, 6-speed gearbox and especially broad power spread, the Icon squirts away eagerly from a stop. The electronic fuel injection system, which uses a single 50mm throttle body with two sub-butterfly injectors, is a bit touchy, especially at low speeds; on/off throttle transitions can cause lurches and jerks unless you apply a steady hand—advanced technique that might not come naturally to beginners. The easy fix is to short-shift the bike, and there's plenty of grunt on hand to handle that job.
Out on more open back roads the strong-running engine is a joy to use. Plentiful power pours in smoothly as revs build for an entertaining, aggressive pace. Clutch pull is light and engagement is a no-brainer with the torque on tap, and the 6-speed gearbox allows plenty of latitude in gear selection. With its short wheelbase, low weight and steep 24.0 degrees of steering rake, the Icon feels nimble, responsive and playful on even the tightest of twisty mountain roads. The radial-mounted single-rotor 4-piston 330mm Brembo front brake delivers outstanding stopping power and feel, and the ABS is not intrusive. However, the Kayaba suspension, with its non-adjustable 41mm inverted fork and a preload-adjustable single shock, both with 5.9 inches of travel, proved too soft for our not-too-svelte riding weights, and this ratcheted back the sporting factor. Bumping up shock spring preload helped a bit albeit at the expense of a harsher ride, and the lack of rebound damping now felt more pronounced. Again, think lighter, smaller, beginning riders here….
And just to say we did it, we put some two-up time in with the Icon. As the saying goes, "You better be dating" if you plan on spending much time carting your passenger around aboard the smallish Icon. One other small gripe: the readout on the central speedo/tach can be difficult to see in bright daylight.
Jumping from the Ducati Icon to the Triumph Scrambler is a study in contrasts. The Triumph feels comfortably roomy, accommodating and relaxed in comparison, especially with a passenger; longer two-up rides are quite enjoyable with this bike. However, for sport riding its horsepower, agility and front brake feel take a distinct step backward compared to the Duc. But as we spent more time in the saddle we grew accustomed to the change; though it lags a bit for cut-and-thrust riding compared to the Icon, the Triumph stands tall on its own merits. Its 59.0-inch wheelbase, 28 degrees of steering rake and 517-pound wet weight all add up to a bigger-feeling bike, one that's more unperturbed and easy-going by nature. Despite its lower 52.8-horsepower peak, there's still enough torque on hand for fun riding solo or with a passenger, and the 270-degree crank in the 865cc, air-cooled, eight-valve mill with 5-speed gearbox gives the engine a bit of character and an engaging feel, without vibration ever becoming problematic.
Steering changes require moderate effort at the wide handlebar and it's plenty responsive on winding roads while returning a stable feel that builds rider confidence. Suspension is again by Kayaba, with 4.7 inches of travel in the front and 4.2 inches in back. The twin shocks are adjustable only for preload, and while they could use more rebound damping, the total package provides a generally agreeable ride.
Almost everyone who stopped to discuss the Triumph asked about the high-mount pipes: "Don't they burn your leg?" they would ask. Answer: No. The heat shields do a good job of protecting rider and passenger alike. The setup can grow a bit warm, though, especially in stop-and-go traffic. So just bow your right leg out when stopped, or put your left foot down and keep the right one up on the peg. A couple of small niggles included a blinding glare off the glass faces of the twin instruments when the sun hits just so, and the high-tack rubber on the rider footpegs can grab your pant leg while you're paddling the bike around, and give you a surprise if you're not careful.
All this bike-vs.-bike comparing is helpful, or so we hope. But in the end, with either machine, the eyes have it. With these two motorcycles it's all about the looks they offer. And the people we encountered seemed very polarized in opinion; they typically liked either one or the other, but seldom both, thanks to their very different configurations.
So which one is best? Let your own eyes decide. We had fun on both.
2015 Ducati Scrambler Icon Specs
Base Price: $8,495 (Icon in Ducati Red)
Price as Tested: $8,595 (Icon in '62 Yellow)
Warranty: 2 yrs., unltd. miles
Website: ducati.com
Engine
Type: Air-cooled, transverse 90-degree L-twin
Displacement: 803cc
Bore x Stroke: 88.0 x 66.0mm
Compression Ratio: 11.0:1
Valve Train: Desmodromic SOHC, 2 valves per cyl.
Valve Insp. Interval: 7,500 miles
Fuel Delivery: EFI w/ 50mm throttle body
Lubrication System: Wet sump, 3.4-qt. cap.
Transmission: 6-speed, cable-actuated wet clutch
Final Drive: O-ring chain
Electrical
Ignition: Electronic digital
Charging Output: 487 watts max.
Battery: 12V 10AH
Chassis
Frame: Tubular-steel trellis w/ engine as stressed member, aluminum swingarm
Wheelbase: 56.9 in.
Rake/Trail: 24 degrees/4.4 in.
Seat Height: 31.1 in.
Suspension, Front: 41mm USD, no adj., 5.9-in. travel
Rear: Single shock, adj. for spring preload, 5.9-in. travel
Brakes, Front: Single 330mm floating disc w/ radial-mount monoblock 4-piston opposed caliper & ABS
Rear: Single 245mm disc w/ floating 1-piston caliper & ABS
Wheels, Front: Cast, 3.00 x 18 in.
Rear: Cast, 5.50 x 17 in.
Tires, Front: 110/80-R18
Rear: 180/55-R17
Wet Weight: 411 lbs.
Load Capacity: 449 lbs.
GVWR: 860 lbs.
Performance
Fuel Capacity: 3.6 gals., last 0.8 gal. warning light on
MPG: 90 PON min. (high/avg/low) 44.5/43.5/41.8
Estimated Range: 157 miles
Indicated RPM at 60 MPH: 4,400
2015 Triumph Scrambler Specs
Base Price: $9,099
Price as Tested: $9,499 (two-tone paint)
Warranty: 2 yrs., unltd. miles
Website: triumphmotorcycles.com
Engine
Type: Air-cooled, transverse parallel twin
Displacement: 865cc
Bore x Stroke: 90.0 x 68.0mm
Compression Ratio: 9.2:1
Valve Train: DOHC, 4 valves per cyl.
Valve Insp. Interval: 12,000 miles
Fuel Delivery: EFI w/ 50mm throttle bodies x 2
Lubrication System: Wet sump, 4.8-qt. cap.
Transmission: 5-speed, cable-actuated wet clutch
Final Drive: X-ring chain
Electrical
Ignition: Twin-spark electric
Charging Output: 550 watts max.
Battery: 12V 18AH
Chassis
Frame: Tubular-steel double cradle w/ tubular-steel swingarm
Wheelbase: 59.0 in.
Rake/Trail: 28 degrees/4.1 in.
Seat Height: 32.5 in.
Suspension, Front: 41mm stanchions, adj. for spring preload, 4.7-in. travel
Rear: Dual shocks, adj. for spring preload, 4.2-in. travel
Brakes, Front: Single 310mm fixed disc w/ opposed 2-piston caliper
Rear: Single 255mm fixed disc w/ floating 2-piston caliper
Wheels, Front: Spoked steel, 2.50 x 19 in.
Rear: Spoked steel, 3.50 x 17 in.
Tires, Front: Tube-type, 100/90-R19
Rear: Tube-type, 130/80-R17
Wet Weight: 517 lbs.
Load Capacity: 429 lbs.
GVWR: 946 lbs.
Performance
Fuel Capacity: 4.2 gals., last 0.8 gal. warning light on
MPG: 89 PON min. (high/avg/low) 42.0/40.8/39.4
Estimated Range: 171 miles
Indicated rpm at 60 mph: 3,800