The Kwang Yang Motor Company, better known as Kymco, is a Taiwan-based manufacturer of small-displacement engines, scooters, motorcycles and ATVs. Now it its 50th year, such is Kymco's expertise and production capacity that, in addition to its own products, it builds engines for various manufacturers, including the 647cc parallel twin that powers BMW's C 600 Sport and C 650 GT maxi-scooters. Kymco's own broad lineup of scooters has ranged from several 49cc models up to the 499cc Xciting 500 Ri ABS, but for 2014 it has gone full maxi with the all-new MyRoad 700i.
Because of their compact size, maneuverability, twist-and-go convenience and fuel efficiency, scooters are most often considered urban vehicles, preferred by downtown denizens who zip around crowded city streets with a laptop and a bag of organic produce under the seat. But maxi-scooters, with engine displacements ranging from 500cc up to 650cc, rival middleweight motorcycles in terms of size, weight and price, even if their automatic transmissions and step-through designs set them apart. And they typically offer enough power, range and wind protection for open-road touring. To showcase the touring prowess of the MyRoad 700i, Kymco hosted the press launch in western Colorado, where we explored 300 miles of scenic back roads between Grand Junction and the ski-resort town of Telluride.
With its liquid-cooled, fuel-injected 699.5cc parallel twin, the MyRoad 700i has the largest engine displacement in the class, with a slightly oversquare bore/stroke of 76.9mm x 75.3mm, dual overhead cams and four valves per cylinder. Kymco says the engine, which is laid down horizontally between the rider's feet, puts out 59 horsepower and 46 lb-ft of torque, but after working its way through the Continuously Variable Transmission (CVT) and belt final drive, perhaps 50 horsepower reaches the 14-inch rear wheel. With tall gearing and a claimed dry weight of 608 pounds (add another 24.3 pounds with the 4-gallon fuel tank filled to capacity), acceleration is sluggish, but once underway the MyRoad is capable of license-revoking speeds. Get going fast enough and the word "SPEED" lights up red on the dash, advising you that, should the police take notice, you're not likely to get off with a warning. In keeping with scooter tradition, engine vibration is minimal and exhaust noise is practically non-existent.
Two days of riding the MyRoad 700i left me with mixed impressions, which may be partly explained by the fact that the scooters we rode were pre-production units. An angular front fairing, triple headlights, turn signals embedded in the mirrors and large LED taillights give the MyRoad 700i a contemporary look. And the pushbutton-deployable passenger footpegs, which fold up into the bodywork, are innovative. But the analog gauges and cheap-looking switchgear and black plastic in the cockpit look dated. The triple disc brakes, equipped with ABS and radial-mount front calipers, offer good power but feel at the levers was numb. The fork and twin rear shocks have electric damping adjustment (soft, medium and hard)—a first on a scooter—but overall suspension quality was average and the MyRoad wallowed through fast sweepers. Wind protection is good, but tools are required to adjust the height of the windscreen. A tire-pressure monitor is standard, but the central LCD display is limited to very few functions and lacks an ambient temperature gauge.
A hallmark of most maxi-scooters is comfort. They typically have upright riding positions with well-padded two-up seats and their step-through design provide wide, flat areas for the rider's feet in two positions: forward at an angle like on a cruiser and flat like sitting in a chair. The MyRoad 700i is no exception, though the cockpit area was cramped, leaving less than an inch of free space between my knees and the dash (though at 6-foot-2 with a 34-inch inseam, I'm taller than average). The seat is plush, but the soft padding compresses easily; after about 30 minutes I could feel the hard seat pan beneath me. The handlebar is at a sensible height and distance from the rider with narrow hand grips at a comfortable angle, and the brake levers are adjustable. The 120/70-15 front and 150/70-14 rear Maxxis radials have a nicely rounded profile that help the MyRoad roll into corners smoothly, but the long 63.6-inch wheelbase and top-heavy weight favor stability over agility.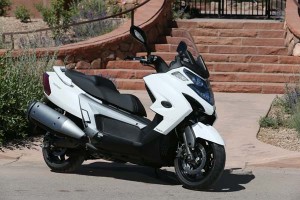 Concept versions of the MyRoad 700i were equipped with keyless ignition similar to the KIPASS system on the Kawasaki Concours 14, but our test bikes used a conventional key that had a barrel-shaped tool on the end to unlock an anti-theft ignition switch cover. Push and turn the key to the right to open the fuel filler in front of the rider's right knee; push and turn to the left to unlock the seat for access to the storage compartment, which will hold two full-face helmets and includes a 12V accessory socket (when a device is plugged in, a small red cellphone icon lights up on the dash). There is also a small glove box on the dash, but it isn't lockable. A large, wrap-around passenger grab rail can double as a small luggage rack, and a centerstand is standard.
The 2014 Kymco MyRoad 700i is a welcome addition to the maxi-scooter segment, offering highway-capable power, good wind protection and some innovative features. And at $9,699, it's priced below its main competitors, the BMW C 650 GT ($9,990) and the Suzuki Burgman 650 ABS ($10,999). Hopefully the final production version will smooth out some of its rough edges. Availability is TBD.
2014 Kymco MyRoad 700i Specs
Base Price: $9,699
Website: kymcousa.com
Engine Type: Liquid-cooled, transverse parallel twin, DOHC, 4 valves per cyl.
Displacement: 699.5cc
Bore x Stroke: 76.9 x 75.3mm
Transmission: Continuously Variable (CVT)
Final Drive: Belt
Wheelbase: 63.6 in.
Rake/Trail: NA
Seat Height: 30.7 in.
Claimed Dry Weight: 608 lbs.
Fuel Capacity: 4.0 gals.
MPG: NA
| | |
| --- | --- |
| Radial-mount front calipers and ABS are standard equipment. | The two-up seat is wide and comfortable, but the foam is too soft. |
| Passenger footpegs fold up into the bodywork and are pushbutton-deployable. | The cockpit is rather basic, but a tire-pressure monitor is standard. |
| The MyRoad is ready for the long road. | With a 4-gallon gas tank and a fuel-efficient engine, the MyRoad is ready for the long road. |