Before a burst of technology and specialization in the mid 1980s commenced sharpening our motorcycles into sportbikes, long-distance luxury tourers and cruisers, a street bike was a street bike. In those days you pretty much used the same one for everything: touring, commuting, canyon carving, even dirt roads. The first motorcycle I bought new was a bare-bones 1981 Kawasaki KZ650 that was perfect for long trips, riding back-and-forth to work and scraping the pegs on winding mountain roads—perfect because I was blissfully unaware of how unsuited the coming wave of specialization would make it to all of those tasks. Bikes like that KZ were simple, fast,
comfortable and looked good—all things to all riders.
Today our motorcycles are often reflections of our riding preferences and personalities, and the bike in your garage is likely to be quite specialized for the riding you do most, whether it's a big luxury- or adventure-tourer, sport machine or shiny cruiser. Nothing wrong with that, except that once in a while the sportbike owners may wish for something more comfortable. The cruiser folks might want a sportier ride on occasion, the adventure folks a lower seat, and the luxury-touring guys less weight and better fuel economy for commuting and riding around town. And many shorter and female riders would probably like something fun to ride with a manageable seat height that isn't a cruiser.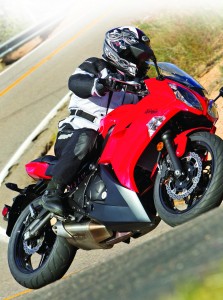 Looking at it you might think Kawasaki's new Ninja 650 is too much of a sportbike to fulfill any, never mind all, of those desires. During its first six model years—when it was called the Ninja 650R—you might be right. But for 2012, while it retains plenty of sport, the "R" has been binned along with the harsh suspension and uncomfortable seat. A broader powerband, with more torque in the low- and midrange, makes riding the new Ninja 650 like a mere mortal more fun. Less vibration reaches the rider now, the mostly upright handlebar is wider, it fits a broader range of riders and the styling is all new. Yes, for 2012 this compact, comfortable and quick bike is improved in almost every way, yet still runs on regular fuel and—thanks in part to being made in Thailand with the Ninja 250R, KLR650 and KLX250—is affordable enough that you can squeeze one alongside your big luxo-tourer or lengthy cruiser with garage space and gas money to spare.
Today a 650 is only considered a "middleweight," but the Ninja's liquid-cooled, DOHC parallel twin has been popular because it spins up decent power and grunt without compromising fuel economy. With the usual overbore and other racing modifications Kawasaki has even successfully fielded the engine in some major flattrack racing events. This year it raised the stock Ninja 650's excitement level by tweaking just about everything related to intake, power and exhaust, including the pistons, ignition timing and injector settings, airbox, air filter, header pipes and muffler. Combined with a drop in compression from 11.3:1 to 10.8:1, Kawasaki managed to increase power 5 percent not just at peak, but throughout the 11,000-rpm powerband. On the Jett Tuning dyno it made 67.5 horsepower max at the rear wheel at 8,700 rpm, and 45 lb-ft of torque at 7,000 rpm. Moreover, Kawasaki says fuel efficiency has been increased by 10 percent, and our 2012 test bike's average fuel economy was a tick higher than our 2010's.
None of these improvements come at the expense of character, either. If anything it's been enhanced; the exhaust note is throatier and freer-sounding, and additional rubber damping for the footpeg hangers give the bike a smoother ride above about 5,000 rpm. Although there's no special reason for it, it actually seems to rev more quickly, too, more like a zippy in-line four than a throbbing twin, especially as the revs rise. You still need to stir the gearbox to stay in the meat of the power, and some vibes buzz the seat, tank and grips below 5,000 rpm, though the engine's gear-driven counterbalancer cancels most of the shaking. But right up until the power begins to drop off at 9,000 rpm, the fully fueled, 456-pound Ninja 650 accelerates smoothly, quickly and impressively enough that most solo riders will never long for more motor.
A big advantage of a twin is narrowness, and this year the Ninja 650 is even slimmer thanks to a new twin-pipe steel perimeter frame, with both tubes in parallel wrapping around the engine from the steering neck down to the swingarm pivot. Instead of the old twin-tube seat subframe there's a single backbone design now, which brings all sorts of improvements, including a new two-piece seat with thicker padding and a higher load capacity overall. The bike and new rider's seat are narrow enough in front that even with my 29-inch inseam I can easily flat-foot the Ninja 650 at stops. Though it doesn't have a lot of legroom with your feet on the pegs, the seat and wide, tall handlebar also make it comfortable enough that you can almost ride fill-up to fill-up nonstop.
The twin-pipe design carries over to the swingarm as well, to which Kawasaki has added forged rear axle holders for easier rear wheel removal and chain adjustment. With the clever use of plastic covers in some areas, the parallel piped frame contributes nicely to the bike's new styling by making it resemble a higher-end twin-spar chassis from Kawi's supersport family. All-new, more fashionably angular bodywork for the bike—literally every piece—continues the supersport theme (note the resemblance to the ZX-14R on page 51) and improves rider comfort by directing more wind blast around the rider and engine heat away. While the new windscreen is quieter, wider and adjustable over a 2.5-inch range, we miss the former taller one that provided more coverage at highway speed.
Our Ninja 650 started and settled into a poppita-poppita idle without need of manual fast-idle control, and could be ridden off right away. It upshifted smoothly with a nice light feel at the adjustable clutch lever, though I felt as if downshifts weren't quite as smooth as before. The bike positions the rider's upper body in a relaxed way, leaning slightly into the wind without much weight on your wrists, though your legs are slightly cramped by the lofty footpegs. You'll want that cornering clearance, though, as the Ninja 650 is a willing accomplice in canyon-strafing runs and is genuinely nimble and quick in the corners, especially once you learn which gear to choose for the best drive out. New Dunlop Road­smart II tires are standard and provide terrific grip wet or dry, great bump absorption to complement the suspension and have a profile that makes them very neutral and smooth in left-right transitions.
Though it still lacks passenger grabrails, your copilot gets a wider, better padded seat this year, and also benefits from the rubber-mounted footpegs. The bigger pillion and plenty of tiedown points make it easy to fit a seatbag when riding solo, though a tankbag is a bit tougher due to the tank's slope and plastic faux front; Kawasaki makes a nicely fitted tankbag that appears to work well. Two-up day rides can be made in ample comfort, though the bike is a bit compact for longer trips together.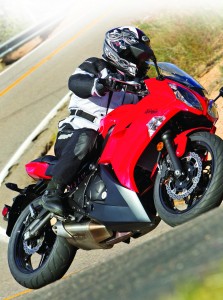 Braking and suspension components are fairly basic but all do their jobs well. Spring preload adjustment on the laydown rear shock is the only change you can make, though the bike is suspended comfortably and compliantly for most riding now and still holds it together on bumpy roads and in the canyons. The softer feel is a much better compromise for this type of do-it-all motorcycle than the harsh spring and damping rates of the previous model, and eliminates the pummeling the previous 650R could deliver on commutes. Petal brake rotors add a touch of tech to the other­wise straightforward triple discs, which have great feel at the pedal and adjustable front lever and stop the bike quickly and strongly.
Numerous hooks for bungees, storage under the passenger pillion, an easily accessed battery and toolkit and an adjustable windscreen and levers make the 2012 Ninja 650 practical without pork. The mirrors are functional, and its all-new analog/digital LCD instrument is also much easier to read than before. It includes a trip computer (current and average mpg and remaining range), dual tripmeters, a fuel gauge and clock. Though you can't switch into or out of "ECO" mode like its Concours 14 big brother, an indicator alerts you when you're using the throttle in a way that conserves fuel. At our average of 46.2 mpg the Ninja 650 will take you nearly 200 miles between fill-ups, too.
Parked alongside a tribe of hyper Ninja ZX-10Rs and ZX-6Rs, fast and hulking Concours 14s and ZX-14Rs, even ground-pounding Vulcan cruisers, it's easy to dismiss the Ninja 650 as just a twin-cylinder entry-level bike. It is one to be sure, but like that KZ650 I used to own, it's also a veteran's ticket to lots of great riding. In fact, if I could only own one bike in Kawasaki's 2012 lineup, with the possible exceptions of the larger but similar Ninja 1000 ABS for longer two-up trips or the KLR650 for dual-sport, the Ninja 650 would be it. Bet on it.
2012 Kawasaki Ninja 650
Base Price: $7,499
Warranty: 1 yr., unltd. miles
Website: www.kawasaki.com
Engine
Type: Liquid-cooled, transverse
parallel twin
Displacement: 649cc
Bore x Stroke: 83.0 x 60.0mm
Compression Ratio: 10.8:1
Valve Train: DOHC, 4 valves per cyl.
Valve Adj. Interval: Every
15,000 miles
Fuel Delivery: Digital EFI w/ 38mm Keihin throttle bodies x 2
Lubrication System: Wet sump,
1.9-qt. cap
Transmission: 6-speed, cable-
actuated wet clutch
Final Drive: O-ring chain
Electrical
Ignition: TCBI with electronic advance
Charging Output: 372 watts max.
Battery: 12V 10AH
Chassis
Frame: Steel twin-pipe perimeter
design, braced tubular-steel swingarm
Wheelbase: 55.5 in.
Rake/Trail: 25 degrees/4.3 in.
Seat Height: 31.7 in.
Suspension, Front: 41mm
stanchions, no adj., 4.9-in. travel
Rear: Single offset laydown shock,
adj. for spring preload w/ 5.1-in. travel
Brakes, Front: Dual 300mm petal discs w/ 2-piston pin-slide calipers
Rear: Single 220mm petal disc
w/ 1-piston pin-slide caliper
Wheels, Front: Cast, 3.50 x 17 in.
Rear: Cast, 4.50 x 17 in.
Tires, Front: 120/70 x ZR17
Rear: 160/60 x ZR17
Wet Weight: 456 lbs.
Load Capacity: 446 lbs.
GVWR: 902 lbs.
Performance
Fuel Capacity: 4.2 gals., last 1.0 gal. warning light on
MPG: 87 PON min. (high/avg/low) 48.1/46.2/44.3
Estimated Range: 194 miles
Indicated rpm at 60 mph: 4,450
| | |
| --- | --- |
| New analog/LCD display is super comprehensive, right down to the low battery voltage indicator. | Drilled, floating petal rotors pinched by twin-piston calipers in front work well. |