Just the other day I was lamenting how so many motorcycle companies seem to be playing the bigger/faster/more powerful game, introducing bikes that are ever more complex, heavier and more expensive. To get out of this whirlwind I bought, in 1985, a used 1976 BMW R75/6, an old, slow, low-tech dinosaur. Even though its technology and performance levels have remained constant while everything else's has improved exponentially, it's still a kick to ride whenever I want a relaxing change of pace.
In the last few weeks, likewise, I have come to appreciate that guys like me are perfect candidates for the new Triumph Bonneville SE, a bike that combines old-time style, size and lightness with modern amenities such as good brakes, engine smoothness and reliability—and none of those pesky starting problems or oil leaks.
Triumph has been offering its "modern classics" for several years now. The latest Bonnevilles, including the new SE we test here, have been given a '70s styling treatment and some chassis updates including new 17-inch cast wheels, new fenders and the megaphone exhausts from the Thruxton model. Other changes include a handlebar that brings the grips closer to the rider, and the seat has been lowered by an inch. What sets it apart is that the SE model includes a tachometer, chromed tank badges and brushed alloy engine cases.
Its tank is the right shape and that tank badge helps evoke its predecessors from back in the day, and its exhaust headers have turned blue just as I remember them. While the instruments remind one of the old Smiths units on the bikes of old, gone is the ammeter that was sunk into the chromed headlight shell.
The Bonneville SE is powered by an air-cooled, DOHC parallel twin-cylinder engine that, with a bore and stroke of 90 x 68mm, displaces 865cc. This results in a very rev-happy big-bore/short-stroke configuration that allows our test bike to rev to 8,000 rpm. It features four valves per cylinder, and utilizes a 360-degree crankshaft along with twin balancer shafts to keep it running smoothly. Elsewhere in the Triumph lineup the America and Speedmaster cruisers (along with the Scrambler) utilize a 270-degree crankshaft to give them a sound more consistent with what people want in a market dominated by V-twins. Final drive on all these models is by X-ring chain. An oil cooler helps the SE shed some of the BTUs generated by its engine, and it's all hung within a tubular-steel cradle frame with tube-steel swingarm.
The headlight is one of those new-fangled units with a clear lens and faceted reflector, and the ignition switch is located on the left headlight bracket. Deploy the fast-idle lever on the left side of the engine, hit the starter button and twin Keihin multipoint sequential electronic fuel injectors (which are cleverly disguised to look like carburetors) squirt in the proper amount of fuel as the bike starts easily.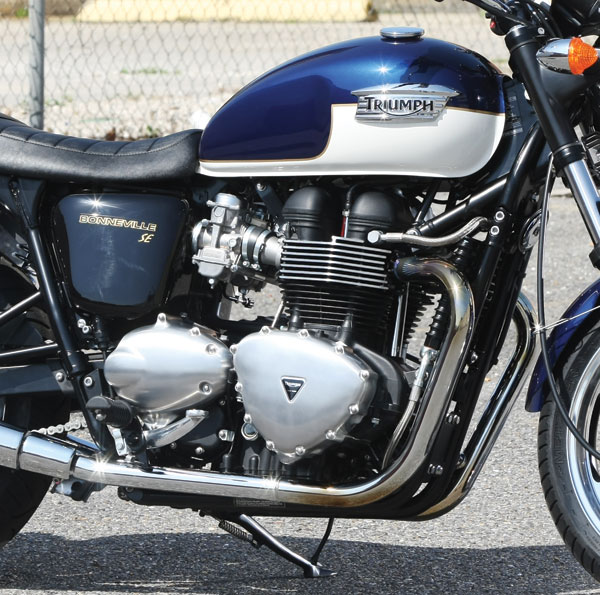 Within a mile I was turning off the two-stage fast-idle lever as the engine had warmed. Both the brake lever and cable-actuated clutch lever are provided with four-position adjustment wheels, and clutch pull is moderate. Its five-speed transmission shifts cleanly and easily, and with the megaphone-style mufflers the motor produces a pleasant (though not aggressive) thrumming sound. Triumph offers its own aftermarket pipes that produce a more mellow sound.
I have never liked how on some current Bonneville models the exhaust pipes pass below the motor, then rise again and make a sharp bend before joining the mufflers (thus providing them with more cornering clearance). On the original Triumphs the pipes took a straight line to the mufflers. I'm happy to report that because of its Thruxton mufflers the SE's pipes flow straight back, and do not need additional cornering clearance. Despite their seemingly low placement the only thing I touched down in a day of aggressive riding on my favorite winding road was the edges of my boots.
With a wheelbase of 57.2 inches, and rake/trail figures of 27 degrees and 4.2 inches the Bonneville SE feels stable and planted, not at all twitchy like some sportbikes or lazy like a cruiser. During that day of aggressive riding I pushed the Triumph as hard as I dared and found that the engine generates linear (if not strong) power as its tach needle climbs rather lazily from 2,500 to 8,000 rpm, where its power is instantly cut by the ignition system.
A trip to the Jett Tuning Dynojet dyno revealed that this parallel twin has a flat torque curve and is already churning out 40.9 lb-ft of torque at 2,600 rpm at the rear wheel, and it remains above that figure all the way to 7,600 rpm, with its peak coming at 44.7 lb-ft at 6,500 rpm. In terms of power the Bonneville is making 40 horsepower by 5,000 rpm, 50 by 6,000 rpm and peaks at 58.6 horses at 7,400 rpm. The technically inclined will note that, by today's standards, this is rather understated power as any self-respecting 600cc, four-cylinder sportbike will crank out more than 100 rear-wheel horsepower and will leave the Triumph weeping in its pints. Still, with a wet weight of just 500 pounds the agile Triumph is fun to ride—so long as your definition of fun does not include tire-smoking burnouts and block-long wheelies.
Suspending duties are handled by a conventional 41mm Kayaba fork with 4.7 inches of travel, but no adjustments. Supporting the rear is a set of very '70s looking Kayaba twin shocks with chromed springs and bodies, and they're adjustable only for spring preload. While the front suspension is well damped and controlled, the rear offers only 3.9 inches of suspension movement, is poorly damped, and hammers the rider on abrupt bumps.
By replacing the 19-inch front wheel from previous models with a 17-inch the bike steers more quickly, though the smaller diameter wheel will offer a slightly less smooth ride. The original Meriden twins were offered in the late '70s with optional Morris mag wheels, so cast wheels are by no means an anachronism for Bonnies. A more practical reason for cast wheels is that a wire spoke wheel rim cannot be easily sealed because of its spoke holes, so Bonneville models so equipped have to run with tubes that are much more vulnerable to flats. Models with cast wheels, such as the SE, run tubeless tires. Upon encountering a nail a tubeless tire will often capture the offending nail, partially sealing the hole, and will not go flat for quite some time.
Triumph fitted the SE with a set of Metzeler radials, an MEz4 front and MEz2 rear. You can forget about all that wide tire nonsense from the cruiser and sporty guys as the Triumph's rubber is a 110/70-17 and a 130/80-17, perfectly adequate for the use.
Triumph has also equipped the SE with proper brakes, a single front 310mm disc squeezed by a floating two-piston Nissin caliper, and a 255mm rear disc with another two-piston caliper. While we don't normally think of two-piston calipers as delivering impressive braking force, the front was surprisingly powerful and offered secure stops, and the rear is a good complement to it.
The grips were positioned properly for my 6-foot frame, as were the pegs, but while the flat seat looks very retro its function leaves much to be desired. Sorry Triumph, but to describe the seat I would have to liken it to a block of wood upon which someone had laid slices of bread, one slice deep. While initially soft to the touch, once you plunk your gluteus aboard you immediately squash through the bread and contact the wood.
The steel tank holds 4.2 gallons of a recommended 89-octane gas, and during our test it ladled it to the engine at a rate of a gallon for every 45.2 miles. I was quite surprised that during my day of heavy, aggressive riding the bike still turned more than 47 mpg.
Riding a classic-style Triumph means you're never invisible, and at the local hangout it inspired both a lot of interest and positive feedback—except from my buddy Carl who owns an actual '70s-era Trump. He pooh-poohed the blacked-out engine in favor of the brighter version that came on the originals. It just goes to show that you can't please them all.
If you're more interested in riding a bike than profiling on one, and in a mellow experience rather than straddling a fire-breathing monster with more power than you'll ever likely use, the Triumph Bonneville SE has the right size and weight, and certainly the right classic style to start a conversation at any bike hangout. The SE is available in Jet Black or two-tone Pacific Blue with Fusion White for $8,399, and will certainly gain you a lot of attention while providing a satisfying and mellow ride.
2009 Triumph Bonneville SE Specifications
Base Price: $8,399
Warranty: 2 yrs., unltd. miles
Website: triumphmotorcycles.com
Engine
Type: Air-cooled, transverse parallel twin
Displacement: 865cc
Bore x Stroke: 90.0 x 68.0mm
Compression Ratio: 9.2:1
Valve Train: DOHC, 4 valves per cyl.
Valve Adj. Interval: 12,000 miles
Fuel Delivery: Multipoint sequential electronic fuel injection
Lubrication System: Wet sump, 4.75-qt. cap.
Transmission: 5-speed, cable-actuated wet clutch
Final Drive: X-ring chain
Electrical
Ignition: Electronic
Charging Output: 312 watts max.
Battery: 12V 12AH
Chassis
Frame: Tubular-steel double cradle w/ tubular-steel swingarm
Wheelbase: 57.2 in.
Rake/Trail: 27 degrees/4.2 in.
Seat Height: 29.5 in.
Suspension, Front: 41mm stanchions, no adj., 4.7-in. travel
Rear: Dual shocks, adj. for spring preload, 3.9-in. travel
Brakes, Front: Single disc w/ 2-piston pin-slide caliper
Rear: Single disc w/ 2-piston pin-slide caliper
Wheels, Front: Cast, 3.0 x 17 in.
Rear: Cast, 3.5 x 17 in.
Tires, Front: 110/17-R17
Rear: 130/80-R17
Wet Weight: 500 lbs.
Load Capacity: 380 lbs.
GVWR: 880 lbs.
Performance
Fuel Capacity: 4.2 gals., last 0.8 gal. warning light on
MPG: 89 octane min (high/avg/low) 47.6/45.2/42.7
Estimated Range: 190 miles
Indicated rpm at 60 mph: 3,200