The new bikes for the 2008 model year have all been revealed, and it's time once again to name our three Best-of-Class winners. From that trio we have picked one for Rider's Motorcycle of the Year award that we think succeeds best at its intent, satisfies like no other and lengthens the list of history's most significant motorcycles. As always, Rider has picked the Best-of-Class winners from the list of all-new or significantly changed motorcycles for the model year, in this case 2008. As they must be all-new or significantly changed, the categories for them may differ from year to year depending on what's new. In 2008 there was a lot of new stuff in the Sport-Standard, Sport-Tourer and Cruiser categories, so they are our Best of Classes this year. The Motorcycle of the Year was then carefully chosen from one of the Best-of-Class winners.
Rider now includes any prior-year models that didn't make it to us for testing in time for last year's contest in the current year's judging. Due to manufacturer production timing some '08s may not reach us by our deadline of March 30, 2008, in order for us to ride and consider them, in which case we'll put them up against next year's entries. And though we may have actually ridden several early-release 2009 models that could even be at your dealer before the end of this year–the BMW F800GS, F650GS and Kawasaki KLX250S, for example–since they're not 2008 models they're not eligible for this year's contest, though we will include them along with any late 2008 models in next year's deliberations.
Congratulations to all of our winners, and to the industry in general for making 2008 a great year indeed.
BEST OF CLASS
Best Sport-Standard
Suzuki B-King
In the six years it took for the B-King to become reality, most of the conceptual Brains–fingerprint recognition, GPS and telemetry for example, and the supercharger Boost responsible for the "B" in its name–have given way to the realities of the market. But with 167 horsepower at the rear wheel from the Hayabusa's liquid-cooled, DOHC, 1,340cc in-line four, there's still plenty of fun on tap. It may look like you're saddling an angry alien armed with twin proton torpedo launchers, but the bike's smooth power delivery, sharp handling and comfort make it surprisingly easy and enjoyable to ride…and our Best Sport-Standard of 2008.
Best Sport-Touring Bike
Kawasaki Concours 14
It's finally here! Twenty-one years since its introduction in 1986, Kawasaki has reinvented the venerable Concours. Based on the street-shredding Ninja ZX-14 sportbike, the all-new 2008 Concours 14 has a decidedly sporty side, yet is not just a ZX-14 with higher handlebars. Purpose-built for long-distance travel in comfort, it also just happens to have the handling, braking and cojones of Kawasaki's largest kick-butt sportbike, nearly a liter-and-a-half in size, with the addition of Variable Valve Timing (VVT) for a broader powerband. Add large, functional saddlebags and an electric windscreen, and the Concours 14 made a lightning-fast ride to Best of Class.
Best Cruiser
Star Motorcycles Raider
Television shows about customization and the desire to personalize have contributed to the increasing popularity of lean customs and choppers. The 2008 Star Raider with its 113-cubic-inch V-twin is an exciting new entry in this custom-look cruiser segment. Between the 21-inch front wheel and big 210/40-18 rear tire, its stretched aluminum frame provides a radical rake of 39 degrees. Styled with airy, upswept lines and an aggressive look, you sit "in" rather than on this chopperesque bike, resulting in a real rider's cruiser. Star MC describes its Raider as having a "black art" quality with rock-and-roller attitude–we think it rocks, too.
2008 MOTORCYCLE OF THE YEAR
And the winner is…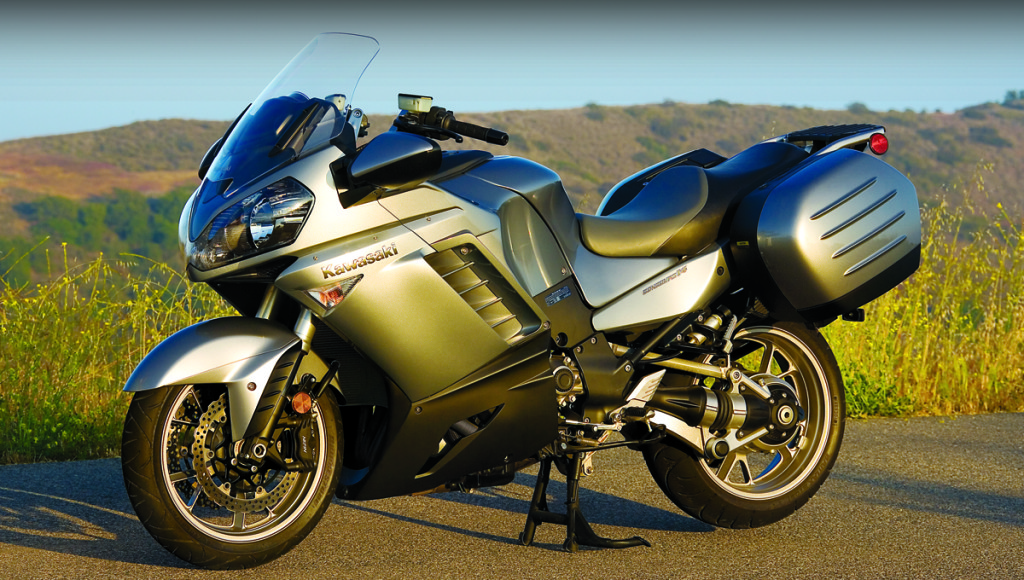 Kawasaki Concours 14
Rider's MOTY award is presented to an all-new or significantly changed motorcycle designated with the current model year. For 2008 the list of eligible contenders is short compared to many previous years, but every one is a formidable bike worthy of recognition. There can only be one MOTY, though, and the Kawasaki Concours 14 is our pick. We're focused on performance, handling and comfort first here at Rider, along with value, reliability and practicality. This stylish sport tourer pegs the meter in all of those areas, and has an impressive list of standard features that are both fun and useful, including KIPASS key fob security, a tire pressure monitoring system, electric windscreen, remote rear spring preload adjuster and large, functional, locking side cases. Anti-lock brakes are also available. After 21 years the new Concours is here, and this winner was worth the wait. Our congratulations to Kawasaki for the Concours 14, Rider's 2008 Motorcycle of the Year.