While Harley-Davidson threw a big party for its 100th anniversary in 2003, it has not made a big deal about the fact that it is the oldest continual producer of motorcycles on the planet. Perhaps the company fears that, by acknowledging this fact, it could be perceived as an old-time, old-technology company. Rather, by acknowledging only birthday parties and the fun stuff, H-D perhaps believes that it will be perceived as long-lived, vibrant, cool and relentless in updating its products. Fair enough-who are we to argue with success?
The 2006 FLHTCUI Ultra Classic Electra Glide is a perfect example of this philosophy of relentless updates. You're familiar with the Electra Glide, right? It's Harley's big tourer and comes with a fork-mounted fairing and hard, locking saddlebags. Step up to the Classic model and Harley adds the Tour-Pak trunk with passenger backrest. Or get the top-line Ultra Classic version tested here with its lowers and their little storage areas-and other goodies. While it may look like the same ol' E-Glide in the photos, nevertheless the 2006 edition offers many updates. We'll cover them throughout the course of our test.
The most visible change is the new Reflector-Optics Auxiliary Lamps on the light bar; they now match the headlight, which was redesigned for 2005. The reason for all these new clear-lens lights is that engineers learned that the fluted lenses on old-style headlights actually diminished light output as they spread the beam. They found it was more efficient to have the reflector direct the light through a clear lens.
Tucked inside the engine cases of all 2006 Harley touring models is a new three-phase, 50-amp, 650-watt charging system that should keep that ol' battery charged despite running the standard electrical equipment and all those additional bulbs for the rally light show. It represents an increase in charging output that ranges, according to model, between 11 and 32 percent.
The Twin Cam 88 engine has been around since 1999, an air-cooled, 1,450cc, 45-degree V-twin that generated 65.0 rear-wheel horsepower on the Borla dyno in stock, non-California trim. While this doesn't sound like much in comparison with other big-inch bikes, it's OK as many riders treat their stock Harleys as a starter kit for bigger and better things-like Harley's Screamin' Eagle performance parts. More importantly, the engine was already generating 60.1 lb-ft of torque at a lowly 2,100 rpm, peaked at 67.4 lb-ft at 3,900 rpm, and held more than 60 all the way to redline at 5,600 rpm. Our Classic's engine had been enhanced visually with black powdercoating, polished fin edges and chromed covers.
Throw a leg over and you'll settle into an upright position on a seat that comfortably blends cushion with firm-ness. The grips, likewise, are "right there," a result of many years of relentless input from riders of all shapes and sizes. This year, the rider's feet rest on a pair of rubber-mounted footboards with the new "pinstripe" pattern; the pattern is continued on the brake pedal, which also incorporates the bar-and-shield design. The ignition switch is new for 2006 on Electra Glide and Road Glide models; it requires that the fork be turned to full lock before the switch can be turned to the fork lock position and locked.
The Electra Glide Classic and Ultra are available only with Electronic Sequential Port Fuel Injection; the engine on our test bike always started easily, and was ready to be ridden away immediately whether hot or cold. When I chunked it into gear for the first time, I immediately noticed the most welcome change for 2006. Because of a redesigned ball-and-ramp mechanism and a lighter diaphragm spring, clutch lever effort has been reduced by a claimed 24 percent. The reduction in effort is significant, as will be the reduction in gorilla grip and the attendant left forearm fatigue common among owners of previous Glides.
Out on the open road the Electra Glide is a delight. Its rubber-mounted engine rumbles out a little vibration in the seat and grips at low rpm, but on the highway it is quite smooth and its pace is relaxing. By 2,500 rpm the Glide is already generating 30.6 horsepower and 64.3 lb-ft of torque, and from that point on the fun begins.
Despite its 828-pound heft, the Glide is surprisingly agile at low speeds. Utilize the clutch lever and rear brake pedal skillfully and simultaneously, and it's possible to turn it around within the width of a two-lane road. Get onto a twisting mountain road and, despite its 63.5-inch wheelbase, the bike steers quickly and drops into turns lightly and easily with its steep 26 degrees of rake and 6.2 inches of trail. Beyond that, however, things become more difficult. The riding process is slowed down by those big control levers, how deliberately (but positively) the five-speed shifts with its heel-and-toe shifter, and the fact the rider must lift his or her foot to utilize the brake pedal-you know you're wranglin' one big steer here. Get that silly grin on your face and start whipping this bad boy around, and you'll soon get a queasy feeling from the little head wag the Glide gives during abrupt transitions from one full lean to the other. Keep pushing and the sidestand will begin dragging on the left, and the footboard and then the frame will touch on the right. With the engine reaching peak torque at 3,900 rpm, most of the heavy lifting is already done; revving beyond that point causes the engine to generate more noise but not much additional power.
Thankfully, the Ultra Classic's brakes are in keeping with its weight; it comes with triple 11.5-inch rotors with four-piston calipers, which are quite adequate for the job. They require a heavy squeeze, however, and despite not offering much feedback can be modulated well.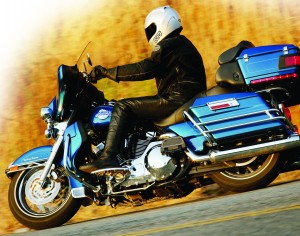 In my opinion the Tour-Pak trunk is the best piece of motorcycle luggage ever invented, though the Glide's long saddlebags could stand to be a little wider. For 2006 the Tour-Pak has been redesigned with slightly new contours and is now an inch lower, but H-D says its capacity has not been reduced. Its shell is now injection-molded of black GTX nylon that, Harley states, will not "chalk" from rubbing and it also provides a smoother surface finish. The backrest flap now attaches to the trunk's base rather than its lid, which should help eliminate rubbing.
The saddlebags are made of the same black GTX nylon, and also feature soft luggage liner bags. The Ultra's Tour-Pak is lined with a formed, carpetlike material that's a nice little luxury touch. Check out the trunk's new full-length chrome trim accents, and the new LED side lights.
With the rider ensconced behind the Ultra's familiar bat-wing fairing the immediate view includes its large round speedometer and tach, with a smaller round oil-pressure gauge, voltmeter, ambient air temperature and fuel gauge. At 6 feet tall, I was easily able to see over the standard-height windshield, and the wind coming over it entered the vents atop my helmet. Your stature may vary. Very little wind reaches the hands, there's some on the shoulders, but quite a bit comes in from underneath. The fairing lowers, which are standard on the Ultra, include a pair of little glove boxes with tethered snap-on covers. For 2006 the lowers now incorporate a pair of plastic panels that can be left retracted for full airflow, or rotated outward to block more of the wind. I played with them extensively, and finally concluded that they made only minimal difference in protection. Another excellent feature is H-D's electronic cruise control that works easily and responds well to terrain changes.
Out on the open road I was especially able to enjoy the bike's new Advanced Audio System, the result of H-D's partnership with audio company Harman/Kardon. All of Harley's radio-equipped dressers now offer an AM/FM/WB/CD-MP3 system, the options for which include XM Satellite Radio, High Output Amplification, a Hands-Free Cell Phone module, CB bike-to-bike Communications and Intercom. While other Electra Glide models are equipped with a 40-watt audio system, the Ultra's has a crankin' 80 watts. An available GPS navigation system is coming soon.
The bane of listening to the radio while on the road is that stations continually fade in and out depending upon atmospheric conditions, the signal can be blocked by buildings and hills, and soon the station is out of range. A signal coming from a satellite is much less likely to be blocked, and will be in range for thousands of miles. XM Satellite Radio is a subscription service that offers more than 150 channels of music, talk, sports and lots more, much of it commercial free. In my extended riding on the Ultra I listened to XM often (love those hits of the '60s), and the only times I lost the XM signal (and then only momentarily) was while riding in close proximity to a cliff wall to the south.
Navigating the audio system is easier than one might expect. The rider utilizes a thumb control near the right grip to scroll through the choices (which include AM, FM, CD, Weather Channel and XM) on the LCD screen. Push in to select, and utilize the same control to scroll through channels or tracks and again push to select. A similar thumb control on the left side adjusts volume. During our test I utilized J&M's excellent in-helmet speakers; in my opinion, in-helmet speakers are the only way to go if one wishes to clearly hear motorcycle audio.
The Advanced Audio Intercom also includes headset receptacles and push-to-talk controls. The Hands-Free Cell Phone Module utilizes Bluetooth protocol wireless transmission format and mounts in the Tour-Pak. If your phone is Bluetooth equipped, rider and passenger can make and receive cell calls via the radio hand controls or voice activation, however, I did not test this feature.
Speaking of packin' a passenger, this year the Tour-Pak can be adjusted fore/aft on its rack by an inch to give the passenger more room. Not to infer that your friend has put on weight (perish the thought), but it's nice to know that this capability is available. The forward position is the same as last year's fixed position, and to adjust the Tour-Pak it's necessary to remove five bolts, slide it, and tighten everything up.
The Ultra comes with a rear air suspension that, when properly inflated, offers a ride that may not be exactly plush, but is certainly acceptable and well controlled. That 41.3mm fork likewise may have a ponderous feel, but its ride is likewise well controlled and will keep the front end pointed where you want it.
We took the Ultra up into the mountains to the north, which included a lot of rolling at about 75 mph to get there, then whipping through the curves. These factors contributed to our disappointing mileage of 37 mpg. If ridden sanely and within the speed limit, we expect that the middle 40s will be well within reach. But of course, if one has the scratch for an Ultra, who's to worry about $3/gallon gas? In base black the Electra Glide Ultra Classic sells for $19,795, but "color" models (like our test bike here) are $20,265. Two-tone versions are $20,645.
The Harley-Davidson Electra Glide Ultra Classic remains a real favorite because of The Motor Company's relentless drive to give the people what they want. It's a big, friendly, recognizable modern classic that provides such practical features as good luggage capacity, very comfortable seating, that rumbling, staccato beat that stirs the soul and now a relentlessly growing list of updates and creature comforts that hit home. And of course, it gives one entrée to all those upcoming birthday parties. Now there's one cool factor that just won't quit.
If you are interested in the 2006 Harley-Davidson FLHTCUI Ultra Classic Electra Glide, you might also be interested in these other Ultra Classic Electra Glide reviews from Rider: 2009 Harley-Davidson FLHTCU Ultra Classic Electra Glide review, 2008 Harley-Davidson Ultra Classic Electra Glide FLHTCU review, 2006 Harley-Davidson FLHTCUI Ultra Classic Electra Glide review.
Want MORE? Check out this Rider Touring Cruiser Shootout featuring the Harley-Davidson Ultra Classic Electra Glide plus the Kawasaki Vulcan 1700 Voyager, Victory Vision Tour Premium & Star Royal Star Venture S.