by Bill Stermer, photography by Rich Cox/Slide Action
There was a time was when motorcycles were just sizes and numbers. You started on a 90cc or a 125cc, then graduated to a 250cc or a 350cc. If you were really serious you wound up on a 500cc or a big 750cc! If you wanted to cruise, you added a stepped seat and extended fork. For a sportbike, you added an exhaust system and aftermarket shocks. For touring you added a fairing and saddlebags.
Then the manufacturers began building specialized bikes at the factory: cruisers, tourers, sport tourers, sportbikes and the like, each in its own niche. Then the niches became split even finer into naked sports, adventure tourers, power cruisers and the rest.
Now we have the V-Strom, another niche splitter, which Suzuki describes as a "sport enduro tourer." Whatever they call it, the V-Strom does what it does so well and so successfully that it has won Rider's Motorcycle of the Year award for 2002.
First, what is a V-Strom and why the name? With a 90-degree V-twin engine the V part is obvious. As for Strom, take your pick: A) It's what happens when Suzuki marketers consume too much sake at the party for their V-Storm. B) It's a tribute to 99-year-old Senator Strom Thurmond of South Carolina. C) It's a German word meaning a stream of wind.
If you guessed "C," you know your nomenclature. This breezy motorcycle very successfully combines a number of traits that conspire to deliver one of the highest fun quotients in motorcycling for this-or any other-year. To appreciate what the V-Strom is, imagine what the offspring would be like if you mated a Suzuki TL1000S V-twin sportbike with a Triumph Tiger adventure tourer.
To create the DL1000 V-Strom, Suzuki started with the liquid-cooled, 90-degree, 996cc V-twin engine from its TL1000S sportbike. This advanced engine offers dual overhead cams and four valves per cylinder, with huge 98.0mm bores teamed with a short 66.0mm stroke to give the engine plenty of rev potential. The V-Strom retains the same valve-train system as the TL1000, but intake valve diameter has been downsized 4mm, to 36mm, to accentuate low- and mid-range throttle response. Valve angle remains the same, as does the 11.3:1 compression ratio. Despite the relatively high compression, the V-Strom requires only 87-octane fuel. Lobe sizes on the hollow, cast-iron cams have been reduced from those on the TL1000 to produce less lift and duration in the interest of touring-oriented response.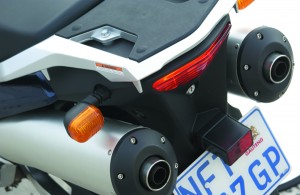 The DL gets lighter, stronger forged pistons rather than the TL's cast-aluminum s, and the V-Strom's connecting rods (each are 25 grams lighter) have been shotpeened for strength. Ratios in the six-speed overdrive transmission have been widened to serve the DL's touring orientation, and it gets a hydraulically actuated clutch for a lighter pull; the back torque limiter has been left off. And of course, as with the TL, the DL1000 has chain final drive.
The V-Strom's digital fuel injection and engine management system are designed for linear throttle response, low-end torque and fuel economy, all of which it delivers successfully. Each of its two 45mm throttle-body injectors carries two throttle valves, a primary that is physically operated by the rider's input
at the twistgrip, and a secondary operated by the engine-management system via a torque motor. Large-diameter throttle bodies are better at producing high-rpm power, while a smaller diameter works best at low rpm. Suzuki claims that the dual valves (also used on its GSX-R sportbikes) improve low-rpm output by about five percent on the V-Strom, along with throttle response and fuel efficiency.
In the interests of lightness, improved handling and a lower seat height, the V-Strom has a newly designed twin-spar aluminum alloy frame. The swingarm is likewise aluminum, and, in fact, the bike weighs a very reasonable 517 pounds wet.
This sport enduro tourer brings to mind such adventure tourers as the BMW R1150GS, Aprilia CapoNord and Triumph Tiger, bikes intended for serious pot-holed dirt roads and adventuring to Alaska, Mexico and Africa. Not to mention that they're also very competent street bikes right here in the good ol' U.S. of A.
Suzuki's tweak to "sport enduro," however, changes things a bit. After having spent several intense days with the V-Strom I'm very impressed with its road manners, but like the SUV-driving suburbanite with 2.2 kids, a dog and a house on the hill, I would not venture with this "enduro" beyond smooth dirt or gravel roads. We liked the aggressive cat's-eye styling, but there's an awful lot of vulnerable plastic around the fuel tank, which, after the first tip-over, would not be a pretty sight. Secondly, while adventure bikes have wire-spoke wheels with some built-in elasticity, the V-Strom's rigid cast wheels with radial tires could develop serious dings on nastier back-country roads. That low-mounted oil cooler would be a rock magnet, and a bike destined for Durban or the Atlas Mountains of Morocco needs a real bash plate. Under the V-Strom's plastic chin fairing resides some very vulnerable exhaust plumbing, and a crankcase as bare as the proverbial baby's bottom.
But if you're not headed for those places, who cares? The V-Strom is such a capable street bike that it doesn't need to be dirt worthy-the occasional hard-packed gravel-road jaunt will be enough for us, thank you very much. Climb aboard and note that, at 33.1 inches, seat height is a ways up there. I suspect that those shorter than about 5-feet, 8 inches may have problems reaching the ground from its perch. The rider sits fairly upright, feet under him or her comfortably on a long, slightly stepped seat.
For our road-test ride we found that the rubber-covered luggage rack worked well for attaching a seat or tail bag. The sloping fuel tank requires a tankbag with a similarly shaped underside; we used Marsee luggage products at each end. Despite the high location, ample heat shields on the mufflers prevented scorching of soft saddlebags-not to mention passengers-during our time with the bike, but hotter weather, and other bags and/or conditions may yield a different result. We'll let you know in the summer. Regular two-up riders will also appreciate the V-Strom's roomy, comfy pillion, which provides passengers with ample legroom and a good seating position in relation to the rider.
The V-Strom, with its fuel-injection system, started easily warm or cold, without the need for a choke or fast-idle control. It always ran well, with smooth transitions from partial to full throttle.
Up in the mountains of California's back country the V-Strom really was a joy. On tight, twisty roads this dual-sport-style bike's prodigious torque, ample ground clearance, quick steering (the V-Strom's rake is 26.5 degrees, with 4.3 inches of trail), lightness and the leverage of a wide handlebar allowed the rider to fly it through the curves at warp speeds.
By sliding up on the tank the rider can weight the front tire, whip the bike through the curve using the bike's wide handlebar and responsive steering, and be gone in a flash. With usable power from 2,500 rpm up to the 9,500-rpm redline, the torquey V-Strom powers out of turns with a throaty, growling V-twin rumble as its Bridgestone Trail Wing tires grip tenaciously in spite of their blocky pattern. The engine's sweet spot starts at about 4,000 rpm and peak torque is delivered from 4,500 to 6,400 rpm; there's no need to rev beyond that point unless you're wringing its neck. The rider can also slide back to, or over, the slight seat hump to lighten the front end.
The non-adjustable, 43mm cartridge-style fork is well sprung and nicely damped. Unfazed by bumps and hard braking, it's well controlled under most situations. During very aggressive riding, while bounding off humps in the road, the front end would lighten and top out; we would have preferred a bit more rebound damping to slow its response. Also, the fork had a tendency to patter over rhythmic freeway bumps. Turning radius, despite the V-Strom's longish 60.4-inch wheelbase, is tight; it's easy to turn around on narrow roads.
The single rear shock behaves as well as, or better than, the fork. A knob on the bike's left side allows the rider, with minimal effort even from the seat, to dial in a wide range of spring preload settings. As a solo 165-pound rider with light luggage, I found ground clearance adequate on the no. 2 indicator mark until I became extremely aggressive and started dragging peg feelers; cranking in more preload lifted them out of reach. The shock also offers a stepless rebound damping adjuster that provides a very usable range, and worked very well. At all times the agile V-Strom felt solid and stable.
Roaring into turns we easily downshifted the slick six-speed box and nailed the pair of 310mm front disc brakes with twin-piston Tokico calipers. Fork dive was minimal, and front brake power and feel are excellent. The 260mm rear disc brake offered less progressive feeling and modulation; it could lock under hard use.
When we originally got the bike with about 600 miles on it, vibration quivered the seat at about 6,000 rpm. During the course of our test the quiver decreased, and by 1,100 miles the engine had become quite smooth in all rpm ranges. A 90-degree V-twin, after all, offers perfect primary balance. Like a firm bed, the seat provided good support-until it began to feel hard to this rider's nether regions after about 150 miles.
The small fairing offers minimal protection, and creates a dirty stream ("strom"?) of air that passes right where most riders' heads will be. An easy fix would be cutting a few inches off the top of the shield, or trying the taller accessory shield that Suzuki will offer for the bike. The bike comes with standard hand guards, and other accessories on the way include a centerstand, heated grips and hard saddlebags.
The tank holds a generous 5.8 gallons, and with our 38.7 mpg average fuel economy under hard usage will provide well over 200 miles of range. The fuel gauge resides within the tachometer housing, cozied up to the digital clock. It registers in five shaded bars, the last of which begins to blink when fuel level drops to about 1.0 gallon. When fuel drops to about 0.7 gallon, the flickering bar loses its shading.
Under the seat the conventional toolkit occupies about half of one bin, and includes a short cable to hold two helmets on the helmet lock. The second bin will hold a U-lock or pair of light gloves. Both the brake and clutch levers are adjustable, and the mirrors and dual headlight are exceptional.
Suzuki's new V-Strom is one of those rare bikes that does virtually everything well, and is a tremendous amount of fun to boot. Trust us-the V-Strom really works, and at $8,899 offers loads of grins for the bucks. The big question is if such a broad, non-mainstream bike will find its niche and be embraced by a riding public more attuned to hyper graphics, full fairings and laid-back cruiser hipness. The danger is that it could wind up as a cult bike, appreciated only by a small cadre of insiders but rejected by the masses. This should be interesting.
2002 Suzuki V-Strom DL1000 Review Specifications:
Base Price: $8,899
Warranty: 12 mos., unltd. miles
Engine
Type: Liquid-cooled, transverse 90-degree V-twin
Displacement: 996cc
Bore x Stroke: 98.0 x 66.0mm
Compression Ratio: 11.3:1
Valve Train: DOHC, 4 valves per cyl.
Valve Adj. Interval: 15,000 miles
Fuel Delivery: Electronic fuel injection
Lubrication System: Wet sump,
3.1-qt. cap.
Transmission: Six-speed, hydraulically actuated wet clutch
Final Drive: Chain
Electrical
Ignition: Electronic transistorized
Charging Output: 350 watts max.
Battery: 12V 10AH
Chassis
Frame: Twin-spar aluminum w/ box-section aluminum swingarm
Wheelbase: 60.4 in.
Rake/Trail: 26.5 degrees/4.6 in.
Seat Height: 33.1 in.
Suspension, Front: Showa 43mm
stanchions w/6.3-in. stroke
Rear: Single shock, adj. for spring preload and rebound damping with 6.3-in. travel
Brakes, Front: Dual discs with 2-piston calipers
Rear: Single disc with 2-piston caliper
Wheels, Front: Cast, 2.50 x 19 in.
Rear: Cast, 4.00 x 17 in.
Tires, Front: 110/80-R19
Rear: 150/70-R17
Wet Weight: 517 lbs.
Load Capacity: 448 lbs.
GVWR: 965 lbs.
Performance
Fuel Capacity: 5.8 gals., warning light on last 1.0 gal.
Average mpg: 38.7
Estimated Range: 224 miles
Indicated rpm at 60 mph: 3,300
Acceleration, zero to 30 mph: 1.69 sec.
Zero to 60 mph: 3.95 sec.
Top Gear Roll-On, 40-60 mph: 4.97 sec.
60-80 mph: 4.50 sec.
Braking, 60 to zero mph: 142.2 ft.
30 to zero mph: 30.8 ft.
If you're interested in the 2002 Suzuki DL1000 V-Strom, you may also be interested in the comparable 2005 Triumph Tiger.