Making its much-anticipated debut in the American market for 2024 is the Honda XL750 Transalp, a middleweight adventure bike equipped with 21-inch front and 18-inch rear spoked wheels and ample suspension travel. Nestled between the entry-level CB500X and the liter-class Africa Twin in Honda's current lineup, how does the Transalp fare?  
To find out, we took it for a two-day, 250-mile test run amidst the vibrant autumn foliage of central Pennsylvania. Our route included the rugged Section 4 of the Backcountry Discovery Routes BDR-X PA Wilds and winding backroads around State College. 
Related: Backcountry Discovery Routes | Ep. 58 Rider Magazine Insider Podcast
To give the Transalp an off-road credibility check, American Honda swapped the OEM-fitment Metzeler Karoo Street or Dunlop Mixtour 90/10 on/off-road tires for more aggressive Bridgestone Adventurecross AX41 40/60 tires. It's also worth noting that the Transalp's spoked rims require tubes. 
Related: Bridgestone Adventurecross AX41 Adventure Tires | Gear Review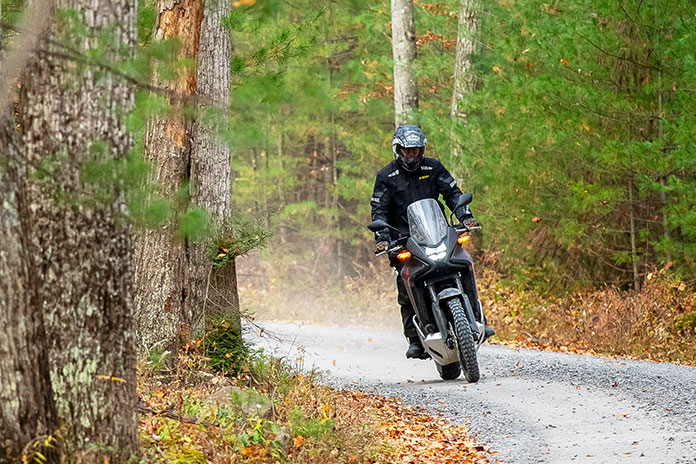 A Storied History and Design
After debuting in Europe in 1986, the original Transalp had a short two-year run (1989-1990) in the U.S. It had a liquid-cooled 600cc 52-degree V-Twin engine, 3 valves per cylinder, a full-cradle frame, and a box-section swingarm. Its 41mm fork offered nearly 8 inches of travel, while the rear featured Honda's Pro-Link suspension with 7.5 inches of travel.
Dropped from Honda's U.S. lineup in part because it was priced too high to compete with the popular Kawasaki KLR650, the Transalp sold well in Europe and continued to evolve, morphing into the XL650V in 2000 and later the XL700V in 2008. The fourth-generation XL750 Transalp is a modern adventure bike. It inherits its 755cc parallel-Twin engine from the CB750 Hornet, a naked bike that has yet to make it to our shores.
Honda Transalp: Engine, Clutch, and Transmission
Upon starting the engine, which has a Unicam valve train and 270-degree crank like the larger Africa Twin, the Transalp makes its presence known. The short-stroke crank generates a pulsating effect that optimizes torque distribution across the rev range, particularly in the mid-to-upper range. Honda's new Vortex Airflow Ducting induction system accelerates the intake-charge airspeed between 3,000 and 8,000 rpm for better throttle response. 
Making a claimed 83 hp at 8,500 rpm, the engine offers a well-balanced power output suitable for both on-road and off-road riding, and it operates efficiently throughout the rev range. During our two-day test, I preferred keeping the revs high, switching between 3rd and 4th gears in faster BDR sections and dropping to 2nd gear for more technical challenges.
On Pine Flat Road, an optional rocky and muddy trail, I kept the bike in 2nd gear throughout. During slower sections, I manipulated the clutch for better traction before revving the engine up to 8,000 rpm to accelerate. The bike wheelied best in 2nd gear, either when navigating large obstacles or simply splashing through puddles.
Honda's slip/assist clutch, featuring F.C.C. Leaning Segment discs, reduces clutch drag torque by 30%. The system is especially noticeable in technical terrain, requiring only one finger to operate the clutch. Equally impressive is the quickshifter for clutchless up and downshifts. It operates smoothly, even between 1st and 2nd gears.
Honda also optimized the bike's 459-lb curb weight with a 16/45 final drive ratio and a 520 chain. This configuration minimizes high revs while cruising at 75-plus mph and contributes to fuel efficiency. Even after rigorous use, the bike averaged around 46 mpg. With a 4.5-gallon tank, expect over 200 miles between fill-ups.
The engine counterbalancer ensures a smooth ride. It is driven off the crank's primary gear, reducing weight and complexity while maintaining engine compactness.
Honda Transalp: Electronics
The Transalp has throttle-by-wire with 46mm throttle bodies and offers five ride modes: Sport, Standard, Rain, Gravel, and a customizable User mode, which allows riders to select preferred settings for throttle response, engine braking, traction control, and ABS. Adjustments to most of these parameters are only permissible when the bike is stationary, but buttons on the switchgear allows for quick mode and TC changes on the fly.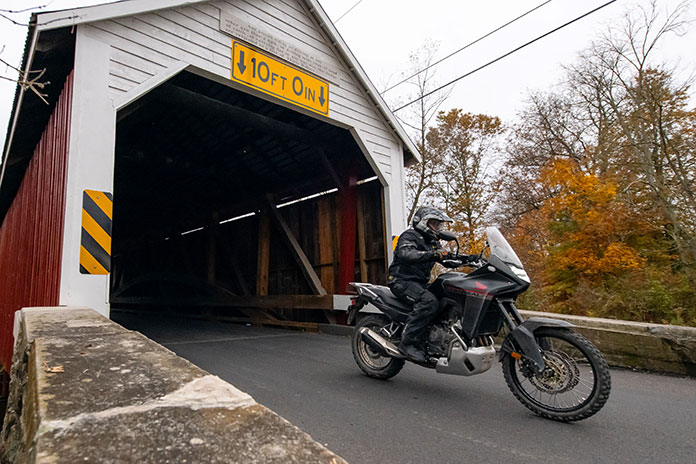 GEAR UP
During my test ride, I found each mode to be highly effective in its designated setting. On dirt sections, I primarily used my customized User mode, configured for maximum power, minimal engine braking, and with both TC and rear ABS deactivated. This setup offered optimal traction and stopping capabilities, aligning perfectly with my riding preferences. 
One issue to note is that turning off the ignition automatically reactivates the default TC and ABS settings. To counter this, I left the ignition on during short stops, which had the added benefit of keeping my grips heated during the cold morning hours. The heated grips have four intensity levels, and they're among the warmest OEM grip warmers I've encountered. 
Information about the modes and various settings is prominently displayed on a 5-inch full-color TFT display with four different layouts. The TFT provides data on speed, rpm, fuel level, engine mode, trip distance, gear position, TC, ABS, throttle map, and engine braking. The sole missing element is an ambient temperature readout – a surprising omission given the significant temperature fluctuations often encountered during backcountry rides. 
Honda Transalp: Suspension and Brakes
For such a capable middleweight ADV bike, the Transalp's suspension adjustability is limited to spring preload. The Showa system includes a 43mm SFF-CA fork and a Pro-Link rear shock. On paved roads, the bike demonstrated admirable stability, even under aggressive throttle and braking inputs. While the suspension felt slightly softer when navigating off-road terrain, it proved capable of handling the most demanding and intricate BDR gravel sections I encountered. 
Suspension travel is 7.9 inches at the front and 7.1 inches at the rear, and ground clearance is 8.3 inches. I weigh 185 lb, and I bottomed out the fork only twice during harsh landings, experiencing no issues with the rear shock. Fortunately, my test bike was equipped with an optional skid plate, adding an extra layer of engine protection. Without a skid plate, the bike's exhaust system would be highly vulnerable, making off-road travel ill-advised. 
As for the braking, the 2024 Honda Transalp performed flawlessly throughout my test. It employs 2-piston front calipers working in conjunction with dual 310mm "wave" discs and a single-piston rear caliper squeezing a 256mm wave disc. Off-road, with rear ABS disengaged, these offered a well-balanced braking experience; a single finger sufficed to engage the front brake, and applying ample pressure to the rear brake facilitated effective slowing. 
On-road and with full ABS activated, the system exhibited minimal pulsation during planned emergency braking exercises. It's important to note that to maintain a competitive price point, the Transalp lacks some preferable on-road amenities, such as cornering ABS and cruise control. However, it does come with the convenience of self-canceling turnsignals! 
Honda Transalp: Ergonomics, Seat Height, and Fairing Protection
The Transalp's ergonomics perform well in real-world conditions. At 33.7 inches, the seat height is on par with other adventure bikes (an optional lower seat is 32.6 inches). I've owned and ridden many adventure bikes, so even with my 30-inch inseam, I was able to make confident stops on uneven, rocky off-road terrain. 
The seat's design offers ample room for positional adjustments, even letting me sit close to the gas tank during fast off-road sections to roll my back forward, sit upright, and maintain front tire traction. The handlebar is sufficiently wide, offering good steering leverage. The rider triangle felt just right, and my 5-foot-11 frame never felt cramped.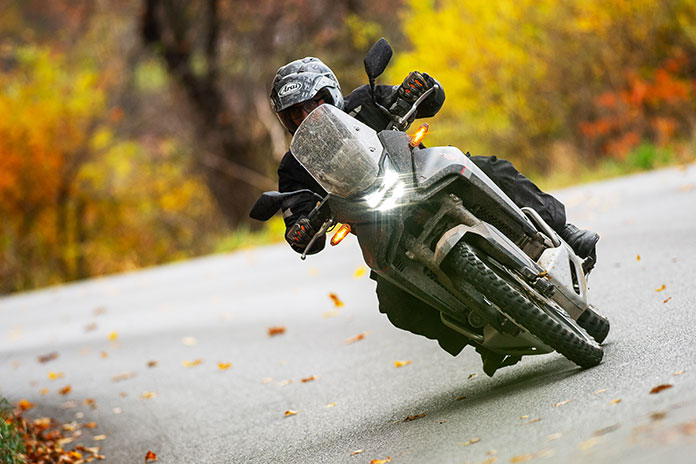 The stock footpegs are roomy enough for my size 11.5 boots and provide good grip once the rubber padding is removed. Whether standing or seated during high-speed sections, my feet enjoyed unrestricted movement, avoiding any uncomfortable contact with passenger pegs or engine components.
Designed by Honda's Italian R&D team, the Transalp sports an unmistakable Italian flair in its fairing design. Although budgetary considerations led to a nonadjustable windscreen, the aerodynamics are still effective. Throughout my ride, even at speeds exceeding 80 mph, I experienced no head buffeting.
The Final Tally
At $9,999, the 2024 Honda XL750 Transalp is competitively priced, undercutting key rivals like the Yamaha Ténéré 700 by $800 and the Suzuki V-Strom 800DE by $1,350, though both the Yamaha and Suzuki offer more suspension adjustability. When compared to European models such as the KTM 890 Adventure, the price difference climbs to nearly $4,000, though we're not necessarily comparing apples to apples anymore. 
The Transalp is a motorcycle that doesn't ask you to choose between worlds. Instead, it encourages you to explore them all.  
See all of Rider's Honda coverage here.
2024 Honda XL750 Transalp Specs
Engine
Type: Liquid-cooled, parallel-Twin, Unicam SOHC w/ 4 valves per cyl.
Displacement: 755cc
Bore x Stroke: 87.0 x 63.5mm
Compression Ratio: 11.0:1
Valve Insp. Interval: 16,000 miles
Fuel Delivery: Programmed Fuel Injection, 46mm throttle bodies
Lubrication System: Wet sump, 4.1 qt. cap.
Transmission: 6-speed, cable-actuated slip/assist wet clutch
Final Drive: Chain
Chassis
Frame: Steel diamond truss
Wheelbase: 61.5 in.
Rake/Trail: 27 degrees/4.4 in.
Seat Height: 33.7 in.
Suspension, Front: 43mm Showa SFF-CATM telescopic inverted fork w/ spring-preload adjustment, 7.9 in. travel
Rear: Pro-Link system w/ single Showa remote-reservoir shock, 7.5 in. travel
Brakes, Front: Dual 310mm "wave" discs w/ 2-piston calipers & ABS
Rear: Single 256mm "wave" disc w/ single-piston caliper & ABS
Wheels, Front: Stainless steel spoke, aluminum rim, 21 in.
Rear: Stainless steel spoke, aluminum rim, 18 in.
Tires, Front: 90/90-21
Rear: 150/70R-18
Curb Weight: 459 lb
Fuel Capacity: 4.5 gal