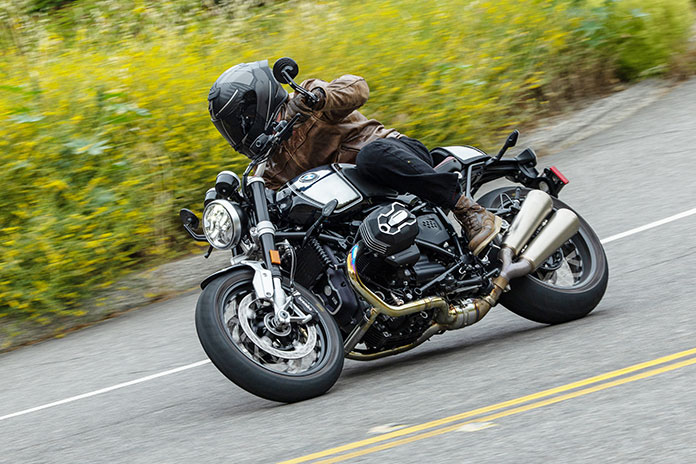 The BMW R nineT ("ninety") was introduced in 2013 to celebrate BMW Motorrad's 90th anniversary. That's the same year the "water boxer" R 1200 GS debuted, marking a shift from air/oil cooling to air/liquid cooling. The same engine in various states of tune made its way to other R-series models, but as the first model in BMW's new Heritage line, the R nineT retained the air/oil-cooled version of the boxer.
Designed as a modular platform that would not only allow multiple model variants but also customization by owners, the R nineT's chassis consisted of BMW's Paralever single-sided swingarm with shaft drive and a conventional inverted telescopic fork instead of the Telelever setup used on other R-series models. The R nineT was stylish in a classic sense, with gloss black paint that honored BMW's long history of building black bikes, brushed aluminum tank sides and tail cowl, and spoked wheels.
The first BMW R nineT was followed by a succession of cool retro-inspired models: the stripped-down Pure, the cafe-styled Racer, the high-piped Scrambler, and the '80s throwback Urban G/S. Each one was a sweet piece of German eye candy, fun to ogle and fun to ride, though the stretched-out riding position of the Racer brought to mind a medieval torture rack (Ja, you vill tell us vhat ve vant to know!).
Rider received an R nineT Pure test bike in 2017, and its simplicity appealed to me. I threw a bag on the tank and another on the passenger seat, bungee-corded a tent on top, and hit the road for a couple of days. As I wrote in my review, "From the first time I started it until the last mile I rode it, the R nineT Pure reminded me of why I fell in love with motorcycling. It's not about what brand you ride or a bike's horsepower or specs. It's about the freedom to get away, to be out in the world."
Related: 2017 BMW R nineT Pure | Road Test Review
In 2019, BMW unveiled the R nineT /5, with its tank and front fender finished in Lupine Blue with white double pinstripes, to commemorate the 50th anniversary of the "slash five" series. Two years later, to celebrate 40 years of the GS line, BMW revealed a stunning yellow-and-black version of the Urban G/S that was inspired by the R 100 GS.
GEAR UP
It's fitting, then, that for its centennial this year, BMW Motorrad created a 100 Years Edition of the R nineT, along with a similar commemorative edition of the R 18 cruiser. Production of both models is limited to 1,923 units worldwide to honor the year BMW started manufacturing motorcycles.
Related: 2023 BMW R nineT and R 18 100 Years Heritage Editions
As with other R nineT models, the 100 Years Edition is powered by the classic air/oil-cooled 1,170cc opposed flat-Twin with a longitudinal crankshaft, a 6-speed transmission with a hydraulically actuated single-plate dry clutch, and shaft final drive. Claimed output for the engine is 109 hp and 85.5 lb-ft of torque – enough to push the 487-lb motorcycle down the road with gusto.
To appropriately honor such a signficant milestone, the R nineT 100 Years Edition is dripping with factory-custom details. Since BMW Motorrad's earliest days, code number 719 has represented special customer requests that were fulfilled at the factory using top craftsmanship. Today, Option 719 parts are upgrades over stock items and are made of high-end materials or created using small-batch processes. The 100 Years Edition features the Option 719 Shadow and Shadow II Billet packs, a set of black anodized parts with milled surfaces, including the cylinder head covers, front engine cover, oil filler plug, seat holders, hand levers, rider and passenger footpegs, bar-end mirrors, and hydraulic reservoir covers.
There was no doubt that a motorcycle commemorating BMW Motorrad's 100th anniversary would be painted black with white double pinstripes, and the front fender, tank, and rear seat cover are finished in a special Avus Black. BMW motorcycles are not known for lots of chrome, but one of the company's most iconic models – the R 75/5 with the "Toaster" tank – had chrome-plated tank panels and side covers.
The R nineT's tank and rear seat cover feature Classic Chrome, a "paint on chrome" process that uses Chromium III, which is REACH compliant (an EU health standard). The parts are polished to a high gloss, immersed in a series of electoplating baths (copper, nickel, and chromium), painted in multiple layers, and finished in a clear coat. The result is a stunning mirror finish that fades into the black paint that surrounds it. The exhaust manifolds are also chrome plated, while the twin silencers have a brushed aluminum finish.
Continuing the black aesthetic are Option 719 Classic spoked tubeless wheels with black anodized rims that pair well with the black on the tank knee pads, tubular steel frame, swingarm, fork tubes, and air intake snorkels. There's a splash of color, albeit a dark one, on the two-tone black/oxblood red seat.
All those details add up to a head-turner of a motorcycle whose beauty is more than the sum of its parts. Frankly, the R nineT 100 Years Edition made me a little nervous. I was afraid of scratching it or, heaven forbid, tipping it over. But this motorcycle isn't a showpiece – it's meant to be ridden, and I'm happy to report that I got my jollies scraping down the peg feelers and narrowing the chicken strips without incident.
Those familiar – or in some cases obsessed – with the R-series air/oil-cooled boxer Twin already know its sound and feel are unmistakable: the raspy burble upon start-up, the deep bass chug-a-lug at idle, the crankshaft twist when revving it at a stop, the steady lope at cruising speeds, and the authoritative bark under acceleration. The one-two, one-two cadence of the boxer, with both pistons pushing outward and pulling inward simultaneously, each 360 degrees from the other on the suck-squeeze-bang-blow cycle, is like a heartbeat: lup-dup, lup-dup, lup-dup. No wonder rolling on the throttle feels so invigorating!
As a roadster, the R nineT has an agreeable seating position, with a modest reach to a wide, upright handlebar, a reasonable amount of bend in the knee, and a flat saddle. The thinly padded seat will encourage most riders to take a break well before the 4.5-gallon tank's low-fuel light comes on. In standard trim, the 100 Years lacks a passenger seat, though it does have passenger footpegs, and a pillion seat is available as an accessory.
With a wet weight well below 500 lb and roughly 100 hp reaching the rear wheel, the R nineT scoots along briskly when asked to do so. Its compact dimensions, taut suspension, and strong brakes are perfect for a sporting pace, allowing it to bend into corners eagerly and rewarding the rider with a satisfying rush upon exit.
Despite its classic styling, the R nineT 100 Years Edition is thoroughly modern. It doesn't have BMW's latest air/liquid-cooled 1,254cc boxer with ShiftCam variable-valve technology because the radiator and attendant plumbing would detract from the styling, but it's equipped with Ride Modes Pro (Dynamic, Road, and Rain), ABS Pro, Automatic Stability Control, Dynamic Brake Control, Dynamic Traction Control, Dynamic Engine Brake Control, and LED lighting with an Adaptive turning headlight. As with most contemporary motorcycles, these electronic aids operate behind the scenes and don't interfere with the riding experience.
Instrumentation is appropriately subdued, with a pair of round analog gauges – speedometer on the left, tachometer on the right – with white type on a black background. Inset at the bottom of each gauge is a digital display for various settings and information. The bike is also equipped with cruise control, heated grips, and a USB charging port.
Atop the R nineT 100 Years Edition's tank is a chrome badge engraved with "1 of 1,923" and the "100 Years BMW Motorrad / Make Life a Ride" logo. The badge marks this as a special bike, not just because it's built in limited numbers and adorned with custom parts and finishes but also because of what it stands for. It represents a century of hard work and innovation, highs and lows, successes and failures. It connects the past to the present, and it is a symbol of BMW's values, capabilities, and ambitions. And for that, it's worthy of respect and admiration.
2023 BMW R nineT 100 Years Edition Specs
ENGINE
Type: Air/oil‑­cooled, longitudinal opposed flat‑­Twin, DOHC w/ 4 valves per cyl.
Displacement: 1,170cc
Bore x Stroke: 101.0 x 73.0mm
Compression Ratio: 12.0:1
Valve Insp. Interval: 6,000 miles
Fuel Delivery: Fully sequential EFI, 50mm throttle bodies x 2
Lubrication System: Wet sump, 4.2 qt. cap.
Transmission: 6‑­speed, hydraulically actuated dry clutch
Final Drive: Shaft
CHASSIS
Frame: Tubular‑­steel bridge frame w/ engine as stressed member, Paralever single‑­sided cast-aluminum swingarm
Wheelbase: 58.5 in.
Rake/Trail: 26.8 degrees/4.3 in.
Seat Height: 31.7 in.
Suspension, Front: 43mm inverted fork, fully adj., 4.7 in. travel
Rear: Single shock, adj. for spring preload (remote) & rebound damping, 4.7 in. travel
Brakes, Front: Dual 320mm floating discs w/ radial‑­mount opposed 4‑­piston calipers & ABS
Rear: Single 265mm disc w/ floating 2‑­piston caliper & ABS
Wheels, Front: Spoked, 3.50 x 17 in.
Rear: Spoked, 5.50 x 17 in.
Tires, Front: Tubeless, 120/70‑­ZR17
Rear: Tubeless, 180/55‑­ZR17
Wet Weight: 487 lb
Load Capacity: 461 lb
GVWR: 948 lb
PERFORMANCE
Horsepower: 109 @ 7,250 rpm (factory claim, at the crank)
Torque: 85.5 lb‑­ft @ 6,000 rpm (factory claim, at the crank)
Fuel Capacity: 4.5 gal.
Fuel Consumption: 38 mpg
Estimated Range: 171 miles