I love riding and testing motorcycles. However, to do the latter, I have to make a 900-mile roundtrip from my home in southern Utah across the Mojave Desert to L.A. to swap test bikes. The most direct route is on Interstate 15, which is dull for long stretches, and weather can be a challenge. In January, there's usually snow on the ground where I live; in July, temperatures soar well above 100 degrees in the desert. Another consideration is the type of bike. Doing the trip on a naked sportbike makes for a long, achy day. But I recently returned from Southern California on a 2023 BMW R 1250 RT, and the ride home gave me a good taste of the sport-­tourer's capabilities. It's a bike I would gladly – and comfortably – ride 500 miles a day in any season.
Where Sport Meets Touring
Sport-touring bikes must serve two masters – they must deliver sport performance but they must also be comfortable enough to ride for long periods of time. The RT does both in spades.
The bike is powered by a liquid‑­cooled 1,254cc boxer Twin with throttle‑­by‑­wire, a 6‑­speed gearbox, and a slip/assist clutch. The engine makes a claimed 136 hp at 7,750 rpm and 105 lb‑­ft of torque at 6,250. Adding ShiftCam, which varies valve timing and intake valve lift, to the mix meant that the R 1250 RT gave me the power I needed whenever I needed it.
With the frequent pace changes while navigating L.A. freeways, I could easily adapt to the flow of traffic without constant gear changes. There were several occasions when I accelerated quickly, got up to a comfortable speed, and was zipping along before realizing I was still in 4th or 5th gear without any complaint from the engine. Whenever I needed to overtake on a two‑­lane, a quick twist of the throttle in 4th brought immediate response, turning 60 mph into 80‑­plus before I knew it and leaving the other vehicle fading in my mirrors with plenty of passing time to spare.
And all this was in Road mode. The R 1250 RT, which has a base price of $19,695, comes standard with three ride modes – Road, Rain, and Eco – as well as Hill Start Control, Dynamic Traction Control (DTC), and full integral ABS Pro. Our test bike was equipped with the optional Premium, Comfort, and Dynamic packages, for an as‑­tested price of $26,570. Among the equipment included in these packages is Ride Modes Pro, which adds Dynamic mode along with engine drag torque control (reduces slip at the rear wheel), Hill Start Control Pro (automatically engages the hill‑­holding function), and Dynamic Brake Control (activates in the event of emergency braking).
In Dynamic mode, DTC kicks in later than the other ride modes, and throttle response is more direct. Road mode was sufficient for most riding, but Dynamic mode added to the enjoyment of riding through twisty sections of road like I-15 through the Virgin River Gorge and, closer to home, Utah State Route 14 through Cedar Canyon.
GEAR UP
When it came time to reign in that power, twin 4-piston calipers and 310mm discs up front and a 2-piston caliper and 277mm disc in the back provided immediate response. The Telelever architecture of the front suspension, combined with the linked cornering ABS, means that when you need to shed speed fast, the bike remains composed and doesn't suffer from excessive front end dive. Rather, it feels like the whole bike lowers, which is especially handy when cornering.
Our bike was equipped with Gear Shift Assist Pro, but from 1st to 3rd gear, I found the quickshifter a bit clunky. I experimented with a variety of rpms but could never quite find the sweet spot. However, it was seamless from 4th to 6th.
The R 1250 RT has a 10.25-­inch color TFT panel offering anything you'd need – and then some – including connectivity and integrated navigation. When I was going through the owner's manual before picking up the bike, I thought I'd have difficulty figuring out all the functions and settings, between the menu rocker button, Multi-Controller wheel (which goes up and down and side to side), and various menu hierarchies. However, once I was on the bike, it was surprisingly intuitive. I usually kept it on Pure Ride view, which fills most of the screen with the tach but also shows the gear indicator and speed in a nice big font (for us old guys), and in the top right corner, you can use the rocker button to switch through info functions such as tripmeter, range, odometer, and fuel gauge. A push of the Multi-Controller wheel allows for a customizable split‑­screen view.
All lighting is LED, the turnsignals are self‑­canceling, and the standard headlight adjusts for optimal lighting on straight stretches based on ride height sensors. Our bike was outfitted with the Adaptive Headlight feature, which also optimizes lighting in corners.
Related: BMW Motorrad Unveils 2024 BMW R 1300 GS at Barber Vintage Festival | Videos
The BMW R 1250 RT Party of Two
For all that sport performance, the R 1250 RT is also a touring bike, and since my favorite person to tour with is my wife, I took her out for a spin to get her impressions.
When she climbed aboard, the optional Dynamic Electronic Chassis and Suspension Adjustment automatically adjusted the rear shock's preload. It will also account for the added weight of gear in the saddlebags. The semi-active suspension has two modes – Road and Dynamic – for general-purpose or sporty riding, and in both modes, the system adjusts damping in real time to keep the chassis stable under acceleration, braking, and other conditions.
With a curb weight of 615 lb, the RT is not a light bike, and the whole package gets heavier when you add a rider, passenger, and gear, so Hill Start Control Pro came in handy when stopped on inclines. I'm pretty used to my heavy cruiser, so I didn't have any problems pushing the BMW around, but a reverse feature would be useful.
Whether slaloming through the Virgin River Gorge or overtaking cars on the freeway, the RT runs so smooth – a quality my wife appreciated – that you can quickly find yourself going…well, too quickly. Cruise control is a good way to self-impose a speed limit. In addition to the standard Dynamic Cruise Control, which holds a set speed on descents, our bike had the optional Adaptive Cruise Control that uses a radar sensor to detect vehicles in front and adjust speed accordingly. It can be set to three distance ranges – short, medium, or long – that determine the distance behind other vehicles before the bike decelerates. The system has two settings – Comfortable or Dynamic – that affect deceleration and subsequent acceleration when the path is clear again.
The electric windscreen is another feature my wife and I appreciated. She said it provided a good bit of protection for her. I'm just shy of 6-feet, and if I sat very upright, the wind caught the top of my helmet. In a more relaxed riding position, it was quiet enough that I could clearly hear the music from the bike's dual speakers while wearing my full-­face helmet, even at 85 mph, although I needed to have the volume turned up all the way. However, with the windscreen down, I might as well not have been playing music at all. Connecting a headset would be the ideal solution.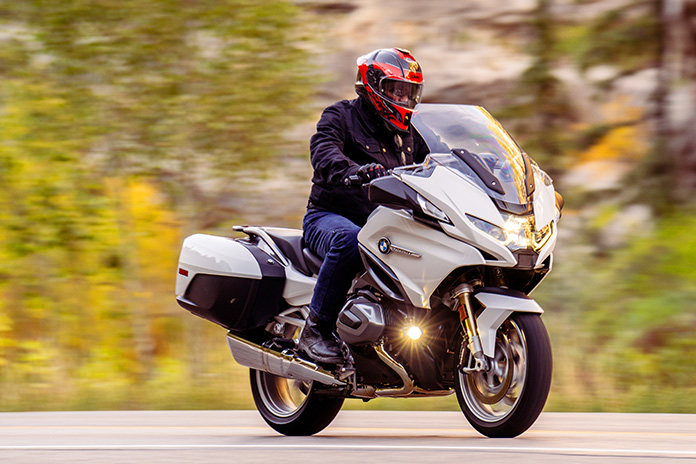 The seat is something else that got high marks from both of us. She appreciated the width and cushiness, and I appreciated the ride duration it provided. When returning the bike, I rode for almost three hours before stopping – an easy feat for the bike's 6.6-gallon fuel tank – and I felt just fine. The only thing my wife didn't like was the lack of something behind her. Most of her riding has been on my cruiser with a backrest. BMW has an accessory top case that would provide some reassuring support.
You've Come a Long Way
In 1978, BMW Motorrad introduced its first Reise‑­Tourer, or "travel tourer," the R 100 RT. It was powered by the 980cc /7 "Airhead" boxer Twin, had a full fairing adapted from the R 100 RS, and had Krauser-made saddlebags that looked like black suitcases.
In the 45 years since, the RT has come a long way. Engine displacement has grown by 274cc, power has increased from 70 hp to 136, liquid cooling has been adopted, and innovations such as the Telelever, Paralever, and ShiftCam have been added along with a full suite of electronic rider aids.
The RT has always been a solid, comfortable, reliable touring machine, but over the years it has evolved into a sophisticated, exciting sport-tourer. Solo or two‑­up, with a light or heavy load, the BMW R 1250 RT is a highly capable and thoroughly enjoyable motorcycle. When the time came, it wasn't easy to part with.
2023 BMW R 1250 RT Specs
Base Price: $19,695
Price as Tested: $26,570 (Premium, Comfort, and Dynamic packages)
Website: BMWMotorcycles.com
Warranty: 3 yr., 36,000 miles
Engine Type: Air/liquid-cooled, longitudinal opposed flat-Twin, DOHC w/ 4 valves per cyl. & ShiftCam variable valve timing
Displacement: 1,254cc
Bore x Stroke: 101.6 x 76.2mm
Horsepower: 136 hp @ 7,750 rpm (factory claim, at the crank)
Torque: 105 lb-ft @ 6,250 rpm (factory claim, at the crank)
Transmission: 6-speed, hydraulically actuated slip/assist wet clutch
Final Drive: Shaft
Wheelbase: 58.5 in.
Rake/Trail: 25.9 degrees/4.6 in.
Seat Height: 31.7 in.
Wet Weight: 615 lb
Fuel Capacity: 6.6 gal.
Fuel Consumption: 44.8 mpg
Estimated Range: 296 miles
See all of Rider's BMW coverage here.