Moab, Utah, is an ideal destination for a motorcycle trip. Where else can you find sandstone arches, red‑­walled canyons, snow‑­capped mountains, scenic byways, two national parks, and a fun, adventure‑­ready town? The best time to visit is in the spring or fall because it's often too hot in the summer and roads can get icy in the winter.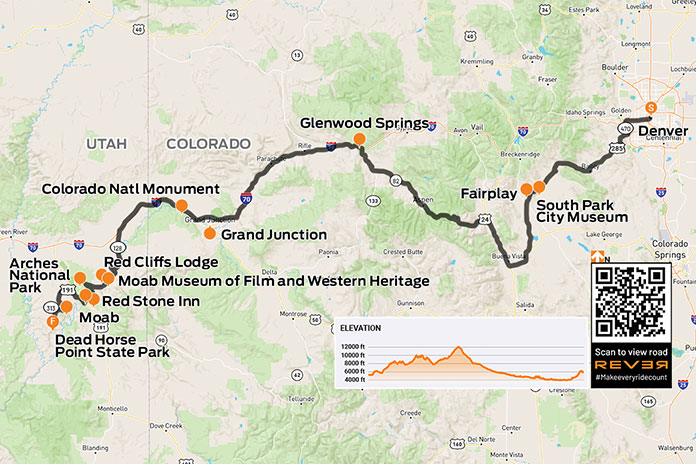 Scan QR code above or click here to view the route on REVER
Since I live in Denver, on the other side of the Rockies, part of the fun of visiting Moab is simply getting there. Heading west out of the city, U.S. Route 285 climbs the Front Range before passing through mountain towns like Conifer (8,277 feet), Bailey (7,740 feet), and Fairplay (9,954 feet).
Riding through the Rockies means going over mountain passes, and on the way to Fairplay, you'll cruise over Kenosha Pass (9,997 feet) and Red Hill Pass (9,993 feet) before descending into a broad valley. Such grand vistas across open range show the true beauty of Colorado. Fairplay is an old mining town named after the notion that all miners should have an equal chance to stake a claim. It's home to South Park City, an open‑­air museum preserving a 19th century mining town, including over 40 original buildings and thousands of artifacts from the boomtown days.
Continuing south on U.S. 285, the road becomes U.S. Route 24 at Antero Junction and goes south and then north through Buena Vista (7,925 feet) and Granite (9,012 feet). At Twin Lakes, turning west on State Route 82 takes you across the Continental Divide at Independence Pass (12,095 feet), where the air is thin and always chilly.
The long, winding descent to the ski town of Aspen is pure pleasure. SR‑­82 ends at Glenwood Springs, and the next 134 westward miles follow a curving section of Interstate 70. If you have the time, I recommend the scenic Rim Rock Drive through the Colorado National Monument among the high cliffs above Grand Junction.
See all of Rider's Colorado touring stories here.
After crossing into Utah, take the first Moab exit for State Route 128, which is a scenic byway that winds through a majestic red rock canyon carved by the Colorado River. Highlights include the stunning Fisher Tower and Castle Rock, a finger‑­like spiral to the southwest that's been seen in many films and commercials.
At milepost 14 on SR‑­128 is the Red Cliffs Lodge, built on the old George White Ranch, another location used in many Western films. If you're a cowboy fan like me, visit the lodge's Moab Museum of Film and Western Heritage to see production stills, movie posters, autographed scripts, props from movies filmed nearby, and displays about Western heritage. Lunch or dinner at The Cowboy Grill is highly recommended.
The key attractions in Moab are Arches and Canyonlands national parks. Arches, located just a few miles north of town, is the more popular of the two, and the nearly 20‑­mile paved road through the park takes you past a stunning array of sandstone arches, petrified dunes, and red rock formations.
Canyonlands is the largest national park in Utah, and its diversity staggers the imagination. The park is 32 miles from Moab and has 20 miles of paved roads with many pullouts offering spectacular views. The Island in the Sky sits atop a massive 1,500‑­foot‑­high mesa, and on a clear day you can see over 100 miles in any direction. Sunrise and sunset are particularly beautiful times of day to enjoy these panoramic views of canyon country.
Scenic State Route 313 leads to both Canyonlands and Dead Horse Point State Park, which offers unforgettable views of deep canyons and cliffs overlooking the Colorado River. I recommend taking time to explore side trails to see different viewpoints in this one‑­of‑­a‑­kind area.
See all of Rider's Utah touring stories here.
The La Sal Mountain Loop, a 36‑­mile scenic road that starts at SR‑­128 near Red Cliffs Lodge and goes through Castle Valley, up into the La Sal Mountains, and then back down to Moab near Spanish Valley, is another great local ride.
Moab is an ideal base camp for lodging, dining, and other adventures such as whitewater rafting, hiking, mountain biking, and off‑­road riding and driving (you can rent Jeeps, ATVs, and side‑­by‑­sides). One of my favorite places to stay is the Red Stone Inn, a rustic but clean and affordable motel with a communal hot tub and picnic area and rooms with a TV, free wi‑­fi, and a mini kitchen.
Whether you travel across the Colorado Rockies, through the red‑­rock canyons of southern Utah, or take some other route to get there, put Moab on your "must visit" list. I promise you won't be disappointed.
See all of Rider's touring stories here.
Denver to Moab Motorcycle Trip Resources: