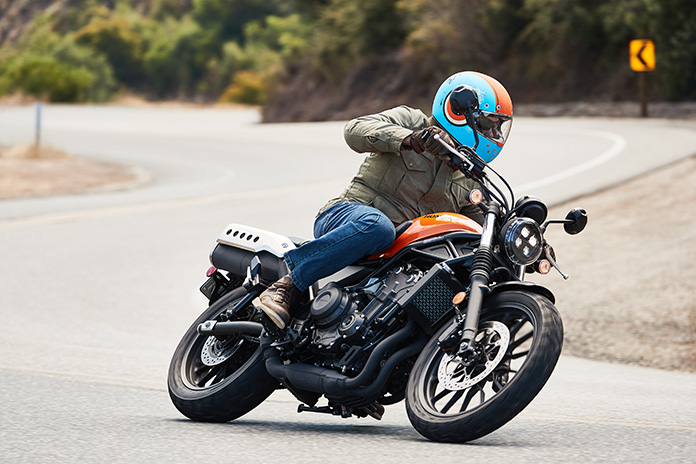 Scramblers had their heyday during the '60s, which was before my time, but I'm a big fan of their spirit and style. They embody a carefree attitude and the freedom to go wherever, as well as a simplicity not offered by many modern, hyper-focused bikes. The best word to describe the new 2023 Honda SCL500 is "playful." It blends cool retro style, a user-friendly engine and chassis, and a budget-friendly price.
Scramblers are perfect for Ventura, California, the coastal surf town that I call home, and that's exactly where Honda hosted its press launch for the SCL500. A lightweight, no-frills motorcycle is great for bopping around city streets, cruising up the coast, exploring backroads, and even getting a little frisky in the dirt, though the only time we left the pavement during our test ride was to turn around in dirt pull-outs during photo stops.
Inspiration for the SCL500 comes from Honda's own back catalog, namely the 250cc CL72 from 1962-65 and the 305cc CL77 from 1965-67. Like the SCL500, these early scramblers were based on streetbikes, and all three models share common styling elements: fork gaiters, knee pads on the gas tank, bench seats, high-routed exhausts, and twin rear shocks.
Another thing the SCL500 has in common with those early CLs is a parallel-Twin engine, though the older versions were air-cooled while the modern one has a radiator. The SCL's 471cc Twin is a versatile mill that's also found in the CBR500R sportbike, CB500F naked bike, CB500X adventure bike, and Rebel 500 cruiser. (The last time we put any of these bikes on the dyno was 2017. The CB500F made 46 hp and 31 lb-ft of torque at the rear wheel, and the Rebel 500 made 41 hp and 30 lb-ft.)
Related: 2020 Honda Rebel 500 ABS | Road Test Review
As much as I appreciate high-tech features on many of today's motorcycles, there's something to be said for a bike with nothing to figure out. Swing a leg over the SCL500, thumb the starter button, drop it into gear, and then just ride. Throttle response is user-friendly, power delivery is linear, and the slip-assist clutch makes gear changes effortless. The engine is smooth and doesn't vibrate much, nor does it radiate excess heat. But it doesn't exude much character either.
A sturdy tubular-steel trellis frame holds everything together, and the bike, which has a narrow 3.2-gal. tank, is slender between the knees. The SCL500's suspension, a nonadjustable 41mm fork and dual shocks with two-step preload adjustment, has 5.3/5.7 inches of front/rear travel, which is more generous than its adventure-ish CB500X stablemate (4.7/5.5 inches).
For a sub-$7,000 bike, the ride is surprisingly plush, though the suspension's softness leads to some fork dive during braking and seesawing over big bumps. More rebound damping would be nice, at least for a 200-lb galoot like me.
Related: 2019 Honda CB500X | First Ride Review
The SCL500 rolls on 19-inch front and 17-inch rear cast wheels shared with the CB500X, and the SCL is shod with Dunlop Mixtour block-tread tires that provide reasonably good grip and handling. ABS is standard, and there are single-disc Nissin brakes front and rear, with a 2-pot caliper pinching a 310mm disc in front and a 1-pot caliper slowing a 240mm disc out back. The brakes don't offer much power or feel, but they're perfectly fine for riders who are newer, lighter, or less aggressive than I am.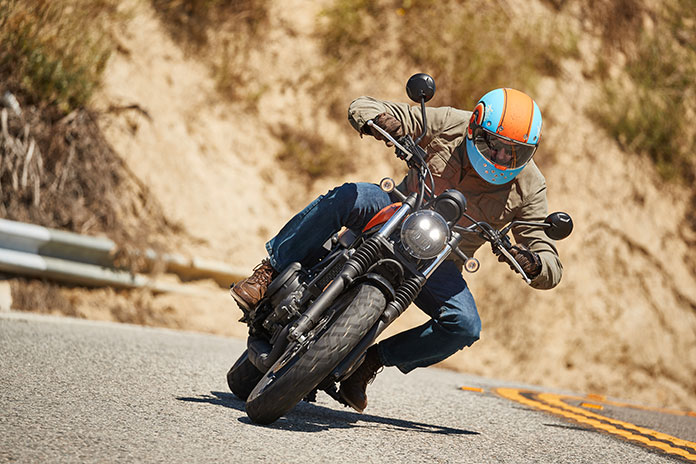 The SCL500's chassis geometry favors stability over agility, which further adds to the bike's approachability. But its lightness (just 419 lb ready to ride), the width of its handlebar, and the narrowness of its tires (110/80-19 front, 150/70-17 rear) mean that the SCL can be tossed around like a ragdoll.
With my 34-inch inseam, I was a little folded up on the SCL500 with its low 31.1-inch seat height and high footpegs. The cleated footpegs have vibration-damping rubber inserts that can be removed to add a skosh more legroom, but the better option for me was the accessory tall seat, which adds another inch of foam for more height and support. At $64.95, it's reasonably priced, though it only comes in brown.
GEAR UP
The SCL500 is the kind of bike that lends itself to customization. In addition to the tall seat, other factory accessories include a headlight visor, a high front fender, handguards, a number plate-style rear side cover, rally footpegs, a center tank pad, a 14-liter left-side soft saddlebag, a rear carrier, a 38-liter top case, heated grips, and a 12V socket. Vance & Hines also offers a high-output slip-on exhaust that is compliant in all 50 states.
Other than limited legroom for my frame, my only real complaint about the SCL500 is its instrumentation. It has a single round instrument panel that's light-on-black LCD. Available features includes a clock, a gear position indicator, a speedometer, a fuel gauge, and multifunction display that can be scrolled through for different info (odometer, tripmeter A/B, average mpg A/B, instant mpg, and reserve fuel tripmeter). The instrument panel lacks a tachometer, it's difficult read in bright sunlight, and it's all but useless when wearing polarized sunglasses. For a retro bike like this, an analog speedometer with an inset multifunction display would be sweet.
After logging just over 100 miles in and around Ventura, mostly on backroads where I did my best to wring the SCL's neck, the bike's fuel economy reading was 60.6 mpg. That translates to 194 miles of range, which would be even higher for a typical owner who cruises around or commutes in a less caffeinated, type-A state of mind.
All in all, the Honda SCL500 is a helluva lot of fun, and in Candy Orange, it turns a lot of heads (a more subdued Matte Laurel Green Metallic color option is also available).
2023 Honda SCL500 Specifications
Base Price: $6,799
Website: Powersports.Honda.com
Warranty: 1 yr., unltd. miles
Engine Type: Liquid-cooled, transverse parallel-Twin, DOHC w/ 4 valves per cyl.
Displacement: 471cc
Bore x Stroke: 67.0 x 66.8mm
Transmission: 6-speed, cable-actuated slip/assist wet clutch
Final Drive: Chain
Wheelbase: 58.4 in.
Rake/Trail: 27 degrees/4.3 in.
Seat Height: 31.1 in.
Wet Weight: 419 lb
Fuel Capacity: 3.2 gal.
Fuel Consumption: 60.6 mpg (per bike's instruments)
See all of Rider's Honda coverage here.