When it comes to adventure riding, I've learned to expect the unexpected. Weather conditions, terrain, challenging situations – it's all up for grabs. That's why both ADV bikes and adventure-touring apparel like these TCX Infinity 3 Gore-Tex motorcycle boots are designed to be versatile. They should perform well, come what may.
Motorcycle boots are critical pieces of riding gear. They need to protect all the bones, connective tissue, and muscles in the lower legs, ankles, and feet, yet they must also be comfortable and provide enough dexterity for using the shifter and brake pedal and to communicate feedback from the footpegs. And if you enjoy splashing through puddles or riding in the rain, they must be waterproof.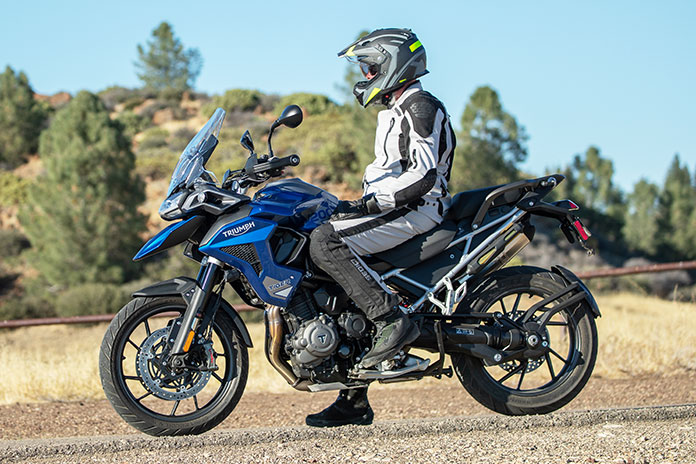 On the bottom of the Infinity 3s is TCX's proprietary Groundtrax sole, which is rigid enough to withstand long stints of standing on the pegs but isn't so hard that it renders the sole a numb block of wood. Rather than the big, chunky sole of a motocross boot, the Infinity 3 sole has a sportier shape, making it easier to manipulate the controls and contributing to comfort when walking around off the bike. Likewise, the OrthoLite insole is nicely cushioned and provides some breathability.
The Infinity 3 upper is constructed of various durable materials, including microfiber, split leather, and abrasion-resistant engineered fabric, with an injected polyurethane shin protector and reinforcements on the ankle, heel, and toe. The boot has a slender shape that fits under touring pants and provides a comfortable, secure fit. Two large Velcro flaps adjust the fit at the top and mid-calf, while a clever, one-handed rotary knob cinches the boot tighter with a slender steel cable to dial in a precise amount of snugness around your foot. The knob is much easier to use than the motocross-style buckles found on many adventure boots.
I've been testing these motorcycle boots for the past six months, and they strike a good balance between the lightness and flexibility of sport-touring boots and the ruggedness and protection of motocross boots. The Gore-Tex membrane keeps my feet dry, yet the boots aren't so thick and heavy that the inside feels like a sauna.
See all of Rider's apparel reviews here.
If you're looking for a light, durable, comfortable adventure boot that can also be used for general-purpose riding and touring, then TCX Infinity 3 Gore-Tex Boots are worth checking out. They're available in Black in European sizes 38-48 (U.S. men's sizes 5-13) for $419.99.