Streetfighter, naked bike, sport standard – take your pick, but a motorcycle like the Yamaha MT-10 should really be called The Answer.
The Question? You've got $13,999 in your bank account, declining in value with each passing day due to inflation, so how should you spend it?
You could be prudent and invest it, but the stock market is volatile and crypto is funny money.
Or you could buy something tangible. You work hard for your money, so reward yourself. Buy something fun.
You could steal another $1,001 from your piggybank and buy a $15,000 Specialized S-Works Turbo Levo electric-assist mountain bike. You'd be the envy of everyone at your local trail, but it's still a bicycle. You have to pedal it to get anywhere.
Instead, why not cut to the chase and buy a 160-hp scream machine with electric-blue wheels and laser-beam eyes? Money can't buy happiness, but it can buy a bundle of thrills.
Twist its right grip, and the MT-10 punches a gaping hole in the atmosphere, sucking in air through a trio of uneven-length intake ducts and sending a glorious howl up through a pair of Acoustic Sound Grilles, tingling all the right nerves and tapping into your hypothalamus for a big hit of dopamine.
Embrace your inner hedonist. Ask for forgiveness rather than permission. Be the gear change you want to see in the world.
Rowing through said gears – made easier with an up/down quickshifter but also slick and smooth using the slip/assist clutch – and spooling up the 998cc inline-Four repeatedly is endlessly entertaining and hopelessly addictive. The only thing that got me to stop was an offer of free lunch with North Carolina pulled pork and sweet tea on the menu.
GEAR UP
Helmet: Scorpion EXO-R1 Air
Jacket: Scorpion Optima
Gloves: Scorpion SGS MK II
Pants: Scorpion Covert Ultra Jeans
Boots: Fly Racing M16 Waterproof Riding Shoes
Yamaha Master of Torque
The MT-10's CP4 (crossplane 4-cylinder) engine is adapted from the Yamaha YZF-R1 sportbike. Its crossplane crankshaft offsets each crankpin 90 degrees from the next, resulting in an uneven firing interval that produces a sound and feel that's distinct from a typical inline-Four and similar to a V-Four. Fluctuations in inertial crankshaft torque are smoothed out, providing more linear throttle response and helping keep the rear tire hooked up when launching out of corners. This thrill mill churns out immediate, predictable, goosebump-inducing power.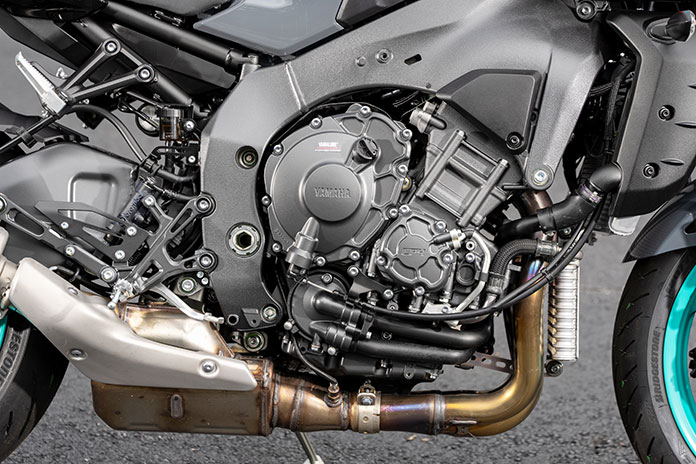 Tuned for the street, the MT-10's powerplant diverges from the R1's track-ready engine. Its crankshaft has more inertial mass for smoother throttle response, its conrods and valves are made from steel rather than titanium, and its revised intake ports, combustion chambers, and forged aluminum pistons result in a lower compression ratio (12:1 vs 13:1 on the R1). Yamaha optimized torque delivery between 4,000 and 8,000 rpm – right in the heart of the rev range.
Like the YZF-R1, the MT-10's throttle-by-wire system now employs Yamaha's Accelerator Position Sensor Grip (APSG), which uses a spring, slider, and gear mechanism to produce variable resistance for a more natural throttle feeling. Throttle response can be altered by selecting one of four PWR (Power) modes, with Modes 1 through 3 going from sharp to soft and Mode 4 reducing power for sketchy conditions. There are also high and low engine-braking modes.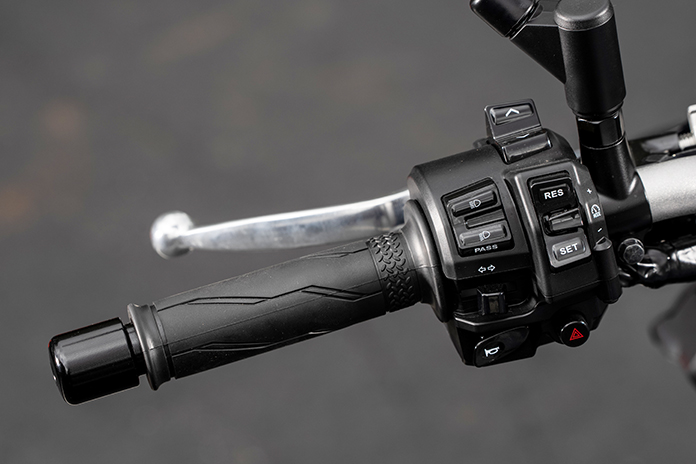 Response is fairly anemic below 4,000 rpm, lively in the midrange, and hair-on-fire hellacious from 8,000 rpm until redline (12,000 rpm). When we tested an MT-10 a few years ago, its 160 hp at the crank translated to a peak of 138 hp at 9,400 rpm at the rear wheel, with more than 120 hp on tap above 8,500 rpm. The wide, flat torque curve topped out at 77 lb-ft at 9,200 rpm. Figures should be similar for the current model.
Hanging off the right side is a shorter, lighter silencer protruding from an underbelly exhaust box with four catalyzers that zap unfriendly elements from spent gasses. A slightly taller rear sprocket (42 teeth vs. 43 before) contributes to smoother response at small throttle openings and better fuel economy, which Yamaha says has increased from a dismal 30 mpg to a more palatable 36 mpg.
The MT-10's 2022 update also includes a 6-axis IMU and a comprehensive electronics suite originally developed for the YZF-R1. The system includes lean-sensitive traction control, slide control, wheelie control, mind control (but don't quote me on that), and cornering ABS, all with multiple levels or modes. Each can be adjusted independently, and the Yamaha Ride Control system provides four ride modes with attendant presets. Since it's easy to go unexpectedly fast on the MT, the new Yamaha Variable Speed Limiter can help riders avoid unwanted attention from authorities by curbing acceleration above a set speed.
Show Me What You Got
Aesthetically, the MT-10 sports a more stripped-down look, with what little bodywork there was on the previous model removed. The intake ducts on either side of the fuel tank, which were cosmetic before but now are fully functional, are more prominent. New twin-eye mono-focus LED headlights and LED position lights combine with a more compact nose assembly to minimize overhang and shorten the MT's nose-to-tail length. The MT-10's styling still has a Transformers-esque quality that will inspire cheers or jeers depending on your point of view.
Aimed at middle-aged experienced riders who appreciate both performance and comfort, the MT-10 may look more aggressive, but its ergonomics are more user friendly. Its fuel tank has been reshaped, its rider triangle has been revised to enhance the feeling of sitting "in" the bike, and its seat foam is firmer for more support (seat height increased slightly to 32.9 inches).
A few years ago, we added a windscreen, a comfort seat, a trunk, and soft saddlebags to the MT-10, and it made for a solid sport-tourer, thanks in part to standard cruise control. The current model would likely perform even better as a long-hauler. A new tubular subframe keeps the tailsection slim while providing support for a passenger and gear. Yamaha's accessories list includes top trunks in three sizes (30, 39, or 50 liters) along with passenger backrest pads and liner bags.
Behind the MT-10's small flyscreen is a new 4.3-inch color TFT display that packs in a lot of info. However, as with the MT-09 and Tracer 9 GT, some of the text is small and difficult to read at a glance – at least for middle-aged eyes of the target demographic. Also, the menu wheel next to the right grip requires dexterity and coordination to use while controlling the throttle.
Riding the Ridge
We plied nearly 200 miles of some of the best roads near Asheville, North Carolina, including the Blue Ridge Parkway, NC 215, NC 281, U.S. 276, and Charleys Creek Road. Early morning fog and deeply shaded corners that hid wet pavement and patches of gravel kept us on our toes. Thankfully, the MT-10 is very forgiving and reassuring in dodgy conditions.
The MT's chassis uses the same cast-aluminum Deltabox frame found on the R1, with the engine as a stressed member to save weight. It has a long swingarm for stability, but its compact 55.3-inch wheelbase (an inch shorter than the MT-09's) and moderate 467-lb curb weight help the MT feel agile and fit – much more so than the graybeard at the controls.
Most of the pavement on our route was smooth, but even where there were cracks, seams, and dips, the MT's fully adjustable KYB suspension soaked up the punishment without complaint, and the new Bridgestone Battlax S22 tires provided reassuring grip. Checking tire pressures is now easier thanks to 90-degree valve stems – a small but much-appreciated upgrade.
Fast bikes need strong brakes, and the MT's dual 320mm floating front discs with 4-piston radial calipers and single 220mm rear disc with a 2-piston caliper turn kinetic energy into thermal energy with authority. New for this year are a Brembo radial front master cylinder, a Brembo rear master cylinder, and new pad springs on the rear caliper, all of which give the brakes a more refined, precise feel.
But Wait, There's More!
Joining the MT-10 this year is the up-spec MT-10 SP, which replaces the manually adjustable KYB suspension with Öhlins semi-active suspension, adds steel-braided front brake lines, and comes in a YZF-R1M-inspired colorway with premium styling accents.
The SP is the first production motorcycle to be fitted with Öhlins' next-generation electronically controlled suspension that uses the latest spool valve damping. Riders can choose between three semi-active damping modes and three manual settings. Managed through the Yamaha Ride Control menu, the suspension can be tailored to suit the riding style or environment.
We didn't get a chance to ride the MT-10 SP, but we expect it will take the riding experience up another level. It's available in Liquid Metal/Raven for $16,899. The standard MT-10 is available in Cyan Storm (shown) or Matte Raven Black for $13,999.
When the original FZ1 was introduced in the early 2000s, it took the YZF-R1's superbike performance and made it easier to live with on the street. From the FZ1 to the FZ-10 to the latest CP4-powered, R1 electronics-equipped MT-10, Yamaha has refined its formula and improved the final result. Ask the right question, and the answer becomes obvious.
2022 Yamaha MT-10 Specs
Base Price: $13,999
Website: YamahaMotorsports.com
Engine Type: Liquid-cooled, transverse inline-Four, DOHC w/ 4 valves per cyl.
Displacement: 998cc
Bore x Stroke: 79.0 x 50.9mm
Horsepower: 138 hp at 9,400 rpm (rear-wheel dyno, previous model)
Torque: 77 lb-ft at 9,200 rpm (rear-wheel dyno, previous model)
Transmission: 6-speed, cable-actuated slip/assist wet clutch
Final Drive: Chain
Wheelbase: 55.3 in.
Rake/Trail: 24 degrees/4.0 in.
Seat Height: 32.9 in.
Wet Weight: 467 lb
Fuel Capacity: 4.5 gal.
Fuel Consumption: 36 mpg