Over the years Ducati has produced several iconic motorcycles which have withstood the test of time. Many enthusiasts credit Ducati's 916 as the one that stands above the rest in it's revolutionary design and styling. But there's another Ducati that has made its own mark in similar fashion — the Monster — which established the "naked bike" style.
Unveiled at the Cologne show in 1992, designer Miguel Galluzzi said, "All you need is: a saddle, tank, engine, two wheels and handlebars." Though designated the M900, it became known by its nickname, "Monster." Like Frankenstein's monster, the M900 stitched together the steel trellis frame from the 851 Superbike, the air-cooled, 904cc L-twin from the Supersport Desmodue, a "bison-back" gas tank, a low handlebar and a round headlight.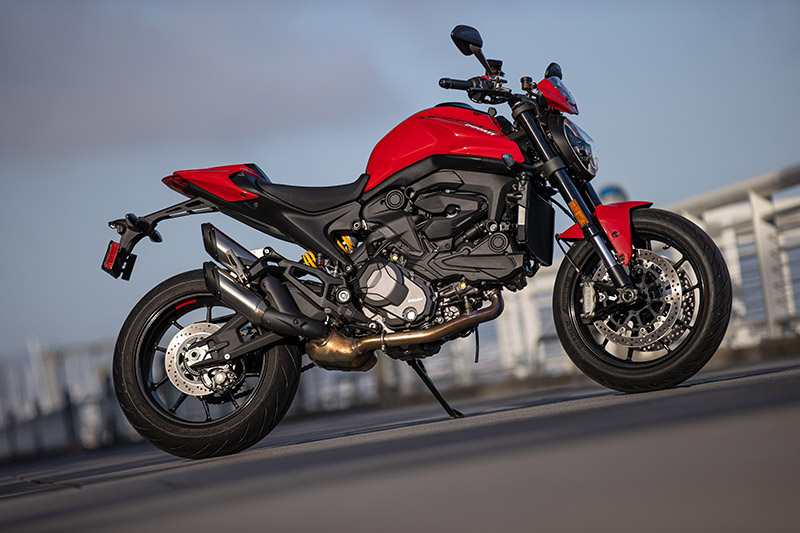 Over nearly three decades of production and more than 350,000 units sold, the Ducati Monster has seen multiple evolutions in terms of styling and technology, and it has been offered in a range of displacements, from 600cc to 1,200cc. The commitment made by Ducati to enhance and keep the Monster relevant is evident from the latest version of this iconic motorcycle, which brings together a Superbike-inspired chassis, a road-going engine and the latest in electronic riding aids.
It's fitting that the 2021 Ducati Monster was launched in San Francisco because the bike has been a huge hit among urban enthusiasts. The design brief for the latest version was to deliver the best of both worlds — to be "more thrilling for experienced riders" as well as "more accessible for new riders." The new 2021 Monster maintains the model's signature minimalist styling and aggressive attitude while delivering increased power, comfort, and maneuverability. Couple this with a new, comprehensive electronics package, and the latest generation is likely to ensure the Ducati Monster remains as popular as ever.
First impressions of the 2021 Ducati Monster can be deceiving. Sure it looks like a Monster with its bison-back tank and round headlight, but there's something missing. The classic steel trellis frame has been replaced with a new Panigale-style aluminum upper section frame that saves 9.9 pounds and uses the engine as a structural member of the chassis. They didn't stop there. Updates including a new swingarm and fiberglass-reinforced polymer subframe shave off 10 pounds, and the Testastretta engine and lighter wheels save another 10 pounds. All this tinkering, Ducati says, has reduced the Monster's curb weight to a lean 414 pounds, a full 40 pounds less than last year's model.
Firing up the Monster produced a familiar sound that resonated in my ears. Powering the Monster is a version of the liquid-cooled, 937cc Testastretta 11-degree L-twin also found in the Hypermotard, Multistrada 950 and SuperSport 950. Claimed output is 111 horsepower at 9,250 rpm (up 2 from the Monster 821) and 69 lb-ft at 6,500 rpm (up 1.5). Updates to the engine include new cylinder heads, pistons and rods, intake and exhaust system, geardrum, stick coils, alternator and belt covers. A new clutch has 20% lighter pull, and an up/down quickshifter is standard. The new Monster has a 9,000-mile oil service interval and an 18,000-mile desmodromic valve service interval.
The Monster's new electronics package includes three fully customizable riding modes (Sport, Touring and Urban), IMU-based cornering ABS, cornering traction control, as well as wheelie and launch control. Starting off in Urban mode, which reduces engine output to 75 horsepower, the softer throttle response and increased level of intervention for ABS and TC make the Monster highly manageable. The tamed throttle response is sufficient enough to get the job done when negotiating lane changes or avoiding sketchy situations, but after a few miles of exploring the busy streets of San Francisco, Urban mode felt too corked up and I was eager for more.
Tapping a button on the left switch cluster allowed me to sample Touring and Sport modes, both of which offer full power, more direct throttle response and less electronic intervention, with Sport mode being the most aggressive. An up/down toggle scrolls through the various settings within each mode; just push the button, close the throttle and the change takes effect. Changes to default settings can only be done while stopped. Everything is displayed on a new 4.3-inch, high-resolution TFT instrument panel.
As our test ride continued, I came to appreciate the Monster's agreeable riding position and agile handling. The Panigale-style frame, new bodywork and a new seat make the Monster narrower between the legs. Height of the stock seat is 32.3 inches, but the accessory low seat ($160) reduces seat height to 31.5 inches and the low seat plus the accessory low suspension kit ($300) reduces seat height further to 30.5 inches. Ducati also changed the bar/seat/peg configuration, with the handlebar moved 2.6 inches closer to the rider and the footpegs moved back 1.4 inches and down 0.4 inch compared to the Monster 821. Not only are the ergonomics more comfortable, but a 7% tighter steering angle reduces the turning radius by 3.75 feet, simplifying U-turns and slow-speed maneuvering.
Riding around town, the Monster hits all the marks, but how will the changes translate out in the twisties, while giving it the berries? On the handling front, Ducati kept it simple. Suspension is made by KYB, with a non-adjustable 43mm USD fork with 5.1 inches of travel and a preload-adjustable rear shock with 5.5 inches of travel. The basic setup worked quite well, with good bump compliance and exceptional midcorner stability. Compared to the Monster 821, the wheelbase is slightly shorter thanks to a tighter rake (24 degrees, down 0.3) but trail is unchanged at 3.7 inches. Revised chassis geometry, less weight and a narrower 180/55 rear tire make for a more maneuverable platform. While lighter wheels, reduced unsprung weight, and grippy Pirelli Diablo Rosso III tires combined to give a planted feeling during quick transitions.
The highway separating me and the new Monster from the sublimely twisty roads of the Santa Cruz Mountains, south of San Francisco, provided an opportunity to feel out its cruising abilities, and in 6th gear, at around 75 to 80 mph at 5,500 rpm, there was plenty of roll-on power in reserve. As soon as I exited the highway, and headed into the mountains, I really started to flog it. I thought for sure the suspension would give it up, but the Monster handled pretty much everything I threw at it. Tight switchbacks, long sweepers, decreasing-radius corners, uneven pavement and even those mystery bumps hidden in the shade of redwoods were all kept in check. The effort Ducati put into designing a more compact, agile, and friendlier riding position has really paid off. Transitioning back and forth was fairly easy in the fast stuff, but needed some increased effort in the tighter sections. The front-end feel at corner entry and mid-corner was reasonably good, allowing me to feel the road adjust to the conditions with confidence.
The Monster also has good front-to-rear balance and minimizes weight transfer on exits. I did some experimenting with the TC and ABS settings to gauge their effects at full tilt. There is definitely some intervention in the upper ranges of the 8-level TC, especially when traction is questionable. I found that peculiar sensation like a rev limiter kicking in several times on hard corner exits. In the lower levels of the TC the Monster's response is more measured and precise. You'll feel like a real pro, barely noticing that it's working.
Braking wise, the Monster is equipped with Brembo's latest M4.32 monoblock front calipers and 320mm rotors, along with a Brembo radial master cylinder. Together they offered a superb braking feel with plenty of stopping power. The ABS is well sorted and even though I'm not usually a fan, it stepped in to save the day a few times.
Everybody sampled the 4-level wheelie control and launch control at nearly every stop light. Where it counted for me was on low-speed corner exits. In Level 4 it's very apparent as the motor starts to cut out in order to keep the front wheel on the ground. Level 1 and 2 seemed most agreeable with minimal intervention. The good thing is the wheelie control can be independently adjusted from the other control systems or turned off. Ducati's quickshifter worked well in both up and down directions, adding to the fun, but felt clunky at lower speeds.
Overall, the 2021 Ducati Monster performed exceptionally well. It's the friendliest Monster yet and should satisfy a wide range of riders (and abilities) attracted not only to its performance and style, but also its accessibility. The many updates ensure that Monster legacy will be carried forward by this worthy successor.
The Monster comes in three color options: Ducati Red ($11,895), Aviator Gray (+$200) and Dark Stealth (+$200). And the Monster+ ($12,095) adds a flyscreen and passenger seat cover. An extensive range of accessories allow you to personalize the Monster, from a Termignoni racing exhaust to an EPA/CARB-compliant slip-on, tank cover kits and more.
2021 Ducati Monster Specs
Base Price: $11,895
Price as Tested: $12,095 (Monster+ w/ flyscreen, passenger seat cover)
Website: ducati.com
Engine Type: Liquid-cooled, transverse 90-degree V-twin, DOHC w/ 4 valves per cyl.
Displacement: 937cc
Bore x Stroke: 94.0 x 67.5mm
Horsepower: 111 hp @ 9,250 rpm
Torque: 69 lb-ft @ 6,500 rpm
Transmission: 6-speed, hydraulically actuated wet clutch
Final Drive: Chain
Wheelbase: 58.0 in.
Rake/Trail: 24 degrees/3.7 in.
Seat Height: 32.3 in.
Wet Weight: 414 lbs. (claimed)
Fuel Capacity: 3.7 gals.