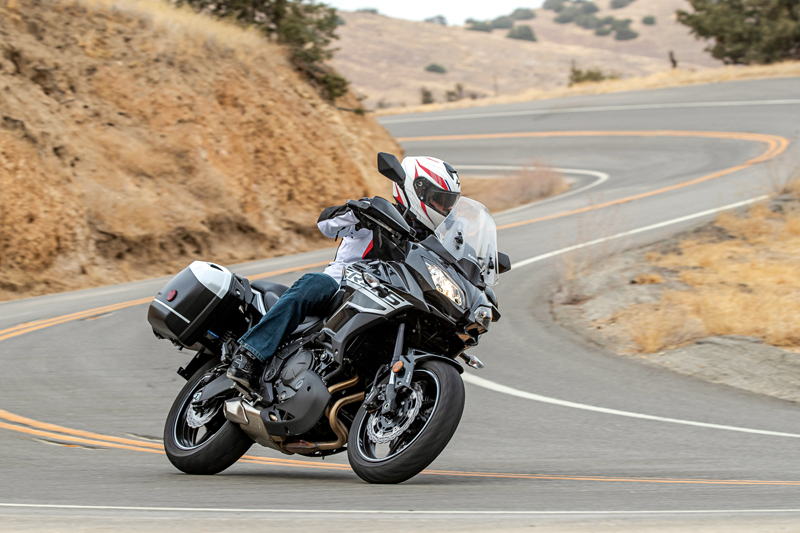 When the current generation of Kawasaki's Versys 650 LT appeared on the scene in 2015, the motorcycle landscape was a different place. Things like full-color TFT instrument panels, ride-by-wire throttles, and electronic aid packages with IMUs were reserved for an elite class. Today, those features are all but ubiquitous among liter bikes in nearly every category. They have even begun trickling down to select middleweights. Heck, the latest Kawasaki Ninja 650 has a TFT display with Bluetooth connectivity.
In a rapidly advancing world, the Versys 650 LT has studiously marched on, gaining a devout following for its affordability and utility. Its basic analog and LCD dash works well enough — the first LT came out long before ride modes were a twinkle in an engineer's eye for this segment. Modern LED headlights would be an improvement over its halogen bulbs. The 649cc parallel-twin engine is eager and astoundingly dependable while missing some of the excitement seen in competitors. All of that is mated to a compliant chassis that's proven itself in commuting and touring roles.
What I'm describing isn't the flashiest model with the latest whiz-bang gadgetry; although ABS is standard, the 2020 Kawasaki Versys 650 LT is a blue-collar workhorse — a bike of the people.
Two essential features define the LT model: hand guards and key-matched, quick-release 28-liter hard saddlebags that will hold a full-face helmet in each side. That's plenty of storage for trips, short and long.
Saddle up on the 650 LT, and you're met with a bolt upright, neutral riding position, and riser handlebars that elevate your arms comfortably. Interestingly, the seat height is a somewhat lofty 33.1-inches, but the pleasantly plush saddle and compliant suspension squish down, allowing my 32-inch inseam to plant my feet on the deck. Also, Kawasaki has done a decent job of keeping the Versys 650 LT chassis at a trim width, further aiding the plight of shorter riders. Toss in the adjustable windscreen, standard hand guards and decently sized fairing, and the rider is adequately protected from the elements on long rides or short. From the handlebars to the footpegs, just about every touch point is rubber damped or counter-weighted, whittling the engine's vibrations down to a tolerable minimum.
The Versys' beating heart is a 649cc DOHC parallel-twin powerplant, which churned out a respectable 63.2 horsepower at 8,700 rpm and 43 lb-ft of torque at 7,300 rpm on the Jett Tuning dyno. There are more powerful machines out there, yet I'd wager that this level of performance is about what most riders need. It's approachable, welcoming and never overwhelming, happy to chow-down miles at freeway speeds or plod along in traffic — made that much easier by the light slip-assist clutch.
Tractability is the name of the game on the 650, building power predictably and progressively until plateauing in the upper rev-range. There is some low-end grunt to be had, while ample mid-range power steals the spotlight's attention. The 180-degree crank layout and pitter-patter exhaust note don't exude performance by any stretch of the imagination. Still, the engine has a pleasing personality, revving up quickly once you crack the whip, capable of eking out more than an approving smirk. The only hiccup in the works is abrupt initial throttle response.
The LT's sporty 6-speed transmission certainly gets a workout in the twisties, and you'll also have the assist and slip clutch to help prevent wheel hop, should you bang down through the gears with too much gusto.
I suspect that many find the Versys 650 LT's cooperative handling to be a high point, and I count myself among that group. Tipping the 650 into corners requires little to no effort, and it does so nicely, which is impressive considering its sizeable 501 pound wet weight. In urban and canyon environments, its adept flickability is one of its outstanding characteristics, paying dividends for novice and intermediate riders alike.
The 41mm fork with adjustable spring-preload and rebound damping and the shock featuring a snazzy spring-preload adjuster hide all of the road's maleficence quite well, thanks to a relatively soft setup, though it's unusual for a rear shock on a sport-touring bike to lack rebound damping adjustment. Still, to the potholes in the urban sprawl, phooey, I say!
Of course, that is a setup choice done in the name of comfort. There is a downside: when faced with rough tarmac while cornering or correcting lines at pace, some nervousness is felt through the front end, which could be quelled by beefing up the springs and damping circuits. Luckily, the rear doesn't suffer from the same issues.
The positives and negatives of the chassis are underscored on the wonderfully diverse stretch of tarmac known as California Route 58. The 650 LT's agility shines when whipping through the winding sections of road, while riders with sportier desires may want a tauter chassis, less prone to fidgeting when leaned over on the edge of the tire. On abused sections of highway, the cushy suspension setup pays off in outright comfort.
Dual 300mm discs and 2-piston calipers in the front handle braking duties, providing decent stopping power and adequate feel. In the rear, a basic 1-piston caliper and 250mm disc are useful for line correction or low-speed maneuvering.
After a respectable run, the 2020 Kawasaki Versys 650 LT still has a solid foothold in its segment — it isn't long in the tooth quite yet, but it is on its way. There is some salt and pepper in its hair concerning its technological offerings, yet even now it remains a good platform. Priced affordably and capable of filling multiple roles, the Versys 650 LT checks quite a few boxes for riders, making it a commendable workhorse.
Nic's Gear:
Helmet: Scorpion EXO-GT3000
Jacket: Fly Strata
Pants: Fly Resistance
Gloves: Racer Soul
Boots: Sidi SDS meta
2020 Kawasaki Versys 650 LT Specs:
Base Price: $9,199
Warranty: 2 yrs., unltd. miles
Website: kawasaki.com
ENGINE
Type: Liquid-cooled, transverse parallel-twin
Displacement: 649cc
Bore x Stroke: 83.0 x 60.0mm
Compression Ratio: 10.8:1
Valve Train: DOHC, 4 valves per cyl.
Valve Insp. Interval: 15,200 miles
Fuel Delivery: DFI w/ 38mm throttle bodies x 2
Lubrication System: Semi-dry sump, 2.4-qt. cap.
Transmission: 6-speed, cable-actuated wet clutch
Final Drive: O-ring chain
ELECTRICAL
Ignition: TCBI w/ electronic advance
Charging Output: 372 watts max.
Battery: 12V 10AH
CHASSIS
Frame: Tubular-steel double pipe diamond frame w/ box-section aluminum swingarm
Wheelbase: 55.7 in.
Rake/Trail: 25.0 degrees/4.3 in.
Seat Height: 33.1 in.
Suspension, Front: 41mm USD fork, adj. for spring preload & rebound damping w/ 5.9-in. travel
Rear: Single shock, remotely adj. for spring preload w/ 5.7-in. travel
Brakes, Front: Dual 300mm discs w/ opposed 2-piston calipers & ABS
Rear: Single 250mm disc w/ 1-piston caliper & ABS
Wheels, Front: Cast, 3.50 x 17 in.
Rear: Cast, 4.50 x 17 in.
Tires, Front: 120/70-ZR17
Rear: 160/60-ZR17
Wet Weight: 501 lbs.
Load Capacity: 438 lbs
GVWR: 939 lbs.
PERFORMANCE
Horsepower: 63.2 at 8,700 rpm
Torque: 43.0 lb-ft at 7,300 rpm
Fuel Capacity: 5.5 gals., last 1.5 gals. warning light on
MPG: 87 PON min. (low/avg/high) 38.2/45.7/53.1
Estimated Range: 251.1
Indicated RPM at 60 MPH: 4,500
2020 Kawasaki Versys 650 LT Photo Gallery: