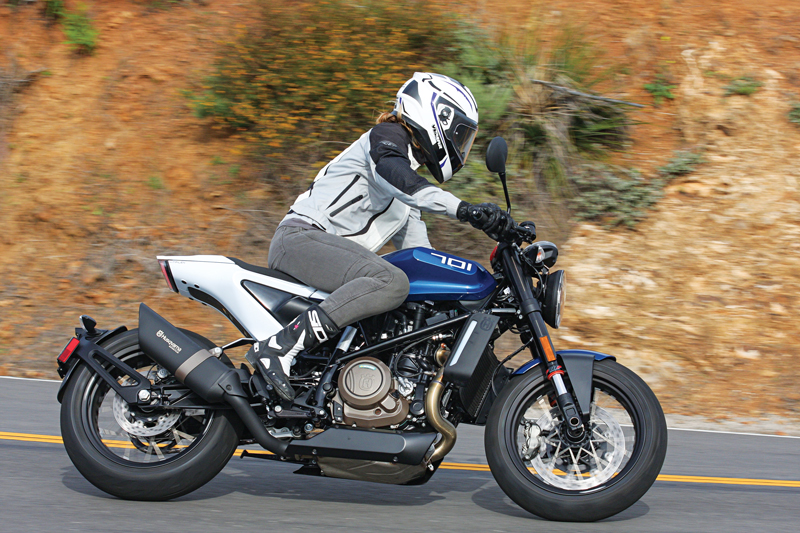 Some bikes prize form over function, and that's OK. I mean, come on, the star-spangled chopper ridden by Peter Fonda in "Easy Rider" was pretty far from perfectly functional — it looked cool and that was that. It's no chopper, but Husqvarna's Vitpilen 701 lies at a similar place on the form/function spectrum, and if you're a fan of Scandinavian style it's quite appealing to the eye.
Not to say it isn't fun to ride, as long as those rides are primarily on tight, technical, twisty roads, where the Vitpilen's taut chassis and suspension and feisty, liquid-cooled 693cc single are allowed to shine. With 73 peak horsepower and almost 51 lb-ft of torque per the Jett Tuning dyno, the 365-pound Vitpilen 701 is highly entertaining and an ideal mount for a weekend warrior looking to own his or her local run of twisties, unencumbered by a passenger (there are no rear footpegs) and without straying too far from a gas station (though if you can tame your throttle hand the 3.2-gallon tank is good for about 160 miles).
Jenny's Gear
Helmet: Vemar Zephir
Jacket: Fly Racing Butane
Pants: MotoGirl
Boots: Sidi Performer Lei
My main beef with the bike is its seat, which is tall, hard and angular. With toes on the ground, the edges cut painfully into my thighs and once underway its sticky material locked me into place, making it hard to shift around when doing my best Valentino Rossi impression in the canyons. Coupled with the reach to the wide clip-ons, the Vitpilen is decidedly sporty — which isn't necessarily a bad thing. It was made, after all, to "rip it," as they say here in SoCal. And when ripping it, you'll forget about how hard the seat is.
Rolling on tubeless spoked 17-inch wheels for a supermoto look, shod with sticky Bridgestone Battlax Hypersport S21 tires, and with adjustable WP Apex suspension with 5.3 inches of travel front and rear, the Vitpilen feels stable and planted despite its extremely light weight. Its engine is tuned for ripping as well, rewarding a heavy hand (there goes the 160-mile range…) and protesting with fits and jerks if you're too lenient. Don't worry about diving in too hot, the 4-piston front and single-piston rear brakes, both Brembo and fitted with switchable Bosch 9M+ ABS, are strong and offer good feedback.
Arrive at the top, drop the kickstand and admire the way the light plays off the gorgeous blue paint; bask in your status as King (or Queen) of the Mountain. Are there better all-around bikes? Sure, but the Vitpilen 701 knows what it is and makes no apologies for it.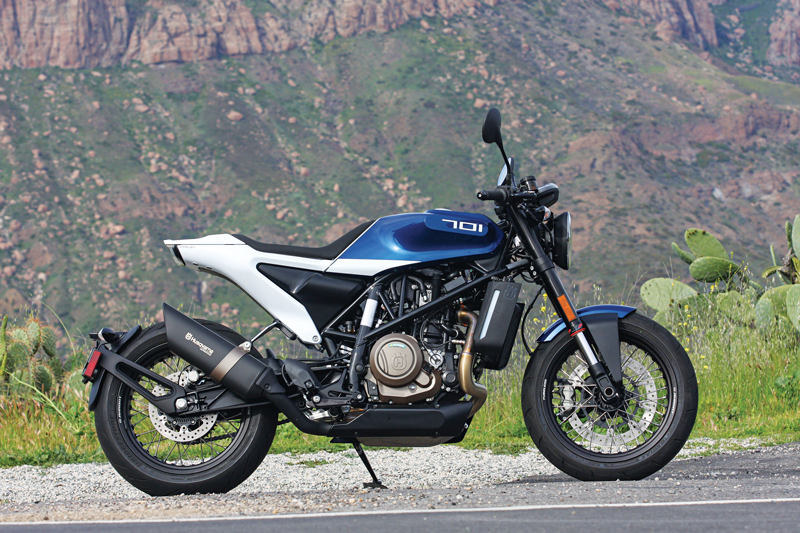 Keep scrolling for more photos.