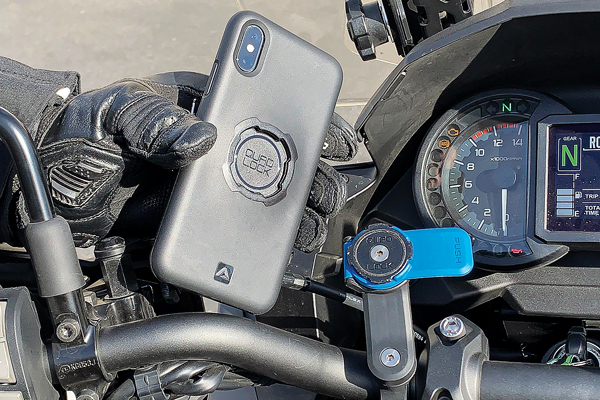 The smartphone has become the universal device, providing us with multiple means of communication, access to the Internet, a camera, a GPS and much more. Mounting a smartphone to your motorcycle allows you to use it for navigation as well as audio prompts, music and calls if paired to a Bluetooth helmet communicator.
Mounts are like mousetraps — everybody has tried to build a better one. There's a wide variety of mounting systems, most of which attach to the motorcycle's handlebar, as well as a wide variety of phone cradles. The cradle is a critical part of the design because having a phone come loose and bounce down the freeway at 70 mph is heart wrenching, not to mention expensive and inconvenient. That happened to one of our staffers a few years ago, and I've been wary of smartphone mounts ever since.
Quad Lock is an Australian company that has designed a simple yet rather ingenious mounting system. It starts with the Quad Lock smartphone case, which is made of tough, smooth-yet-grippy polycarbonate with a shock-absorbing edge-to-edge shell. On the back of the case is a slightly raised dual-stage lock that Quad Lock says is strong enough to lift 160 pounds. The lock's rim has four cutouts that match the four outer tabs on the mount. Place the phone on the mount so the tabs fit into the cutouts, turn the phone a few degrees right or left until the tabs slide under the lock's rim and it clicks into place. Presto, the phone is secure. To release it, just press down on the blue lever and rotate a few degrees until the phone pops out.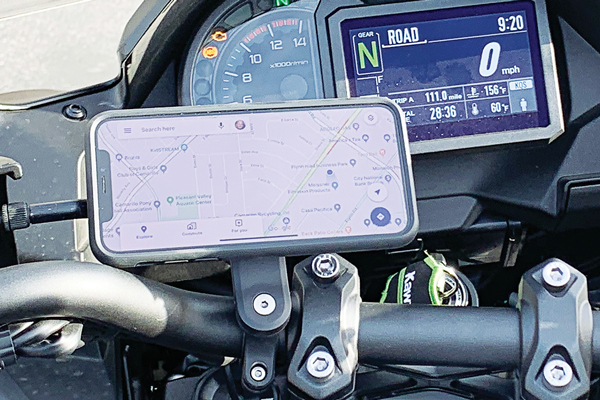 Installing the Quad Lock handlebar mount took only a few minutes using the provided hex wrench. With a little practice, locking the phone into the mount and releasing it again became second nature, and once the phone is secure it can be rotated 90 degrees to change the screen's orientation between vertical and horizontal. Riding with my iPhone XS in the Quad Lock mount, it didn't vibrate and when I used my hand to wiggle the phone it never budged. To manipulate the phone's screen (when stopped of course), you may need touchscreen-friendly gloves.
The Quad Lock mount is light, compact and unobtrusive when not in use. The black-only case is available for a wide range of Apple iPhone, Google Pixel and Samsung Galaxy models. A moto mount kit that includes the case, handlebar mount and waterproof "poncho" cover costs $79.90. The kit with a mirror mount is $69.90 or a fork mount is $89.90. Once you have the Quad Lock case, there are also mounts for your car, bicycle, belt, arm (for exercise), desk, wall or tripod, as well as a 1-inch ball adapter.
For more information, visit Amazon or quadlockcase.com.