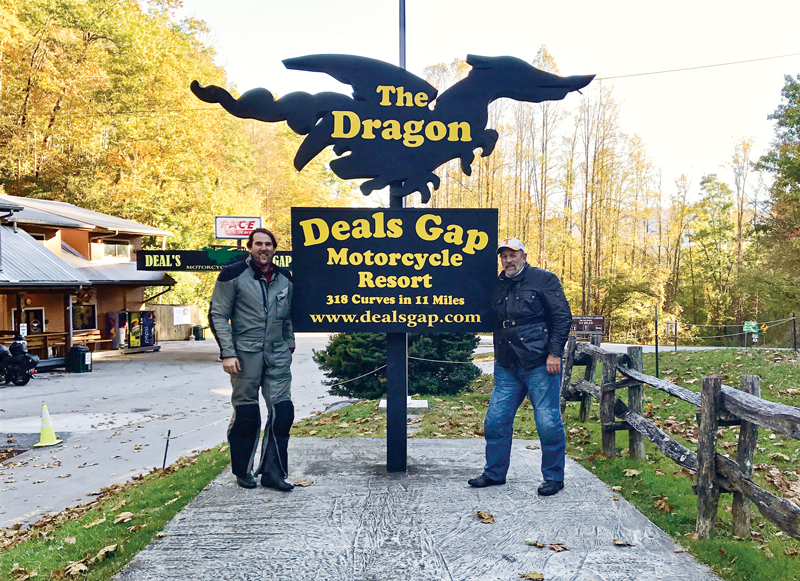 As I leaned into the corner, a stopped garbage truck appeared just ahead, hugging the stone wall on the right closely enough that I could just squeak by. Doing so revealed the gorgeous sight of a rock-laced, turbulent waterfall directly in front of me. These exciting moments were in the Cullasaja River Gorge of North Carolina's State Highway 28, parts of it nicknamed "Moonshiner 28" due to its rich history of use by speeding moonshiners evading the revenuers. Everyone has heard of the Tail of the Dragon section of U.S. Route 129 in Tennessee and North Carolina — Moonshiner 28 begins at its southern end and is an even better ride in many ways.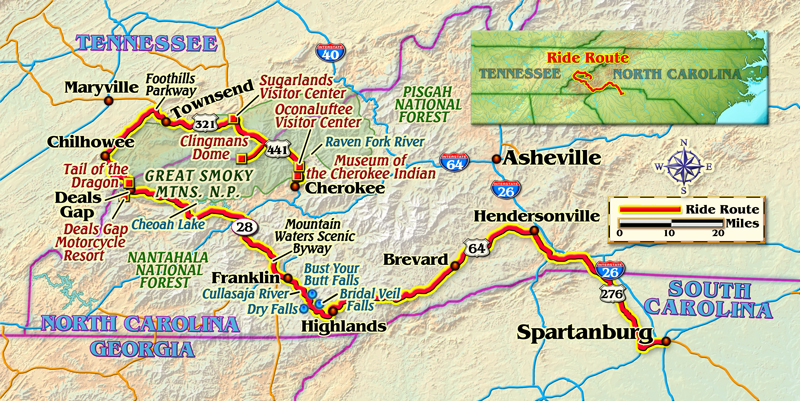 I wasn't expecting anything extraordinary riding this portion of Moonshiner 28 after two days of enjoying nothing but amazing riding from where I started in Cherokee, North Carolina. But what had begun as a raw, misty autumn ride soon developed into an unforgettable fall-color riding spectacle.
In Cherokee, I camped in a KOA cabin along the Raven Fork River for two days of fishing. The cabin was a luxurious tent, tailormade for a motorcycle journey. Besides fishing, Cherokee has amenities and attractions like the Museum of the Cherokee Indian, a casino, lodging, eateries, a gateway to Great Smoky Mountains National Park and the Blue Ridge Parkway.
I left the Cherokee campground on a misty, rainy morning, bypassing the elk refuge at the national park's Oconaluftee Visitor Center and heading north on U.S. Route 441 into the park. It was cold and raw this November day, and the mist limited my vision. Taking the turnoff up to Clingmans Dome, all I could see were the clouds hanging in the valleys — the "smoke" in the Smokies.
I left Clingmans Dome Road, got back on U.S. 441 and headed for Townsend, Tennessee, to check out the Little River fishing potential. At Sugarlands Visitor Center I headed west on Fighting Creek Gap Road, becoming Little River Gorge Road. It merges with U.S. Route 321 in Townsend. Normally a great ride, on this day it was overwhelmed with park traffic, and I rode attentively.
Chilled and needing hot food and coffee, I pulled into a roadhouse in Townsend and wolfed down a medium-rare strip with eggs, home fries and coffee. Full and warm I headed off on U.S. 321 to the Foothills Parkway. The sun came out, allowing me to absorb Mother Nature's continuous visual treats. The colors along the parkway were overwhelmingly beautiful.
Suddenly I was at the beginning of the Tail of the Dragon section of U.S. 129 in Tennessee. I had ridden it from the North Carolina side, but not the other direction. Sports cars and screaming sportbikes ply the road's endless curves, so you must pay constant attention. Dragon riding is about turns, leaning, weight change, rhythm and smiling through 318 curves in 11 miles. Having conquered the Dragon, now a legend in my own mind, I pulled into Ron and Nancy Johnson's Deals Gap Motorcycle Resort, a mandatory stop at the southern end.
Moonshiner 28 starts here. As I leaned and twisted down the Moonshiner I imagined Robert Mitchum's 1950 Ford two-door sedan (actually a modified 1951 model) from "Thunder Road" screeching around the corners and hauling the moonshine to market. Riding along Cheoah Lake to Fontana Dam is quite fun, a simply enjoyable, sparkling and twisting lake road. I reached the dam and rode across it, stopping for pictures and picking up great riding maps at the visitor center.
Moonshiner 28 from Fontana to Franklin is not a make-time route; it is a rider's enjoy-the-feeling route. Arriving in Franklin at dusk, I pulled up to the Microtel Inn & Suites, looking forward to a relaxing cocktail and a good night's sleep. But I had forgotten that I was in the Bible Belt — finding that "moonshine" was a chore.
The next morning it was onto Mountain Waters Scenic Byway. I have come to love this 9-mile section of U.S. Route 64/State Route 28, but that morning was special. With the trees in full fall color and the cascading Cullasaja River Gorge on my right, it grabbed my soul. I enjoyed sunny, prime fall riding conditions on this scenic, twisty, color-laden river road. The Gorge is a part of the Nantahala National Forest in western North Carolina, and on this part of the Moonshiner 28 the Cullasaja River tears down the gorge interrupted by cascading, tumbling waterfalls like Dry Falls, Bridal Veil Falls, Bust Your Butt Falls and, of course, Cullasaja Falls. Dry and Bridal Veil Falls have large enough pull-offs for multiple bikes. Dry Falls is particularly unique with a falls walkway and restrooms.
At Highlands, I continued down Moonshiner 28, crossing into Georgia and then South Carolina. No wonder moonshiners liked this road. You could quickly hit multiple state population centers!
Turning around, I headed for my destination, my brother's house outside Spartanburg, South Carolina. I wasn't about to pass up a continuing ride through the Smokies for Interstate 85. I got back to Highlands, picked up U.S. 64 east toward Brevard, U.S. Route 276, Pisgah Forest and the Blue Ridge Parkway. At U.S. 276 I figured seeing my brother was more important than the Blue Ridge. It would have to wait until spring.
As a senior rider, my bike rides mean freedom, being alone with my thoughts, rugged country and having a big grin on my face. A favorite ride has to have raw beauty, scenic rivers, intriguing history, meandering roads and mountains. It has to be all that to keep me coming back. This ride is a great journey; I appreciate being alive when I am here. I wish you the same in riding Moonshiner 28.