There was a lot to like about Triumph's Tiger 800 when it was first released in 2011 in two variations, a standard street-oriented model and an off-road XC variant. As a road-going middleweight ADV tourer the Tiger 800 was formidable and competent, but its rev-happy 799cc triple and tall gearing, especially in first, hobbled its off-road capability, despite numerous changes and adjustments made over the next eight model years. The nomenclature of the ever-expanding lineup got confusing as well — what's the difference between the XRx and XRT again?
Read our Road Test Review of the 2011 Triumph Tiger 800 here.
Read our Road Test Review of the 2018 Triumph Tiger 800 XCA here.
Thankfully, in addition to a complete overhaul (including a bump in displacement to 888cc — hence the new 900 designation), Triumph has simplified the model names of its five-member 2020 Tiger 900 family. There's the street-oriented, cast-wheeled base model, plus GT and GT Pro variations of it, and the dirt-oriented, tubeless spoke-wheeled Rally and Rally Pro. After spending two and a half days riding the GT Pro and Rally Pro at the press launch in Morocco, it's clear that these littermates are actually two very different animals, indicative of each one's improvement in specializing in its unique mission.
All five models share the core changes for 2020, encompassing the engine, chassis, suspension, brakes and electronics. First up is the DOHC, 4-valve-per-cylinder, Euro 5-spec in-line triple, bored out from 74 to 78.0 x 61.9mm and featuring a new "T-plane" triple crankshaft (a first in the motorcycling world, near as we can tell) and a new firing order that bestows the triple with V-twin-like character down low while maintaining its top-end power.
Starting and revving the two engines (in a 2019 Tiger 800 and 2020 Tiger 900 GT Pro) back-to-back, the difference in sound is undeniable, and from the saddle the new 900 has low-end grunt it previously lacked; Triumph claims a 10% increase in peak torque and up to 12% more midrange horsepower.
Other engine changes include new Nikasil-plated Siamese aluminum cylinder liners, new camshafts, a new balancer shaft for the new firing order, new pistons and con rods, reduced oil volume and lightweight magnesium engine covers. Overall Triumph says the powertrain is 5.5 pounds lighter than before, and thanks to a new split radiator that reduces heat blown onto the rider's leg (a common complaint with previous-gen Tiger 800s) and improvements to the sump design, the engine sits 1.7 inches lower in the frame and is tilted 6.8 degrees farther forward than before, for a lower center of gravity and increased ground clearance.
Contributing to the new Tiger's overall weight loss is a new, lighter tubular steel chassis that includes a bolt-on aluminum subframe and pillion footpeg brackets. Triumph's claimed dry weight figure for the 2020 Tiger Rally Pro is 443 pounds…add about 32 pounds for a full 5.3-gallon gas tank plus other fluids and the new model is considerably lighter than the 505-pound Tiger 800 XCA we tested in 2018.
Apart from the engine, the other major updates are to the suspension and brakes across all five Tiger 900 models. The street-oriented variants (base model, GT and GT Pro) get a 45mm USD Marzocchi cartridge fork with 7.1 inches of travel, non-adjustable on the base model and adjustable for compression and rebound damping on the GT and GT Pro, and a rear 7-inch-travel Marzocchi shock with manual preload adjustment on the base model, full manual adjustment on the GT and electronic preload and rebound damping adjustment on the GT Pro. Four preload settings are available for the GT Pro's electronic rear shock — rider, rider + luggage, rider + pillion and rider + pillion + luggage — and damping adjusts based on the selected riding mode. More on those below.
The Rally and Rally Pro models get a fully adjustable 45mm USD Showa fork with 9.4 inches of travel and a Showa rear shock adjustable for preload and rebound damping, with 9.1 inches of travel. Swapping back and forth between the GT Pro and Rally Pro during our on-road photo stop, where we rode the same set of corners multiple times, was like riding two completely different motorcycles. The GT Pro, with its 19-inch front wheel and shorter suspension, is lower and sportier, while the Rally Pro, rolling on a 21-inch front wheel, feels like the taller adventure bike that it is — not difficult to handle, but softer and more plush when pushed hard in the turns.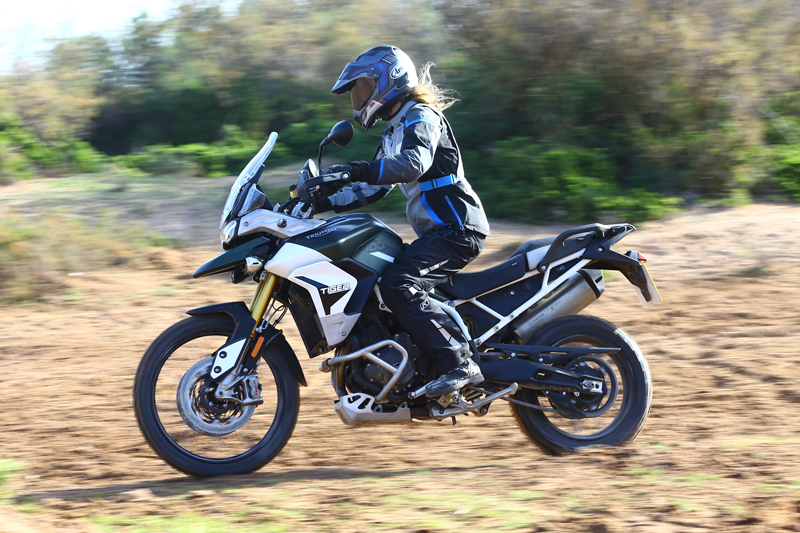 Notably, all five models, including the base model, get top-of-the-line Brembo Stylema front calipers, normally only found on flagship-level superbikes, with larger 320mm front discs and a new radial front master cylinder. The base model includes ABS, while the other four have cornering ABS with three settings: Road, Off-Road and Off.
The cornering ABS, as well as the rest of the Tiger 900's electronics, is based around a Continental 5-axis IMU that offers up to six riding modes, each with full power and various throttle response maps and ABS and traction control settings. The base model Tiger 900 gets Rain and Road modes only; the GT and Rally add on Sport and Off-Road. The GT Pro also adds a rider-configurable mode, and the Rally Pro adds Off-Road Pro, which shuts off ABS and traction control entirely and uses a dedicated off-road throttle map. By contrast, the regular Off-Road mode available on the GT, GT Pro and Rally maintains light ABS intervention on the front wheel and controls rear wheel spin, fine for basic dirt or gravel roads but a liability in sand or when climbing steep, loose hills.
We rode the Rally Pro on our full day of off-road testing in Morocco, and after briefly experimenting with Off-Road mode, I spent the rest of the day in Off-Road Pro, enjoying the more direct connection I felt with the bike. The new Showa suspension was a revelation: plush and responsive, and it seemed to get better the faster we pushed. Even for this novice-to-low-intermediate ADV rider, the new Tiger 900 Rally Pro was confidence inspiring and remarkably easy to handle on the rough, loose, often-sandy Moroccan trails.
Throttle response was linear and not at all snatchy, and I even felt comfortable enough to purposely break the rear end loose at times in a power slide — something I've never wanted to attempt on a big adventure bike in the past. Triumph had spooned a set of chunky Pirelli Scorpion Rally tires onto the tubeless spoked rims, which certainly contributed to my confidence; street-oriented Pirelli Scorpion Trail IIs are equipped as standard.
I also found the Rally Pro to be surprisingly comfy for stand-up riding. I'm 5 feet, 9 inches, and its low, forward footpegs (they're a tad farther back on the base model, GT and GT Pro), new narrower waist and handlebar that's now nearly half an inch closer to the rider balanced me in a natural standing position that kept my arms relaxed and torso upright. Dropping the seat into the lower of its two positions (33.5/34.2 inches) and dialing some sag into the suspension also let me get the toes of both feet on the ground, or one whole foot with a minor weight shift.
Getting to the off-road riding required 200 miles of on-road adventure though, and in Morocco the emphasis is on "adventure." Triumph figures most buyers will aim to take these bikes onto the less-beaten path, and the street-oriented GT Pro we rode was up to the challenge. With its seat in the higher of two positions (31.9/32.7 inches — a low ride height variant of the GT is available with a 29.9/30.7-inch seat) and the windscreen, easily adjustable with one hand, in the highest of its five settings, I sat in a buffet-less pocket of air, feeling just a bit of flow on my shoulders and arms.
Jenny's Gear
Helmet: Arai XD4
Jacket: Klim Artemis
Pants: Klim Altitude
Boots: Sidi Adventure Gore-Tex
The Marzocchi suspension soaked up the many pavement irregularities, including one stretch of packed gravel topped with a light coating of mud, yet was confidently sporty when we hit the twisty foothills of the lower Atlas Mountains. Thanks to its new balance shaft, the T-plane crank 900 proved to be just as smooth as I remember the old 800 to be, with no buzziness in the pegs, grips or seat, and only a pleasant growl at idle.
Apart from the minimally-equipped base model, all Tiger 900 models include a wealth of touring creature comforts: a 7-inch full-color TFT display (with Bluetooth connectivity on the GT Pro/Rally Pro), heated grips, cruise control, hand guards and a 12V charging plug. The GT Pro and Rally Pro add a quickshifter, LED fog lights, a centerstand, a tire pressure monitoring system and heated rider and pillion seats. The Rally Pro also includes engine protection bars and an aluminum skid plate. Pricing starts at $12,500 for the base model Tiger 900, with the GT Pro coming in at $16,200 and the top-line Rally Pro at $16,700.
So just like back in 2011, there's a lot to like about the new litter of Tiger 900s — more than ever, if you ask us. They're more capable and mission-specific, and ready to throw down the gauntlet in the popular middleweight ADV ring. As soon as we get our hands on a tester here in the U.S. you can look forward to a more in-depth exploration of these new Tigers' capabilities.
2020 Triumph Tiger 900 Specs
Base Price: $12,500
Price as Tested: $16,200 (GT Pro)/$16,700 (Rally Pro)
Website: triumphmotorcycles.com
Engine Type: Liquid-cooled, transverse in-line triple, DOHC w/ 4 valves per cyl.
Displacement: 888cc
Bore x Stroke: 78.0 x 61.9mm
Transmission: 6-speed, hydraulically-actuated wet assist-and-slipper clutch
Final Drive: O-ring chain
Wheelbase: 61.3 in. (GT Pro)/61.1 in. (Rally Pro)
Rake/Trail: 24.6 degrees/5.25 in. (GT Pro)/24.4 degrees/5.74 in. (Rally Pro)
Seat Height: 31.9/32.7 in. (GT Pro)/33.5/34.2 in. (Rally Pro)
Claimed Dry Weight: 437 lbs. (GT Pro)/443 lbs. (Rally Pro)
Fuel Capacity: 5.3 gals.
MPG: NA