Mountain passes are the ultimate expression of motorcycling, where winding roads and magnificent vistas merge to create the supreme riding experience. For me, the legendary passes of Colorado are the crown jewels of my life on two wheels.
Over the years I've dreamed about riding all of Colorado's passes in a single trip. With summer approaching and a new motorcycle in the garage, I casually suggested the idea to a friend over lunch one day. The next morning I received an email from Bruce listing almost every paved pass in Colorado, including elevation, location and road surface. A day later there was a route stitching them all together. Now we had a plan – in nine days we would ride every paved pass, saddle, divide and high point in Colorado, a total of 59 as listed by DeLorme, and we would add one more on the fly.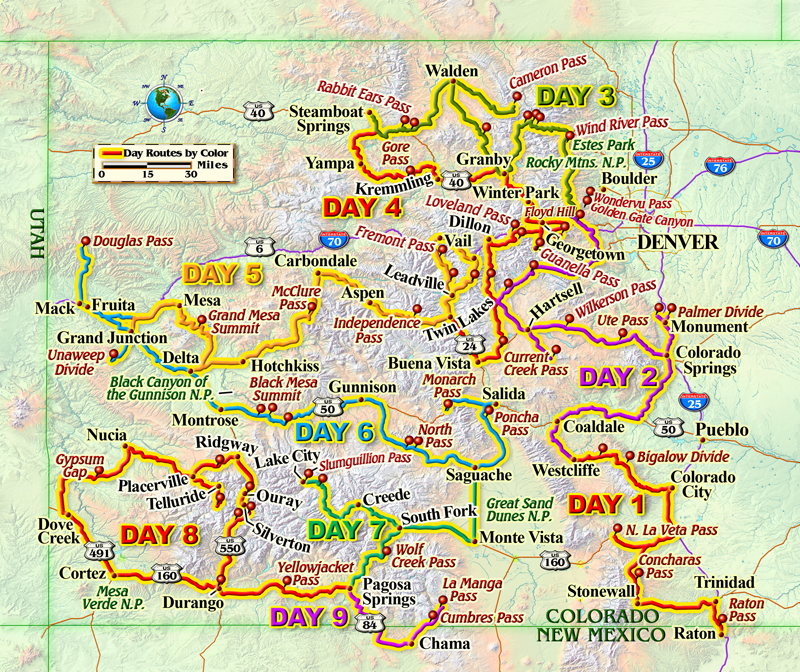 We met at daybreak on Day One, our rides a contrast of style, substance and technology. I rode my brand-new pearl white 2018 Honda Gold Wing Tour with DCT. Bruce piloted his sensibly accessorized and beautifully maintained 2000 Harley-Davidson Deuce. He took the lead and I followed the rumble of his Twin Cam 88 engine.
We made our grand entrance to Colorado atop Raton Pass and stopped for quick photos to document the event; a process we would repeat 59 more times. This wasn't the lush green Colorado of previous years. Meadows were yellow, forests were dry, streams and lakes were nearly empty and the usual deep snowpack was missing. Looping west and north through the San Isabel Mountains, we bagged four more passes before stopping for the night in the tiny town of Westcliffe.
What's the difference between a pass, a high point, a saddle and a divide? I don't know, but Bruce insisted they all be covered lest we be accused of being slackers. So Day Two we found ourselves battling urban traffic around Colorado Springs to reach the completely unremarkable Palmer Divide and Monument Hill. That afternoon we were bogged down in the foothills of Denver heading for Floyd Hill. But in between were five high passes that brought the day's total to eight by the time we found our motel in Idaho Springs.
Bruce wisely insisted we make motel reservations for each night of our trip. Tourists fill Colorado every summer and many of our motels were full. The only fault in our planning was the daily mileage. Three hundred and fifty miles or so sounds quite doable, but the slow pace of mountain pass roads and tourist traffic expanded our saddle time to as much as 11 hours or more.
The highest passes are narrow threads of twisting asphalt that take you above the tree line to alpine tundra and mid-summer snow banks, with breathtaking views in every direction. Lower passes are sometimes traveled by school buses and lined with homes and businesses. Major passes are celebrated with familiar brown-and-tan Forest Service signs or green-and-white DOT signs, but lesser passes, saddles and divides are seldom marked and sometimes hard to identify.
Colorado's passes exist all over the state's western half, requiring a long, circuitous and sometimes repetitive route of almost 3,500 miles to cross them all. Usually they could be linked but sometimes the most efficient route was up and back, bagging a pass then retracing the road down. This is how we covered the Front Range passes of Golden Gate Canyon and Wondervu Hill as we worked our way north toward Estes Park on Day Three.
From Trail Ridge Road (U.S. Route 34) in Rocky Mountain National Park (the highest road of our trip: 12,183 feet), Cameron Pass is only about 10 miles to the north as the crow flies. But the Never Summer Wilderness Area and some of the highest peaks in the Rockies stand in the way. So it was south to Granby, north to Walden, then south again to the pass, backtracking to Walden and west to Steamboat Springs. A long day to be sure but 11 passes in our pockets to show for it.
Day Four took us to Granby for the second time, south to Winter Park, across Berthoud Pass and back into the smoke-filled I-70 corridor. At least four wildfires were burning in Colorado and smoke was choking valleys across the state. The largest of them, known as the 416 Fire, was burning near Durango, had closed U.S. 550, the famed Million Dollar Highway, and threatened access to at least three passes on our list. We paid close attention to news reports each night and hoped the road would be open by week's end.
At Georgetown we did an up-and-back to reach lovely Guanella Pass, then looped above the Eisenhower Tunnel to cross spectacular Loveland Pass. As we descended into Dillon we entered a plume of smoke and could see fire burning right above the town. Helicopters flew low over our heads, dropping water from Dillon Reservoir onto the mountainside right in front of us. Later we bagged our only dirt-road pass, Squaw Pass, when we accidently overshot Juniper Pass. South to Buena Vista and back up to Leadville gave us nine passes that day.
Leadville sits more than 10,000 feet above sea level and it was just 38 degrees when we left to gather the first three passes of Day Five. We were riding the Top of the Rockies Scenic Byway and the Gold Wing's heated grips and seat sure felt good. Being from higher country, Bruce and I aren't bothered by the elevation but, apparently, many others are. Convenience stores and hotel lobbies sell cans of oxygen to combat altitude sickness.
At 12,095 feet, iconic Independence Pass was the highest on our list and a pure joy to ride. In Hotchkiss we enjoyed the best burgers of the trip at a pleasant little place along State Route 133 called 133 BRGR. We crossed cool, green Grand Mesa and then plunged into the 103-degree heat of Grand Junction for a 65-degree contrast and seven more passes scratched off the list.
Often the little-known passes offered delightful surprises. Douglas Pass was more than two hours out of our way, but it was a gorgeous early morning ride to a beautiful red rock pass. Similarly, unpretentious Unaweep Divide was hidden in a wonderfully rugged sandstone canyon. We rode the breaks above the Black Canyon of the Gunnison to get Blue Mesa Summit then skirted Blue Mesa Reservoir and dodged a thunderstorm on our way to Gunnison, the last two passes of the day before our hotel in Salida. Another seven passes, check.
We did another up-and-back to Monarch Pass then rode south toward the rugged San Juan Mountains. As we approached Durango, we could see smoke pouring off the mountains to the north. Evidence of the firefighting effort was all around, smoke hung in the air and hundreds of "Thank You Firefighters" signs covered buildings and fences. Our desk clerk was a wealth of fire information including news that U.S. 550 was now open and could be traversed in police-escorted caravans.
Day Eight dawned with steady rain – an answered prayer for everyone in the area. Now it was the rain, not fire, that concerned us. We headed west to cross the imperceptible Gypsum Gap into Disappointment Valley. Flat and barren, this is not the Colorado pictured in tourist brochures. The rain increased as we rode back toward the mountains, so at Telluride we hunkered down in a convenience store to reevaluate our plan. Ouray, Silverton and the high passes of the Million Dollar Highway would most certainly mean more rain, and the day was more than half gone. For a moment, we actually considered skipping the passes in favor of drier riding. I suggested we cover nearby Lizard Head Pass then talk about it some more.
The weather to the pass was atrocious and an hour later we were back at the same convenience store. As we gassed up, a ray of sunlight lifted our spirits and we boldly headed for Ouray and the Million Dollar Highway. Light rain was falling as we snagged Red Mountain Pass and dropped into Silverton. With the national forest closed, the highway closed and the famed steam railroad closed, the normally bustling tourist town was virtually deserted. The headline in the local newspaper proclaimed, "Silverton Under Siege!"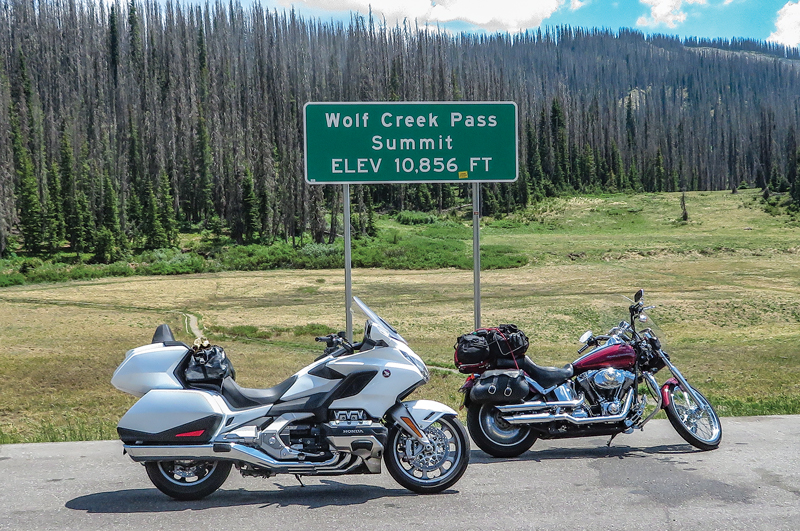 We pressed on and checked off Molas Pass and Coal Bank Pass. About 30 miles north of Durango a state trooper led us through the burn area – about 15 miles of blackened forest reaching right to the highway's edge. The 416 Fire had consumed some 40 square miles of forest and disrupted the entire economy of the area. Hopefully the rains would give firefighters the upper hand.
Our last night on the road was in Chama, New Mexico, with the last two passes on our list just a quick dash back into Colorado the next morning. But Colorado didn't give them up easily. The 45-mile ride up and over the passes went from low clouds to dense fog to cold, hard rain that just wouldn't stop.
At Cumbres Pass we took our usual quick photos but, at La Manga, we hauled out the selfie stick to get a double thumbs-up to celebrate our final pass. We'd done it! Sixty passes and a nine-day motorcycle buddy trip. We still had some 300 miles to get back home, which brought our total mileage to 3,476. A maiden voyage for the new Gold Wing, another notch on the Harley's belt and an unforgettable adventure for two seasoned motorcycle riders.