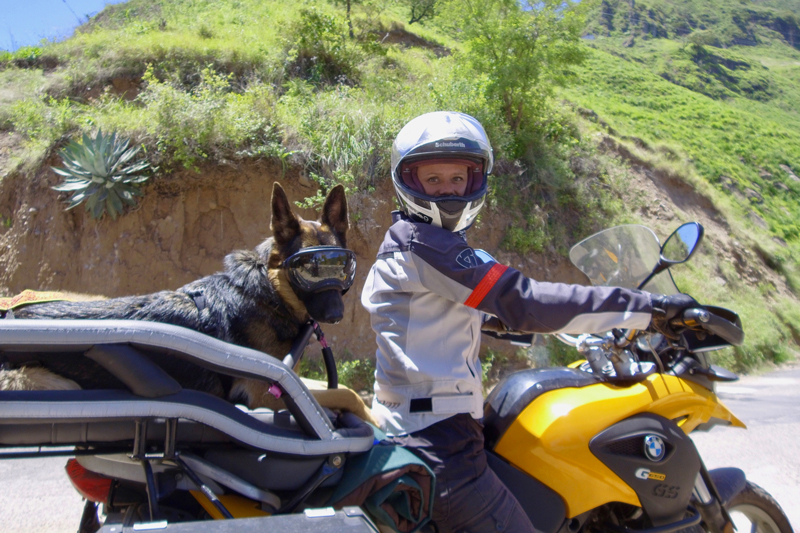 At the end of a 10-day motorcycle trip south from New Orleans, my husband Greg and I arrived at Lake Atitlan, Guatemala, where we planned to spend a couple of years working remotely, supporting a non-profit and enjoying the wonderful riding. However, a few months in we made a fateful decision that imperiled the latter. We adopted a nine-week-old German Shepherd puppy that we named Moxie.
After those first nerve-racking weeks as new dog owners, the New Year's holiday presented the opportunity for a riding trip to Mexico. As we packed our panniers and secured the tank bags and duffels, it nearly broke our hearts to read the abandonment in those sad puppy dog eyes!
Eventually, we made it out the gate and down the road and all the way to Mexico for a few days on the coast. However, all along the way we lamented leaving Moxie behind. So, although it seems quite obvious in retrospect, it honestly struck us as inspired when, during the ride, Greg mused over the intercom, "You know, we should figure out how to bring her with us on a motorcycle!"
I was skeptical. It felt like having your cake and eating it too. But for Greg, the metaphorical gauntlet was thrown and so our bold endeavor began as do all those of the modern era: we "Googled" it!
We discovered trailers and sidecars but dismissed them, preferring to maintain as much of the original form and physics of my BMW G 650 GS as possible. Now, when you search "motorcycle travel carrier," you find a variety of clever do-it-yourself creations and even a few commercial products. Parenthetically, the cutest are those that involve carrying a small pup in a tank bag or backpack. Unfortunately, our Moxie was on course to grow into a large beastie and few commercial carriers contemplate such large dogs. The few that do are bike model-agnostic and tend to look the part.
So, Greg set to work sketching, measuring, cutting and welding. His first try fell flat. Inspired by the motorcycle pizza delivery boxes that are ubiquitous in Guatemala, the carrier was ugly and heavy. It threw the GS's handling out of whack and strained the chassis.
A little dispirited, he put Frankenstein's failed dog carrier aside and hit pause on the project. Then, a couple months later Greg's self-described moment of inspiration struck. He shook me awake and exclaimed, "The carrier doesn't need to carry her!"
The next day he left for the workshop and a few days later he brought home the K9 Moto Cockpit. It's a semi-enclosure of metal tubes that look like crash bars suspended along either side behind the rider. The cushioned bars secure to Moxie's harness at several anchor points to prevent her from leaping out to chase cats or from being launched in a sudden stop or crash.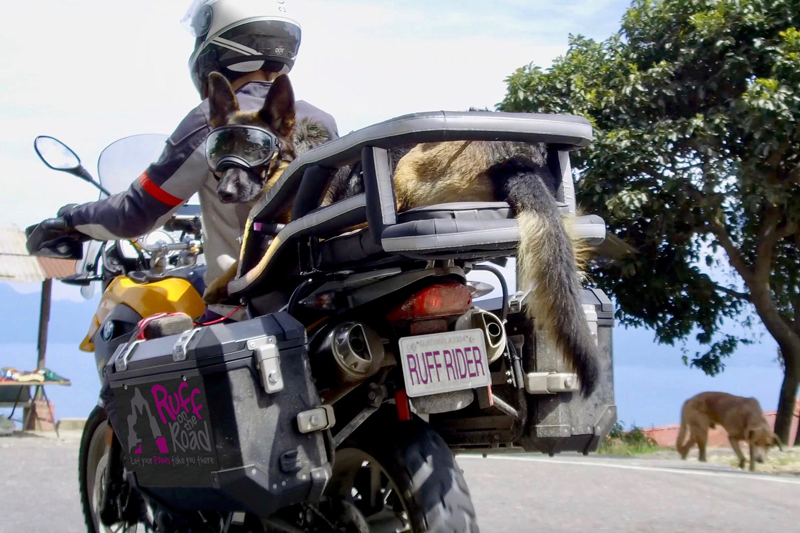 The exciting part is this, and I'll repeat the pun because it really is a giggle, the carrier does not "carry her." It has no bottom. Instead Moxie lays on a cushion, which itself lays directly on the seat and luggage platform. This means her 65-plus pounds rest entirely on the motorcycle like a cross between passenger and luggage.
Now, of course, Moxie is neither exactly passenger nor luggage, but she is certainly a member of the family. That means her safety is most important. All of the best commercial carriers provide for harnessing the dog rather than allowing for an easy get-off. Our initial tests indicated harnessing as the better option and our subsequent riding experience has definitely confirmed it. For more about the build and safety, check out this video and to see how we secure her before a ride watch the beginning of this one.
OK great, you're thinking, but how does a slender woman lift a 65-pound German Shepherd onto a motorbike? Initially, Greg constructed a small platform that unfolds to be used as a step. However, when we began teaching Moxie to "saddle up," we found that the promise of Guatemalan blood sausage sent her leaping directly onto the motorcycle seat and into the cockpit. From there, the training process went: sausage, "turn around," sausage, "sit," sausage, "lay down," sausage and strap her in.
Finally, it came time for trial runs. At first Greg ran alongside while I foot-paddled the bike and feathered the clutch. After a couple of laps on the dirt road along the river beside our house, the clutch slipped out, my feet came up and we were riding!
It feels a little like carrying a duffle bag–only different–and also a little like carrying a passenger–only different. About the best I can do to describe riding with your big dog is to say it's like love, sex and chocolate: it can't be described, only experienced.
So, I guess on one level this story is another among many that celebrate the proverbial "can-do spirit." On another level, however, I suppose there is a lesson–dare I say moral–and it is this: sometimes with a bit of cleverness and some hard work, you can actually have your dog and ride with her too!
Jessica Stone is a former international aid worker who, with her husband, Greg, started Ruff on the Road handmade dog apparel to beautifully and ruggedly equip dogs for adventure while creating dignified work-to-empower indigenous Guatemalan artisans. Jess's German Shepherd co-pilot Moxie shares their motorcycle travels and outdoor adventures around Mexico and Central America in a video series called "On 2 Wheels + 4 Paws"–think Motorcycle Diaries meets A Dog's Purpose. Come visit ruffontheroad.com to experience motorcycle adventures through Moxie's eyes and the lessons she learns along the way!