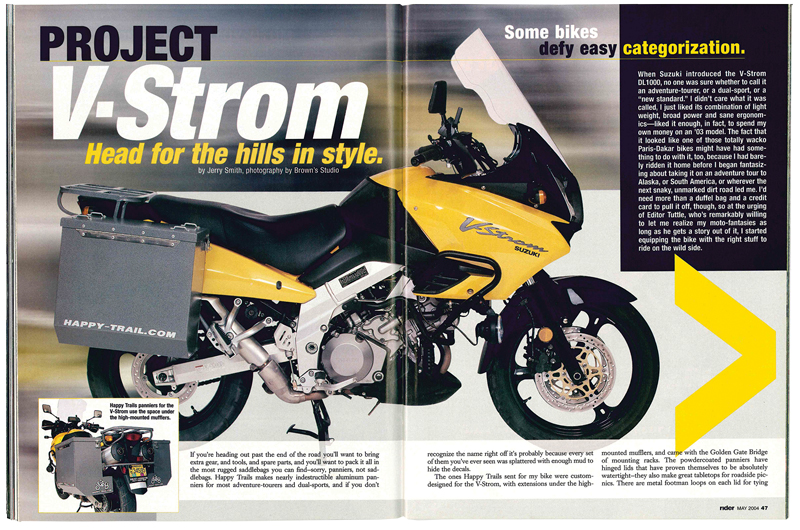 While their rugged, round-the-world styling and expedition-ready features suggest otherwise, some adventure bikes work better on the road–much better–than they do off pavement. As word of this open secret spreads, they're being bought more and more by riders who appreciate their overall utility, upright seating and solid aftermarket support.
Suzuki's original DL1000 V-Strom is one of the standard bearers of the street-leaning ADV bike, striking a balance between RTW looks and performance and streetwise utility that makes it a champ in the bang-for-the-buck sweepstakes today.
Check out our comparison test: V-Strom 650 vs. V-Strom 1000.
Maybe seeing in advance where the market segment was going, Suzuki gave the DL1000 the 996cc L-twin from the TL1000S sportbike, modified for the midrange and low end it needed for low-speed riding and for hauling luggage. The 90-degree cylinder spread technically gives the engine perfect balance, but the rods are slightly offset side-to-side so a little vibration creeps in.
Even more is apparent in some 2002 and early '03 models, which produced a low-rpm vibration far outside the norm. Called "chudder"–a combination of chatter and shudder–on online forums, it's curable with an improved clutch basket. Even then, though, the big Strom dislikes being lugged.
One big compromise resulting from hanging the TL's engine from the DL1000's stout aluminum frame is a worrisome lack of ground clearance. The oil filter, oil cooler and the front cylinder's header pipe all sit dangerously low and forward enough that a sturdy bash plate isn't just a fashion accessory, but a necessity for off-roading. On pavement and smooth fire roads the suspension works adequately, but serious trails should be avoided.
It's much more suited to the street, where small upgrades–a replacement shock and a fork kit–bring big rewards in handling. The brakes are just average, requiring stainless lines and high-performance pads to bring out their best. The 33-inch seat height is a problem for some, making lowering links a hot seller in the aftermarket.
Another aftermarket staple for DL1000 owners is an improved windscreen, because just about anything is an improvement over the stock one, which though stylish is ineffective at reducing buffeting at the helmet level. The fairing, too, deflects some wind but not as much as its appearance suggests.
It's also an enormous parts bill waiting to happen in case of a fall–every fairing panel's part number should end with "-$$$." Fueling issues on some bikes can be cured with a tuning module, while other bikes run cleanly stock. Rough running has also been traced to dirty fuel filters, which many riders simply bypass.
Problems to watch for on used DL1000s include flaking engine paint, rusty or warped brake rotors and corroded hardware. Check the fins on the radiator and especially the oil cooler for damage, and make sure the brake pads don't stick in the calipers and drag on the rotors.
If there are scratches on the plastic bodywork indicting a fall in the past, check for broken mounting tabs or missing grommets. An often-neglected check is to crawl under the bike and inspect the bottom rear shock linkage for play; the bearings inside are vulnerable to repeated spray from rain and can dry out, causing slop in the suspension.
Prices range from about $3,600 for a first-year DL to around $8,000 for a 2012; factor in accessories and condition accordingly.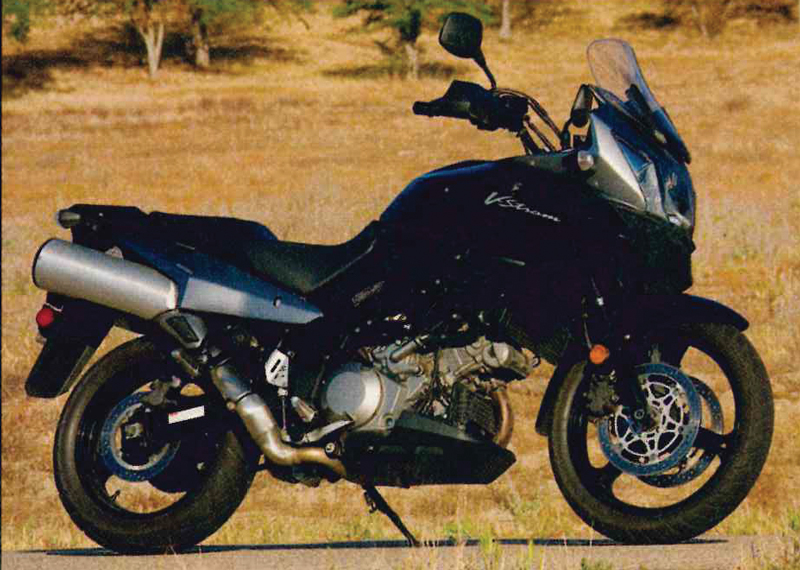 2002-2012 Suzuki DL1000 V-Strom 1000
PROS
Big torquey engine, do-it-all versatility, above average reliability.
CONS
Nosebleed seat height, rust and corrosion prone, vulnerable and expensive plastic parts. 
Displacement: 996cc
Final drive: Chain
Wet Weight: 517 lbs.
Fuel Capacity: 5.8 gals.
Seat Height: 33 in.