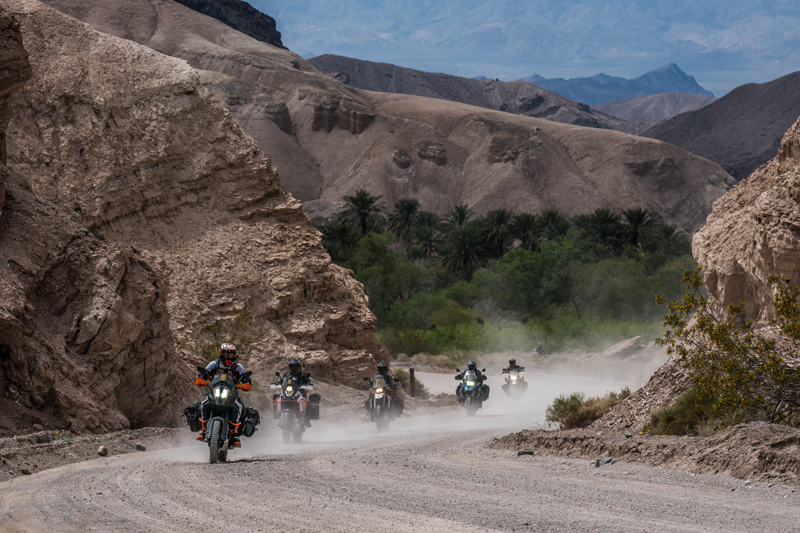 Backcountry Discovery Routes (BDR), a non-profit adventure riding organization, has released the trailer for its upcoming Southern California Backcountry Discovery Route (CABDR-South) documentary film. The CABDR-South is the ninth route developed by the BDR for dual-sport and adventure motorcycle travel, and the first BDR designed to be ridden in the winter.
Free GPS tracks and travel resources, and a waterproof Butler map and feature-length documentary on DVD or video on-demand, will be available on January 1, 2019, on RideBDR.com.
The film features 4-time Baja 1000 Champion and Dakar Rally racer Quinn Cody of KTM, taking a first run on the new Southern California route. The spectacular, yet challenging, 820-mile ride across the southeastern region of California, starts in Yuma, Arizona, and ends in Benton, California.
Primarily using rugged two-track and remote dirt roads, the route leads riders through the majestic canyons, rocky riverbeds and sandy washes of California's famous deserts and national preserves. You'll experience quirky desert enclaves and ghost towns, visit historic mines, see ancient petroglyphs and intaglios, dip in healing mineral hot springs and ride among the unique Joshua trees in the Mojave National Preserve.
A film tour presented by MotoDiscovery is being planned in more than 40 cities across the country. Dealerships and motorcycle clubs interested in hosting the film event locally are encouraged to contact BDR by January 1 to reserve their date on the tour.
The World Premiere of the film will take place in conjunction with the Long Beach IMS, on Friday, November 16, 2018, at Art Theatre Long Beach. For tickets and additional information, click here.
The project is presented by KTM North America and BMW Motorcycles of Riverside, with additional support from Touratech, KLIM Technical Riding Gear, Rottweiler Performance, Wolfman Motorcycle Luggage, SENA, Arizona Motorcycle Adventures, Trailmaster Adventure Gear, PYI, CORVA and James Howard Creative Group.