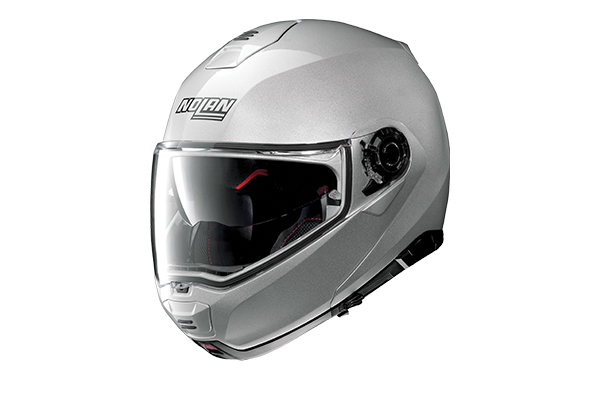 Since introducing the N100 flip-up helmet in 1998, Nolan has refined and improved upon the design, progressing to the N101, N102, N103, N104 and N104 EVO, and now the N100-5.
Some of the N100-5's key features, such as the Lexan polycarbonate shell, tool-free face shield removal, anti-fog face shield insert, removable and washable comfort liner and quick-release, Microlock chinstrap were also on the N100 30 years ago. If it ain't broke, don't fix it.
The most noticeable change on the new N100-5 is its more compact, less bulbous shell shape, with character lines along the chinbar and crown that enhance both aesthetics and aerodynamics. Larger intake vents on the chinbar and above the forehead and new double density micro-perforated fabric in the comfort liner distribute air more evenly throughout the helmet's interior, and negative pressure behind the helmet pulls hot air out through vents in the rear spoiler.
Other improvements include new snaps that make it easier to remove (and wash) the single-piece, expanded-foam cheek pads, new bungee drawstrings on each side of the removable/washable neck roll for adjusting tightness and a single face shield that now fits all sizes of the N100-5 (XXS-L in one shell size, XL-XXL in another).
Returning on the N100-5 are numerous features that have made this series of modular helmets popular among touring riders, such as the optically correct, scratch-resistant face shield with Pinlock anti-fog insert, the scratch-/fog-resistant and UV400-protective drop-down sun shield, the removable/washable Clima Comfort liner with channels that accommodate eyeglasses and the ratcheting Microlock chinstrap retention system.
Pulling the dual tabs on the front of the chinbar unlocks the metal retention pins and allows it to be raised, following an "elliptical trajectory" that keeps the chinbar close to the helmet, and a latch locks the chinbar in the open position (we advise against riding with the N100-5 in the open position, but it meets European safety standards as both an open-face and a full-face helmet; in the U.S. it is DOT approved).
With the N100-5, Nolan's refinements have hit a high watermark. It fits my head with the perfect amount of all-over snugness and secures tightly with the Microlock chinstrap. Both the face shield and the chinbar open and close easily, and when they close, the action is positive. The face shield shuts tightly against the eyeport's rubber seal, and the chinbar locks closed authoritatively, letting me know that it is locked and secure.
At 3 pounds, 13.6 ounces for size medium the N100-5 is acceptably light, and it's reasonably quiet, N-Com-ready and available in several colors and graphics for $409.95-$439.95. 
For more information, see your dealer or visit nolan-usa.com.